Amazon River Dolphins 500 Bolivares Venezuela Authentic Banknote for Craft Making (Francisco de Miranda)
Regular price
Sale price
$2.90 USD
Unit price
per
Amazon River Dolphins 500 Bolivares Venezuela Authentic Banknote for Craft Making (Francisco de Miranda)
Obverse: Image of Francisco de Miranda
Lettering: República Bolivariana de Venezuela
500 QUINIENTOS BOLIVARES
PAGADEROS AL PORTADOR EN LAS OFICINAS DEL BANCO
PRESIDENT PRIMER VICEPRESIDENTE BCV
Translation: Bolivarian Republic of Venezuela
500 FIVE HUNDRED BOLIVARES
PAYERS TO THE CARRIER IN THE BANK OFFICES
PRESIDENT FIRST VICE PRESIDENT BCV
Reverse Lettering: Banco Central de Venezuela
500 QUINIENTOS BOLIVARES
Toninas Gusano Flor - Parque Nacional Medanos de Coro
QUINIENTOS BOLIVARES
CASA DE MONEDA - VENEZUELA
Translation: Central Bank of Venezuela
500 FIVE HUNDRED BOLIVARES
Amazon River Dolphins
Marine Worms - Medanos de Coro National Park
FIVE HUNDRED BOLIVARES
CURRENCY HOUSE - VENEZUELA
Watermark: Francisco de Miranda with numeral 500
Features
Issuer Venezuela
Issuing bank Central Bank of Venezuela
Period Bolivarian Republic (1999-date)
Type Standard banknote
Years 2016-2017
Value 500 Bolívares
500 VEF = USD 0.0017
Currency Bolívar Fuerte (2008-2018)
Composition Paper
Size 157 × 69 mm
Shape Rectangular
Number N# 205354
References P# 94
Wikipedia:
The Amazon river dolphin (Inia geoffrensis), also known as the boto, bufeo or pink river dolphin, is a species of toothed whale classified in the family Iniidae. Three subspecies are currently recognized: I. g. geoffrensis (Amazon river dolphin), I. g. boliviensis (Bolivian river dolphin) and I. g. humboldtiana (Orinoco river dolphin) while position of Araguaian river dolphin (I. araguaiaensis) within the clade is still unclear. The three subspecies are distributed in the Amazon basin, the upper Madeira River in Bolivia, and the Orinoco basin, respectively.
The Amazon river dolphin is the largest species of river dolphin, with adult males reaching 185 kilograms (408 lb) in weight, and 2.5 metres (8.2 ft) in length. Adults acquire a pink color, more prominent in males, giving it its nickname "pink river dolphin". Sexual dimorphism is very evident, with males measuring 16% longer and weighing 55% more than females. Like other toothed whales, they have a melon, an organ that is used for bio sonar. The dorsal fin, although short in height, is regarded as long, and the pectoral fins are also large. The fin size, unfused vertebrae, and its relative size allow for improved manoeuvrability when navigating flooded forests and capturing prey.
They have one of the widest ranging diets among toothed whales, and feed on up to 53 different species of fish, such as croakers, catfish, tetras and piranhas. They also consume other animals such as river turtles and freshwater crabs.
In 2008, this species was ranked by the International Union for Conservation of Nature (IUCN) as being data deficient, due to the uncertainty regarding its population trends and the impact of threats. While hunting is a major threat, in recent decades greater impacts on population have been due to the loss of habitat and inadvertent entanglement in fishing lines.
It is the only species of river dolphin kept in captivity, mainly in Venezuela and Europe; however, it is difficult to train and a high mortality rate is seen among captive individuals.
In traditional Amazon River folklore, at night, an Amazon river dolphin becomes a handsome young man who seduces girls, impregnates them, and then returns to the river in the morning to become a dolphin again. Similarly, the female becomes a beautiful, well-dressed, wealthy-looking and young woman. She goes to the house of a married man, places him under a spell to keep him quiet, and takes him to a thatched hut and visits him every year on the same night she seduced him. On the 7th night of visiting, she changes the man into a female – baby or male, and soon transfers it into his own wife's womb. The mythology is said to be the cycle of a baby. This dolphin shapeshifter is called an encantado. The myth has been suggested to have arisen partly because dolphin genitalia bear a resemblance to those of humans. Others believe the myth served (and still serves) as a way of hiding the incestuous relations which are quite common in some small, isolated communities along the river. In the area, tales relate it is bad luck to kill a dolphin. Legend also states that if a person makes eye contact with an Amazon river dolphin, he or she will have lifelong nightmares. According to the pink Amazon river dolphin myth, it is said that this creature takes form of a human and seduces men and woman to the Underworld of Encante. This underworld place is said to be 'Atlantis-like Paradise', yet no one has come back from it alive. Myths say that whoever kills the amazon dolphin will have bad luck, but it's worse for whoever eats it. Local legends also state that the dolphin is the guardian of the Amazonian manatee, and that if one should wish to find a manatee, one must first make peace with the dolphin.
Associated with these legends is the use of various fetishes, such as dried eyeballs and genitalia. These may or may not be accompanied by the intervention of a shaman. A recent study has shown, despite the claim of the seller and the belief of the buyers, none of these fetishes is derived from the boto. They are derived from Sotalia guianensis, are most likely harvested along the coast and the Amazon River delta, and then are traded up the Amazon River. In inland cities far from the coast, many, if not most, of the fetishes are derived from domestic animals such as sheep and pigs.
********
Sebastián Francisco de Miranda y Rodríguez de Espinoza (March 28, 1750 – July 14, 1816), commonly known as Francisco de Miranda (American Spanish pronunciation: [fɾanˈsisko ðe miˈɾanda]), was a Venezuelan military leader and revolutionary. Although his own plans for the independence of the Spanish American colonies failed, he is regarded as a forerunner of Simón Bolívar, who during the Spanish American wars of independence successfully liberated much of South America. He was known as "The First Universal Venezuelan" and "The Great Universal American".
Miranda led a romantic and adventurous life in the general political and intellectual climate that emerged from the Age of Enlightenment that influenced all of the Atlantic Revolutions. He participated in three major historical and political movements of his time: the American Revolutionary War, the French Revolution and the Spanish American wars of independence. He described his experiences over this time in his journal, which reached to 63 bound volumes. An idealist, he developed a visionary plan to liberate and unify all of Spanish America, but his own military initiatives on behalf of an independent Spanish America ended in 1812. He was handed over to his enemies and four years later, died in a Spanish prison.
Share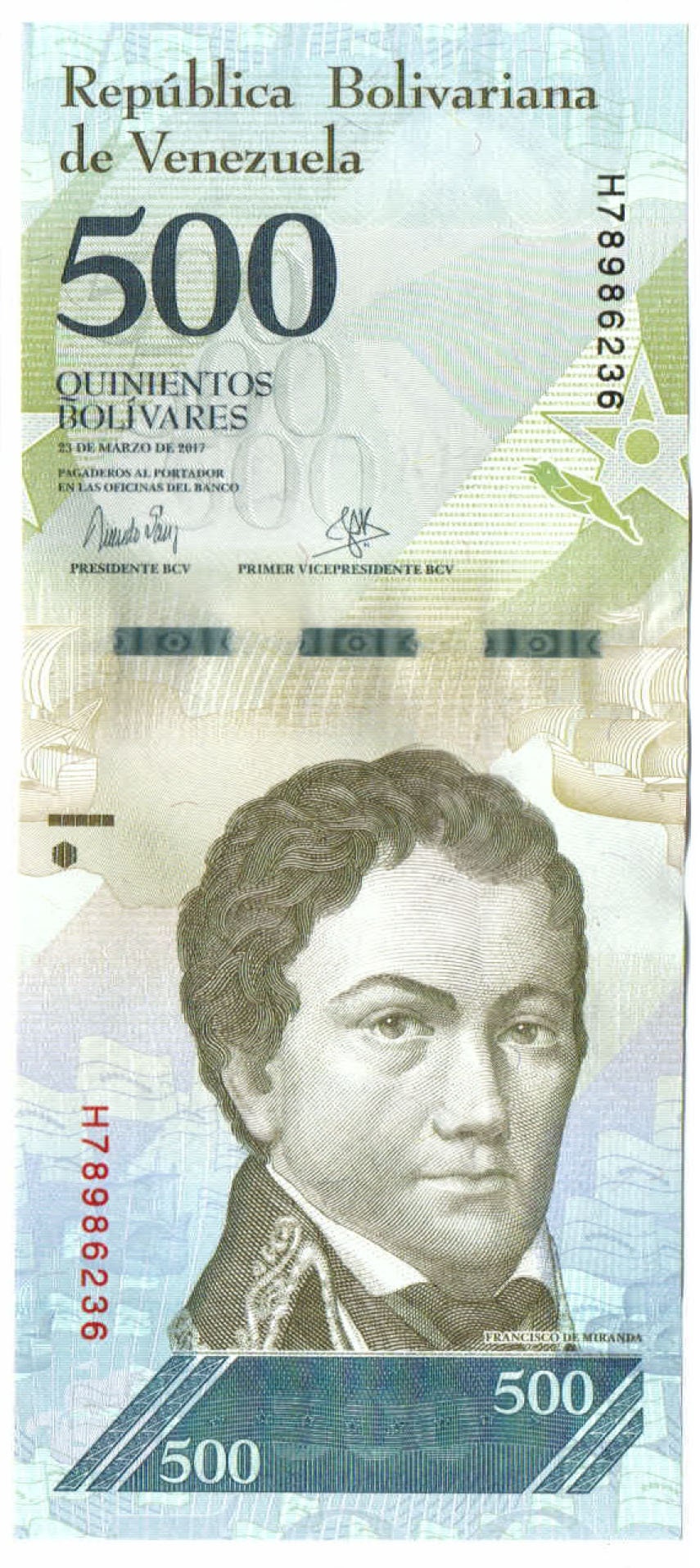 Perfect quality and presentation. Thank yo...
Perfect quality and presentation. Thank you!
LOVE These dolphin dollars from Venezuela!...
LOVE These dolphin dollars from Venezuela!! The seller put them in an excellent little plastic sheet inside the envelope so they were very safe during shipping. Love it! So excited for my little collection!
great banknote! fast service! thanks!
great banknote! fast service! thanks!