Atumpan Talking Drums 50 Cedis Ghana Authentic Coin Money for Jewelry and Craft Making (Adowa Dance) (Fontomfrom) 1991
Regular price
Sale price
$2.28 USD
Unit price
per
Atumpan Talking Drums 50 Cedis Ghana Authentic Coin Money for Jewelry and Craft Making (Adowa Dance) (Fontomfrom) (1991)
The front of the coin bears a set of bush drums.
The back of the coin bears a rampant lion at the center of a quartered shield dividing the date and denomination.
Obverse: Atumpan talking drums
Lettering: GHANA
FREEDOM AND JUSTICE
Reverse: Coat of arms of Ghana divides date
Lettering:
50 CEDIS
Features
Issuer Ghana
Period Republic (1960-date)
Type Standard circulation coin
Year 1991
Value 50 Cedis (50 GHC)
Currency Second cedi (1967-2007)
Composition Copper-nickel
Weight 7.7 g
Diameter 27.4 mm
Shape Round
Orientation Medal alignment ↑↑
Demonetized Yes
Number N# 11568
References KM# 31
WIkipedia:
The Atumpan is a type of Bono talking drum. Played in pairs, these drums provide the bass part in Adowa dance ensembles. These drums are also found in Fontomfrom ensembles.
Construction and functionality
The body of the atumpan is made of wood, with a hollow interior. Its bottom is open, to increase its resonance. Its drumhead is made of animal hide that is stretched out to cover the top of the drum's body. There are several pegs near the top of the drum's body, which tension cords attached to them. These cords extend to the drumhead, holding it in place. Most atumpans are about 25 centimeters (8 inches) in width, and almost 60 centimeters (22 inches) high.
The atumpan is played either with one's bare hands or L-shaped sticks.
History
The atumpan or ntumpane talking drum were introduced into Bonoman by Bonohene Akumfi Ameyaw I and Bonohemaa Owusuaa Abrafi around 1320s from North Africa.
******
Adowa is a dance by the Akan people of Ghana. It is a popular traditional dance in Ghana and it is performed at cultural ceremonies like festivals, funerals, engagements, and celebrations. The Adowa dance is a sign of expression that allows performers to communicate their emotions and feelings through their hands and feet. There are different hand movements performed for each setting, people will communicate positive emotions at weddings or engagements and negative emotions at funerals.
****
Wikipedia:
The coat of arms of Ghana was designed by Ghanaian artist Nii Amon Kotei introduced on 4 March 1957.
Description
The first quarter, on the upper left shows a sword used by chiefs, and a staff, used by the linguist (known as an okyeame in Akan), at ceremonies. It is a symbol for the traditional authority of Ghana.
The second quarter shows a representation of Osu Castle on the sea, the presidential palace on the Gulf of Guinea, symbolizes the national government.
The third quarter of the shield shows a cocoa tree, which embodies the agricultural wealth of Ghana.
The fourth quarter shows a gold mine, which stands for the richness of industrial minerals and natural resources in Ghana.
A gold lion centred on a green St George's Cross with gold fimbriation on the field of blue, represents the continuing link between Ghana and the Commonwealth of Nations.
The crest is a Black star of Africa with gold outline, upon a torse in the national colours.
Supporting the shield are two golden Tawny eagles, with the Order of the Star of Ghana suspended from their necks.
The compartment upon which the supporters stand is composed of a grassy field, under which a scroll bears the national motto of Ghana: Freedom and Justice. The shield stands for a weapon which helps to fight poverty, ignorance and hunger
Share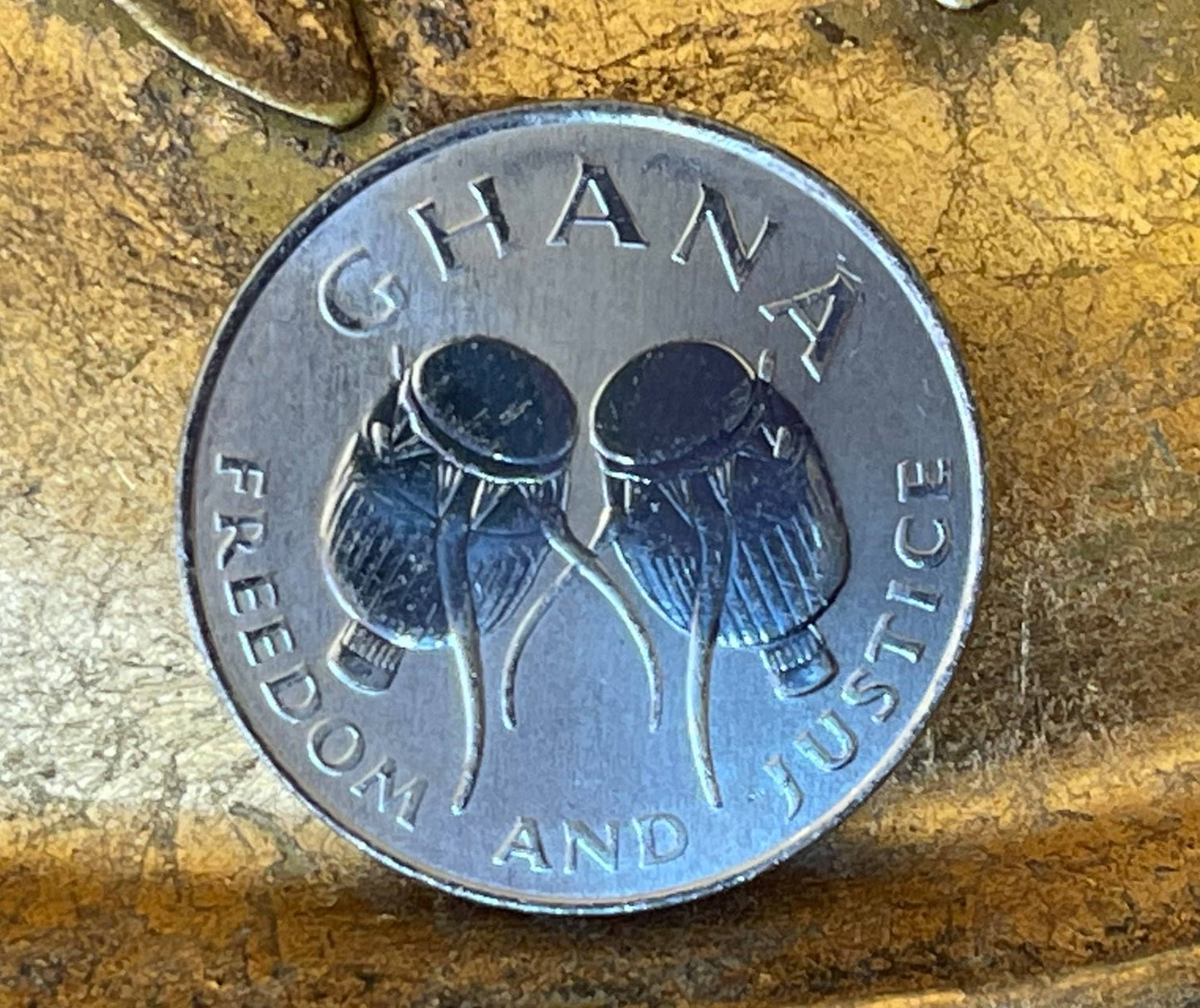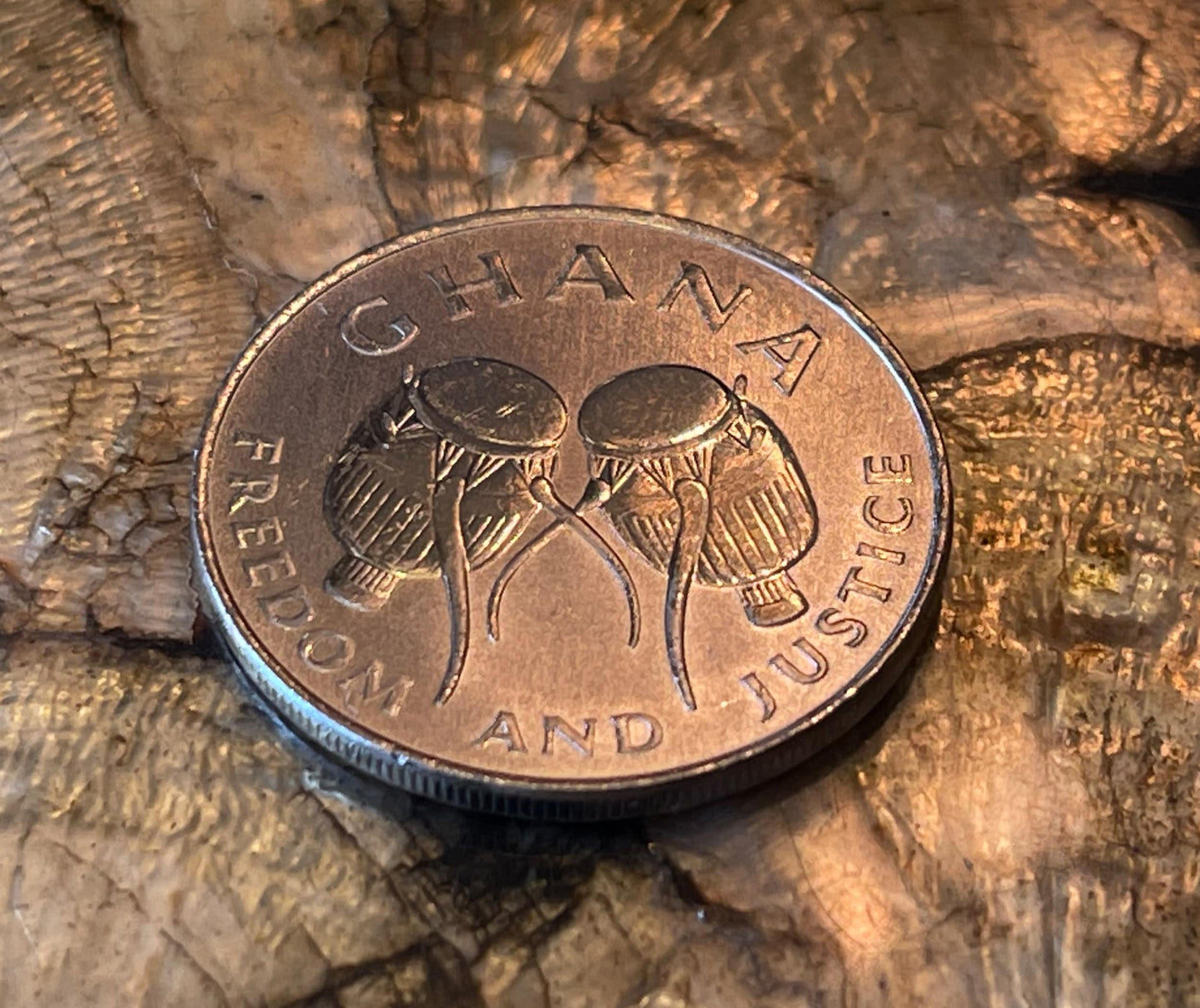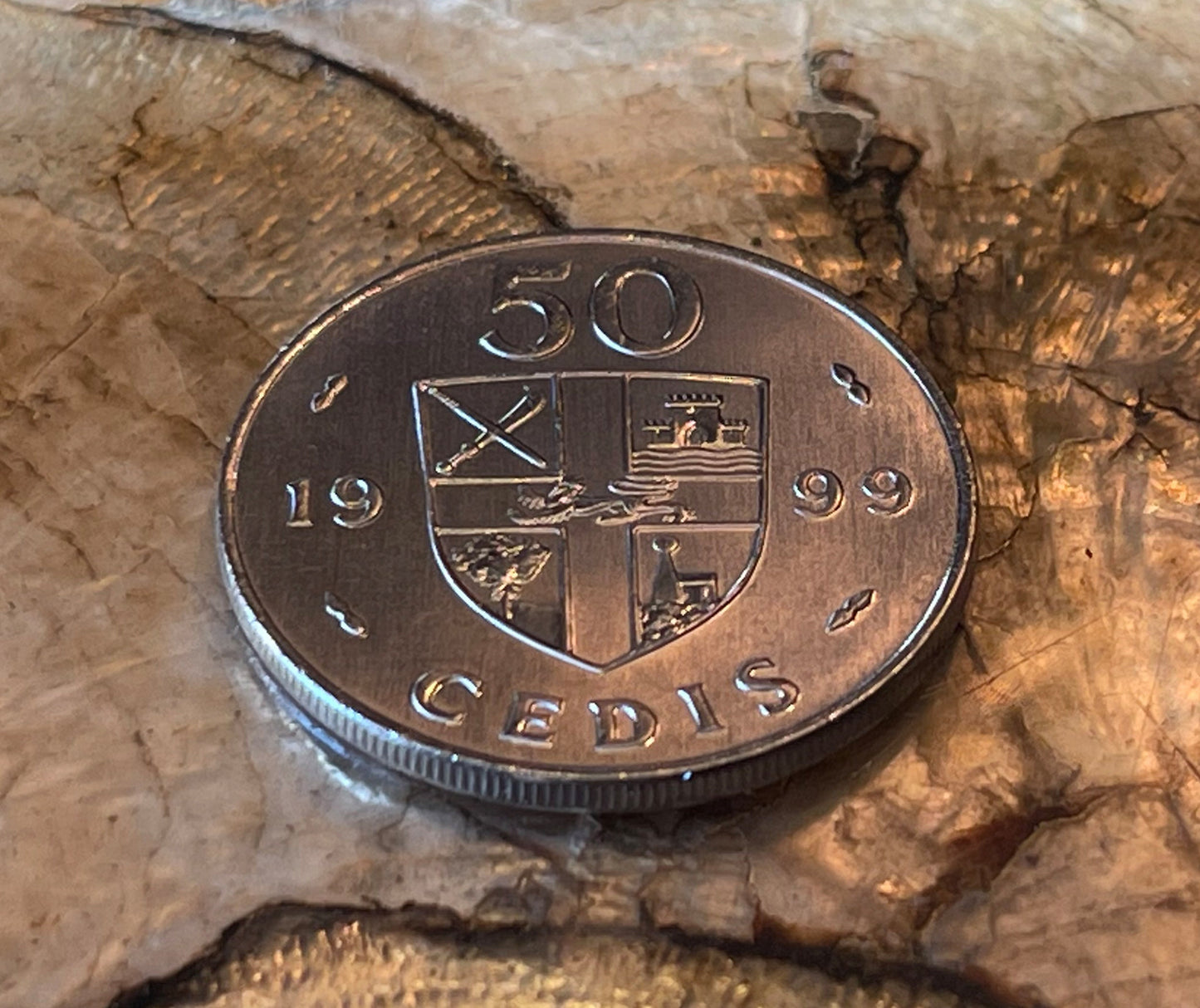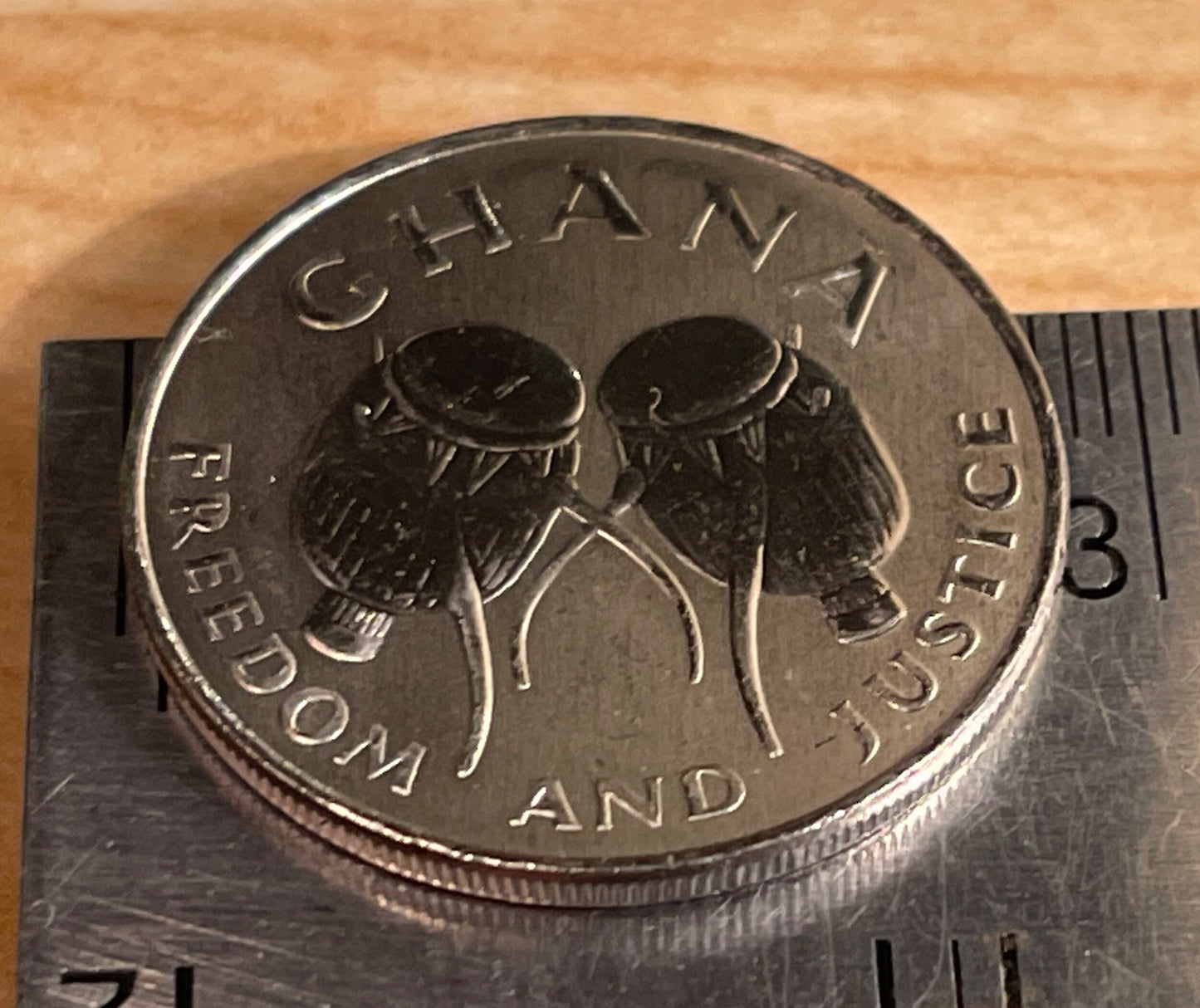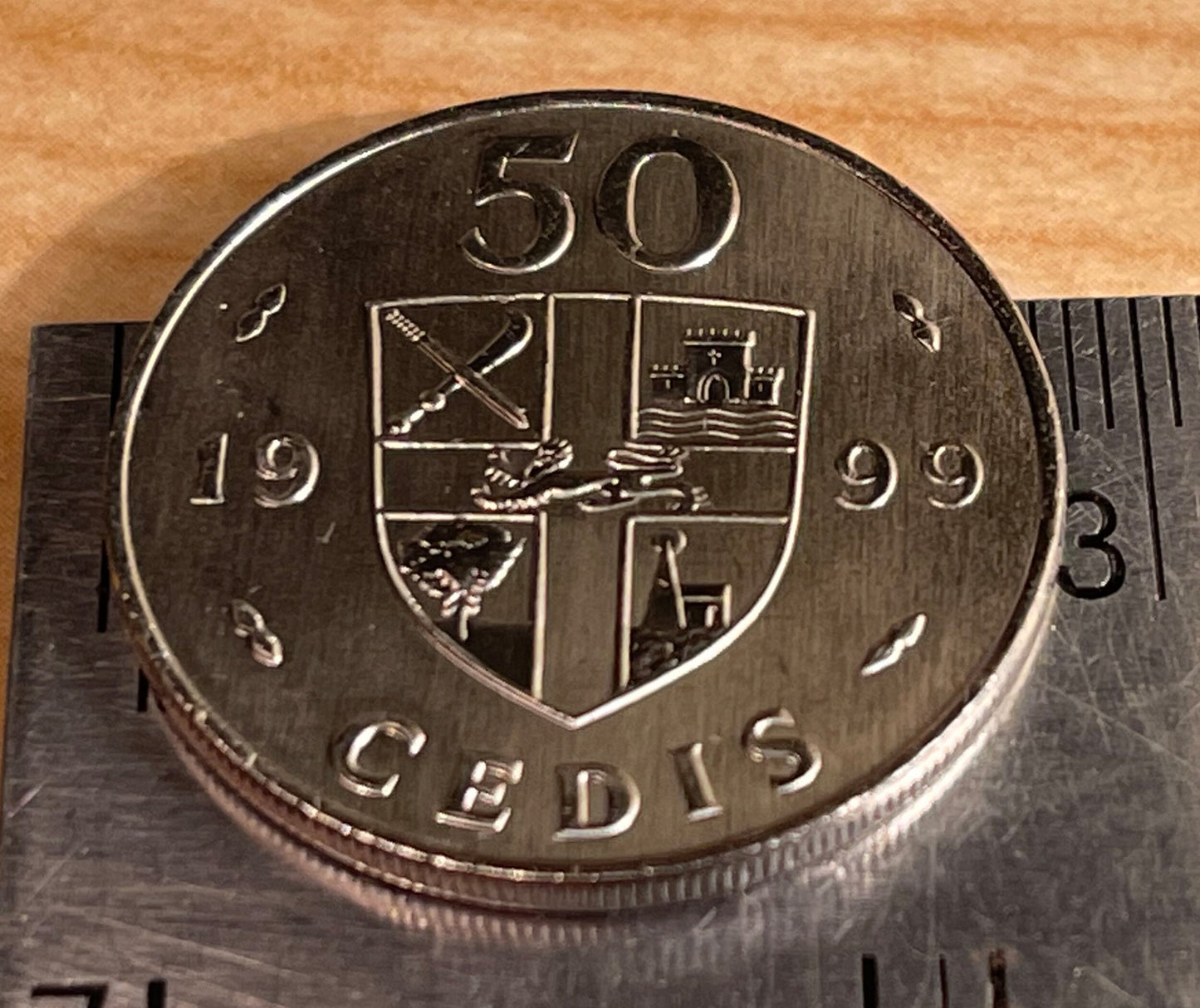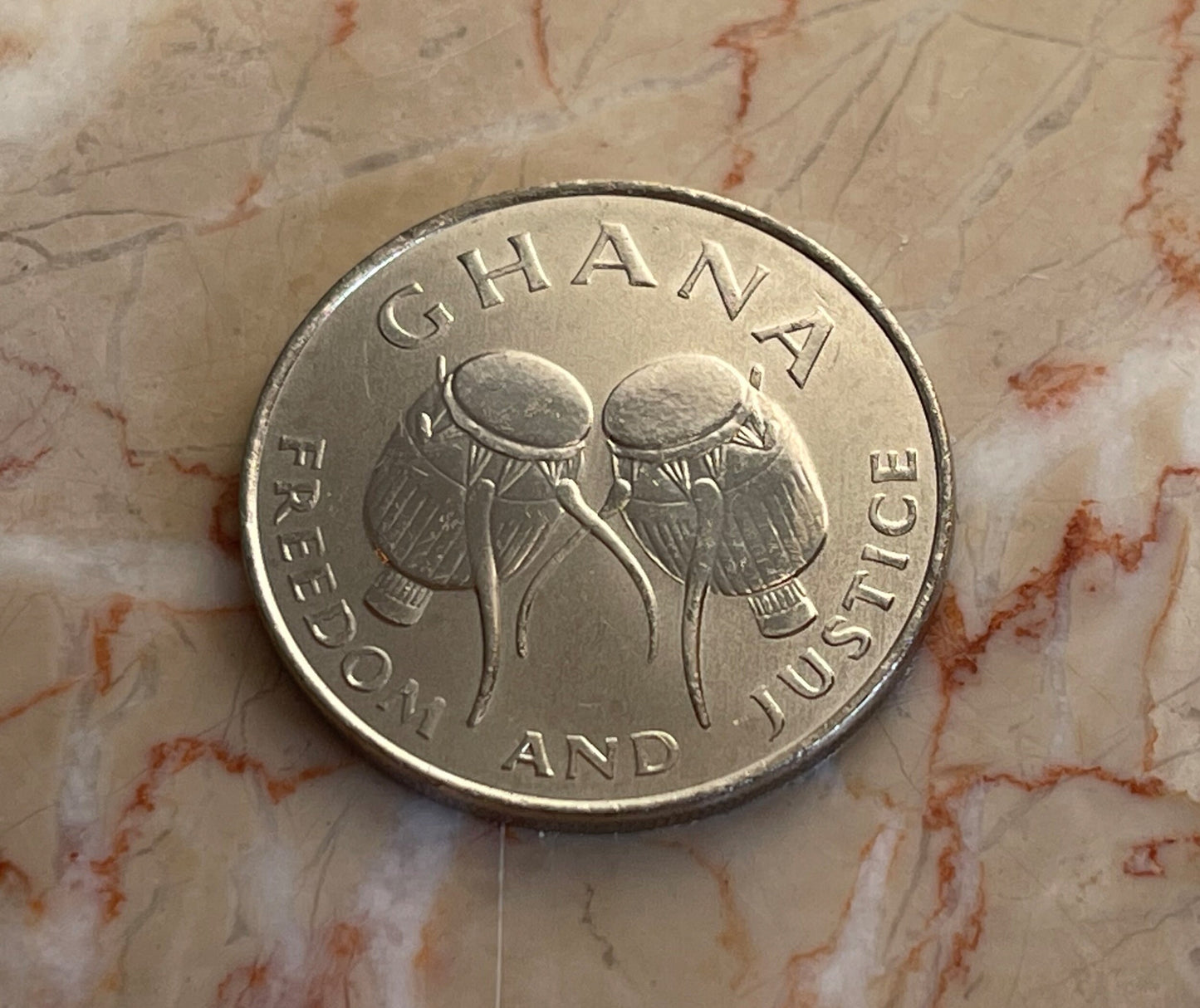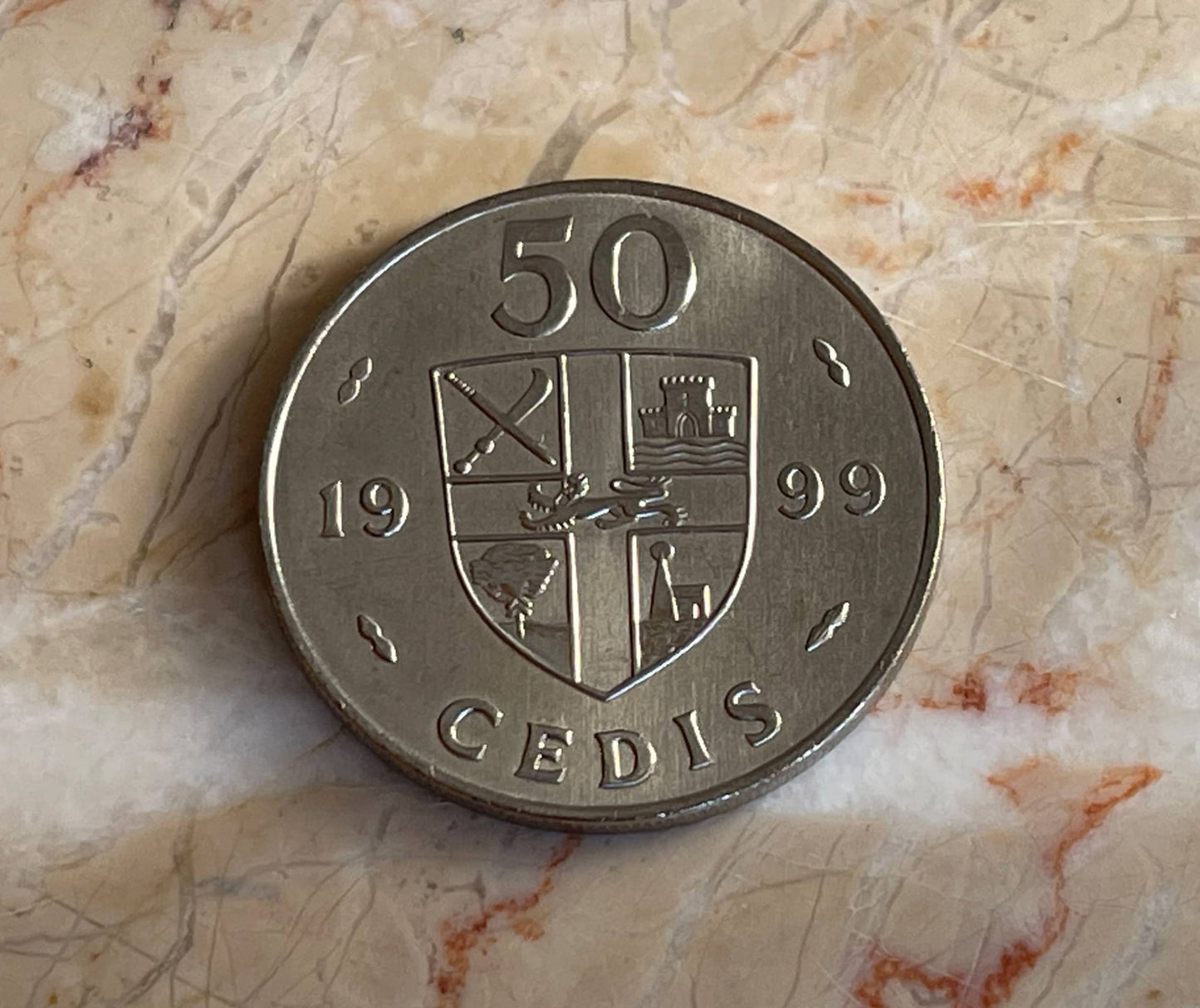 Wish I had a million more!
Wish I had a million more!
5 stars review from Ernesto
5 stars review from Ernesto
Great coin and exactly as expected. Would...
Great coin and exactly as expected. Would purchase again in the future!
Very nice coin, excellent condition.
Very nice coin, excellent condition.
Quick fulfillment and coins in perfect sha...
Quick fulfillment and coins in perfect shape. TY!