Charlemagne Péralte 50 Centimes Haiti Authentic Coin Money for Jewelry and Craft Making (Haiti Coat of Arms) (BLM) (Black Lives Matter) 1991
Regular price
Sale price
$2.93 USD
Unit price
per
Charlemagne Péralte 50 Centimes Haiti Authentic Coin Money for Jewelry and Craft Making (Haiti Coat of Arms) (Black Lives Matter)
Obverse: Portrait of Charlemagne Péralte
Lettering: REPUBLIQUE D'HAITI
Translation: Republic of Haiti
Reverse: Coat of Arms
Lettering: LIBERTÉ · ÉGALITÉ · FRATERNITÉ
· 50 ·
Translation: Liberty Equality Brotherhood
Features
Issuer Haiti
Period Third Republic (1986-date)
Type Standard circulation coin
Years 1986-1991
Value 50 Centimes
0.50 HTG = 0.0050 USD
Currency Third gourde (1872-date)
Composition Copper-nickel
Weight 10 g
Diameter 29 mm
Thickness 2 mm
Shape Round
Orientation Coin alignment ↑↓
Number N# 1524
References KM# 153, Schön# 108
Wikipedia:
Charlemagne Masséna Péralte (1886 – 1 November 1919) was a Haitian nationalist leader who opposed the United States occupation of Haiti in 1915. Leading guerrilla fighters called the Cacos, he posed such a challenge to the US forces in Haiti that the occupying forces had to upgrade their presence in the country. Péralte remains a highly praised hero in Haiti.
Early life
Péralte was born October 10th 1885 (or 1886) in the city of Hinche. His father was General Remi Massena Peralte.
Guerrilla resistance
An officer by career, Charlemagne Péralte was the military chief of the city of Léogâne when the US Marines invaded Haiti in July 1915.
Refusing to surrender to foreign troops without fighting, Péralte resigned from his position and returned to his native town of Hinche to take care of his family's land. In 1917, he was arrested for a botched raid on the Hinche gendarmerie payroll, and was sentenced to five years of forced labor. Escaping his captivity, Charlemagne Péralte gathered a group of nationalist rebels and started guerrilla warfare against the US troops.
The troops led by Péralte were called "Cacos", a name that harked back to rural troops that historically took part in the political turmoil of late 19th century Haiti. The guerrilla warriors of the Cacos were such strong adversaries that the United States upgraded the US Marine contingent in Haiti and even employed airplanes for counter-guerrilla warfare. His forces attacked Port-au-Prince in 1919, but were driven off.
Death and aftermath
After two years of guerrilla warfare, leading Péralte to declare a provisional government in the north of Haiti, Charlemagne Péralte was betrayed by one of his officers, Jean-Baptiste Conzé, who led disguised US Marines Sergeant Herman H. Hanneken (later meritoriously promoted to Second Lieutenant for his exploits) and Corporal William Button into the rebels camp, near Grand-Rivière Du Nord.
Péralte was shot in the heart at close range. Hanneken and his men then fled with Peralte's body strapped onto a mule.
In order to discourage rebel support from the Haitian population, the US troops took a picture of Charlemagne Péralte's body tied to a door, and distributed it in the country. However, it had the opposite effect, with the image's resemblance to a crucifixion making it an icon of the resistance and establishing Péralte as a martyr.
Charlemagne Péralte's remains were unearthed after the end of the US occupation in 1935. A national funeral, attended by the then-President of Haiti, Sténio Vincent, was held in Cap-Haïtien, where his grave can still be seen today.
A portrait of Charlemagne Péralte can now be seen on the Haitian coins issued by the government of Jean-Bertrand Aristide after his 1994 return under the protection of US troops.
Consequently, for their daring exploit, Corporal Button (1895–1921) and Sergeant Hanneken (1893–1986) were both awarded the Medal of Honor for killing the "supreme bandit of Haiti". Hanneken later served in World War II, notably at Guadalcanal and ended his career as a brigadier general. In his later days, he constantly declined to comment on his exploits in Haiti, notably to Haitian journalists asking for interviews on the 100th anniversary of Péralte's birth, in 1986.
*******
Wikipedia:
The coat of arms of Haiti was originally introduced in 1807, and has appeared in its current form since 1986.
It has many flags which shows six draped flags of the country, three on each side, which are located before a palm tree and cannons on a green lawn. On the lawn various items are found, such as a drum, bugles, long guns, and ship anchors. Above the palm tree, there is a Phrygian cap placed as a symbol of freedom.
The ribbon bears the motto: French: L'Union fait la force ("Unity Makes Strength"), which is also the motto of several other countries. This should not be confused with the national motto of Haiti, which according to the Constitution of Haiti is "Liberty, Equality, Fraternity."
The oldest use of a symbol for Haiti is known since 1807. The symbol shows several national flags, with two cannons and palm trees. The symbol indicates the battle for independence of the republic. The motto, in French, means 'Strength through unity'. The use of the symbol was interrupted twice; once was during the period of Henri I. The then president Henri Christophe declared himself as the King of Haiti and adopted a Royal Coat of Arms. On the yellow shield of the arm there was a phoenix rising from its flames with five-pointed stars around it, and the motto Je renais de mes cendres (I will rise in my ashes) inscribed on a ribbon outlining the shield. Two royally crowned lions supported both sides of the shield, and the motto Dieu ma cause et mon épée (God, my cause and my sword) was placed on another ribbon at the bottom. In 1814 Henri I slightly changed his Royal Arm, the lions were removed and the motto was changed to a Latin one: Ex cineribus nascitur (Reborn from the ashes).[1] Another change occurred in 1849, when President General Faustin Soulouque crowned himself as Emperor Faustin I. He adopted new Imperial arms, showing two cannons and a French imperial eagle. Two lions were again used as supporters and the whole was placed in a purple mantle, with a motto similar to the one Henri I used: Dieu, ma patrie et mon épée (God, my country and my sword). The emperor was forced to leave the country in 1859, and the old symbol was later restored. Ever since the composition has been the same, but the colors and items have changed somewhat.
Share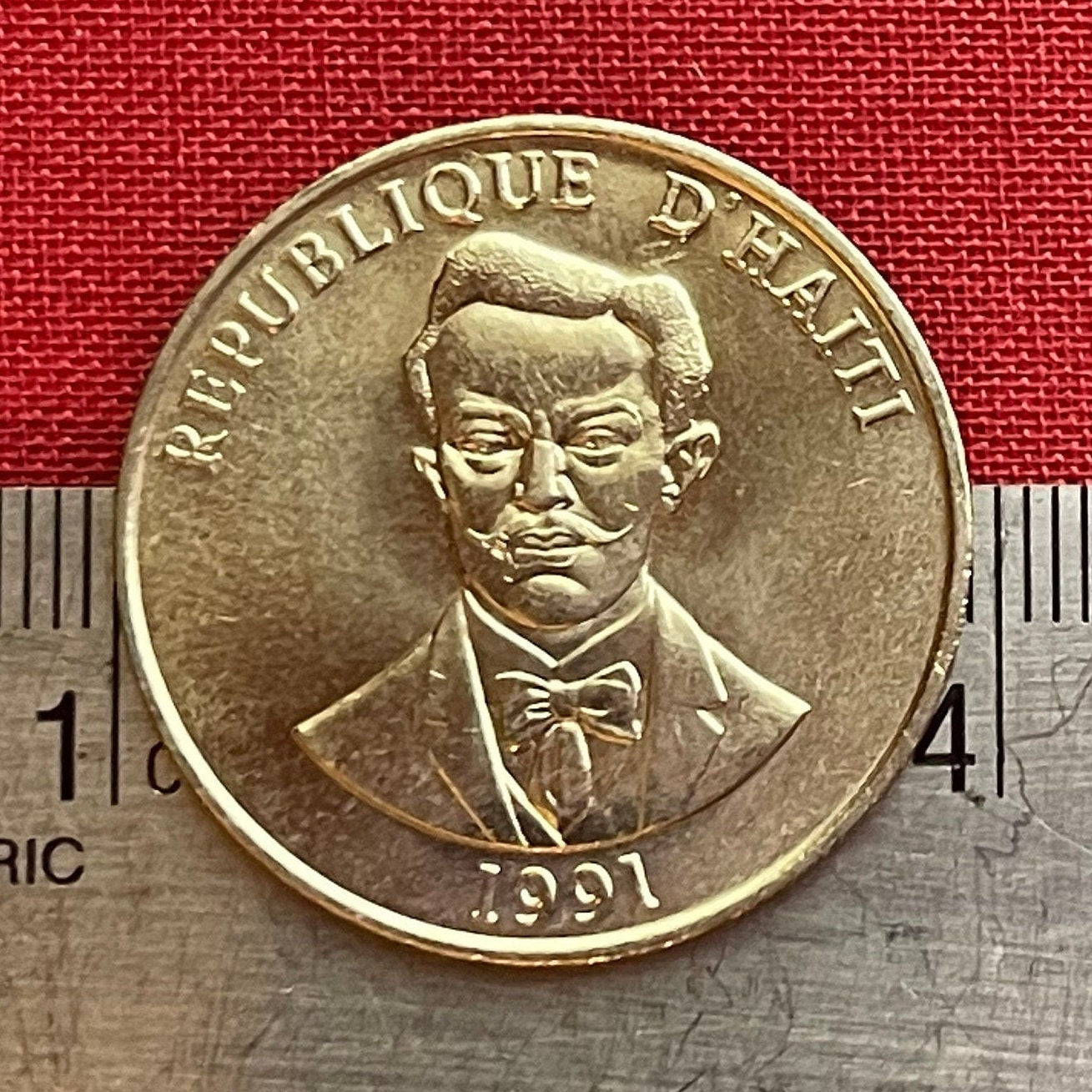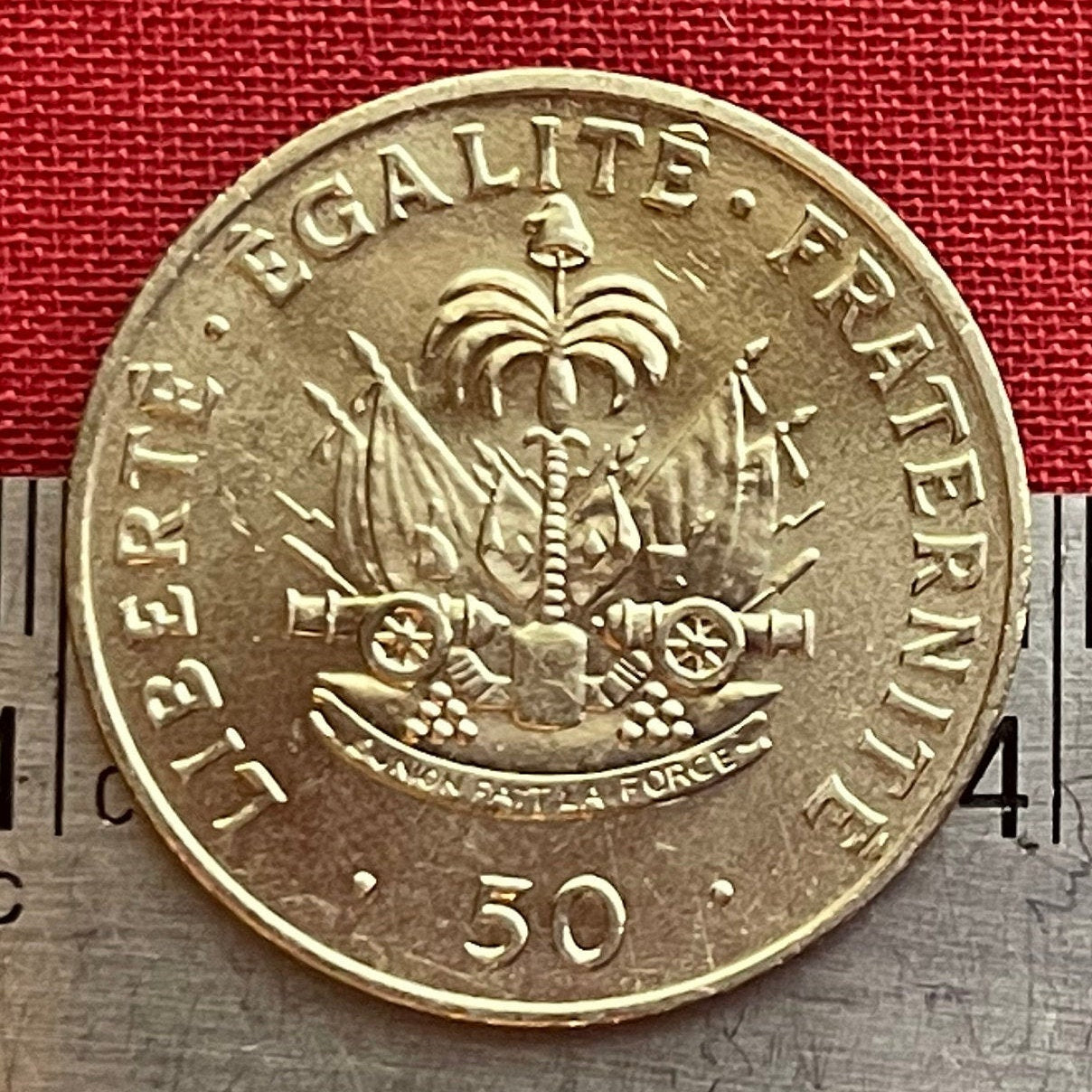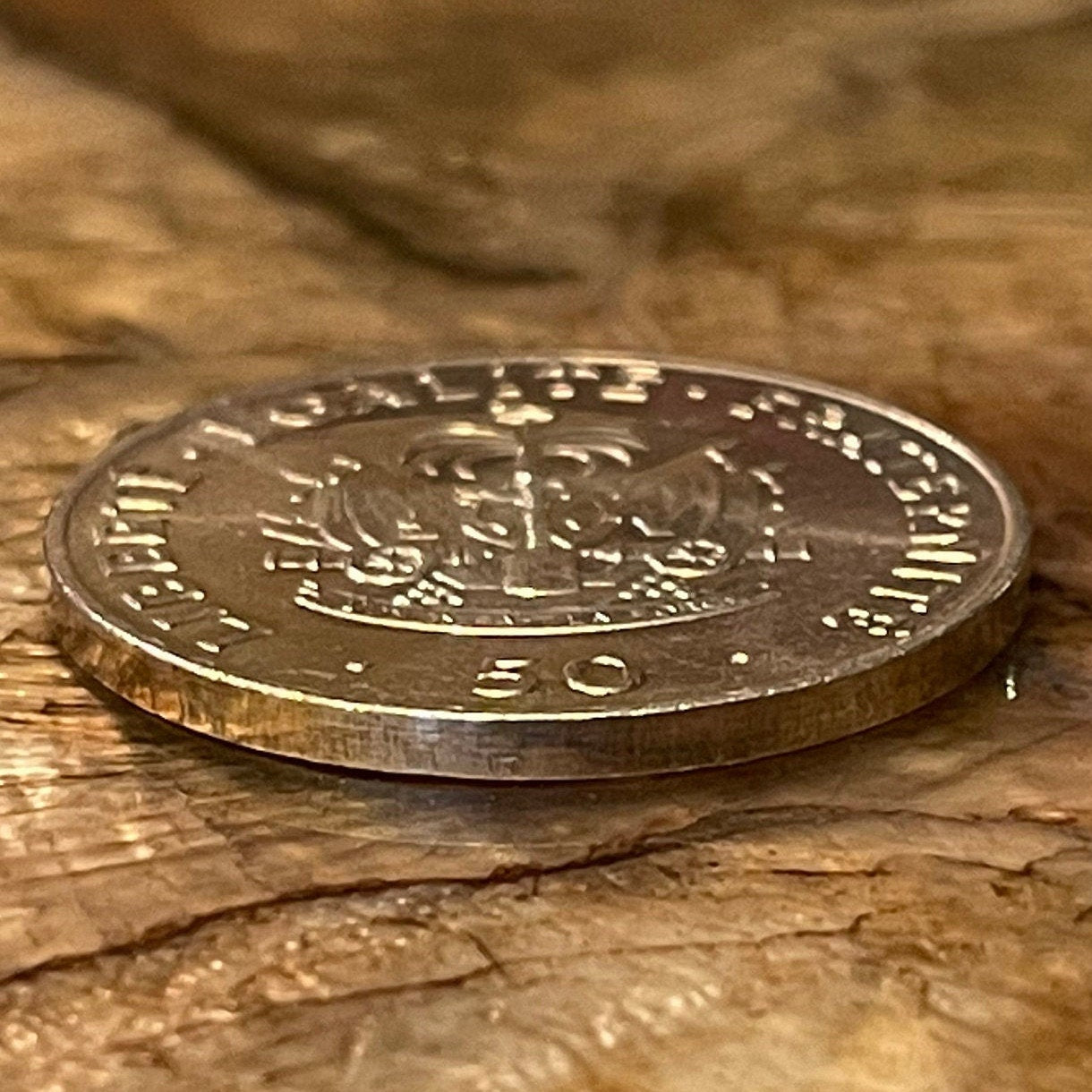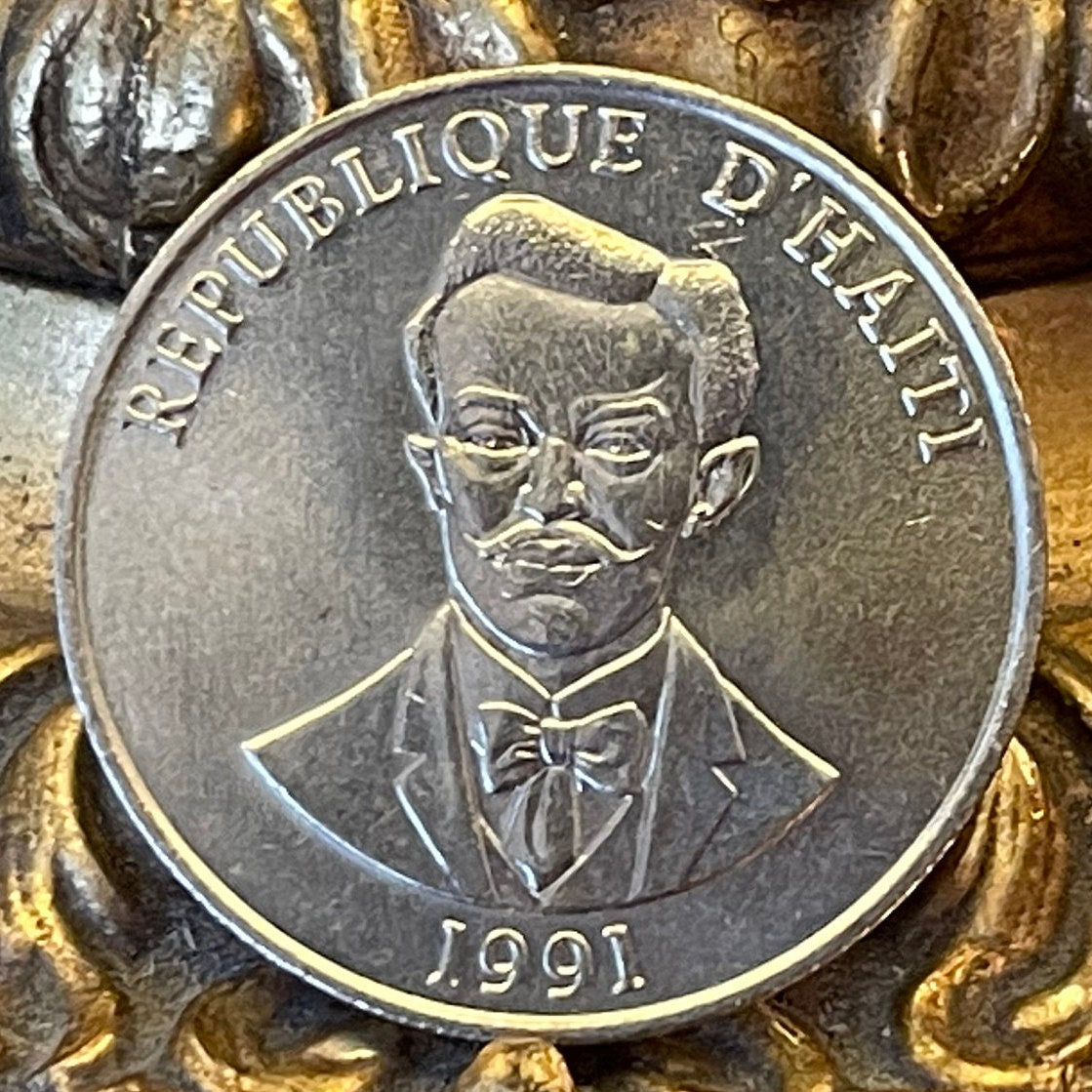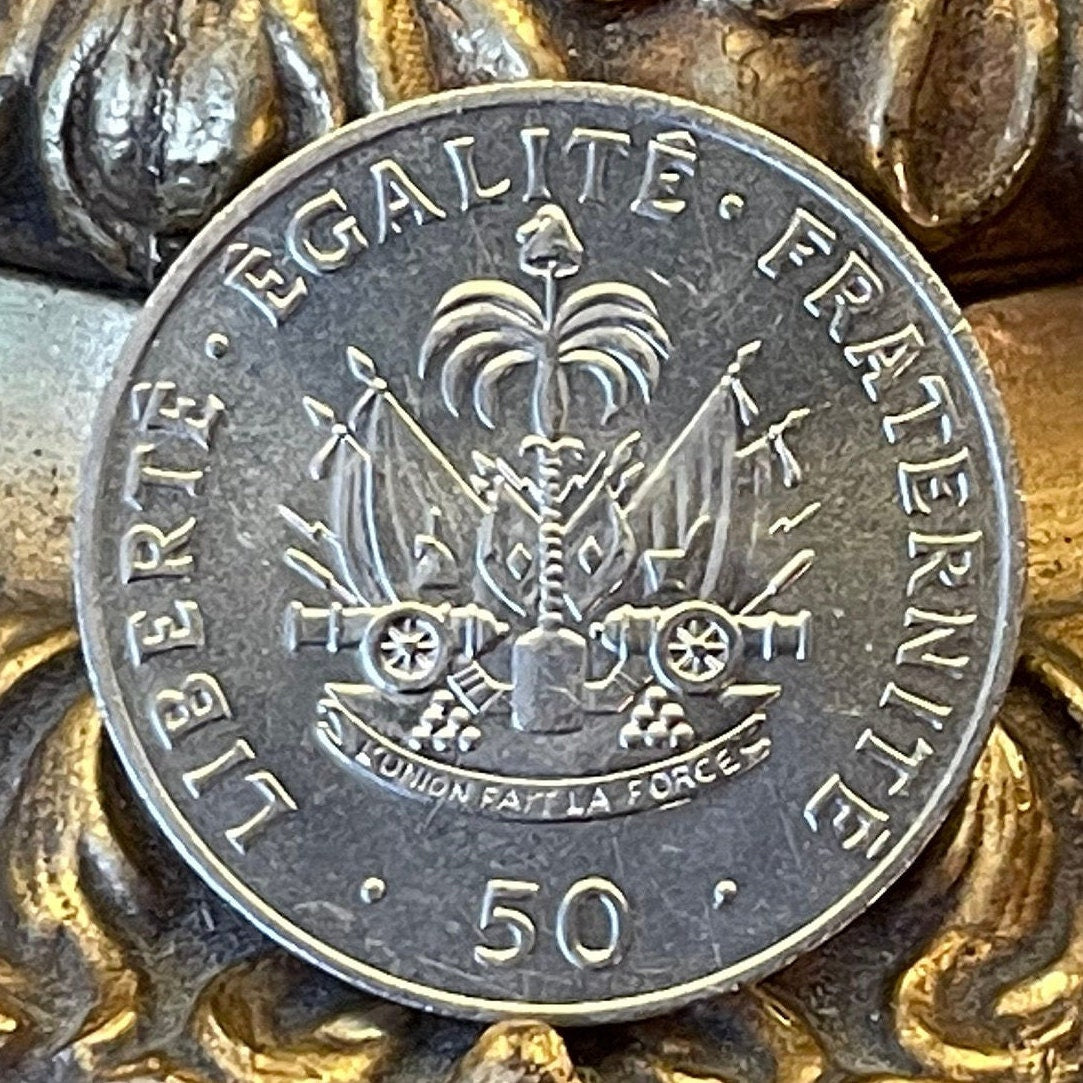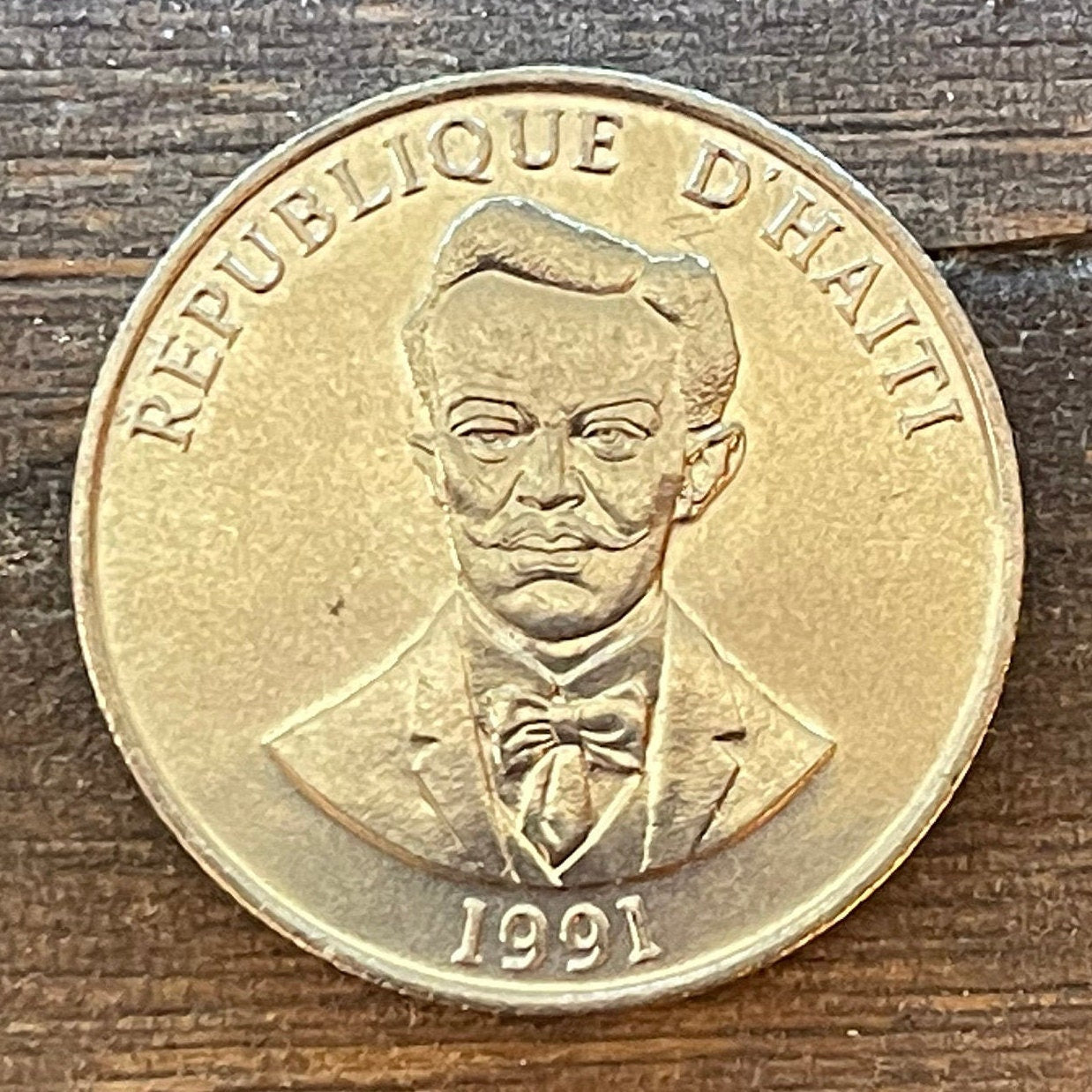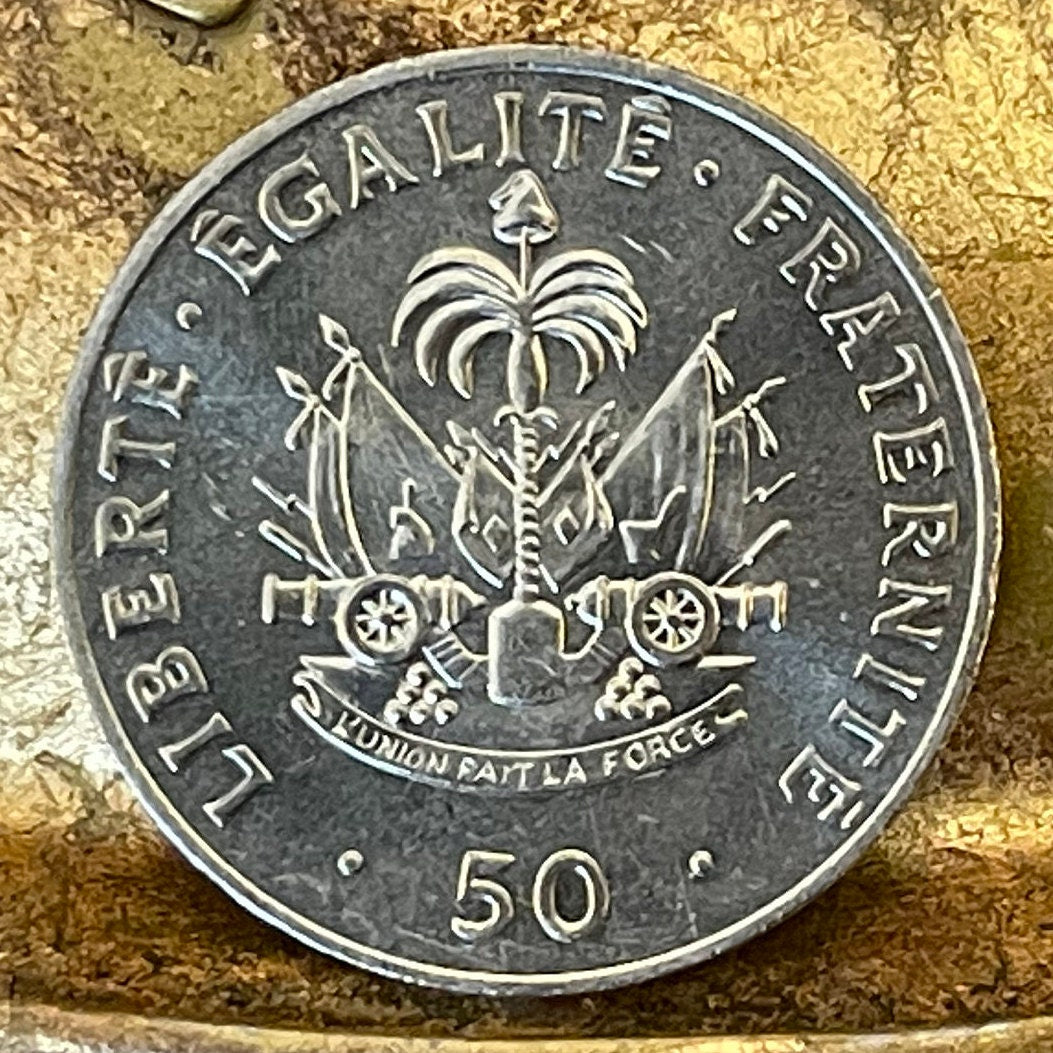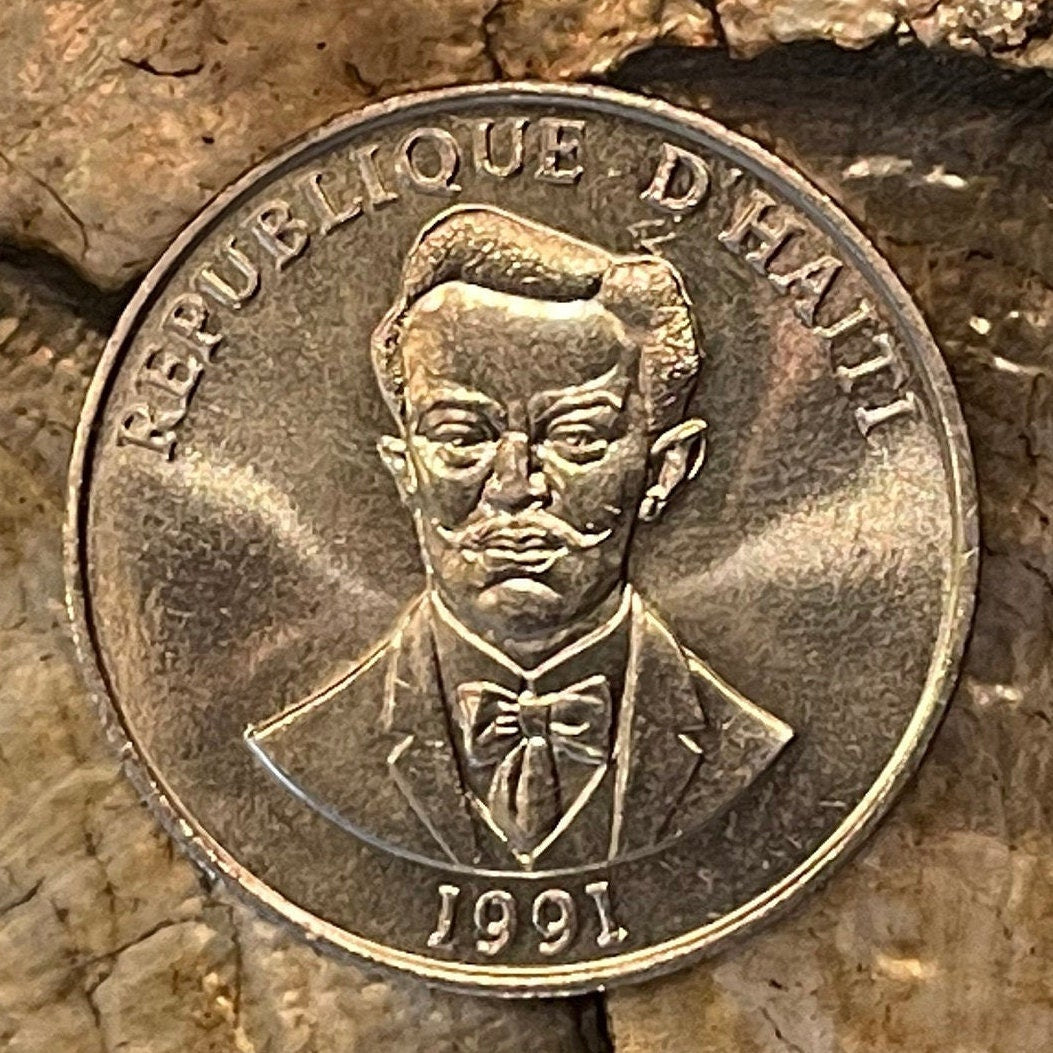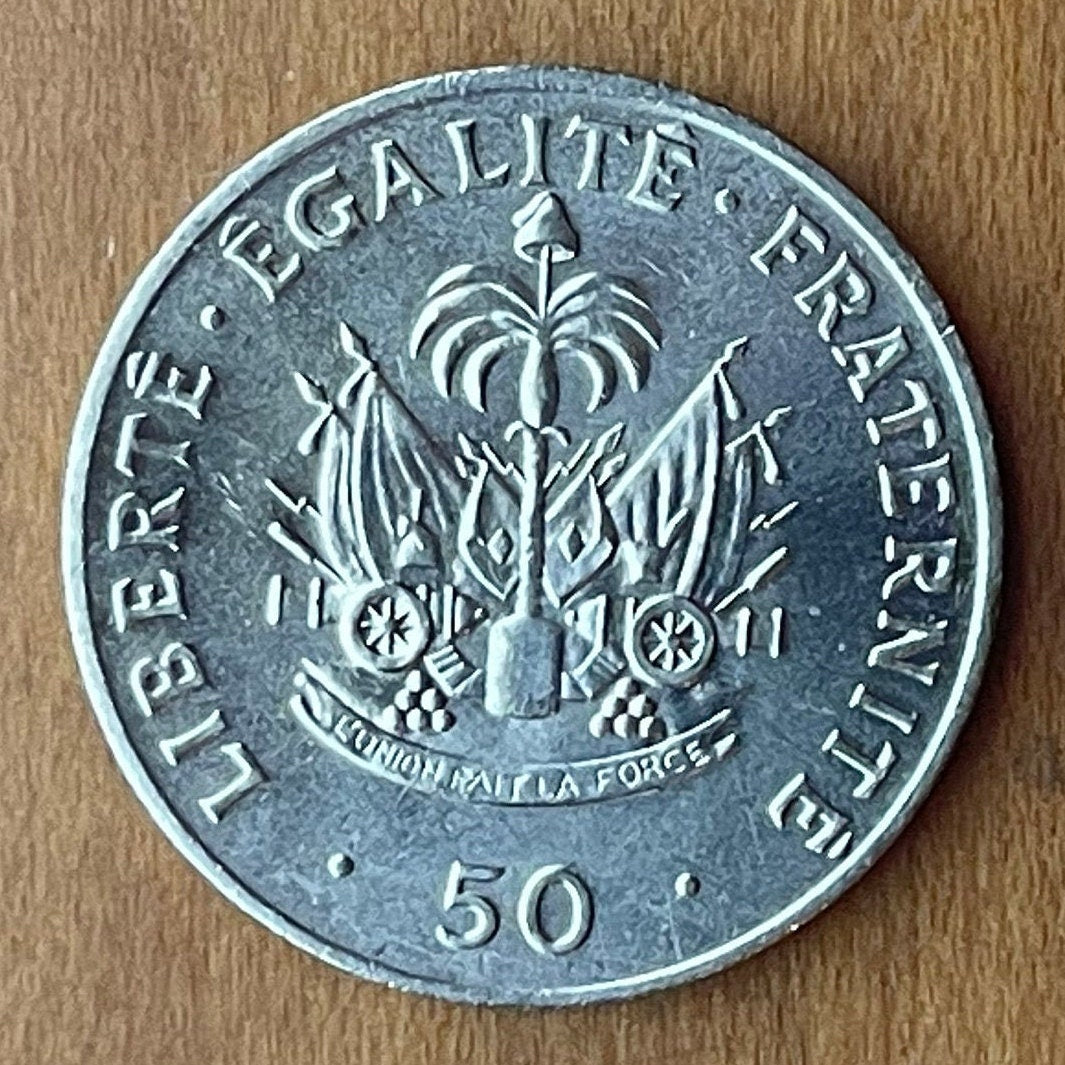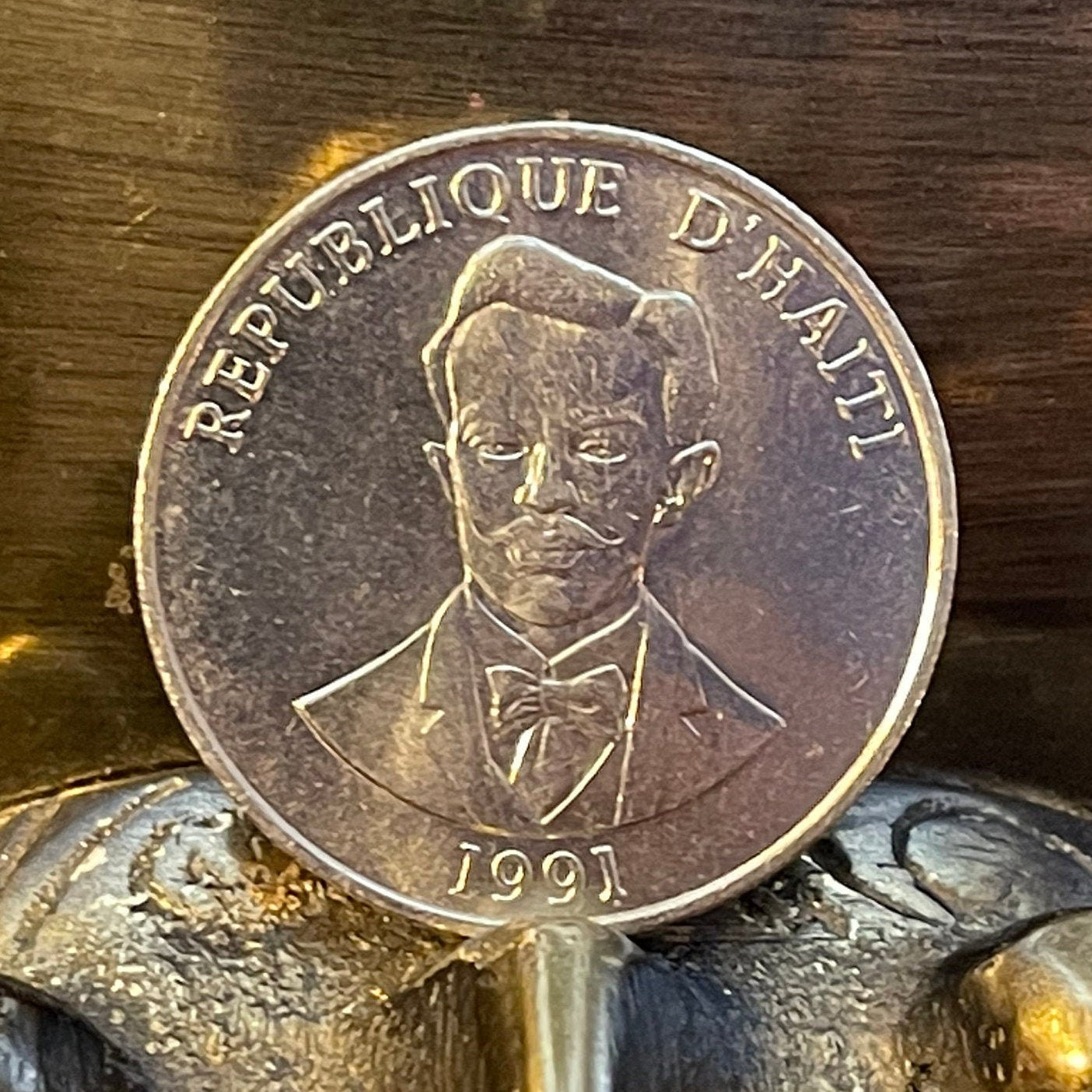 This was the perfect find! I grew up in Ha...
This was the perfect find! I grew up in Haiti and have been collecting coins from my travels. It is also from a special year😊
I highly recommend Elemintal for its wide...
I highly recommend Elemintal for its wide variety of currency in perfect condition and in protective cases, for fast shipping and for low prices. Among many other great deals, I just received a beautiful BU Haitian 50 centimes coin (about the size of a US half dollar, for the low price of $2.20! The Charlemagne Péralte image on the obverse is more impressive 'in person', and the coat of arms on the obverse makes this coin a small treasure!