Cocoa Pods 2 1/2 Pesewas Ghana Authentic Coin Money for Jewelry and Craft Making (Chocolate) (Cacao Beans) (Cocoa Beans) (Scalloped Edge)
Regular price
Sale price
$3.60 USD
Unit price
per
Cocoa Pods 2 1/2 Pesewas Ghana Authentic Coin Money for Jewelry and Craft Making (Chocolate) (Cacao Beans) (Cocoa Beans)
Obverse: Cocoa beans (Binomial Name: Theobroma cacao).
Lettering: GHANA
FREEDOM AND JUSTICE
Reverse: Coat of Arms (Lesser Version)
Lettering: TWO AND A HALF
19 67
PESEWAS
Features
Issuer Ghana
Period Republic (1960-date)
Type Standard circulation coin
Year 1967
Value 2 1/2 Pesewas (0.025 GHC)
Currency Second cedi (1967-2007)
Composition Copper-nickel
Weight 3.2 g
Diameter 19.5 mm
Shape Scalloped (with 12 notches)
Orientation Medal alignment ↑↑
Demonetized Yes
Number N# 6539
References KM# 14, Schön# 14
Meet the Sisters Making Revolutionary Chocolate in Ghana
Priscilla and Kimberly Addison are using bean-to-bar chocolate to celebrate the heritage of their ancestral home—and shift the conversation around a controversial crop.
BY SHANE MITCHELL MAY 14, 2021
https://www.saveur.com/food/meet-the-sisters-making-revolutionary-chocolate-in-ghana-africa/
"African art and culture are at the forefront of what we do," says Priscilla Addison. "We want Ghana to be known for its chocolate, not just its cocoa beans." Along with her younger sister Kimberly, she founded '57 Chocolate in 2016, when they relocated to the capital city of Accra to be closer to their parents.
"Craft chocolate like ours gives you an experience rather than just something sweet to munch on," says Kimberly, who left her tempering room still wearing a hairnet to join our overseas video call. "And we're trying to alter the narrative. There's been lots of stigma against 'Made in Africa' products. We want to change people's perceptions and prove that high quality can come out of the continent."
Starting a bean-to-bar chocolate business in Ghana wasn't the sisters' original career trajectory. Kimberly, 31, studied French and international relations with a concentration in social justice at Boston College; Priscilla, 33, majored in French and international development, with a focus on food security, at Dickinson College in Pennsylvania. Both were interested in non-profit sectors addressing women's education, human trafficking, value chains, and agriculture. But then a visit to one of Switzerland's largest chocolate factories inspired their venture into confectionery.
"Work brought me to Geneva, where our parents were living at the time," says Kimberly. "And my dad talked to us about entrepreneurship, and the potentials of going back to our native country."
"I remember telling him, okay, when you officially retire, we'll move back to Ghana with you. About two weeks before leaving, a group of friends from church invited me on a chocolate factory tour. Part of the exhibition was a display showing where beans were sourced—Ghana and Côte d'Ivoire—and that was the aha! moment."
Once they returned to their homeland, the sisters started small. Really small. Roasting raw cacao with a standard kitchen oven in their Accra home. (Craft chocolatiers use the term "cacao" for the unfermented pod and beans, and "cocoa" after the fruit has been processed.)
"At the time, we were using a hairdryer for winnowing," says Kimberly, referring to the process of removing the outer chaff from the cacao. "Rolling pins for crushing beans. We had our tabletop grinder, and needed a bowl and a spatula for tempering. When it comes to chocolate making it's kind of like an orchestra: Not one piece of equipment is the most important, because they all do their part."
Priscilla chimes in. "And electricity! We were getting up at three in the morning to use the machines because, initially, when we moved to Ghana, the lights would go off quite frequently."
Early in the 19th century, Portuguese colonists introduced cacao, a tropical fruit from the Americas, as a cash crop on the island of São Tomé in the Gulf of Guinea, a transit point for ships engaged in the Atlantic slave trade. But it was a Ghanian agriculturalist named Tetteh Quarshie who is credited with bringing the pods to mainland West Africa around 1876. The export of cacao from the Gold Coast began by 1893; today, Ghana and neighboring Côte d'Ivoire produce nearly two-thirds of the global cocoa bean supply, in an industry worth more than $100 billion in annual sales. Most of this crop is dedicated to commodity chocolate: candy bars produced by multinational corporations like Hershey and Mars. While the cacao being raised on small-plot farms in equatorial Ghana usually winds up on supermarket shelves in Europe and North America, many of these growers had never tasted a chocolate bar themselves.
That is, until Kimberly and Priscilla Addison came back....
Wikipedia:
Cocoa is the chief agricultural export of Ghana and Ghana's main cash crop. The world largest irrigation scheme of cocoa is Ivory Coast, Ghana is the second largest cocoa exporter in the world. Cocoa cultivation is not native to the country; Ghana's cocoa cultivation, however, is noted within the developing world to be one of the most modeled commodities and valuables.
Cocoa production occurs in the country's forested areas: Ashanti, Brong-Ahafo, Central Region, Eastern Region, Western Region, and Volta, where rainfall is 1,000-1,500 millimeters per year. The crop year begins in October, when purchases of the main crop begin, with a smaller mid-crop cycle beginning in July.
With some two million children involved in the farming of cocoa in West Africa, primarily Ghana and Ivory Coast, child slavery and trafficking were major concerns in 2018. However, international attempts to improve conditions for children were failing because of persistent poverty, absence of schools, increasing world cocoa demand, more intensive farming of cocoa, and continued exploitation of child labor.
Child Labour
A major study of the issue in 2016, published in Fortune Magazine in the U.S., concluded that approximately 2.1 million children in various countries of West Africa "still do the dangerous and physically taxing work of harvesting cocoa". The report was doubtful as to whether the situation can be improved.
The article provided this comment. "According to the 2015 edition of the Cocoa Barometer, a biennial report examining the economics of cocoa that's published by a consortium of nonprofits, the average farmer in Ghana in the 2013–14 growing season made just 84¢ per day, and farmers in Ivory Coast a mere 50¢. That puts them well below the World Bank's new $1.90 per day standard for extreme poverty, even if you factor in the 13% rise in the price of cocoa last year. And in that context the challenge of eradicating child labor feels immense, and the chocolate companies' newfound commitment to expanding the investments in cocoa communities not quite sufficient. ... 'Best-case scenario, we're only doing 10% of what's needed.' Getting that other 90% won't be easy. 'It's such a colossal issue,' says Sona Ebai, the former secretary general of the Alliance of Cocoa Producing Countries. 'I think child labor cannot be just the responsibility of industry to solve. I think it's the proverbial all-hands-on-deck: government, civil society, the private sector.'He pauses, taking in his own thought for a moment. 'And there, you really need leadership.'"
In April 2018, the Cocoa Barometer 2018 report on the $100-billion industry, said this about the child labor situation: "Not a single company or government is anywhere near reaching the sector-wide objective of the elimination of child labour, and not even near their commitments of a 70% reduction of child labour by 2020". A report later that year by New Food Economy stated that the Child Labour Monitoring and Remediation Systems implemented by the International Cocoa Initiative and its partners has been useful, but "they are currently reaching less than 20 percent of the over two million children impacted".
Impacts on Environment
According to the Ghana Forestry Commission, a Ghana government agency, almost 80% of Ghana's forest resources were lost to illegal logging operation between 1990 and 2016. While this loss cannot be entirely attributed to cocoa production, cocoa production is a leading cause of deforestation in Ghana. Global Forest Watch (GFW), using advanced remote sensing and satellite data, estimated that there was a 60% increase in primary rainforest loss from 2017 to 2018, the largest increase of any country in the world. Neighboring Côte d'Ivoire had a 28% increase, which was the second largest increase in this time period. Together, these two countries produce roughly 2/3 of the world's cocoa, and much of this forest loss is due to cocoa production, both legal and illegal.
Cocoa and Forests Initiative
The Cocoa and Forests Initiative is an agreement reached between the governments of Côte d'Ivoire and Ghana, and over thirty-seven major cocoa and chocolate companies. The purpose of the initiative is to end deforestation and replenish the trees and forests that have been destroyed as a result of the cocoa production in the area. Between 1988 and 2007, over 2.3 million hectares of rainforest in Côte d'Ivoire and Ghana were cleared for cocoa farms. The initiative was announced at the UN Climate Change Conference in November 2017. One of the central tenets of the initiative is a commitment to no further conversion of natural forests to land for cocoa production in West Africa.
In March 2019, the governments of Côte d'Ivoire and Ghana in tandem with the cocoa companies released action plans that laid out concrete steps for ending deforestation. These steps include forest protection and restoration, sustainable cocoa production with an emphasis on the livelihood of farmers, and a system of social inclusion and community engagement.
********
Wikipedia:
The coat of arms of Ghana was designed by Ghanaian artist Nii Amon Kotei introduced on 4 March 1957.[1]
Description
The first quarter, on the upper left shows a sword used by chiefs, and a staff, used by the linguist (known as an okyeame in Akan), at ceremonies. It is a symbol for the traditional authority of Ghana.
The second quarter shows a representation of Osu Castle on the sea, the presidential palace on the Gulf of Guinea, symbolizes the national government.
The third quarter of the shield shows a cacao tree, which embodies the agricultural wealth of Ghana.
The fourth quarter shows a gold mine, which stands for the richness of industrial minerals and natural resources in Ghana.
A gold lion centred on a green St George's Cross with gold fimbriation on the field of blue, represents the continuing link between Ghana and the Commonwealth of Nations.
Share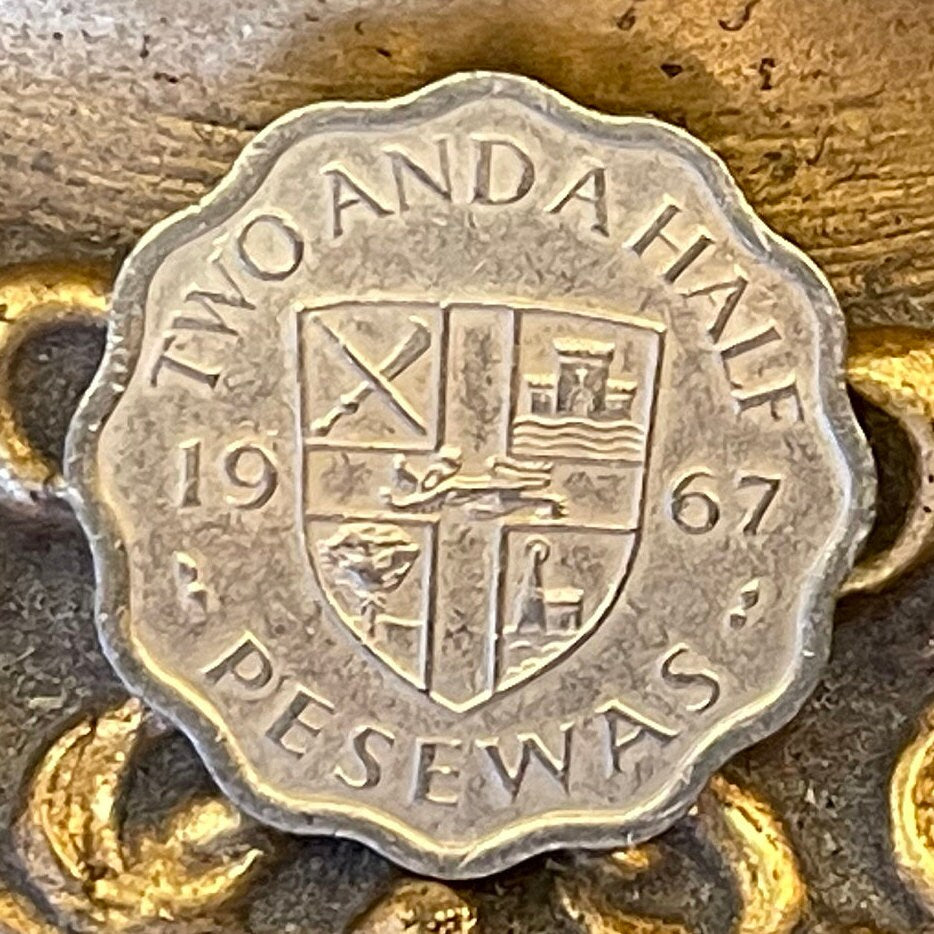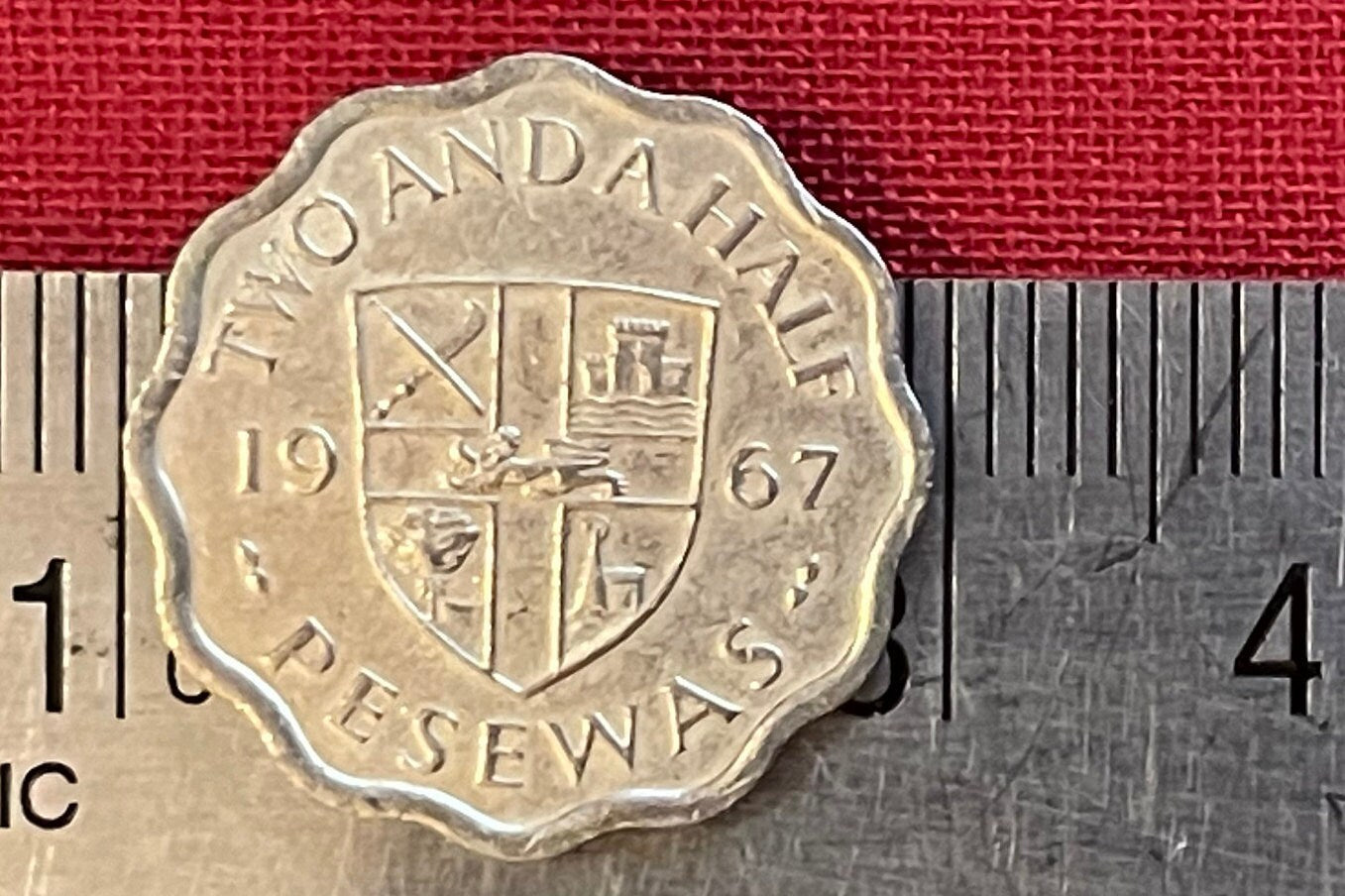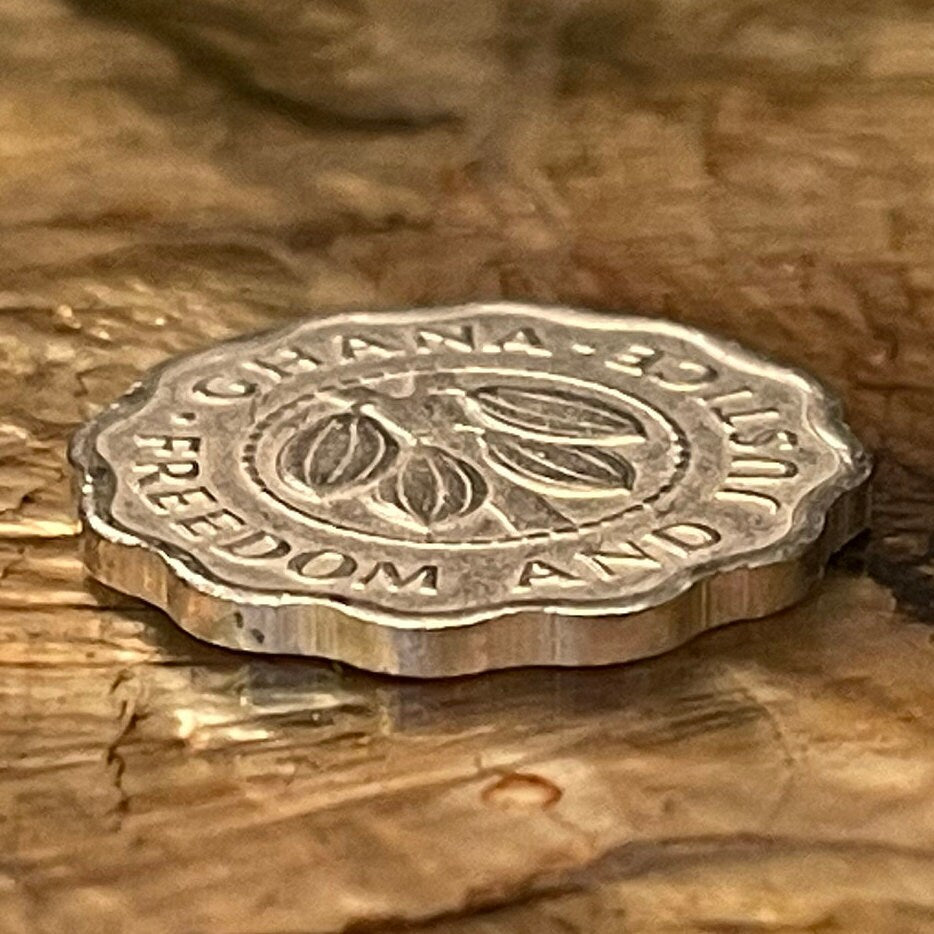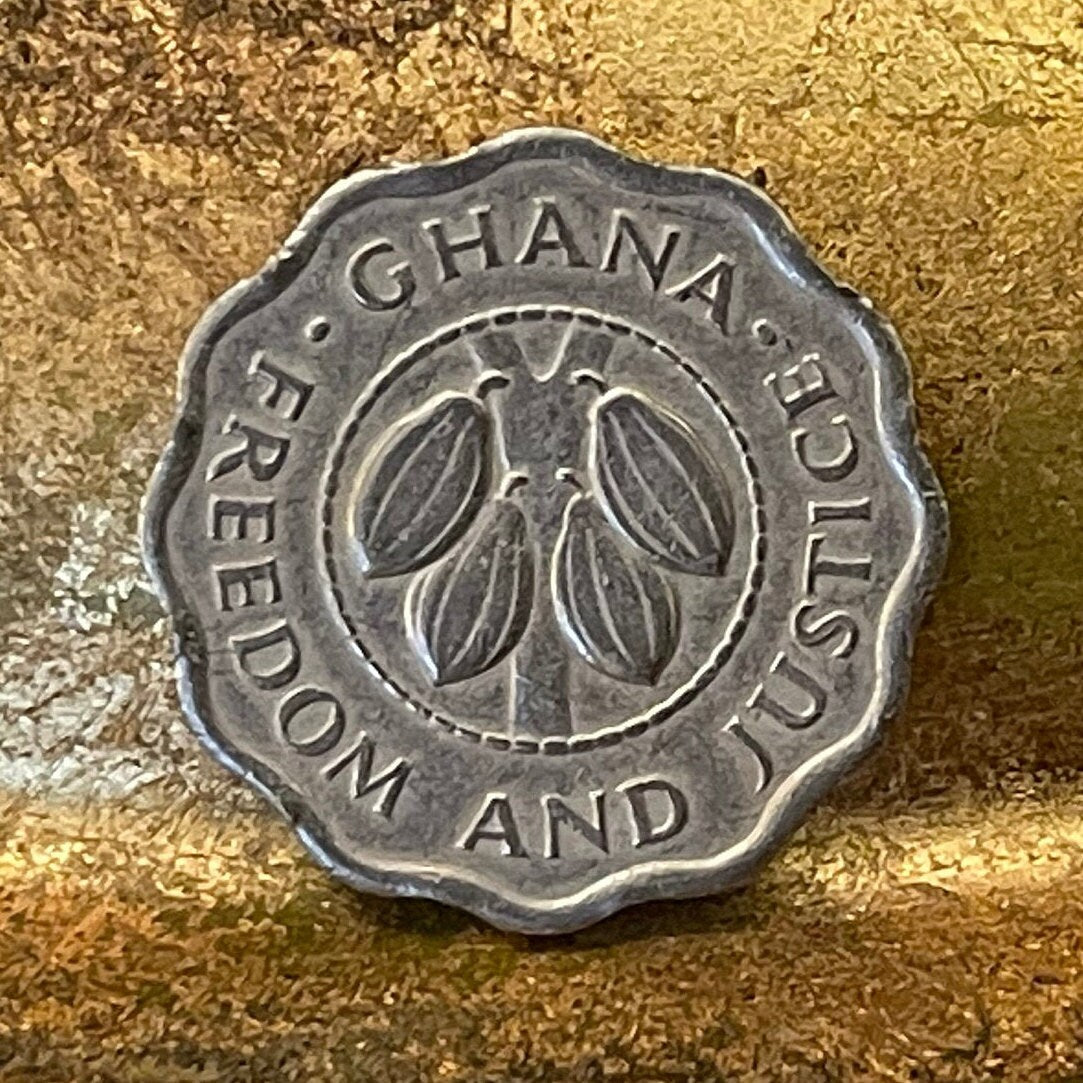 5 stars review from Megan
5 stars review from Megan
5 stars review from Michele
5 stars review from Michele
5 stars review from Anaya
5 stars review from Anaya
Excellent coins in excellent condition!
Excellent coins in excellent condition!
Fantastic quality and very fast shipping....
Fantastic quality and very fast shipping. Perfection.