Date Palm Trees 25 Fils Iraq Authentic Coin Money for Jewelry and Craft Making
Regular price
Sale price
$3.33 USD
Unit price
per
Date Palm Trees 25 Fils Iraq Authentic Coin Charm for Jewelry and Craft Making.
Material: copper-nickel alloy
Obverse: Value in Arabic in a central circle with lettering, wheat ear and leaf below, lettering above
Lettering:
الجمهورية العراقية
٢٥
فلساً
Translation:
The Iraqi Republic
25 Fils
Reverse: Three date palm trees in foreground, row of trees in background both sides, years to the side
Lettering: ١٣٩٥ ١٩٧٥
Translation: 1975 1395
Features
Issuer Iraq
Period Republic (1958-date)
Type Standard circulation coin
Years 1388-1401 (1969-1981)
Calendar Islamic (Hijri)
Value 25 Fils (0.025 IQD)
Currency Dinar (1931-date)
Composition Copper-nickel
Weight 2.75 g
Diameter 20 mm
Thickness 1.1 mm
Shape Round
Technique Milled
Orientation Medal alignment ↑↑
Demonetized Yes
Number N# 3302
References KM# 127, Schön# 33
Wikipedia:
Phoenix dactylifera, commonly known as date or date palm, is a flowering plant species in the palm family, Arecaceae, cultivated for its edible sweet fruit. The species is widely cultivated across Northern Africa, the Middle East and South Asia, and is naturalized in many tropical and subtropical regions worldwide. P. dactylifera is the type species of genus Phoenix, which contains 12–19 species of wild date palms, and is the major source of commercial production.
Date trees typically reach about 21–23 metres (69–75 ft) in height, growing singly or forming a clump with several stems from a single root system. Date fruits (dates) are oval-cylindrical, 3 to 7 centimetres (1 to 3 in) long, and about 2.5 centimetres (1 in) in diameter, ranging from bright red to bright yellow in colour, depending on variety. Containing 61–68 percent sugar by mass when dried, dates are a very sweet fruit.
Dates have been a staple food of the Middle East and the Indus Valley for thousands of years. There is archaeological evidence of date cultivation in Arabia from the 6th millennium BCE. The total annual world production of dates amounts to 8.5 million metric tons, countries of the Middle East and North Africa being the largest producers.
Date palm fruits are one of the fruits reported to have good potentials in diabetes treatment due to its presence of polyphenols exerting strong antioxidant activities.
Culture
Dates are mentioned more than 50 times in the Bible and 20 times in the Qur'an.
Many Jewish scholars believe that the "honey" reference in the Bible to "a land flowing with milk and honey" (Exodus chapter 3) is actually a reference to date "honey", and not honey from bees.
In Islamic culture, dates and yogurt or milk are traditionally the first foods consumed for Iftar after the sun has set during Ramadan.
Symbolism
Date palms hold great significance in Abrahamic religions. The tree was heavily cultivated as a food source in ancient Israel where Judaism and subsequently Christianity developed.
In the Quran, Allah instructs Maryām (the Virgin Mary) to eat dates during labour pains when she gives birth to Isa (Jesus); and, similarly, they are recommended to pregnant women.
In the Torah, palm trees are referenced as symbols of prosperity and triumph. In Psalm 92:12 "The righteous shall flourish like the palm tree". Palm branches occurred as iconography in sculpture ornamenting the Second Jewish Temple in Jerusalem, on Jewish coins, and in the sculpture of synagogues. They are also used as ornamentation in the Feast of the Tabernacles. Date palms are one of the seven species of native Israeli plants revered in Judaism. The date palm has historically been considered a symbol of Judea the Jewish people.
In Christianity, Palm branches were said to be scattered before Jesus as he entered Jerusalem on Palm Sunday.
Share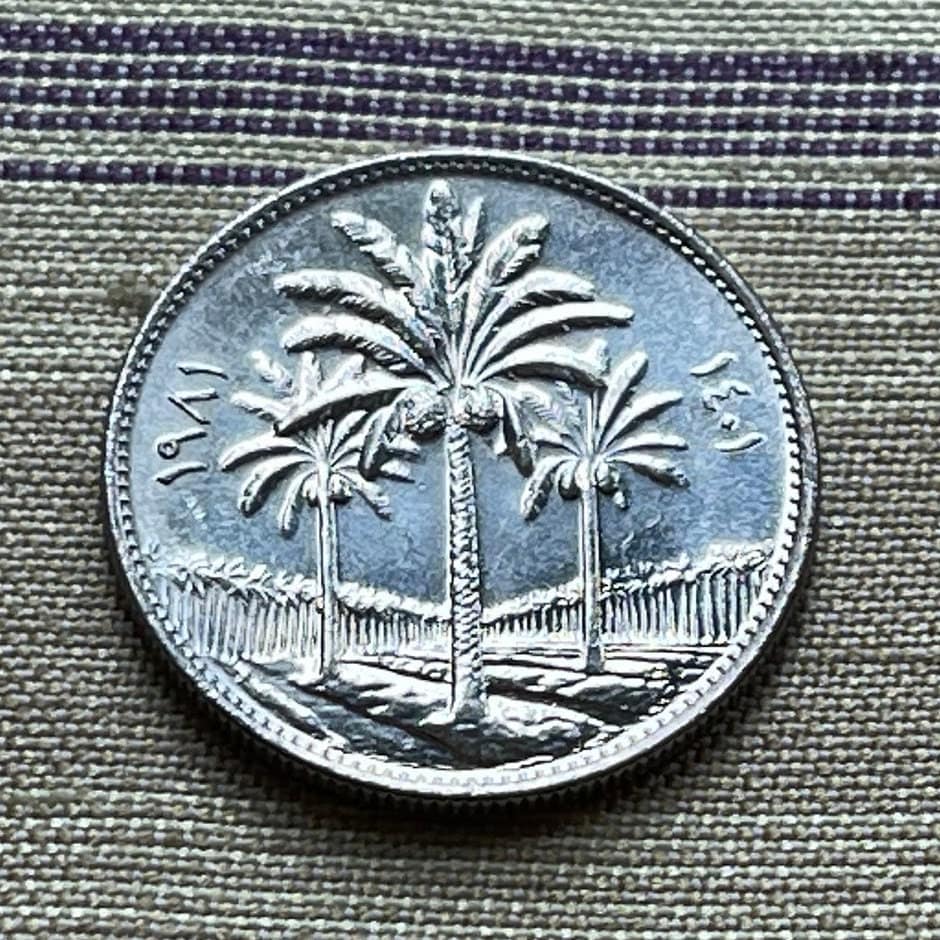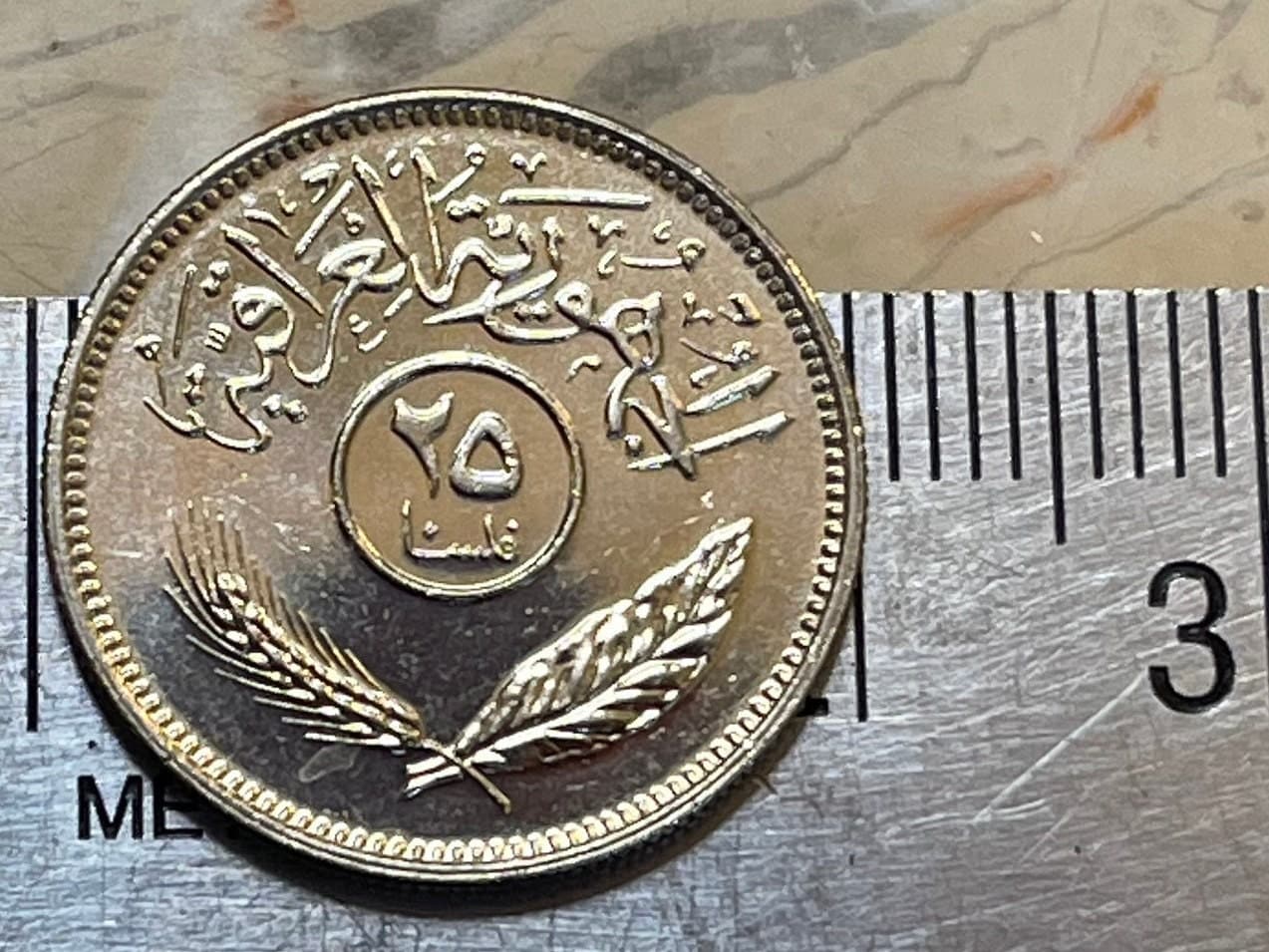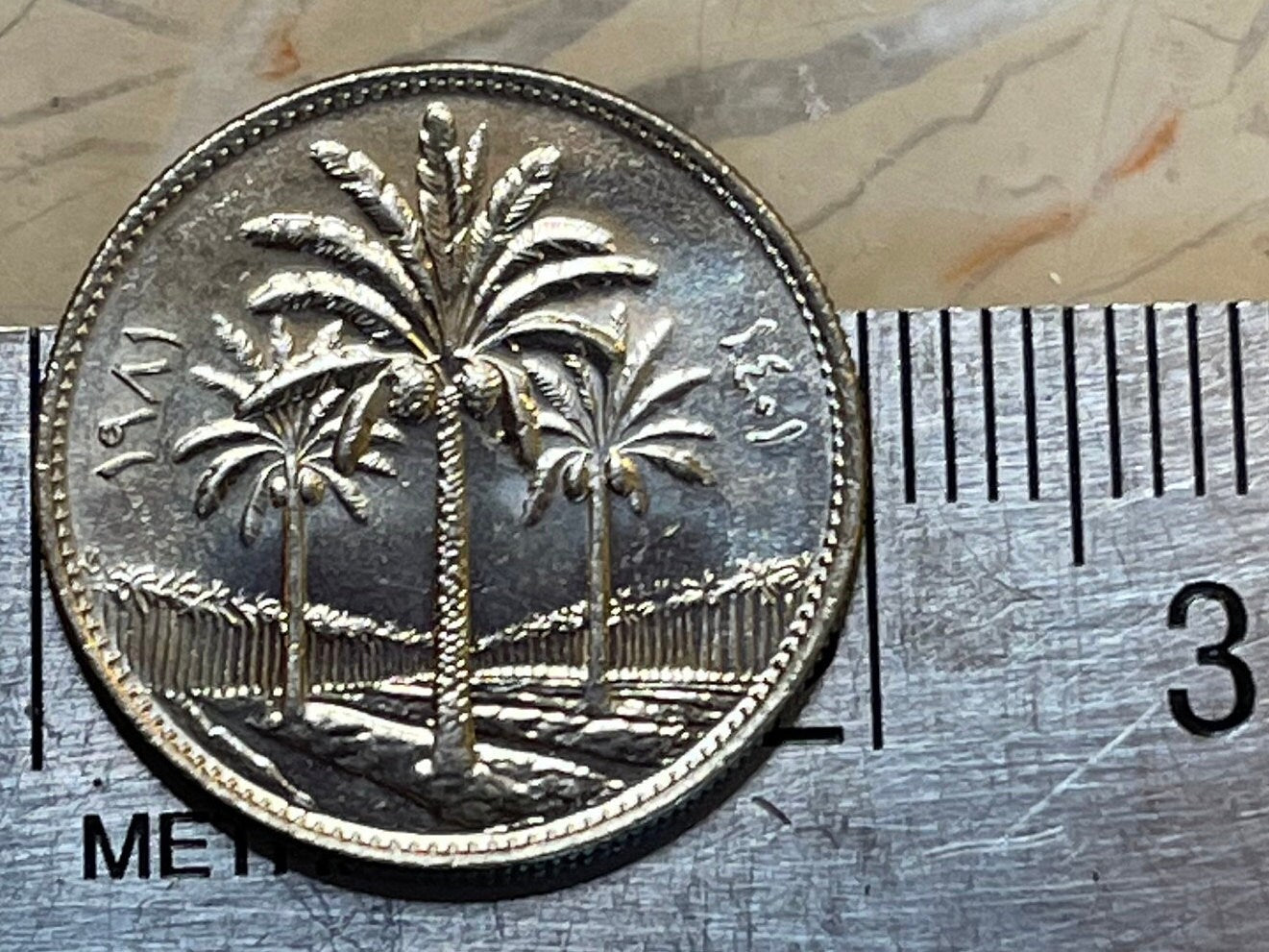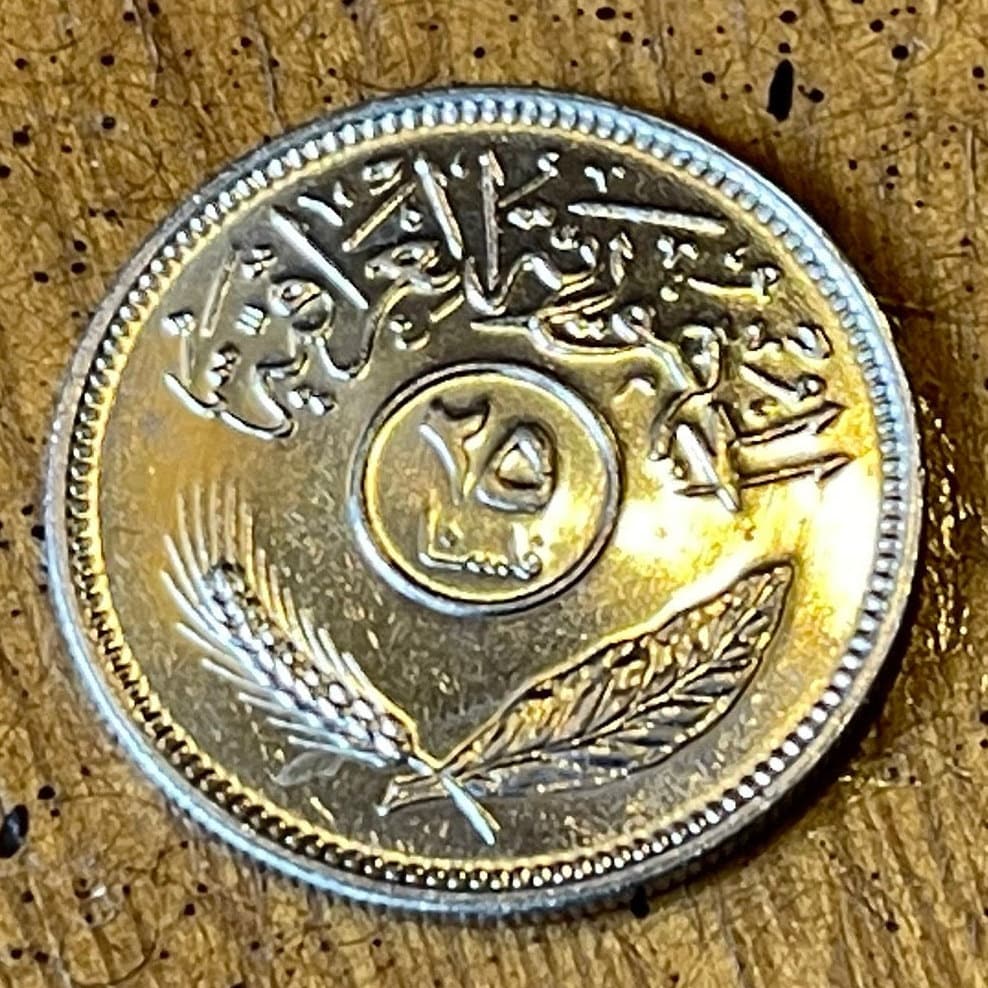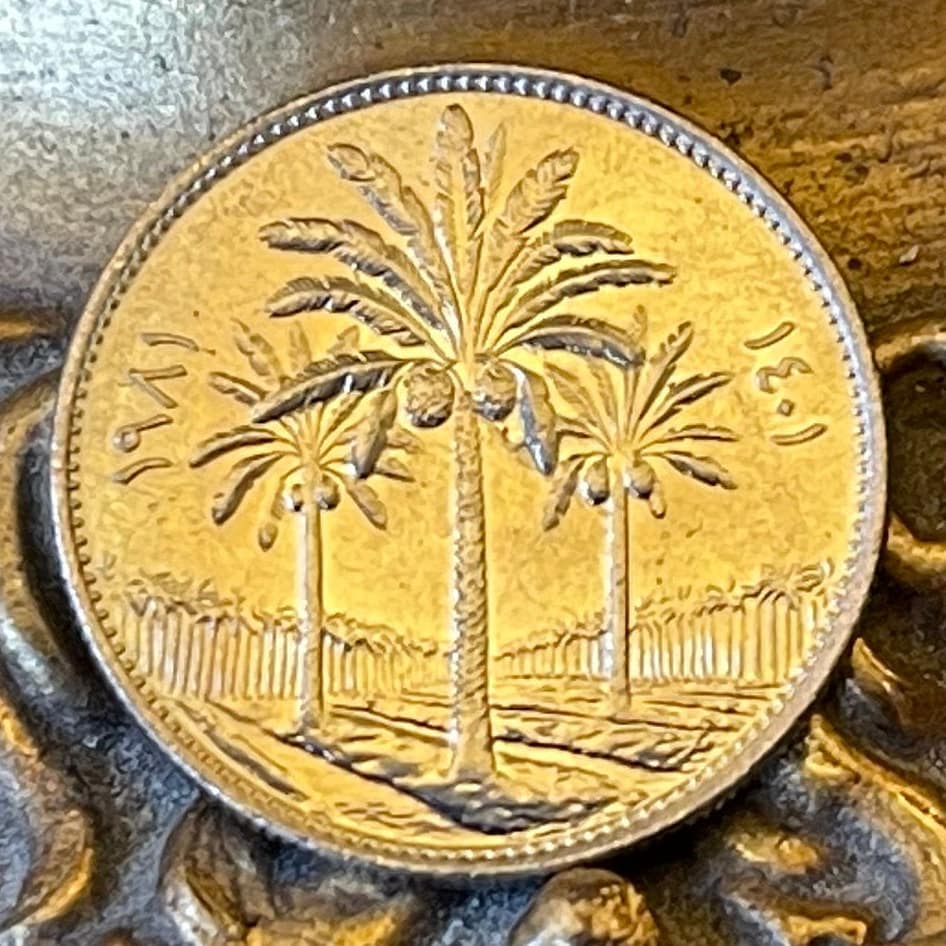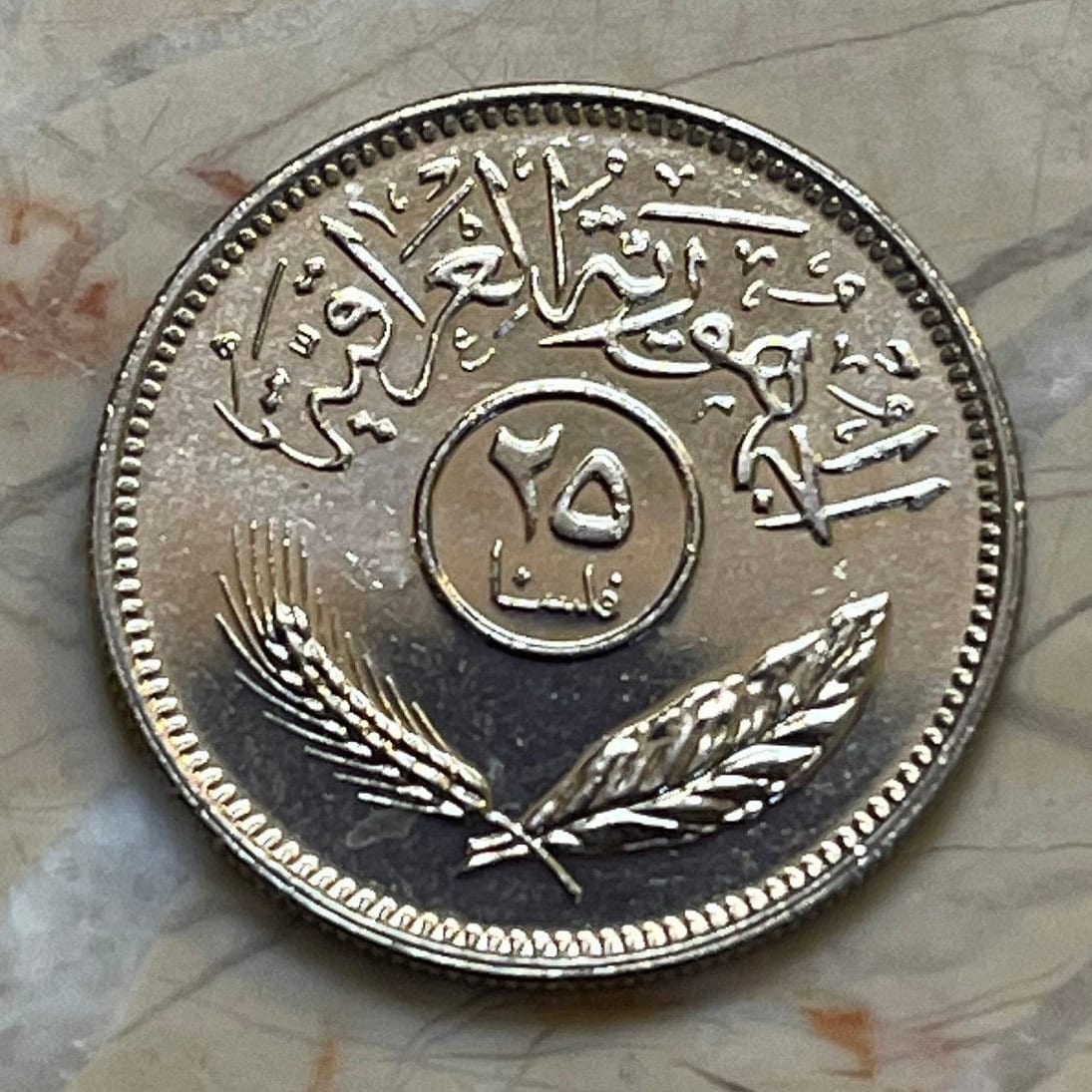 Date Palm Trees 25 Fils Iraq Authentic Coin Money for Jewelry and Craft Making
Sweet. In good shape. Quickly received.
Sweet. In good shape. Quickly received.
Terrific merchandise,& not too expensive.
Terrific merchandise,& not too expensive.
I'm a casual/novice coin collector. I orde...
I'm a casual/novice coin collector. I ordered 21 coins from Elemintal, based on places I've traveled and themes I thought were interesting. They arrived quickly and safely. Each coin was in an individual plastic sleeve, and they were protected by cardstock in a padded envelope. This coin was in very nice condition. Thank you!