Lacemaker 50 Centavos Brazil Authentic Coin Money for Jewelry and Craft Making (Rendeira) (Weaver)
Regular price
Sale price
$2.28 USD
Unit price
per
Lacemaker 50 Centavos Brazil Authentic Coin Charm for Jewelry and Craft Making (Rendeira) (Weaver)
Obverse: Face value on big numerals, country name below. background resembling center of Brazilian flag. on right 5 5-pointed stars, in the order of Braille code, indicating face value.
Lettering: 50 (50 in Braille code) CENTAVOS BRASIL
Translation: 50 Cents Brazil
Reverse: Lacemaking woman kneeling over, weaving stylized design.
Features
Issuer Brazil
Period Federative Republic of Brazil (1967-date)
Type Standard circulation coin
Years 1989-1990
Value 50 Centavos (0.50 BRN)
Currency Cruzado novo (1989-1990)
Composition Stainless steel
Weight 2.83 g
Diameter 19.5 mm
Shape Round
Technique Milled
Orientation Coin alignment ↑↓
Demonetized 1990
Number N# 5390
References KM# 614, Schön# 123
From: https://lauramorelli.com/the-art-of-brazilian-lace/
The lacemaker's wrinkled hands are surprisingly agile. This seventy-something lady in Prainha, on the northeastern coast of Brazil, rapidly maneuvers two dozen wooden bobbins, which make a pleasant clicking sound as she works. Seeming to read my mind, she smiles and says that her fingers have worked these bobbins since she was old enough to follow her mother's directions. Incongruously, her frenetic movements produce a miniscule lace fragment. In fact, a full day's work yields just a few inches of delicate finery.
A painstaking tradition
The extraordinarily laborious craft of bobbin lace (renda di bilros in Portuguese) came to Brazil along with Portuguese colonists who claimed its beautiful northeastern coastline as their own in the 17th century. Portugal already counted a rich tradition of lacemaking, and colonists continued the practice in the New World. Mostly the province of women, lacemaking was passed down from mothers to daughters, who learned by watching and repeating their motions. While their European ancestors considered lace a luxurious fashion accessory, in the New World, the craft seemed a natural extension of more mundane trades that were already vital to the seaside culture: the making of baskets, hats, hammocks, and fishing nets. Early colonists made lace to pass the time and supplement their families' income, making doilies, collars, and tablecloths out of white and colored linen threads.
Lace can be produced either with a needle and thread (needle lace) or by interweaving threads wound on bobbins. Bobbin lace is the predominant type of lace made on Brazil's northeastern coast. The technique begins with a pillow, almost always homemade, and stuffed with cotton, grass, or even banana leaves. The pillow forms the workspace for the rendeira, or lacemaker, who props it in her lap or places it on a special wooden stand made for that purpose. She then covers the pillow with a lace template on paper or cardboard. A collection of pins—commercial sewing notions or, in a pinch, cactus thorns—holds the design in place on the pillow.
The lacemaker then uses bobbins or spindles, each wound with a single thread, to work the pattern. Today most bobbins are made of wood, though in the past bone was also used, which is why the technique is sometimes referred to as bone lace. As many as 50 bobbins, each holding an individual thread, might be used to work a single pattern. Lacemakers complete the pattern by winding and overlapping the threads from the bobbins to create a distinctive weave. Experienced lacemakers work at a rapid pace that, on the surface, seems effortless. Their wooden bobbins click together as they render circles, stars, rosettes, and more complex motifs like scrolls, animals, leaves, and flowers.
Where to find authentic lace
Today Brazil's best lacemakers are concentrated on the country's northeastern coast, in the states of Ceará and Pará. Fortaleza, Ceará's capital city, boasts many lace shops, several outdoor markets, and a large craft center selling lace umbrellas, gloves, hats, napkins, and tablecloths, as well as beautiful baby outfits and items befitting a bridal trousseau.
However, most of these shops are resellers for artisans working in coastal villages. If you want to see lacemakers in action, take a day trip to the seaside towns of Iguape or Prainha, both of which boast lacemaking centers where you can watch women and girls making lace. Ask the lacemakers to indicate which patterns are most traditional, as each town is known for its own patterns.
How to shop for lace and how much to pay
Several factors can influence the price of a lace piece, including the type of thread used (cotton, silk, or other materials), the intricacy of the design, and the size, which is a measure of the time it takes to complete it. As a general rule, you will pay less if you buy directly from the lacemaker or one of the village markets rather than in a Fortaleza lace shop, or if you buy a piece with lace accents, like a tablecloth with a lace border. Any way you slice it, though, prices are downright cheap, considering the laboriousness of this craft. You can pick up small items like napkins for around seven to 15 Brazilian reals (just a few dollars). A full-size lace tablecloth or bedspread that requires months of full-time labor will rarely run more than 800 Brazilian reals (around $500). In Europe or the United States, you would pay many times the price for a handmade item of equal quality.
In addition to getting a good deal on a fine piece of handmade lace, the main reward of trekking to this remote part of Brazil is the chance to see this traditional trade in action. Whether watching lacemakers at work in the market, at a lace center, or in the shade of their own doorways, it's a pleasure to witness the production of such delicate finery, inch by inch.
This piece originally appeared in Laura's column, "The Genuine Article," for National Geographic Traveler. Read more of Laura Morelli's "The Genuine Article" at National Geographic Traveler Online…
https://lauramorelli.com/the-art-of-brazilian-lace/
Share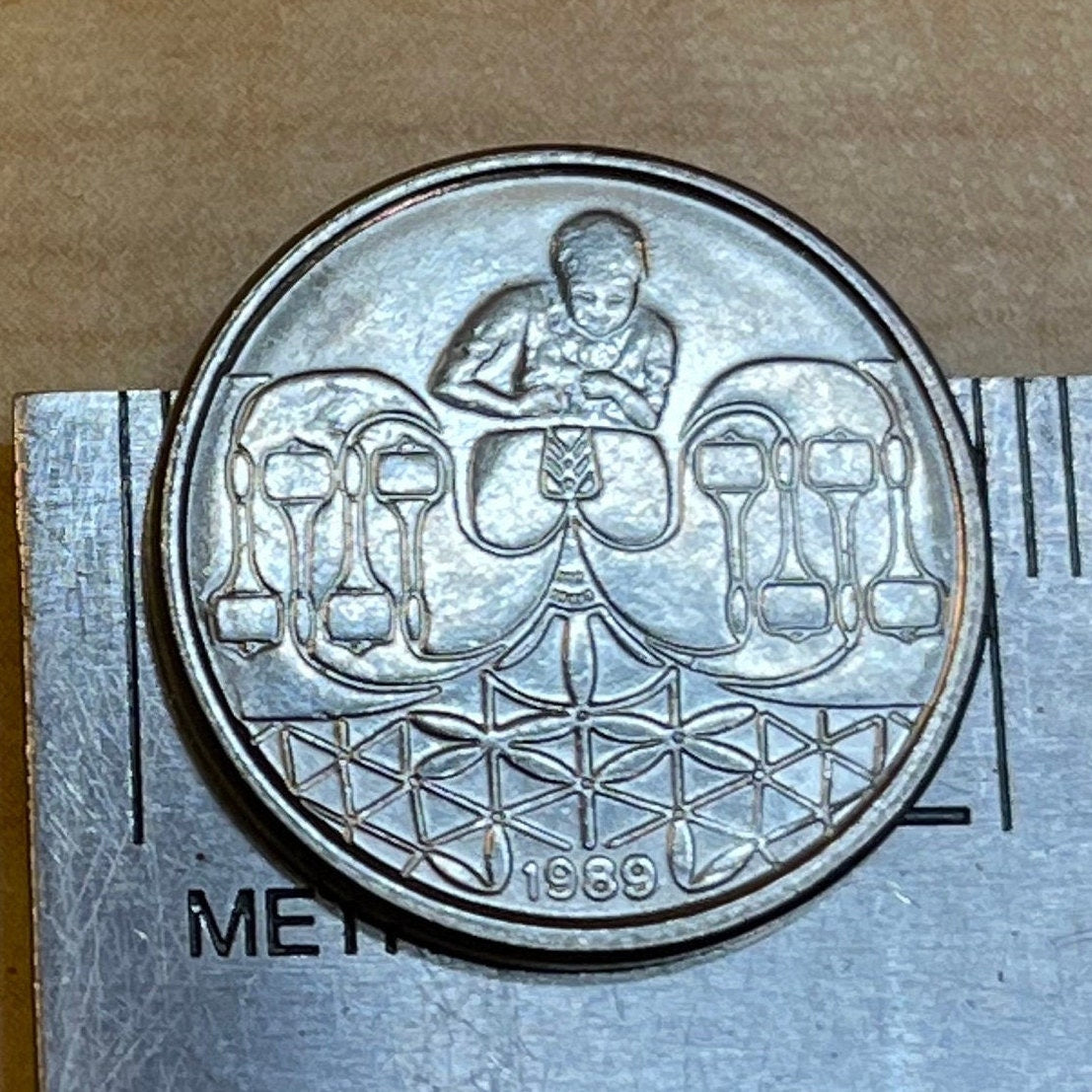 perfect, fast ship as described thanks
perfect, fast ship as described thanks
Another super addition to my collection. S...
Another super addition to my collection. Shiping and packing was good. I will buy from this seller again.
Very nice coin, excellent condition.
Very nice coin, excellent condition.
Fast S&H. Liked buying with this merchant.
Fast S&H. Liked buying with this merchant.