Marcus Garvey Jamaica 25 Cents Authentic Coin Money for Jewelry and Crafts Making (Pan-African) (Black Power) BLM
Regular price
Sale price
$2.28 USD
Unit price
per
Marcus Garvey Jamaica 25 Cents Authentic Coin Charm for Jewelry and Crafts Making (Pan-African) (Black Power) BLM
Obverse: Country name above arms with supporters, value and date below
Lettering:
JAMAICA
OUT OF MANY, ONE PEOPLE
TWENTY FIVE CENTS
Reverse: Head of national hero Marcus Garvey 1/4 right
Lettering: THE RT. EXCELLENT MARCUS GARVEY
NATIONAL HERO
Features
Issuer Jamaica
Queen Elizabeth II (1952-date)
Type Standard circulation coin
Years 1995-2012
Value 25 Cents (0.25 JMD)
Currency Dollar (1969-date)
Composition Copper plated steel
Weight 3.61 g
Diameter 20 mm
Thickness 1.75 mm
Shape Round
Technique Milled
Orientation Medal alignment ↑↑
Demonetized 15 February 2018
Number N# 3530
References KM# 167, Schön# 127
Wikipedia:
Marcus Mosiah Garvey Sr. ONH (17 August 1887 – 10 June 1940) was a Jamaican political activist, publisher, journalist, entrepreneur, and orator. He was the founder and first President-General of the Universal Negro Improvement Association and African Communities League (UNIA-ACL, commonly known as UNIA), through which he declared himself Provisional President of Africa. Ideologically a black nationalist and Pan-Africanist, his ideas came to be known as Garveyism.
Garvey was born to a moderately prosperous Afro-Jamaican family in Saint Ann's Bay, Jamaica, and apprenticed into the print trade as a teenager. Working in Kingston, he became involved in trade unionism before living briefly in Costa Rica, Panama, and England. Returning to Jamaica, he founded UNIA in 1914. In 1916, he moved to the United States and established a UNIA branch in New York City's Harlem district. Emphasising unity between Africans and the African diaspora, he campaigned for an end to European colonial rule across Africa and the political unification of the continent. He envisioned a unified Africa as a one-party state, governed by himself, that would enact laws to ensure black racial purity. Although he never visited the continent, he was committed to the Back-to-Africa movement, arguing that some people of African descent should migrate there. Garveyist ideas became increasingly popular and UNIA grew in membership. However, his black separatist views—and his relations with white racists such as the Ku Klux Klan (KKK) to advance their shared interest in racial separatism—divided Garvey from other prominent African-American civil rights activists such as W. E. B. Du Bois who promoted racial integration.
Committed to the belief that black people needed to secure financial independence from white-dominant society, Garvey launched various businesses in the U.S., including the Negro Factories Corporation and Negro World newspaper. In 1919, he became President of the Black Star Line shipping and passenger company, designed to forge a link between North America and Africa and facilitate African-American migration to Liberia. In 1923 Garvey was convicted of mail fraud for selling the company's stock and imprisoned in the United States Penitentiary Atlanta for nearly two years. Many commentators have argued that the trial was politically motivated; Garvey blamed Jewish people, claiming that they were prejudiced against him because of his links to the KKK. Deported to Jamaica in 1927, where he settled in Kingston with his wife Amy Jacques, Garvey continued his activism and established the People's Political Party in 1929, briefly serving as a city councillor. With UNIA in increasing financial difficulty, in 1935 he relocated to London, where his anti-socialist stance distanced him from many of the city's black activists. He died there in 1940, although in 1964 his body was returned to Jamaica for reburial in Kingston's National Heroes Park.
Garvey was a controversial figure. Some in the African diasporic community regarded him as a pretentious demagogue and were highly critical of his collaboration with white supremacists, his violent rhetoric, and his prejudice against mixed-race people and Jews. He nevertheless received praise for encouraging a sense of pride and self-worth among Africans and the African diaspora amid widespread poverty, discrimination, and colonialism. In Jamaica he is widely regarded as a national hero. His ideas exerted a considerable influence on such movements as Rastafari, the Nation of Islam, and the Black Power Movement.
***********
Wikipedia:
The National Library of Jamaica describes the coat of arms as follows:
For Arms, Argent on a Cross Gules five pine-apples slipped OR: and upon a representation of Our Royal Helmet mantled OR doubled Ermine, for the Crest, On a Wreath Argent and Gules, Upon a Log fesse wise a Crocodile Proper: And for the Supporters, On the dexter side a West Indian Native Woman holding in the exterior hand a Basket of Fruits and on the sinister side a West Indian Native Man supporting by the exterior hand a Bow all proper.
Symbolism
The motto of the seal has been a matter of discussion for years since inception. The original motto, INDUS UTERQUE SERVIET UNI is the Latin translation for "The two Indians will serve as one", or rather "Both Indies will serve Together", in reference to the collective servitude of the Taino and Arawak Indians to the colonisers. The motto was replaced in 1962 with the English motto "Out of Many, One People", as tribute to the unity of the different cultural minorities inhabiting the nation. Perhaps as coincidence, the motto has the same meaning as the motto of the United States, E Pluribus Unum.
Share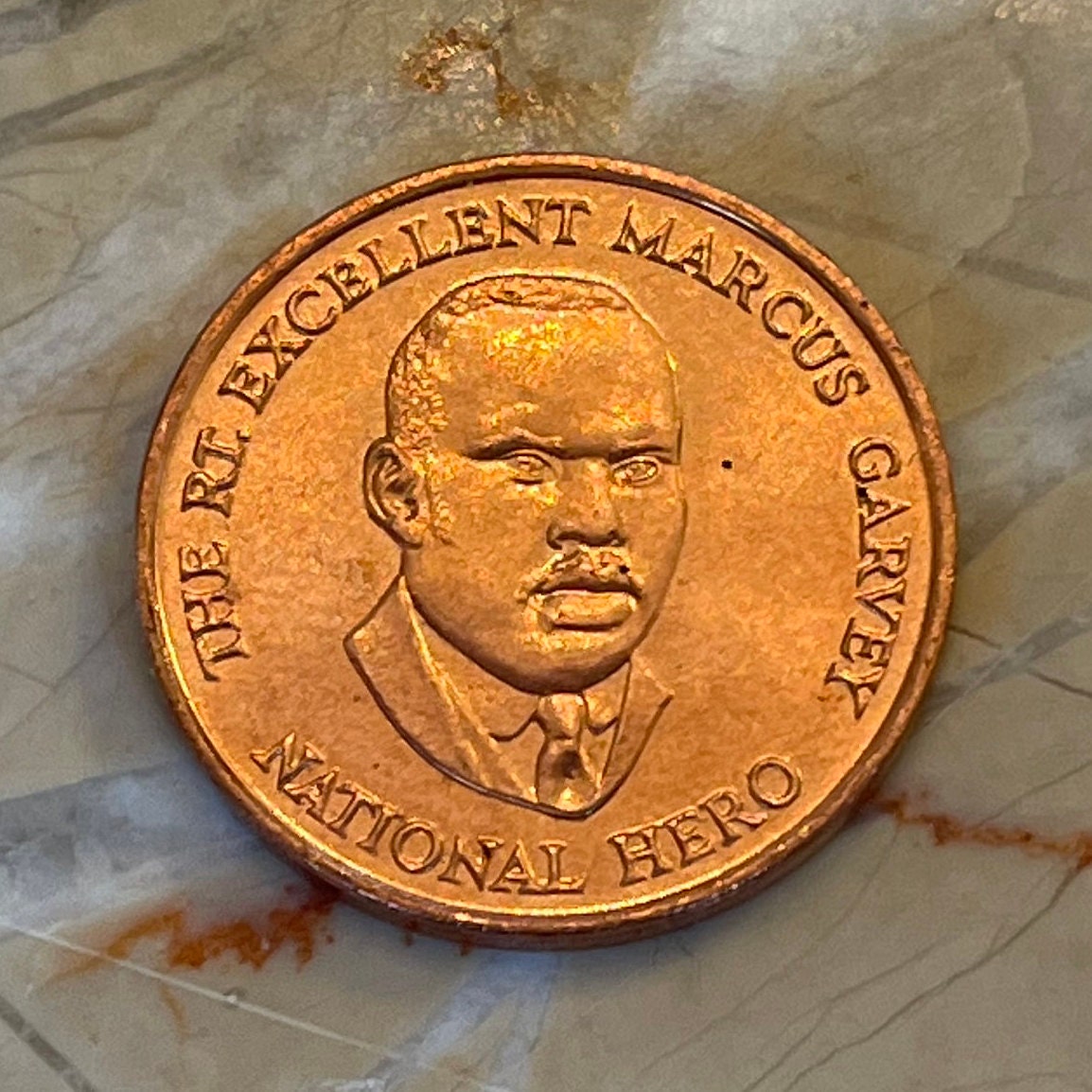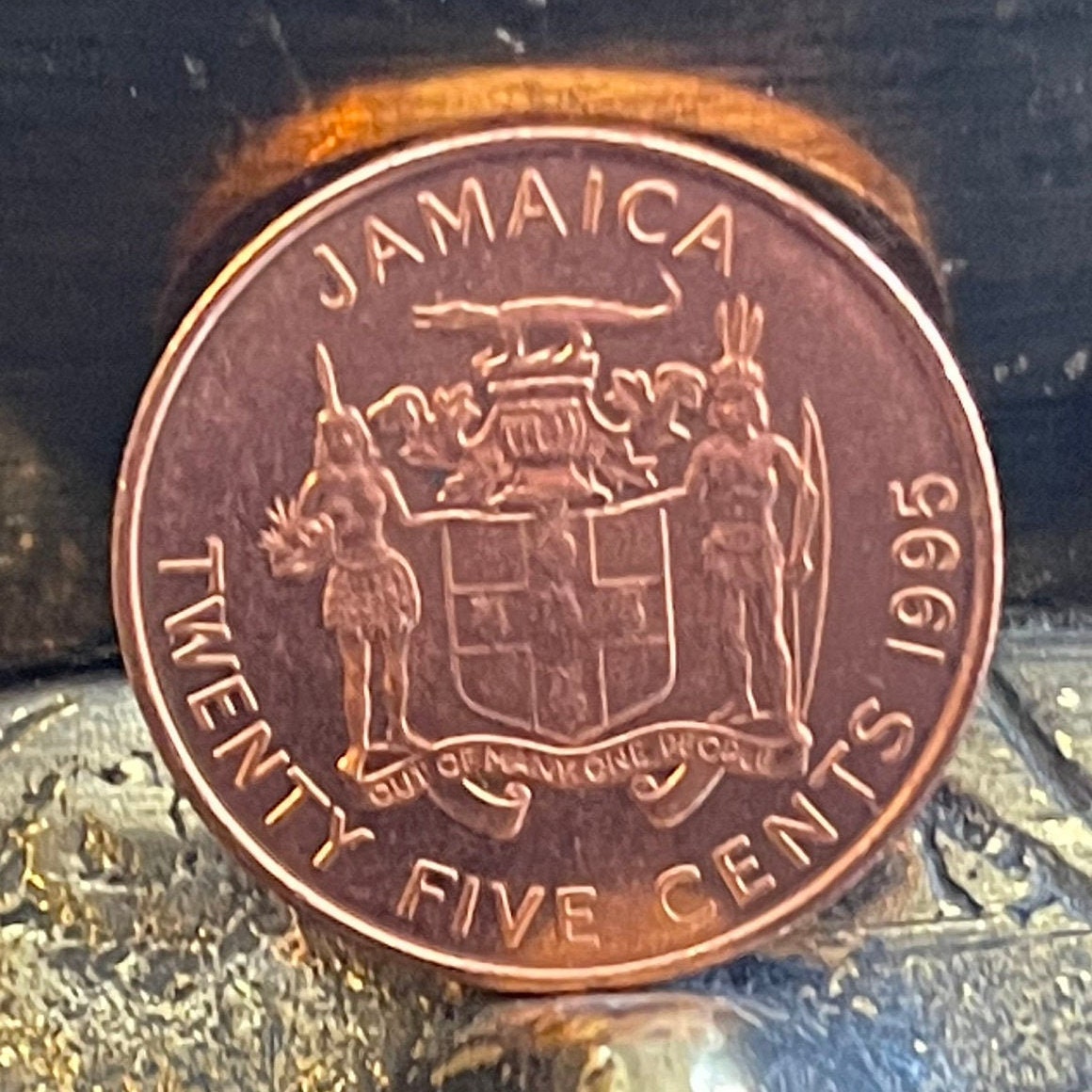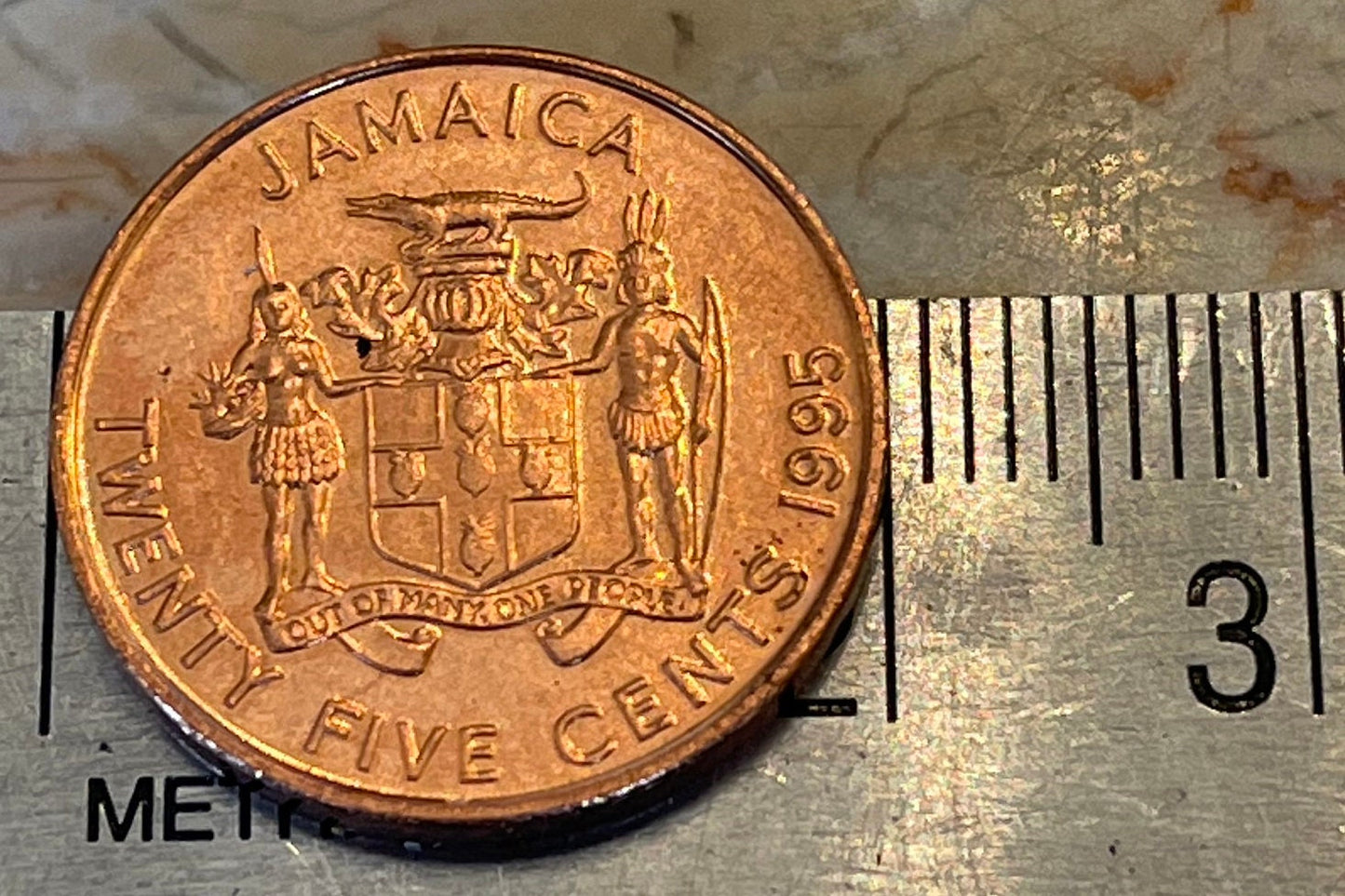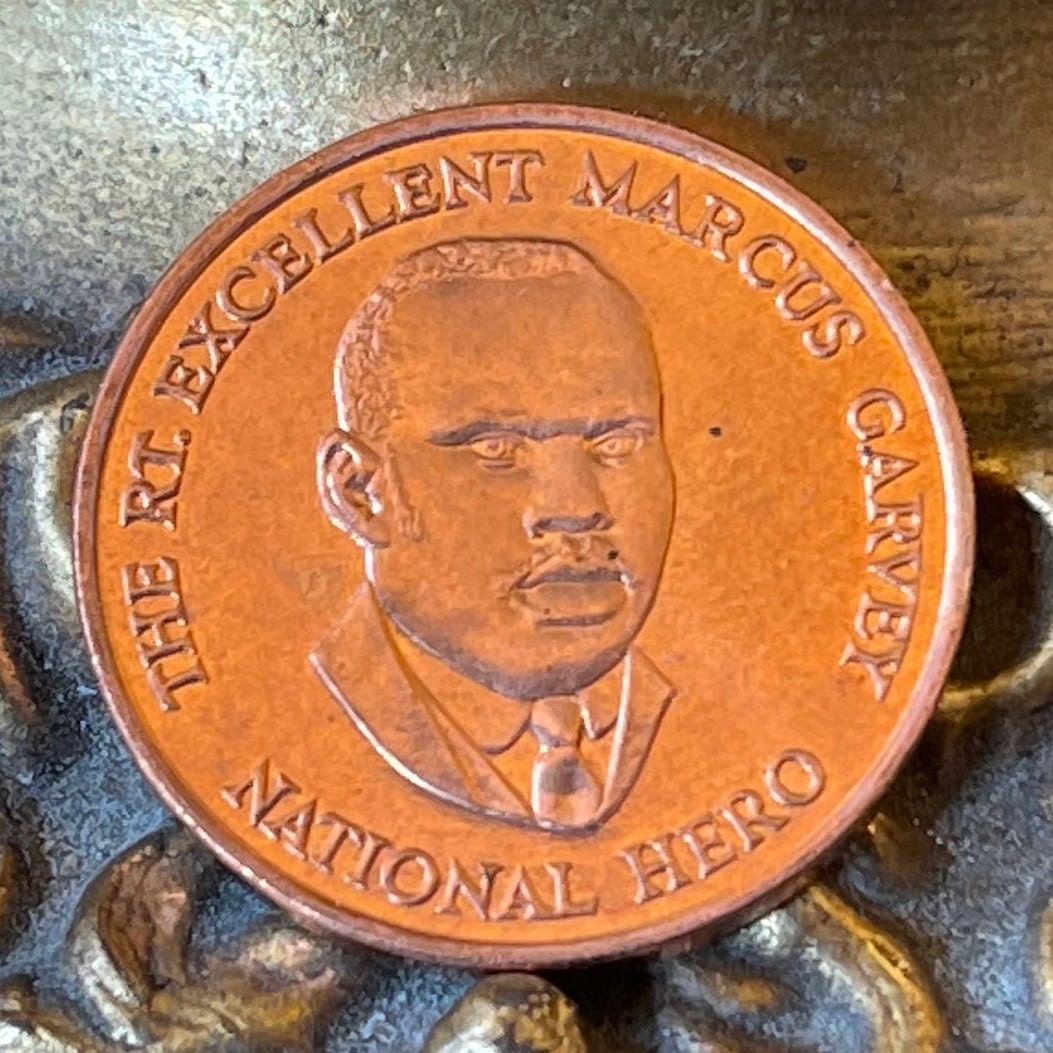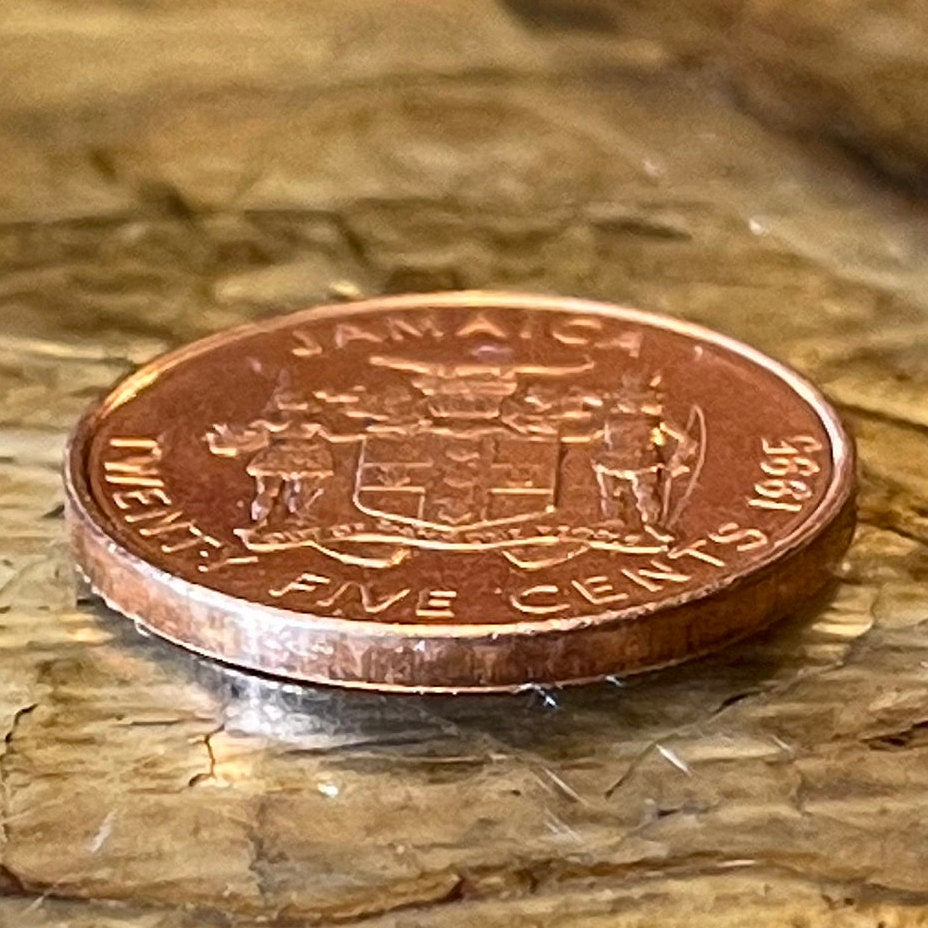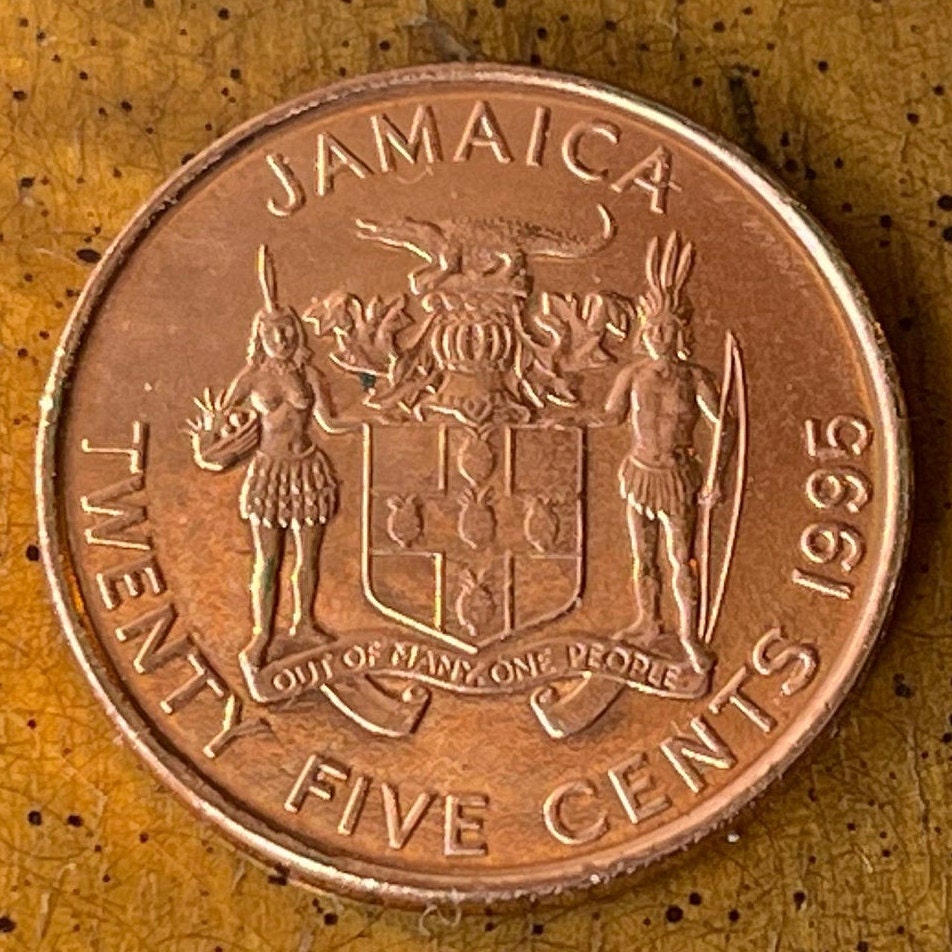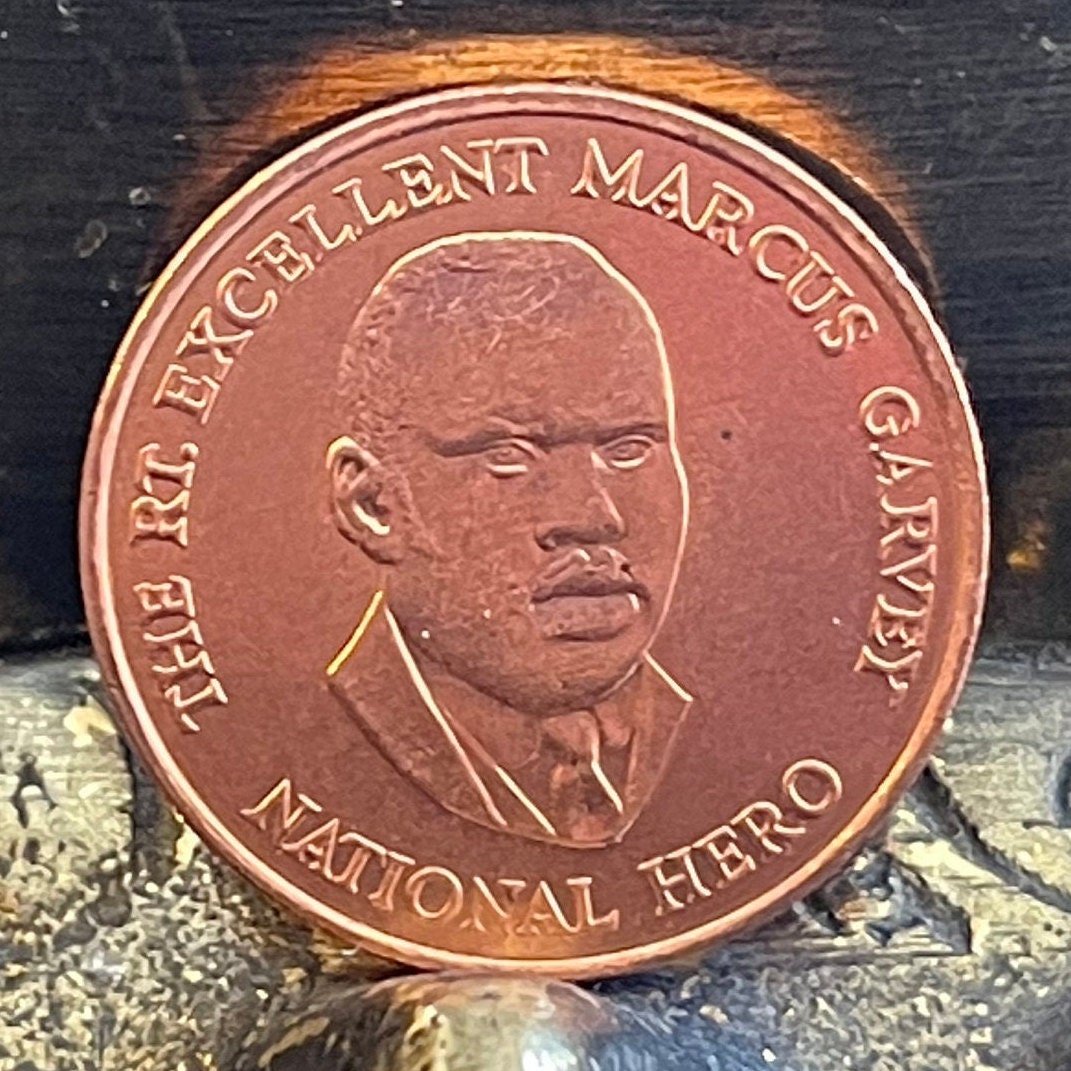 5 stars review from Christopher
5 stars review from Christopher
Jamaican dream
Thanks for sending the coins that I'm buying from you guys. I'll be looking forward to be purchasing more in the future. Looking good in my collection. Order soon.👍😁
5 stars review from Christopher
5 stars review from Christopher
5 stars review from Christopher
5 stars review from Christopher