Mongolian Horse and Rider 15 Mongo Mongolia Authentic Coin Money for Jewelry and Craft Making (Full Gallop)
Regular price
Sale price
$6.33 USD
Unit price
per
Mongolian Horse and Rider 15 Mongo Mongolia Authentic Coin Money for Jewelry and Craft Making
Obverse: Emblem of the People's Republic of Mongolia (1960-1992) with abbreviation БНМАУ on the ribbon of it for the MPR (The Mongolian People's Republic), date below, the full name of the country in semicircle at the bottom.
Lettering: БНМАУ
БҮГД НАЙРАМДАХ МОНГОЛ АРД УЛС
Translation: MPR
The Mongolian People's Republic
Reverse: Denomination above wreath
Lettering: 15 МӨНГӨ
Translation: 15 Möngö
Features
Issuer Mongolia
Period People's Republic (1924-1992)
Type Standard circulation coin
Years 1970-1981
Value 15 Möngö (0.15 MNT)
Currency Tögrög (1925-date)
Composition Copper-nickel
Weight 4.05 g
Diameter 22 mm
Thickness 1.47 mm
Shape Round
Technique Milled
Orientation Medal alignment ↑↑
Demonetized Yes
Number N# 4318
References KM# 31
Wikipedia:
The Mongol horse (Mongolian Адуу, aduu: "horse" or mori; or as a herd, ado) is the native horse breed of Mongolia. The breed is purported to be largely unchanged since the time of Genghis Khan. Nomads living in the traditional Mongol fashion still hold more than 3 million animals, which outnumber the country's human population. In Mongolia, the horses live outdoors all year, dealing with temperatures from 30 °C (86 °F) in summer down to −40 °C (−40 °F) in winter, and they graze and search for food on their own. The mare's milk is processed into the national beverage airag. Some animals are slaughtered for meat. Other than that, they serve as riding and transport animals; they are used both for the daily work of the nomads and in horse racing.
Mongol horses were a key factor supporting the 13th-century conquests of the Mongol Empire.
The Mongols have many stories and songs about horses. Legendary horses include magical flying steeds, beloved horses that visit in dreams, and a rich body of folklore about equine protagonists. The horse has long played a role as a sacred animal, and Mongols have a variety of spiritual beliefs regarding them. The mane is believed to contain a horse's spirit and strength; for this reason, the mane of stallions is always left uncut. Mare's milk has been used in ceremonies of purification, prayer, and blessing since antiquity. In modern times, it continues to be used in a variety of ceremonies associated with racing. Historically, horses were sacrificed on special occasions; 40 horses were sacrificed at the funeral of Genghis Khan.[29] When a horse is killed, a variety of rituals may be followed to honor the remains. Horses are believed to have spirits that can help or hurt their owner after death. When a deceased horse's spirit is content, the owner's herd will flourish; if not, then the herd will fail.
********
From 1960 to 1991, the Mongolian People's Republic used an emblem with a very similar shape, but with several differing elements, from their previous longstanding symbols.
Instead of the traditional Wind Horse (a shamanic spirit-being), a horseman on a normal horse is shown.
In the background, the sun rises above mountains. The older Buddhist symbols are replaced by symbols of Socialism.
A gearwheel stands for industrialization, sheaves around the perimeter stand for the farming class, and the top featured a red star with the socialist version of the Soyombo.
Along the bottom, a blue-red ribbon is placed in front of the gearwheel, with the letters БНМАУ, the abbreviation for Бүгд Найрамдах Монгол Ард Улс, (Mongolian People's Republic).
Before 1961, the emblem did not bear most of these socialist symbols.
Share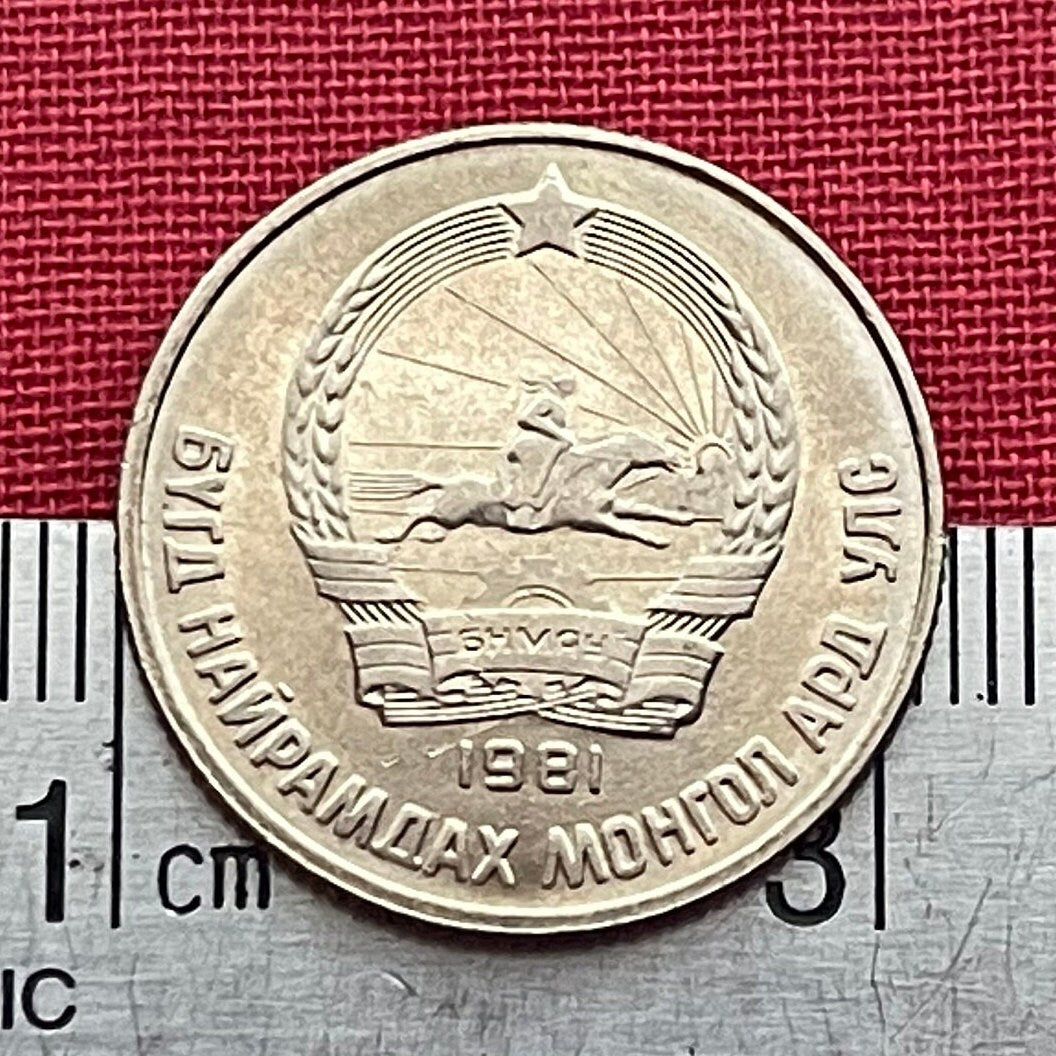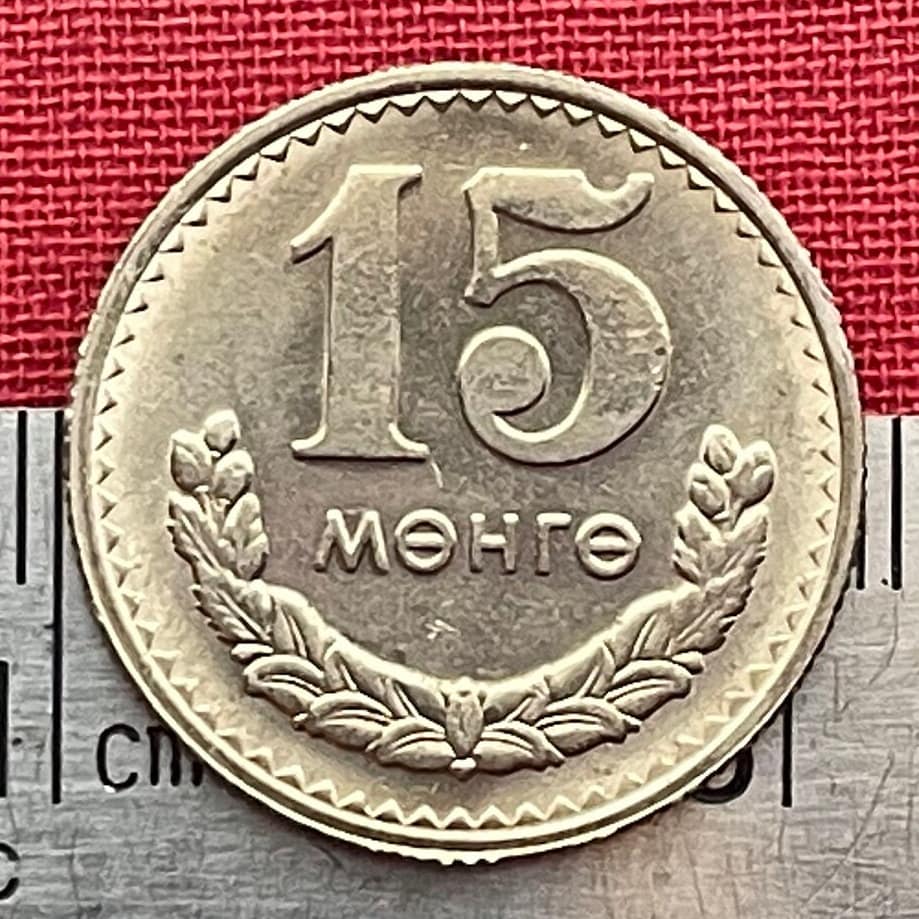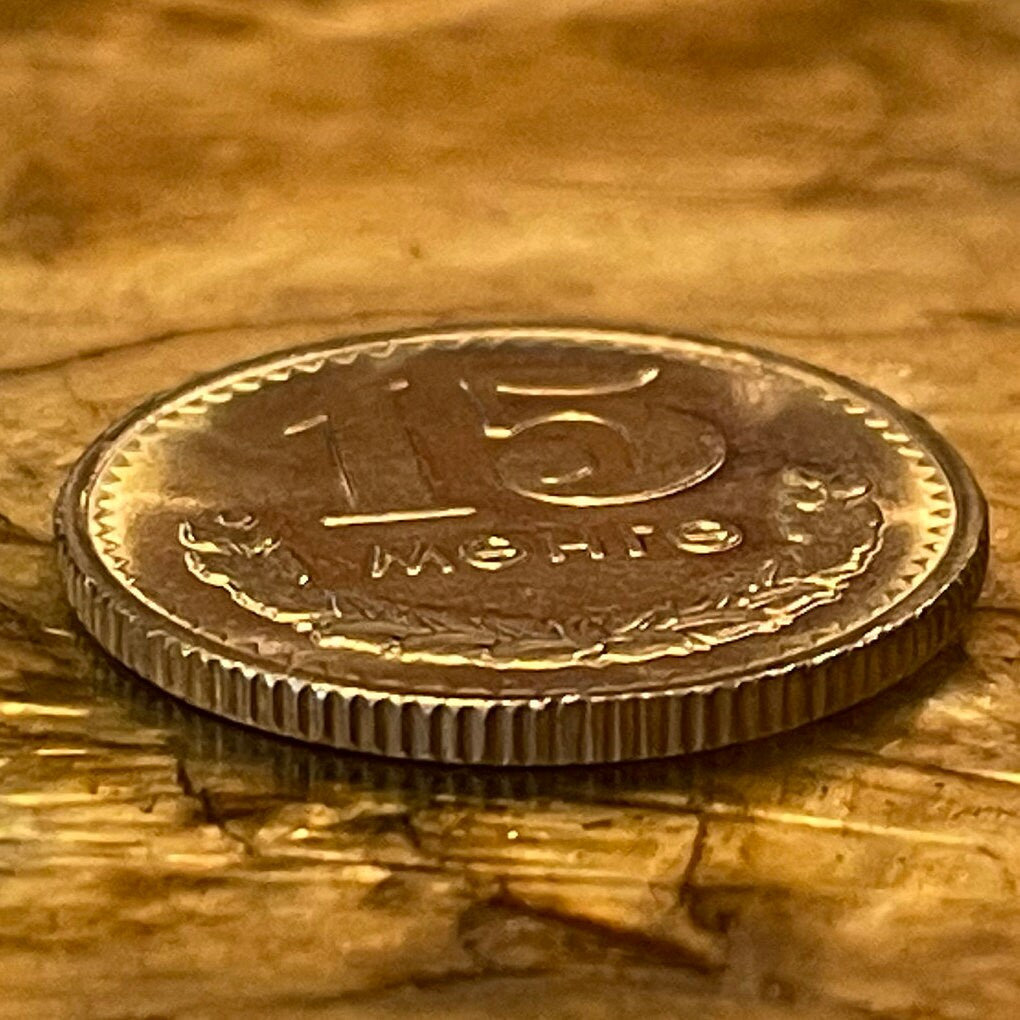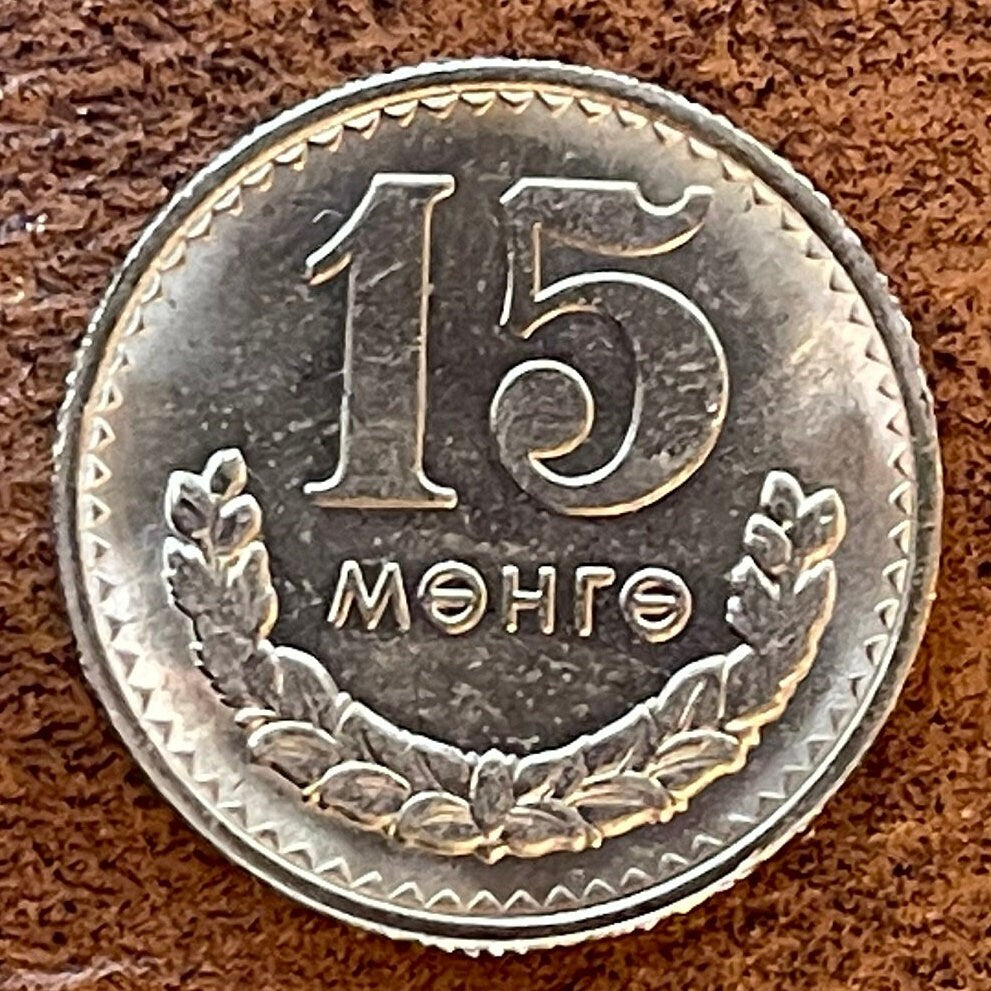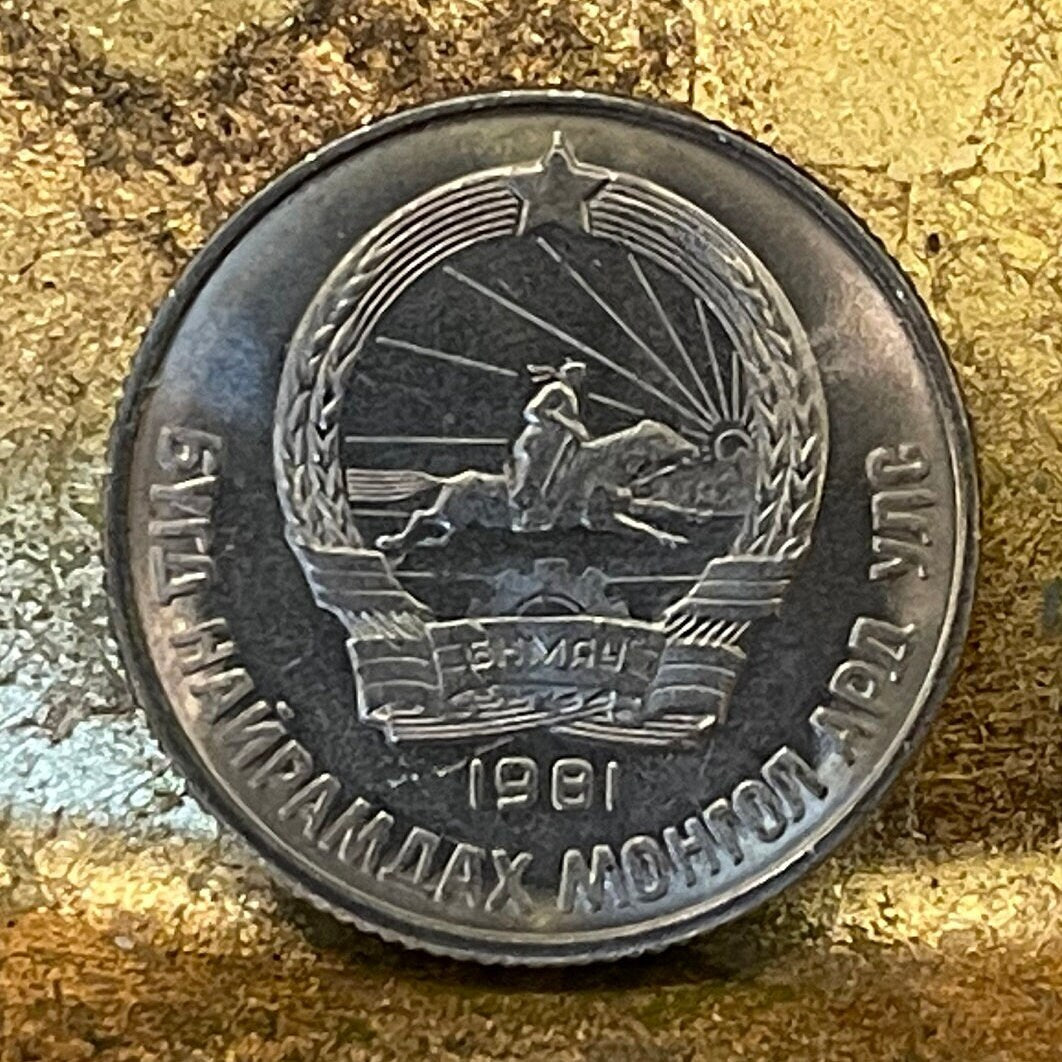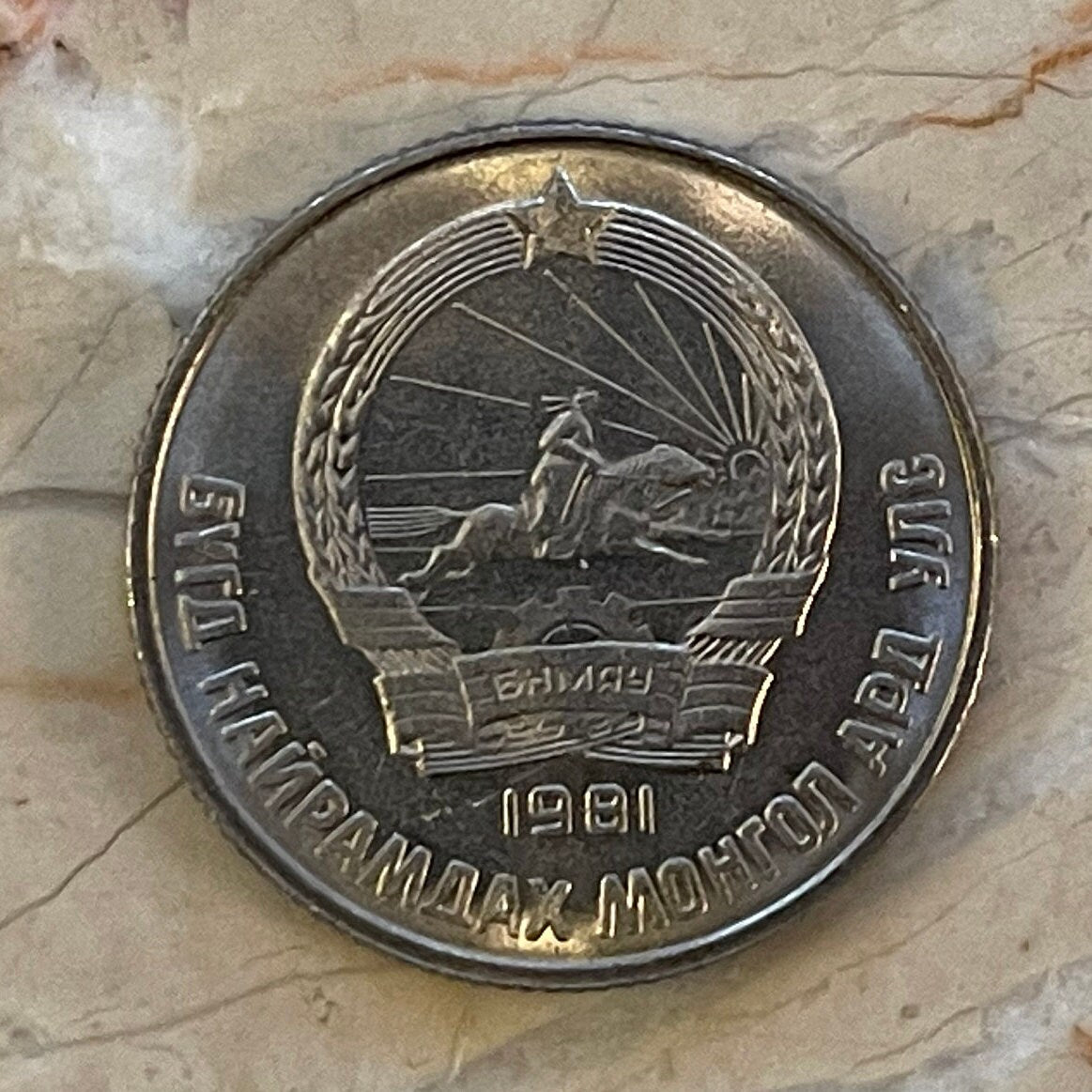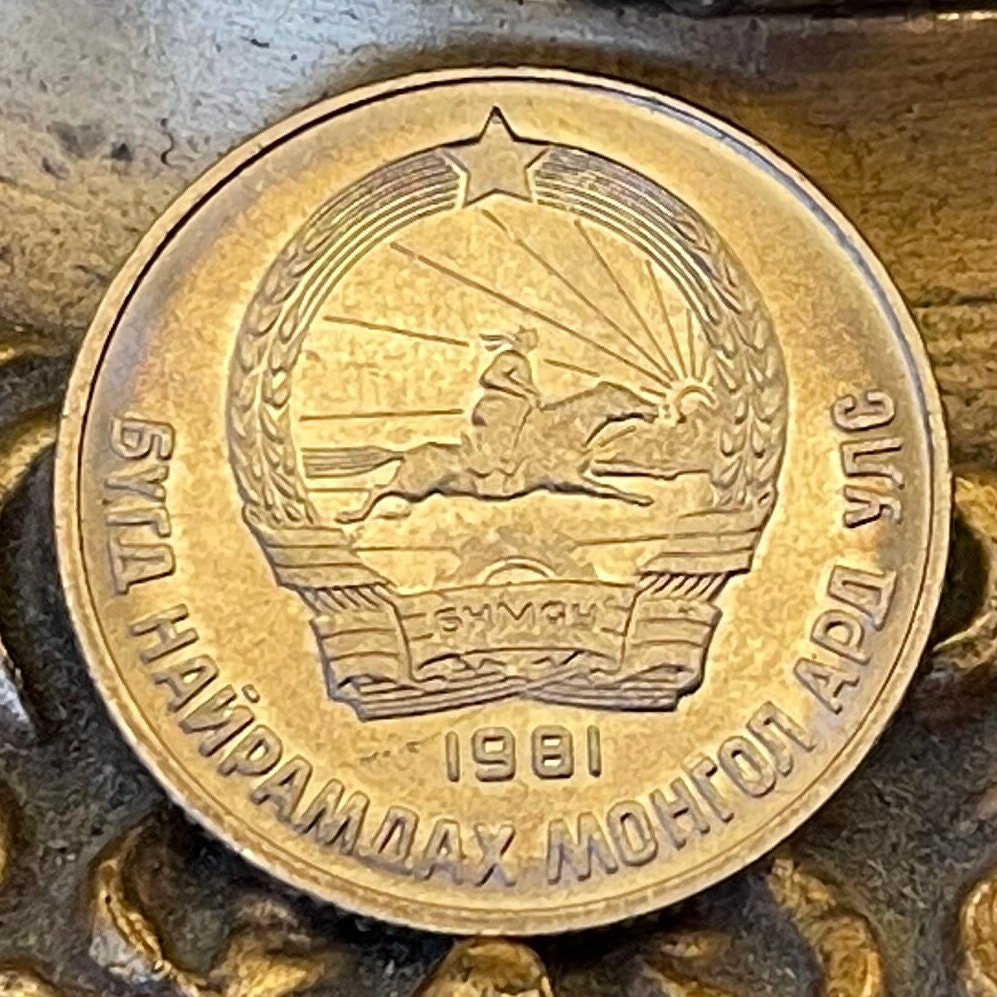 5 stars review from Crystal
5 stars review from Crystal
5 stars review from Veronica
5 stars review from Veronica
Very happy with the coin and fast shipping...
Very happy with the coin and fast shipping!
My first coin from Mongolia to add to coll...
My first coin from Mongolia to add to collection. Coin looks great, shipped quickly, packaged very well. Will buy again from this seller.