Mother Croatia with History Book & Roger Boscovich 50,000 Dinara Croatia Authentic Banknote Money for Jewelry and Collage (Baptismal Font)
Regular price
Sale price
$3.99 USD
Unit price
per
Mother Croatia & Scientist Priest Roger Joseph Boscovich 50,000 Dinara Croatia Authentic Banknote Money for Jewelry and Collage (Ivan Meštrović) (Baptismal Font)
Reverse: Sculpture -- "Povijest Hrvata" (1932), also known as "Mother Croatia", by sculptor Ivan Meštrović. "Povijest Hrvata", the words written on the spine of the book that rests in Mother Croatia's lap literally means "History of the Croats". The script on the spine of the book is in Glagolitic lettering. The Glagolitic script is the oldest known Slavic alphabet. It is generally agreed to have been created in the 9th century by Saint Cyril, a monk from Thessaloniki. Behind the sculpture (on the banknote) is a closeup of the face of Mother Croatia.
Lettering: 50000
REPUBLIKA HRVATSKA
ZAGREB, 30 SVIBNJA, 1993.
PEDESET TISUĆA
HRVATSKIH DINARA 50000
Translation: 50000
REPUBLIC OF CROATIA
ZAGREB, 30 MAY, 1993.
FIFTY THOUSAND
CROATIAN DINAR 50000
Obverse: At centre, Roger Joseph Boscovich; at upper right, geometric calculations. Roger Joseph Boscovich (Ruđer Josip Bošković) (1711 – 1787) was a physicist, astronomer, mathematician, philosopher, diplomat, poet, theologian, Jesuit priest, and a polymath from the Republic of Ragusa, today Dubrovnik (Croatia).
Lettering: 50000
REPUBLIKA HRVATSKA
RUĐER BOŠKOVIĆ 1711 - 1787.
MINISTAR FINANCIJA (signature)
PEDESET TISUĆA
HRVATSKIH DINARA 50000
Translation: 50000
REPUBLIC OF CROATIA
RUĐER BOŠKOVIĆ 1711 - 1787.
FINANCE MINISTER (signature)
FIFTY THOUSAND
CROATIAN DINAR 50000
Watermark: Baptismal font
Features
Issuer Croatia
Period Republic (1991-date)
Type Standard banknote
Year 1993
Value 50,000 Dinara (50 000 HRD)
Currency Dinar (1991-1994)
Composition Paper
Size 130 × 67 mm
Shape Rectangular
Demonetized 12-31-1994
Number N# 202097
References P# 26
History Of Croatians In Mother's Image
May 10, 2015 by Ina Vukic
Source: https://inavukic.com/2015/05/10/history-of-croatians-in-mothers-image/
It's Mother's Day today and I pay special tribute to a most special mother to Croatians.
Eighty-three years ago, in 1932, Croatian world-renowned artist and sculptor Ivan Mestrovic (1883-1962) created a marvelous sculpture through which he would interpret and symbolise the history of the Croatian people. Ivan Mestrovic's sculpture of a mother, his mother, holding on her lap a stone tablet with "History of Croatians" engraved in the old Croatian script Glagoljica on its spine, has become a companion of Croats wherever they may go or wherever they are. She is the keeper of the Croatian identity; she is the keeper of the Croatian heritage. Ivan Mestrovic entrusted unto the mother the keeping and the nurturing of Croatian people's heritage and the people had embraced that mother, as it is also a symbol of Homeland.
Through this sculpture Ivan Mestrovic presents the Croatian homeland as a humble, dignified and a strong woman to whom he entrusts the keeping of Croatians' heritage, tradition and identity.
This mother that holds the History of Croatian people on her lap has become the sculpture of identity; Croatian identity. She has long ago impressed the symbol of her image and meaning on the minds of Croatian people; she is worn as a charm elegantly swaying from gold neck-chains; miniatures of her image are carefully crafted as keepsakes and adorn workplaces and homes alike; pictures of her are framed; her image imprinted on a page of the Croatian passport…
Made in 1932, Mestrovic's original marble statue of History of Croatians was intended for the building of the first Museum of Croatian Sculptures in Knin. But, in 1934 the sculpture made in marble from the Island of Brac was taken to the Royal palace park at Dedinje in Belgrade in Serbia (Capital of the Kingdom of Yugoslavia, headed by Serbian dynasty) for a temporary exhibition – it is still there today! The borrowed sculpture had not been returned. To the end of his life Mestrovic kept on writing letters to Belgrade asking that the marble statue of History of Croatians be returned to where it belongs, to its homeland (Croatia) and be placed in the Museum of Croatian Antiquities. Sadly, he was unsuccessful; the Serbian King who ignored the artist's calls for the return of his work after the exhibition in Belgrade stole Mestrovic's sculpture.
Serbia refused to return the sculpture that rightfully belongs to Croatia even after the fall of the Kingdom of Yugoslavia, even after the fall of the subsequent communist Yugoslavia…even after it's royal family has returned to live there after spending decades in exile…
For the occasion of 300th anniversary of the foundation of Zagreb University, Croatia, a bronze copy of the sculpture was made in 1970 and installed at the front entrance of the Faculty of Law where the office of the University Rector is also located. Although originally intended for the Museum of Croatian Archaeological Monuments the sculpture has thus also become the protector of the University!
The story of the fate of the original marble sculpture, the fact that it was stolen by Serbian King and kept by Serbia when the Kingdom fell, illustrates clearly the poignant story of Croatian history: kept hostage, stolen, oppressed throughout centuries. But mother is a symbol of selfless love and that is what Croatia enjoys from the multitudes that had defended it from Serb aggression and freed it from communist oppression. The love will endure! Perhaps once the politicians and the international arbitrators finally get around to finalising the state succession of former Yugoslavia, Croatia will have a good chance of securing the rightful place for this sculpture; the place where it belongs – Croatia. Ina Vukic, Prof. (Zgb); B.A., M.A.Ps. (Syd)
*********
Wikipedia:
Ivan Meštrović (Croatian: [ǐʋan mɛ̂ʃtrɔʋit͡ɕ]; 15 August 1883 – 16 January 1962) was a Croatian sculptor, architect, and writer. He was the most prominent modern Croatian sculptor and a leading artistic personality in contemporary Zagreb. He studied at Pavle Bilinić's Stone Workshop in Split and at the Academy of Fine Arts Vienna, where he was formed under the influence of the Secession. He traveled throughout Europe and studied the works of ancient and Renaissance masters, especially Michelangelo, and French sculptors Auguste Rodin, Antoine Bourdelle and Aristide Maillol. He was the initiator of the national-romantic group Medulić (he advocated the creation of art of national features inspired by the heroic folk songs). During the First World War, he lived in emigration. After the war, he returned to Croatia and began a long and fruitful period of sculpture and pedagogical work. In 1942 he emigrated to Italy, in 1943 to Switzerland and in 1947 to the United States. He was a professor of sculpture at the Syracuse University and from 1955 at the University of Notre Dame in South Bend, Indiana.
Most of his early works of symbolic themes were formed in the spirit of the Secession, some of which, like the Well of Life, show impressionist restless surfaces created under the influence of Rodin's naturalism, and the second, reviving national myth, become stylized monumental plastics (Kosovo cycle, 1908-1910). Before the First World War, he left pathetic epic stylization, expressing increasingly emotional states, as evidenced by the wooden reliefs of biblical themes made in a combination of Archaic, Gothic, Secessionist and Expressionist styles. During the 1920s and 1930s, the classical component prevailed in his works. In this period, he created a number of public monuments of strong plastic expression, pronounced and legible shapes (Grgur Ninski and Marko Marulić in Split, Andrija Medulić, Andrija Kačić-Miošić and Josip Juraj Strossmayer in Zagreb, Pobednik in Belgrade, Svetozar Miletić in Novi Sad and The Bowman and The Spearman in Chicago). Portraits take a special place in his opus.
Meštrović achieved works of strong plastic value in the construction-sculptural monuments and projects, mostly with central layout (the Mausoleum of the Račić family in Cavtat, the Mausoleum of the Meštrović family in Otavice, the Meštrović Pavilion in Zagreb, Monument to the Unknown Hero in Belgrade). He also designed a memorial church of King Zvonimir in Biskupija near Knin inspired by old Croatian churches, a representative family palace, today the Ivan Meštrović Gallery, and reconstructed renaissance fortified mansion Crikvine-Kaštilac in Split.
********
Wikipedia:
Roger Joseph Boscovich SJ (Croatian: Ruđer Josip Bošković; pronounced [rûd͡ʑer jǒsip bôʃkoʋit͡ɕ]; Italian: Ruggiero Giuseppe Boscovich; Latin: Rogerius (Iosephus) Boscovicius; 18 May 1711 – 13 February 1787) was a physicist, astronomer, mathematician, philosopher, diplomat, poet, theologian, Jesuit priest, and a polymath from the Republic of Ragusa. He studied and lived in Italy and France where he also published many of his works.
Boscovich produced a precursor of atomic theory and made many contributions to astronomy, including the first geometric procedure for determining the equator of a rotating planet from three observations of a surface feature and for computing the orbit of a planet from three observations of its position. In 1753 he also discovered the absence of atmosphere on the Moon.
Religious views
Bošković was a Roman Catholic priest, and in expressing his religious views was straightforward. In his most famous book A Theory of Natural Philosophy (1758) he says: "Regarding the nature of the Divine Creator, my theory is extraordinarily illuminating, and the result from it is a necessity to recognize Him. ... Therefore vain dreams of those who believe that the world was created by accident, or that it could be built as a fatal necessity, or that it was there for eternity lining itself along his own necessary laws are completely eliminated."
Bošković also composed poetry with many religious and astronomical allusions. In his Marian devotion, he wrote hexameter verses on the Virgin Mary.
In the same dome of St. Peter in Rome, whose cupola he saved from ruin, he worked as a confessor administering the Sacrament of Penance or Reconciliation.
Share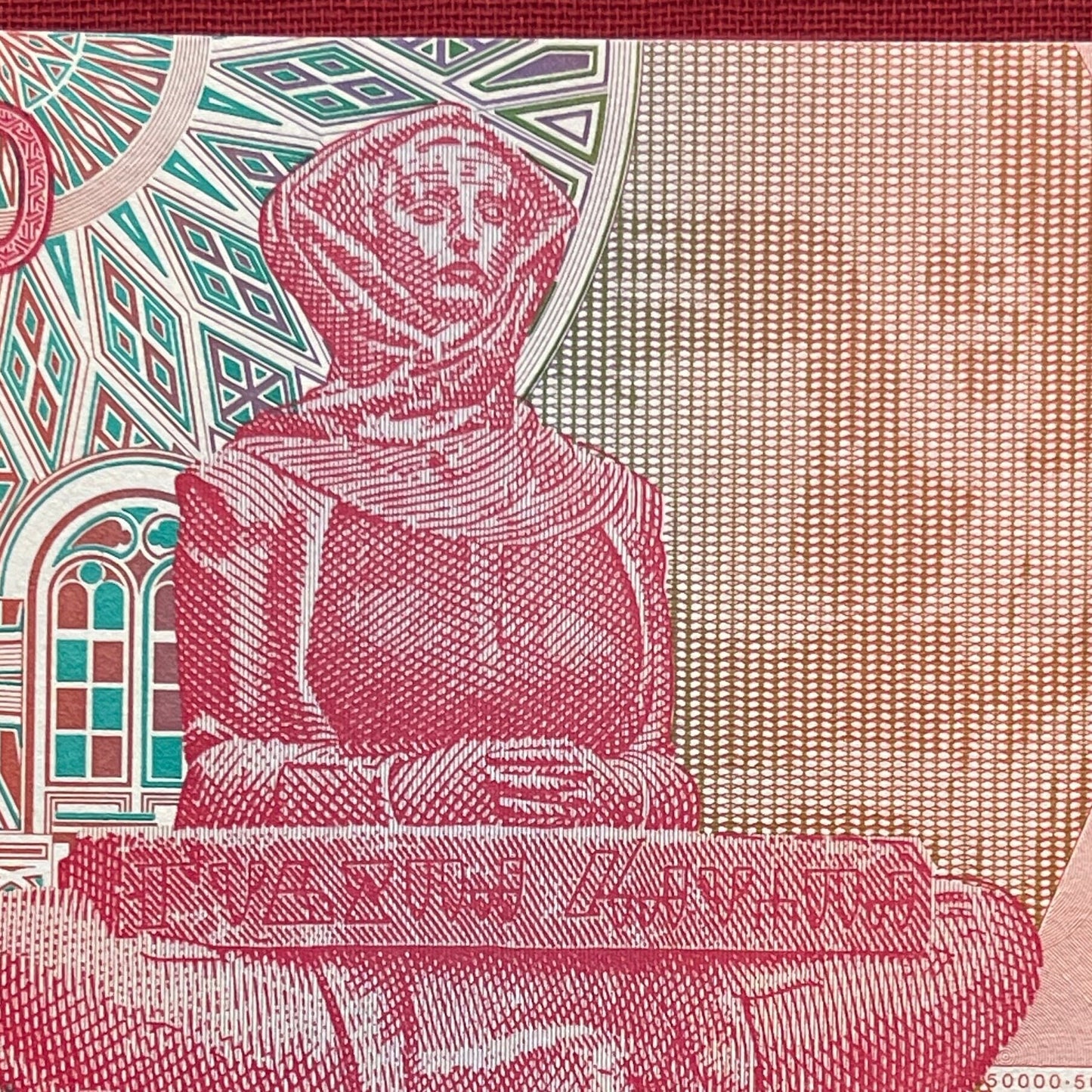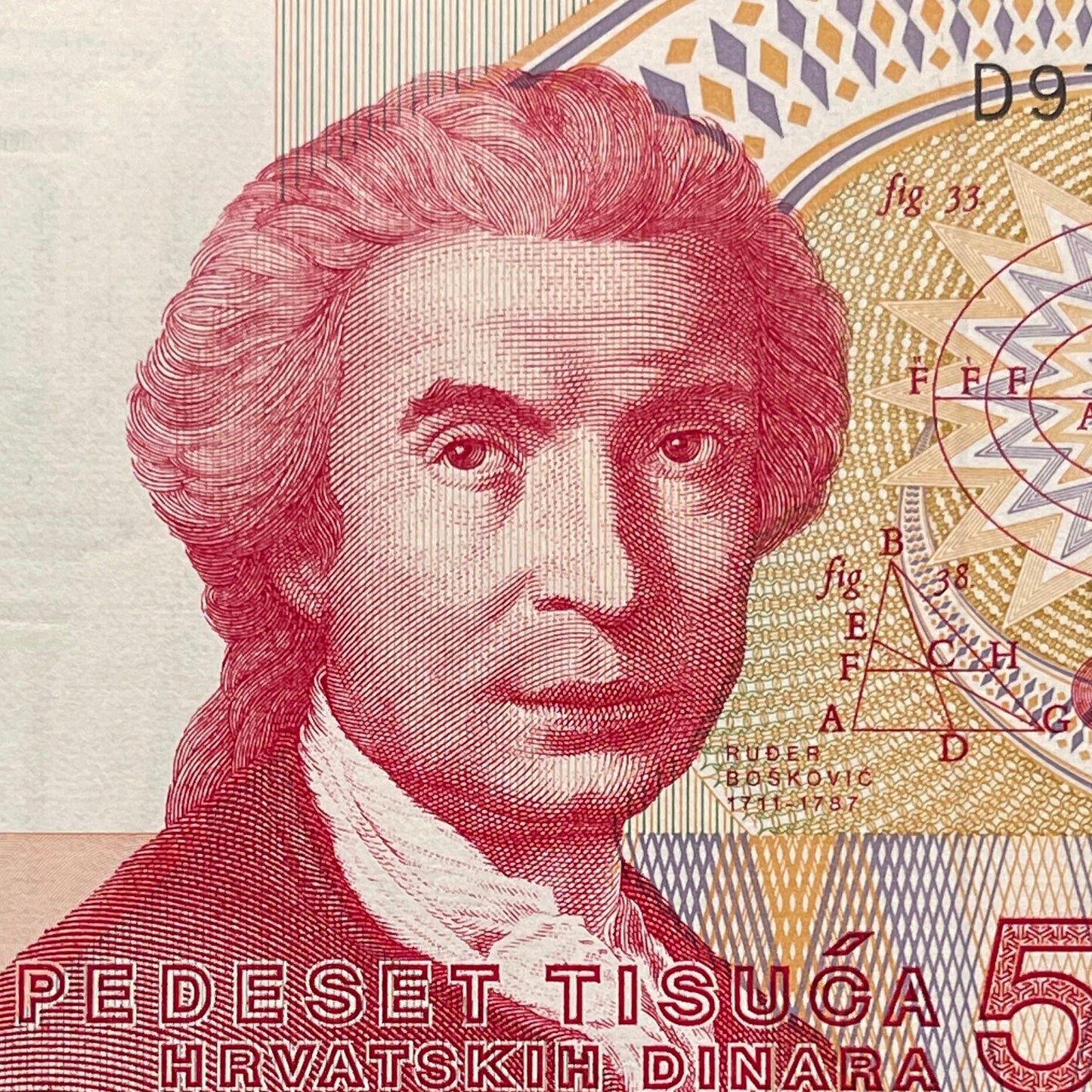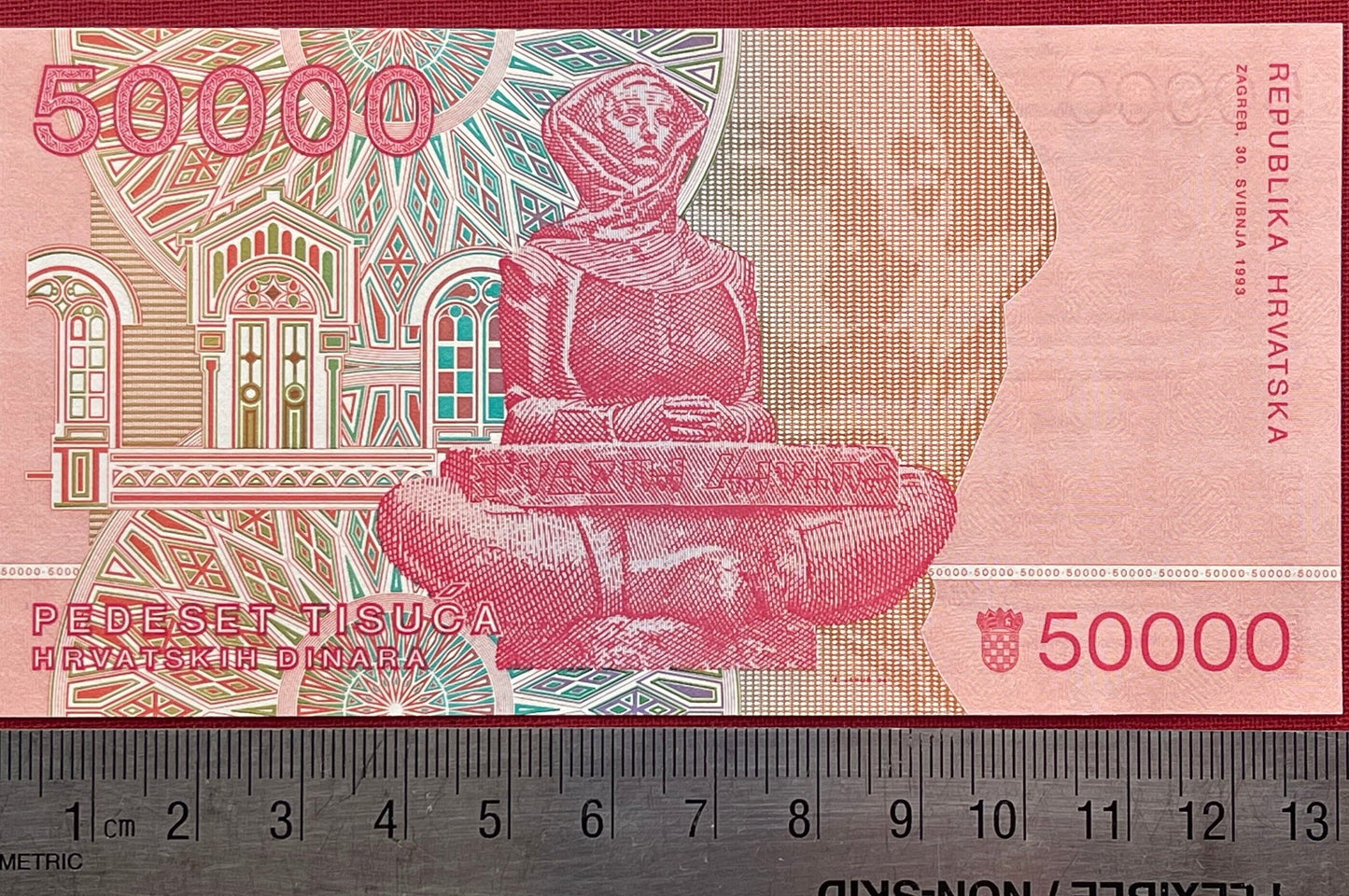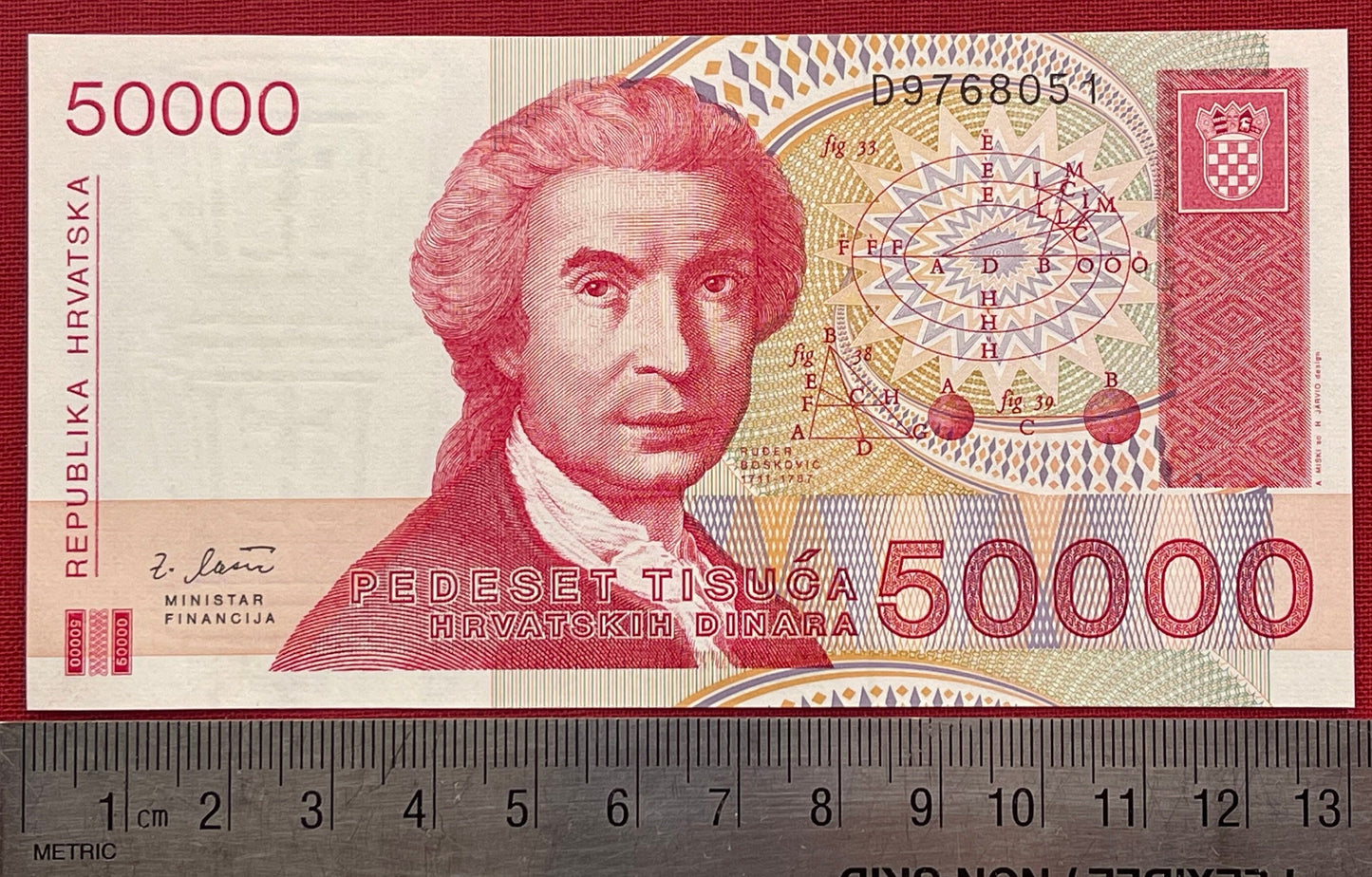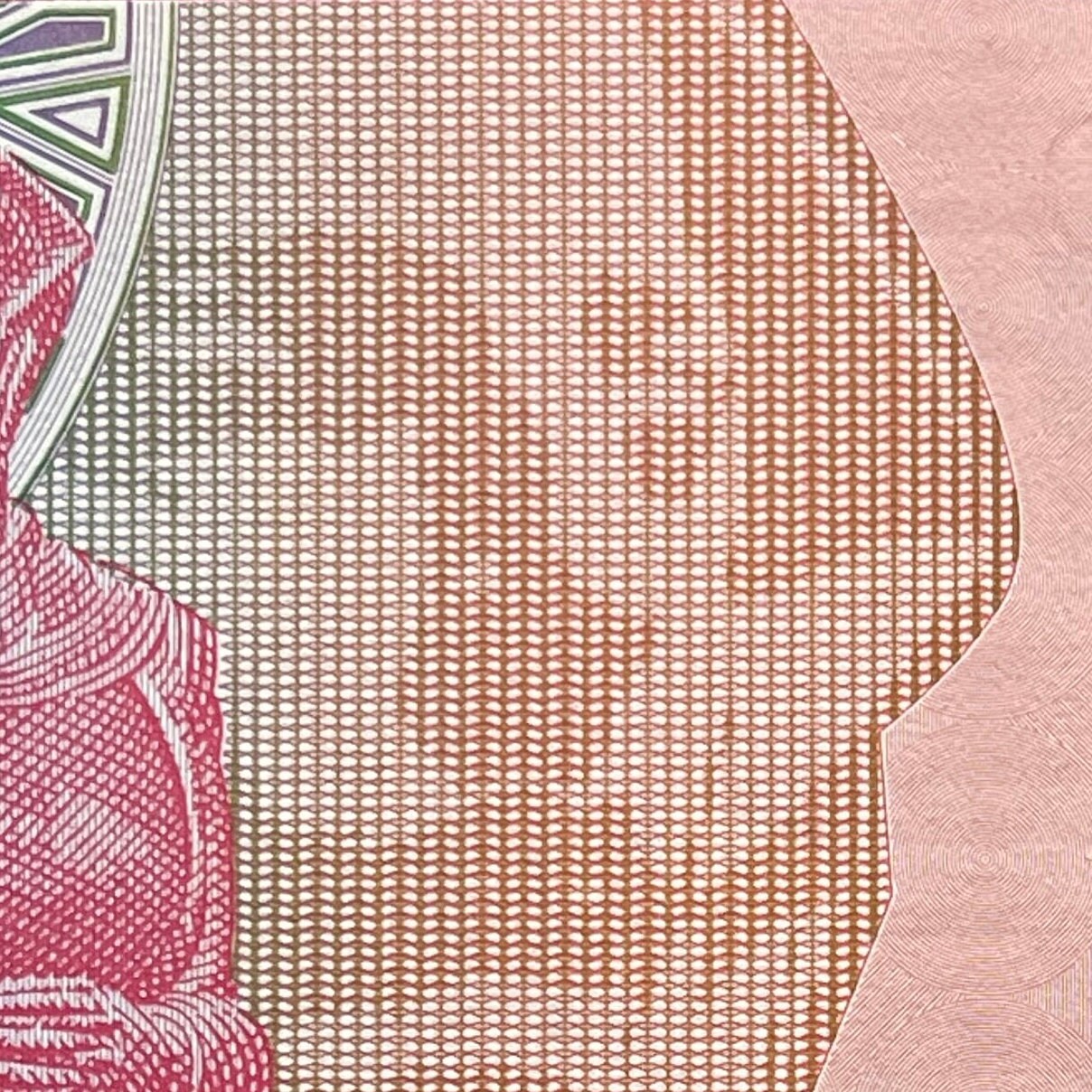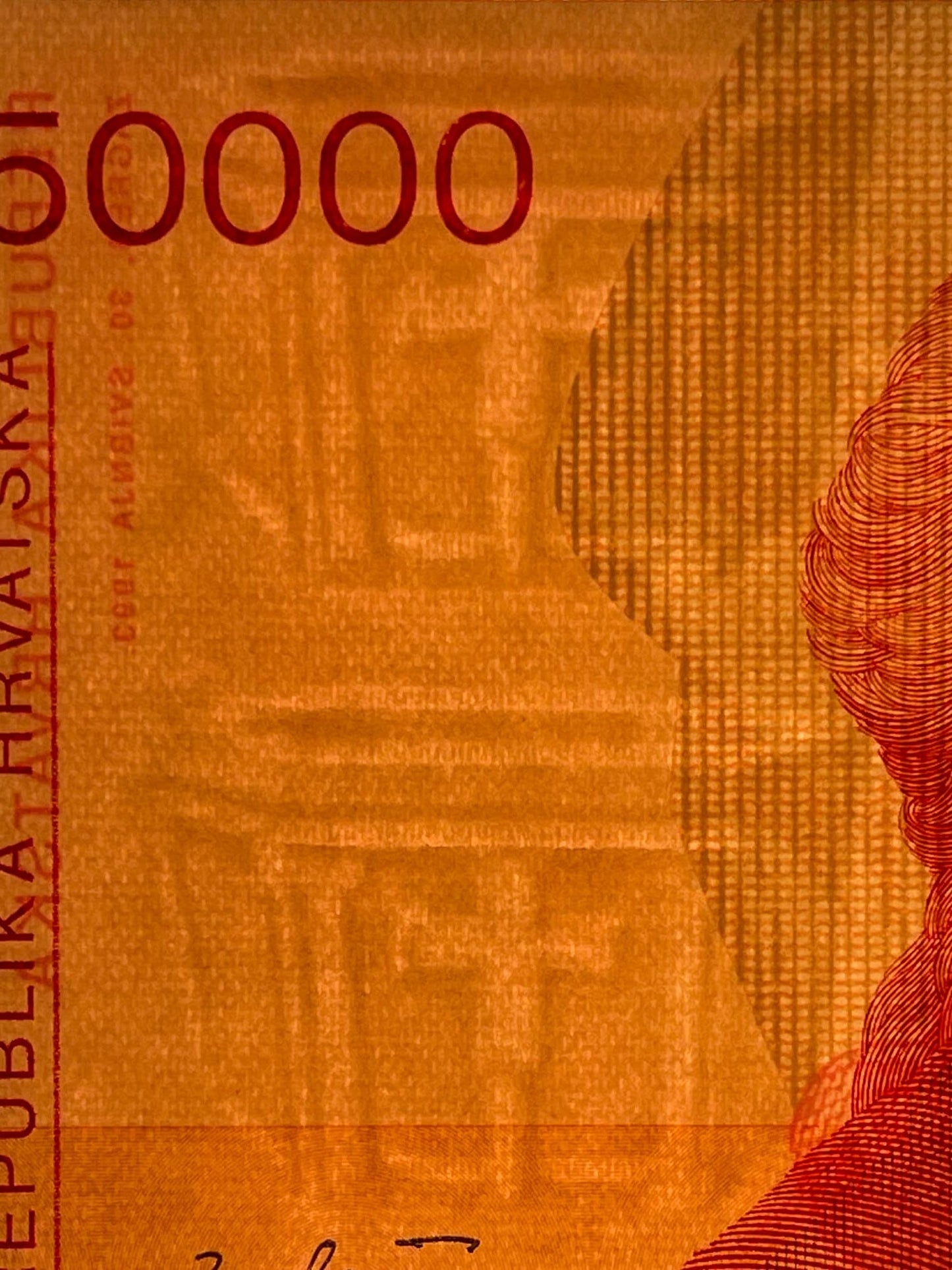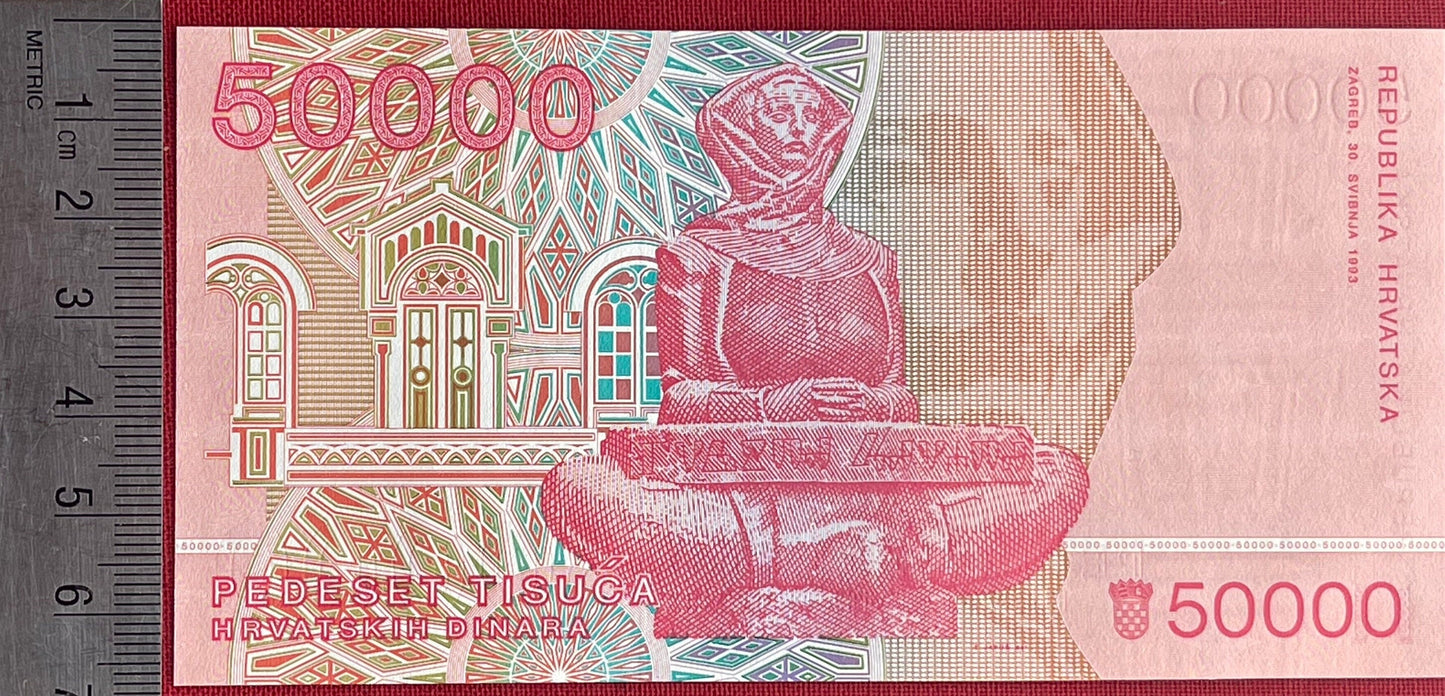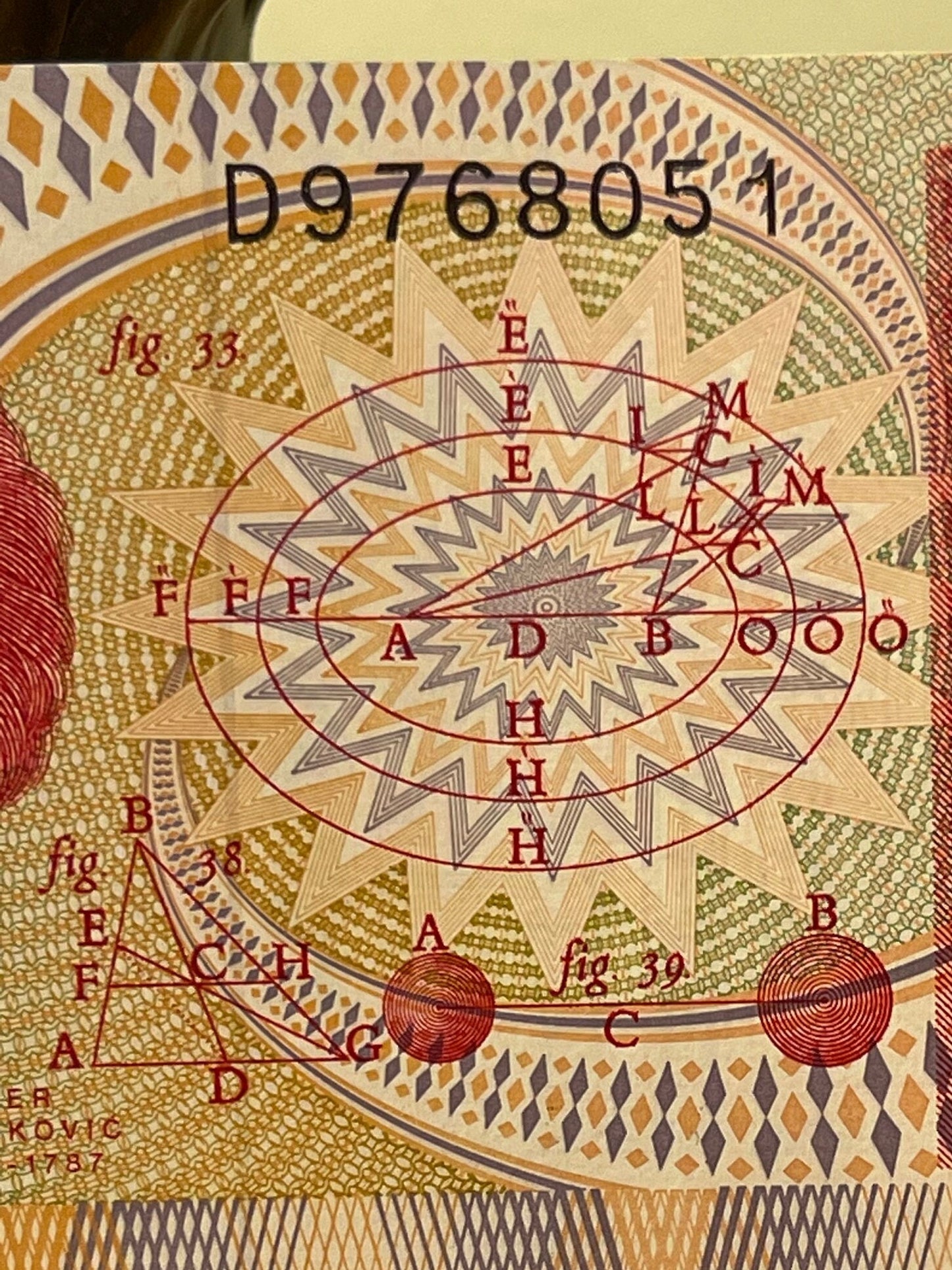 5 stars review from Q5Ibio2Guywthi9V
5 stars review from Q5Ibio2Guywthi9V
5 stars review from Grouchomarxist
5 stars review from Grouchomarxist
I highly recommend Elemintal for its wide...
I highly recommend Elemintal for its wide variety of currency in perfect condition and in protective cases, for fast shipping and for low prices. Among many other great deals, I just received a handsome mint Croatia banknote (50,000 Croatian dinars) with depictions of Roger Boscovich and a sculpture of Mother Croatia! 5 stars for Elemintal!
Fascinating and beautiful notes featuring...
Fascinating and beautiful notes featuring a scientist priest in eastern Europe.