Ostrich Tanzania 20 Senti Coin Money for Jewelry and Craft Making (Julius Nyerere)
Regular price
Sale price
$2.64 USD
Unit price
per
Ostrich Tanzania 20 Senti Coin Charm for Jewelry and Craft Making (Julius Nyerere)
Obverse
Julius Nyerere's Portrait to left
Lettering:
TANZANIA
RAIS WA KWANZA
(Translation: First president)
Reverse
Ostrich walking to left
Binomial Name: Struthio camelus
Lettering:
SENTI ISHIRINI
20
Translation: CENTS : TWENTY
Features
Issuer Tanzania
Period Republic (1964-date)
Type Standard circulation coin
Years 1966-1984
Value 20 Senti
0.20 TZS = USD 0.000086
Currency Shilling (1966-date)
Composition Nickel brass (79% Copper, 20% Zinc, 1% Nickel)
Weight 5 g
Diameter 24 mm
Shape Round
Technique Milled
Orientation Medal alignment ↑↑
Number N# 1964
References KM# 2, Schön# 3
Wikipedia:
Common ostriches have inspired cultures and civilizations for 5,000 years in Mesopotamia and Egypt. A statue of Arsinoe II of Egypt riding a common ostrich was found in a tomb in Egypt. Hunter-gatherers in the Kalahari use ostrich eggshells as water containers, punching a hole in them. They also produce jewelry from it. The presence of such eggshells with engraved hatched symbols dating from the Howiesons Poort period of the Middle Stone Age at Diepkloof Rock Shelter in South Africa suggests common ostriches were an important part of human life as early as 60,000 BP.
In Eastern Christianity it is common to hang decorated common ostrich eggs on the chains holding the oil lamps. The initial reason was probably to prevent mice and rats from climbing down the chain to eat the oil. Another, symbolical explanation is based in the fictitious tradition that female common ostriches do not sit on their eggs, but stare at them incessantly until they hatch out, because if they stop staring even for a second the egg will addle. This is equated to the obligation of the Christian to direct his entire attention towards God during prayer, lest the prayer be fruitless.
In Roman times, there was a demand for common ostriches to use in venatio games or cooking. They have been hunted and farmed for their feathers, which at various times have been popular for ornamentation in fashionable clothing (such as hats during the 19th century). Their skins are valued for their leather. In the 18th century they were almost hunted to extinction; farming for feathers began in the 19th century. At the start of the 20th century there were over 700,000 birds in captivity. The market for feathers collapsed after World War I, but commercial farming for feathers and later for skins and meat became widespread during the 1970s. Common ostriches are so adaptable that they can be farmed in climates ranging from South Africa to Alaska.
Common ostriches have been farmed in South Africa since the beginning of the 19th century. According to Frank G. Carpenter, the English are credited with first taming common ostriches outside Cape Town. Farmers captured baby common ostriches and raised them successfully on their property, and were able to obtain a crop of feathers every seven to eight months instead of killing wild common ostriches for their feathers. It is claimed that common ostriches produce the strongest commercial leather. Common ostrich meat tastes similar to lean beef and is low in fat and cholesterol, as well as high in calcium, protein and iron. Uncooked, it is dark red or cherry red, a little darker than beef. Ostrich stew is a dish prepared using common ostrich meat.
Some common ostrich farms also cater to agri-tourism, which may produce a substantial portion of the farm's income. This may include tours of the farmlands, souvenirs, or even ostrich rides.
Contrary to popular belief, ostriches do not bury their heads in sand to avoid danger. This myth likely began with Pliny the Elder (AD 23–79), who wrote that ostriches "imagine, when they have thrust their head and neck into a bush, that the whole of their body is concealed." This may have been a misunderstanding of their sticking their heads in the sand to swallow sand and pebbles to help digest their fibrous food, or, as National Geographic suggests, of the defensive behavior of lying low, so that they may appear from a distance to have their head buried. Another possible origin for the myth lies with the fact that ostriches keep their eggs in holes in the sand instead of nests, and must rotate them using their beaks during incubation; digging the hole, placing the eggs, and rotating them might each be mistaken for an attempt to bury their heads in the sand.
*********
Wikipedia:
Julius Kambarage Nyerere (Swahili pronunciation: [ˈdʒuːlius kɑmˈbɑɾɑgɑ ɲɛˈɾɛɾɛ]; 13 April 1922 – 14 October 1999) was a Tanzanian anti-colonial activist, politician, and political theorist. He governed Tanganyika as Prime Minister from 1961 to 1962 and then as President from 1963 to 1964, after which he led its successor state, Tanzania, as President from 1964 to 1985. A founding member of the Tanganyika African National Union (TANU) party—which in 1977 became the Chama Cha Mapinduzi party—he chaired it until 1990. Ideologically an African nationalist and African socialist, he promoted a political philosophy known as Ujamaa.
Born in Butiama, then in the British colony of Tanganyika, Nyerere was the son of a Zanaki chief. After completing his schooling, he studied at Makerere College in Uganda and then Edinburgh University in Scotland. In 1952 he returned to Tanganyika, married, and worked as a teacher. In 1954, he helped form TANU, through which he campaigned for Tanganyikan independence from the British Empire. Influenced by the Indian independence leader Mahatma Gandhi, Nyerere preached non-violent protest to achieve this aim. Elected to the Legislative Council in the 1958–1959 elections, Nyerere then led TANU to victory at the 1960 general election, becoming Prime Minister. Negotiations with the British authorities resulted in Tanganyikan independence in 1961. In 1962, Tanganyika became a republic, with Nyerere elected its first president. His administration pursued decolonisation and the "Africanisation" of the civil service while promoting unity between indigenous Africans and the country's Asian and European minorities. He encouraged the formation of a one-party state and unsuccessfully pursued the Pan-Africanist formation of an East African Federation with Uganda and Kenya. A 1963 mutiny within the army was suppressed with British assistance.
Following the Zanzibar Revolution of 1964, the island of Zanzibar was unified with Tanganyika to form Tanzania. After this, Nyerere placed a growing emphasis on national self-reliance and socialism. Although his socialism differed from that promoted by Marxism–Leninism, Tanzania developed close links with Mao Zedong's Marxist-governed China. In 1967, Nyerere issued the Arusha Declaration which outlined his vision of ujamaa. Banks and other major industries and companies were nationalised; education and healthcare were significantly expanded. Renewed emphasis was placed on agricultural development through the formation of communal farms, although these reforms hampered food production and left Tanzania dependent on foreign food aid. His government provided training and aid to anti-colonialist groups fighting white-minority rule throughout southern Africa and oversaw Tanzania's 1978–1979 war with Uganda which resulted in the overthrow of Ugandan President Idi Amin. In 1985, Nyerere stood down and was succeeded by Ali Hassan Mwinyi, who reversed many of Nyerere's policies. He remained chair of Chama Cha Mapinduzi until 1990, supporting a transition to a multi-party system, and later served as mediator in attempts to end the Burundian Civil War.
Nyerere was a controversial figure. Across Africa he gained widespread respect as an anti-colonialist and in power received praise for ensuring that, unlike many of its neighbours, Tanzania remained stable and unified in the decades following independence. His construction of the one-party state and use of detention without trial led to accusations of dictatorial governance, while he has also been blamed for economic mismanagement. He is held in deep respect within Tanzania, where he is often referred to by the Swahili honorific Mwalimu ("teacher") and described as the "Father of the Nation".
Share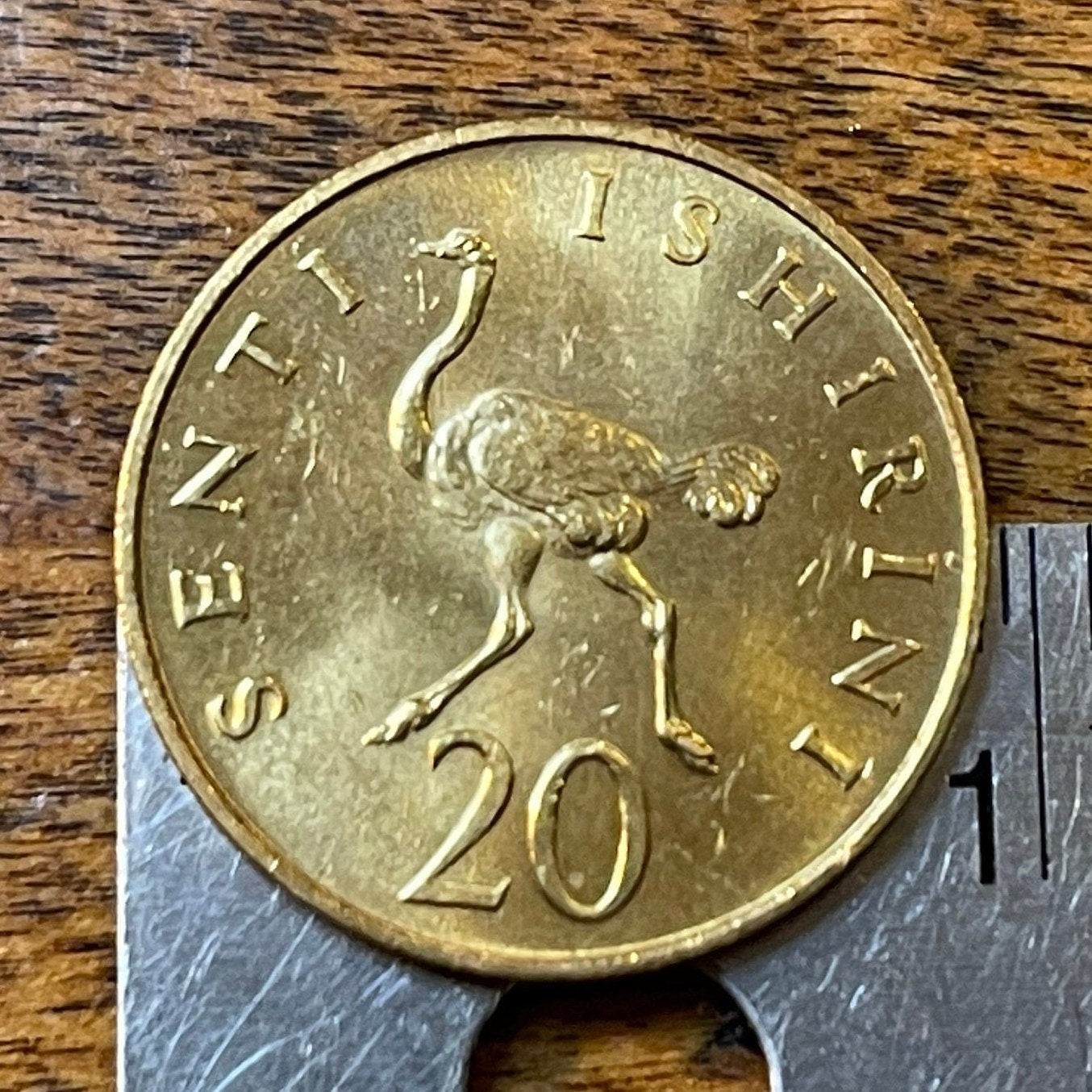 Awesome coin! Completes my ratite coin col...
Awesome coin! Completes my ratite coin collection
Great product!
I was very pleased with the items I ordered and appreciated the seller's communication!
Great product and quick delivery. I'm very...
Great product and quick delivery. I'm very pleased with my order and would highly recommend this seller!
I bought a bunch of different coins from t...
I bought a bunch of different coins from this vendor. Their communication was awesome and shipping was pretty darned quick even from across the pond! I'll be posting this same review on all the other coins purchased as well.
great coin! fast service! thanks!
great coin! fast service! thanks!