Paul Bogle 10 Cents Jamaica Authentic Coin Money for Jewelry and Craft Making (Freedom Fighter) (National Hero) (Black Power) BLM
Regular price
Sale price
$3.33 USD
Unit price
per
Paul Bogle 10 Cents Jamaica Authentic Coin Money for Jewelry and Craft Making (Freedom Fighter) (National Hero) (Black Power) BLM
Reverse: Bust of Paul Bogle facing forward
Lettering: THE RT. EXCELLENT PAUL BOGLE
NATIONAL HERO
Obverse: Arms with supporters at centre. Denomination and year at the bottom
Lettering: JAMAICA
OUT OF MANY, ONE PEOPLE
TEN CENTS 1991
CONDITION: Extra-fine to Almost Uncirculated
Features
Issuer Jamaica
Queen Elizabeth II (1952-date)
Type Standard circulation coin
Years 1991-1994
Value 10 Cents (0.1 JMD)
Currency Dollar (1969-date)
Composition Nickel plated steel
Weight 5.68 g
Diameter 23.5 mm
Thickness 2 mm
Shape Round
Technique Milled
Orientation Medal alignment ↑↑
Demonetized 15 February 2018
Number N# 2617
References KM# 146.1
Wikipedia:
Paul Bogle (1820 – 24 October 1865) was a Jamaican Baptist deacon and activist. He is a National Hero of Jamaica. He was a leader of the 1865 Morant Bay protesters, who marched for justice and fair treatment for all the people in Jamaica. After leading the Morant Bay rebellion, Bogle was captured by government troops, tried and convicted by British authorities under martial law, and hanged on 24 October 1865 in the Morant Bay court house.
Bogle had become a friend of wealthy landowner and fellow Baptist George William Gordon, a bi-racial man who served in the Assembly as one of two representatives from St. Thomas-in-the-East parish. Gordon was instrumental in Bogle being appointed deacon of Stony Gut Baptist Church in 1864. Conditions were hard for black peasants, due to social discrimination, flooding and crop failure, and epidemics. The required payment of poll taxes prevented most of them from voting. In August 1865, Gordon criticised the British governor, Edward John Eyre, for sanctioning "everything done by the higher class to the oppression of the negroes".
Bogle concentrated on improving the conditions of the poor. As awareness of social injustices and people's grievances grew, Bogle led a group of small farmers 45 miles to the capital, Spanish Town, hoping to meet with Governor Eyre to discuss their issues, but they were denied an audience.[6] The people of Stony Gut lost confidence and trust in the Government, and Bogle's supporters grew in number in the parish.
***********
Wikipedia:
The National Library of Jamaica describes the coat of arms as follows:
For Arms, Argent on a Cross Gules five pine-apples slipped OR: and upon a representation of Our Royal Helmet mantled OR doubled Ermine, for the Crest, On a Wreath Argent and Gules, Upon a Log fesse wise a Crocodile Proper: And for the Supporters, On the dexter side a West Indian Native Woman holding in the exterior hand a Basket of Fruits and on the sinister side a West Indian Native Man supporting by the exterior hand a Bow all proper.
Symbolism
The motto of the seal has been a matter of discussion for years since inception. The original motto, INDUS UTERQUE SERVIET UNI is the Latin translation for "The two Indians will serve as one", or rather "Both Indies will serve Together", in reference to the collective servitude of the Taino and Arawak Indians to the colonisers. The motto was replaced in 1962 with the English motto "Out of Many, One People", as tribute to the unity of the different cultural minorities inhabiting the nation. Perhaps as coincidence, the motto has the same meaning as the motto of the United States, E Pluribus Unum.
Share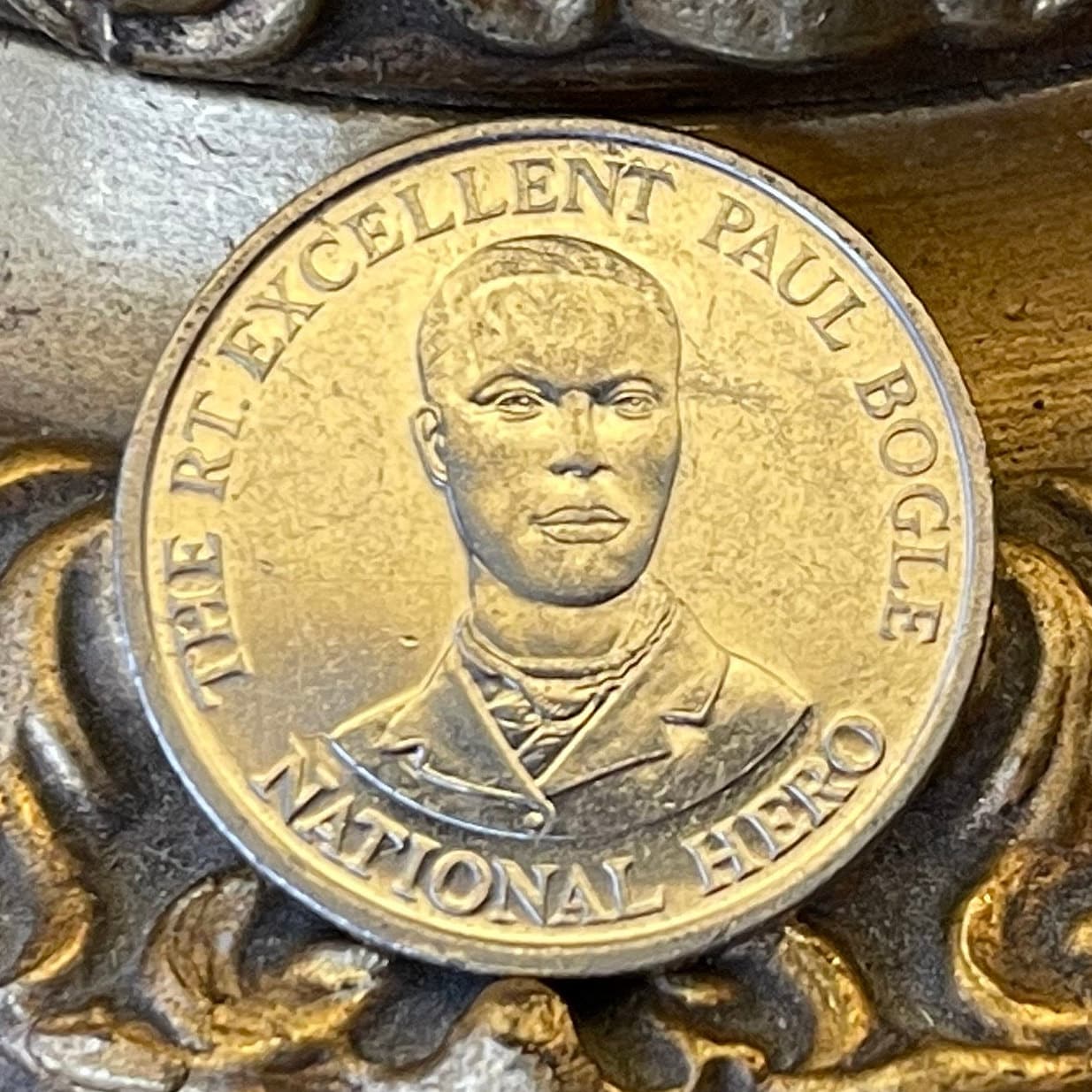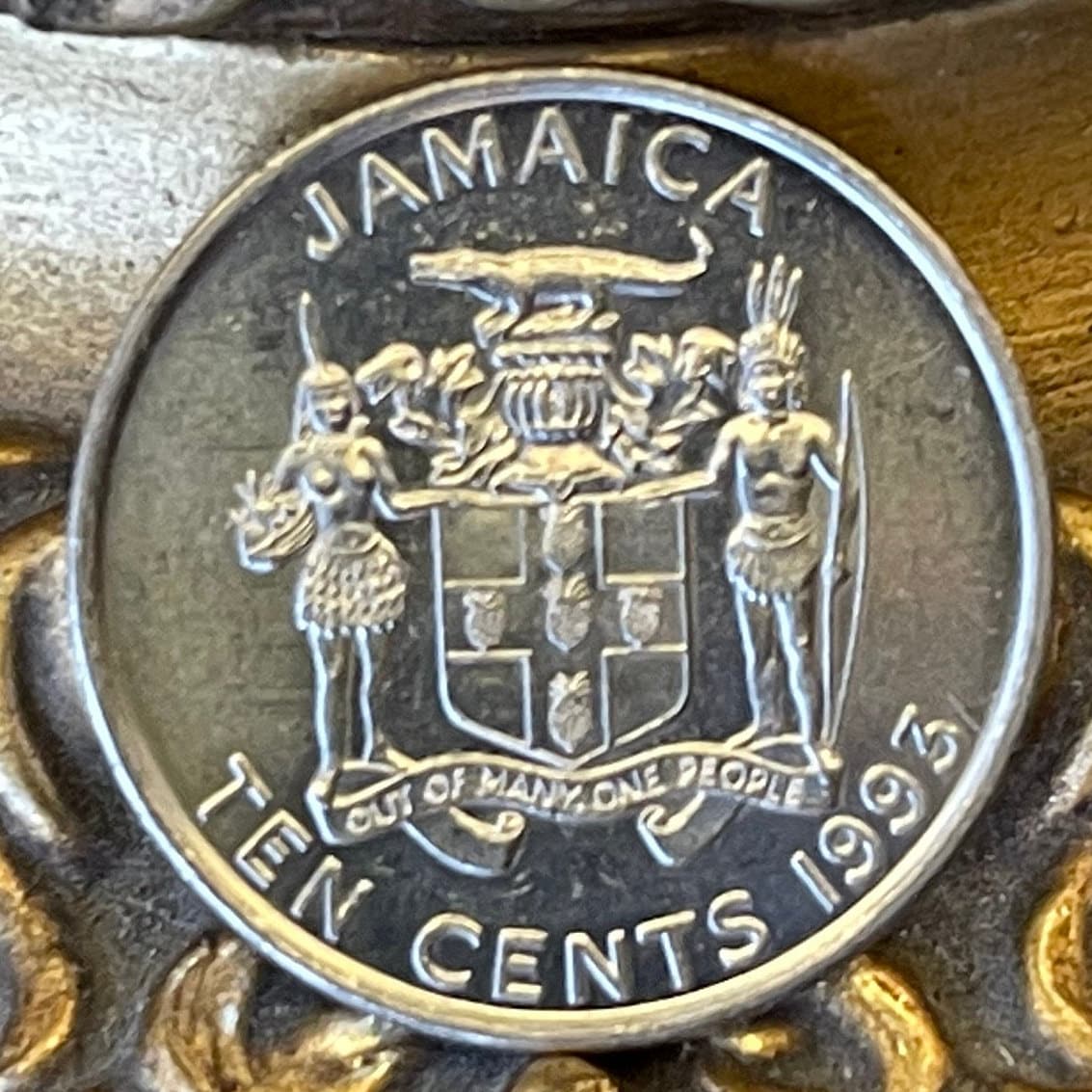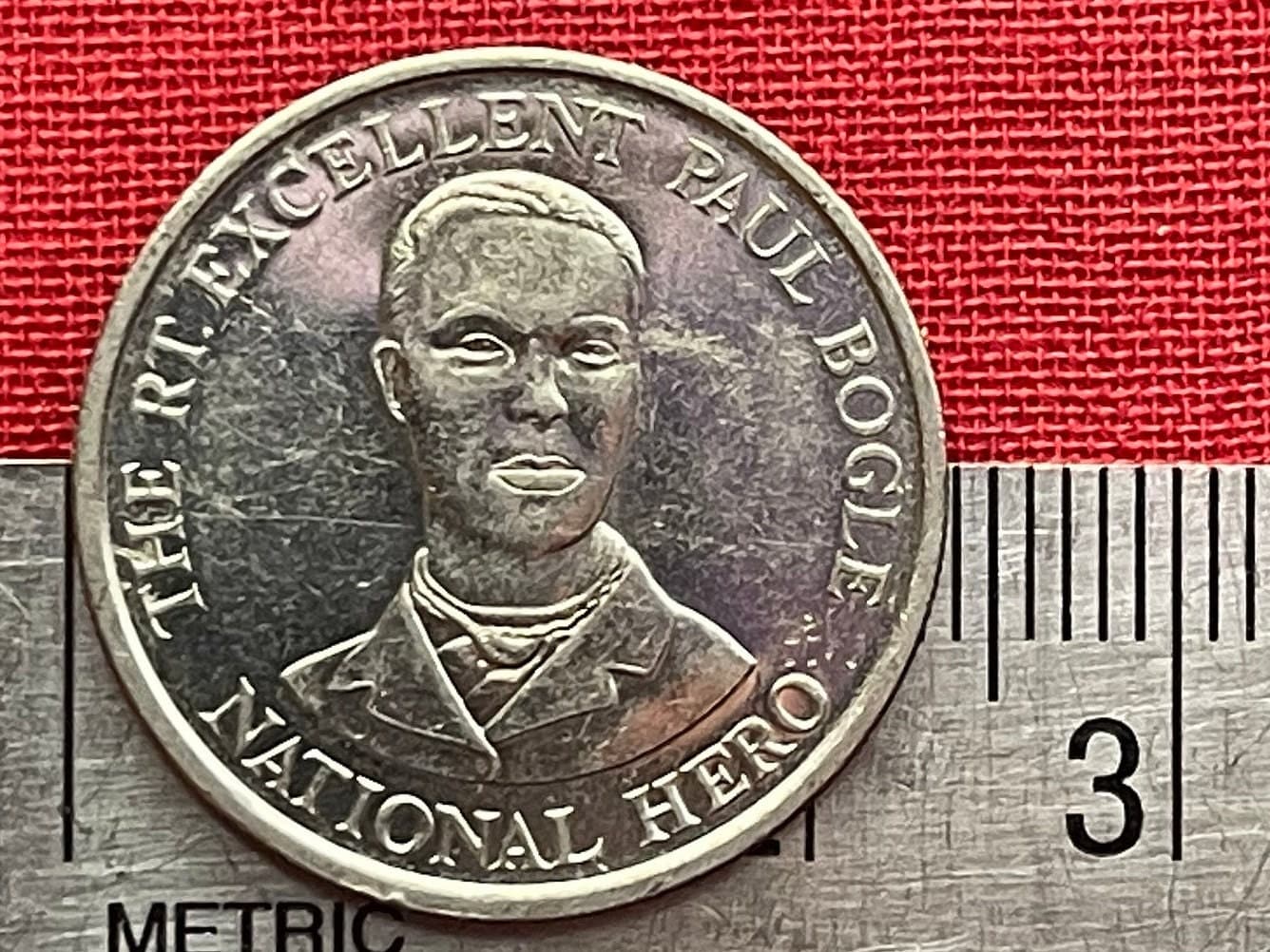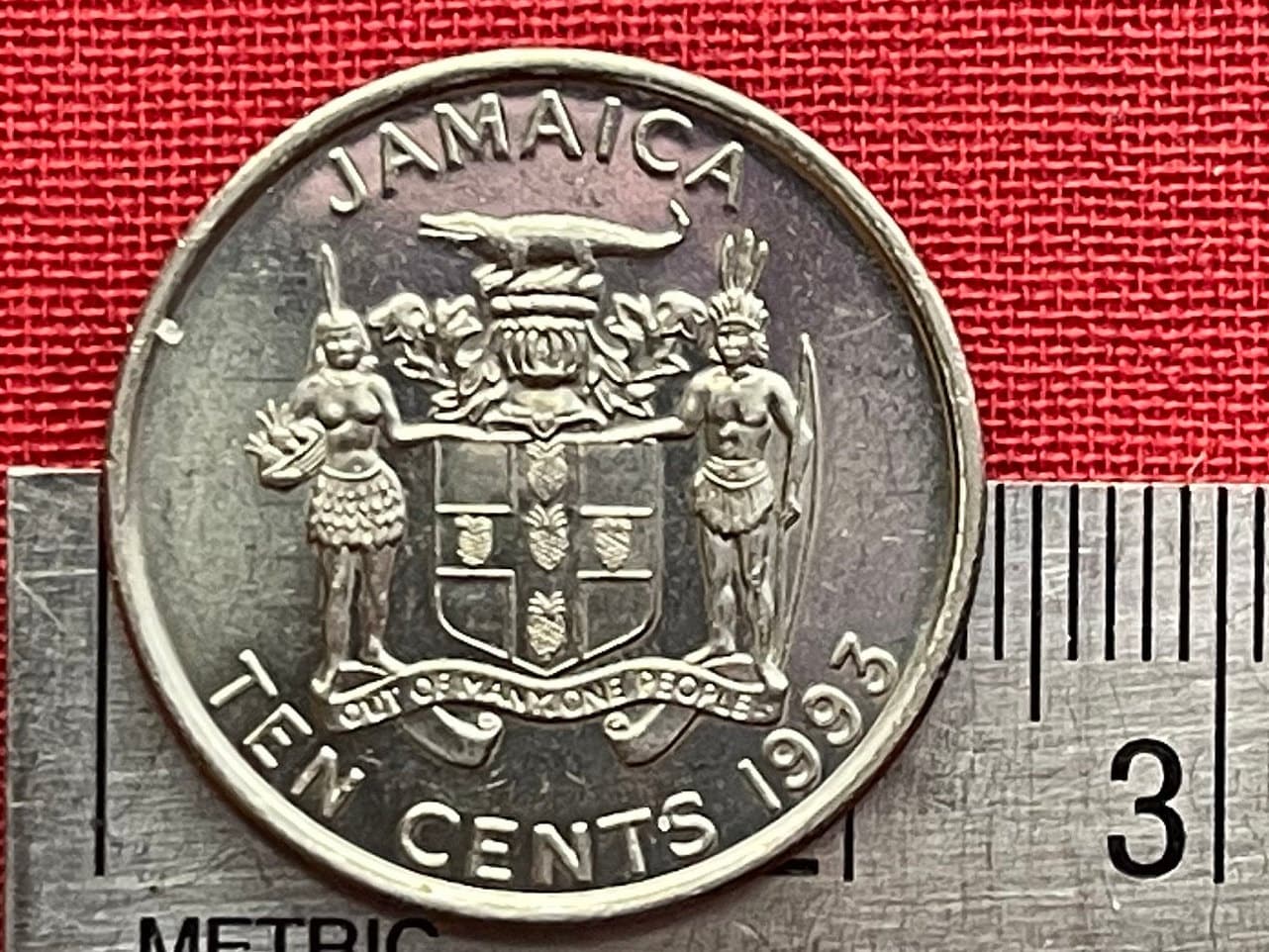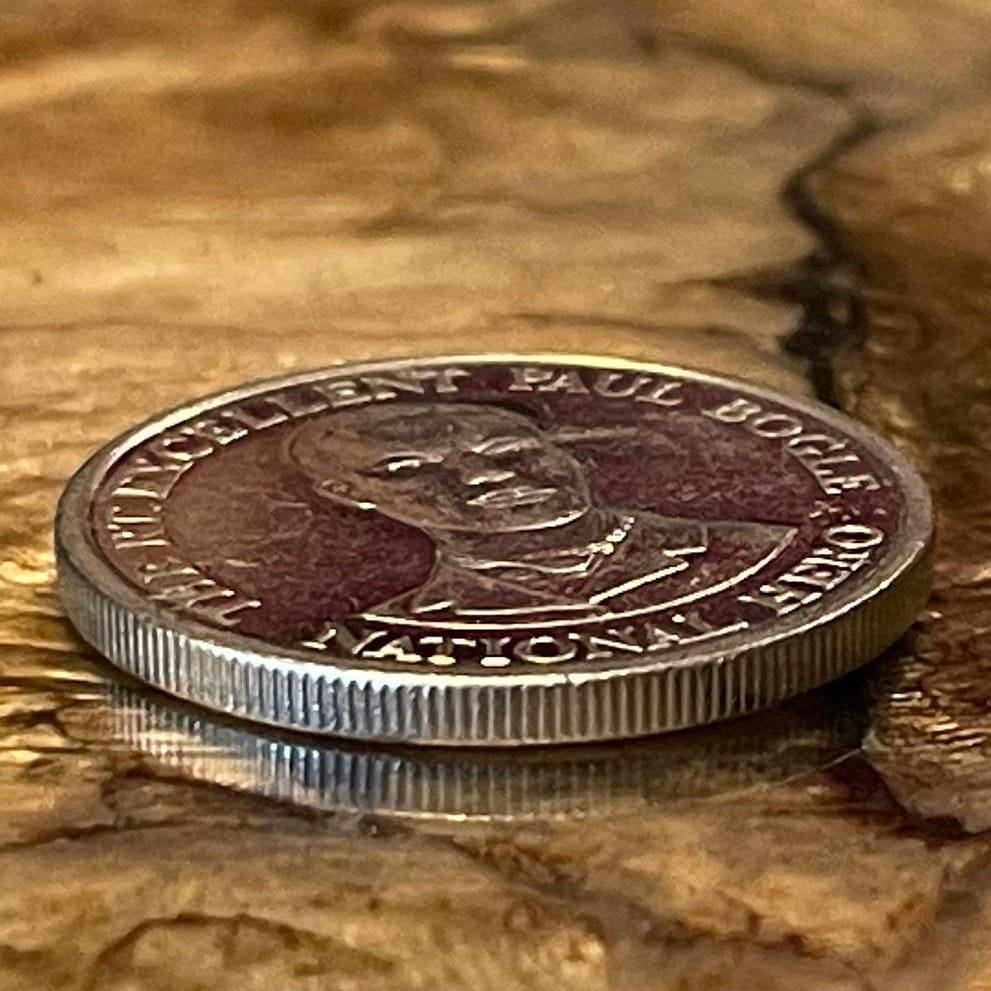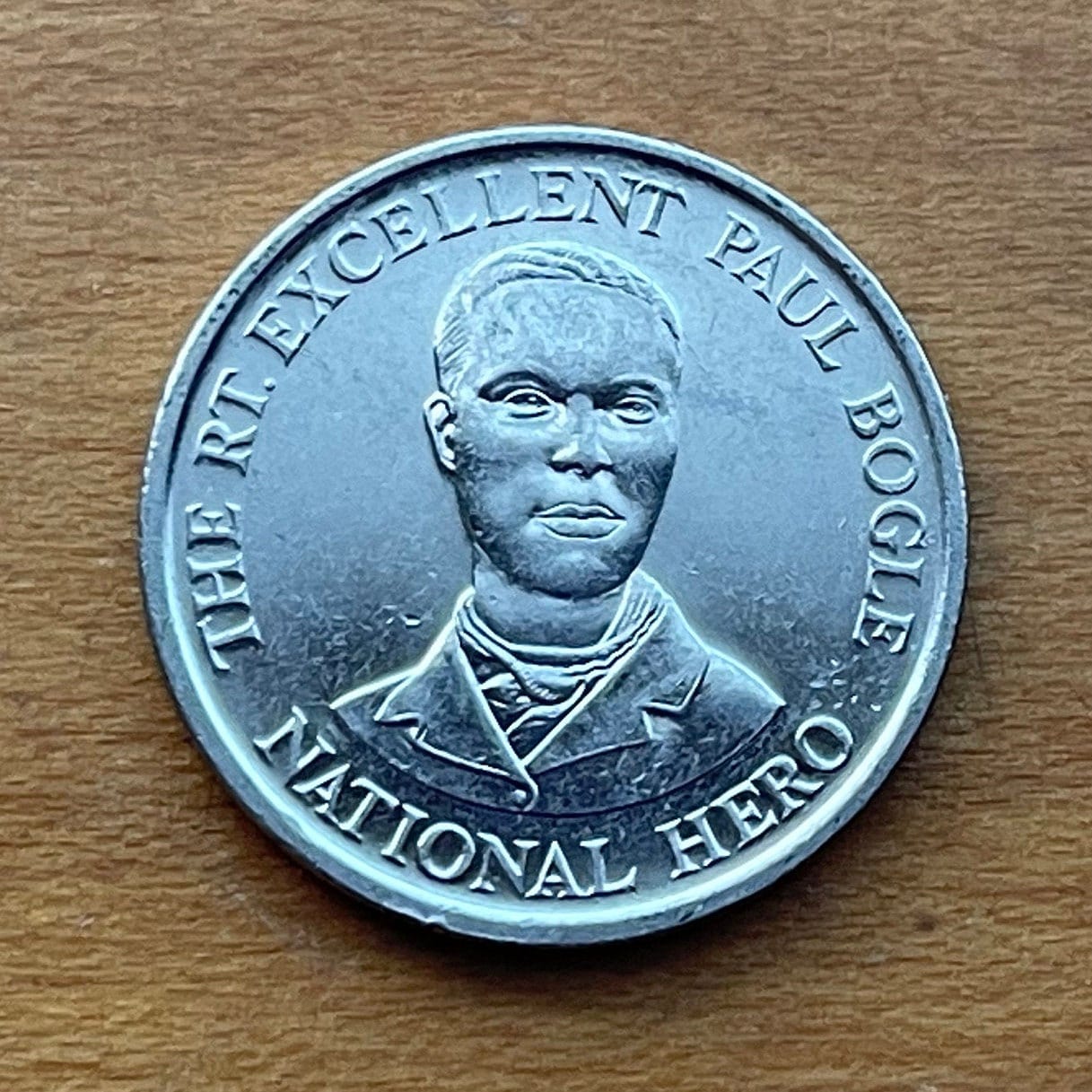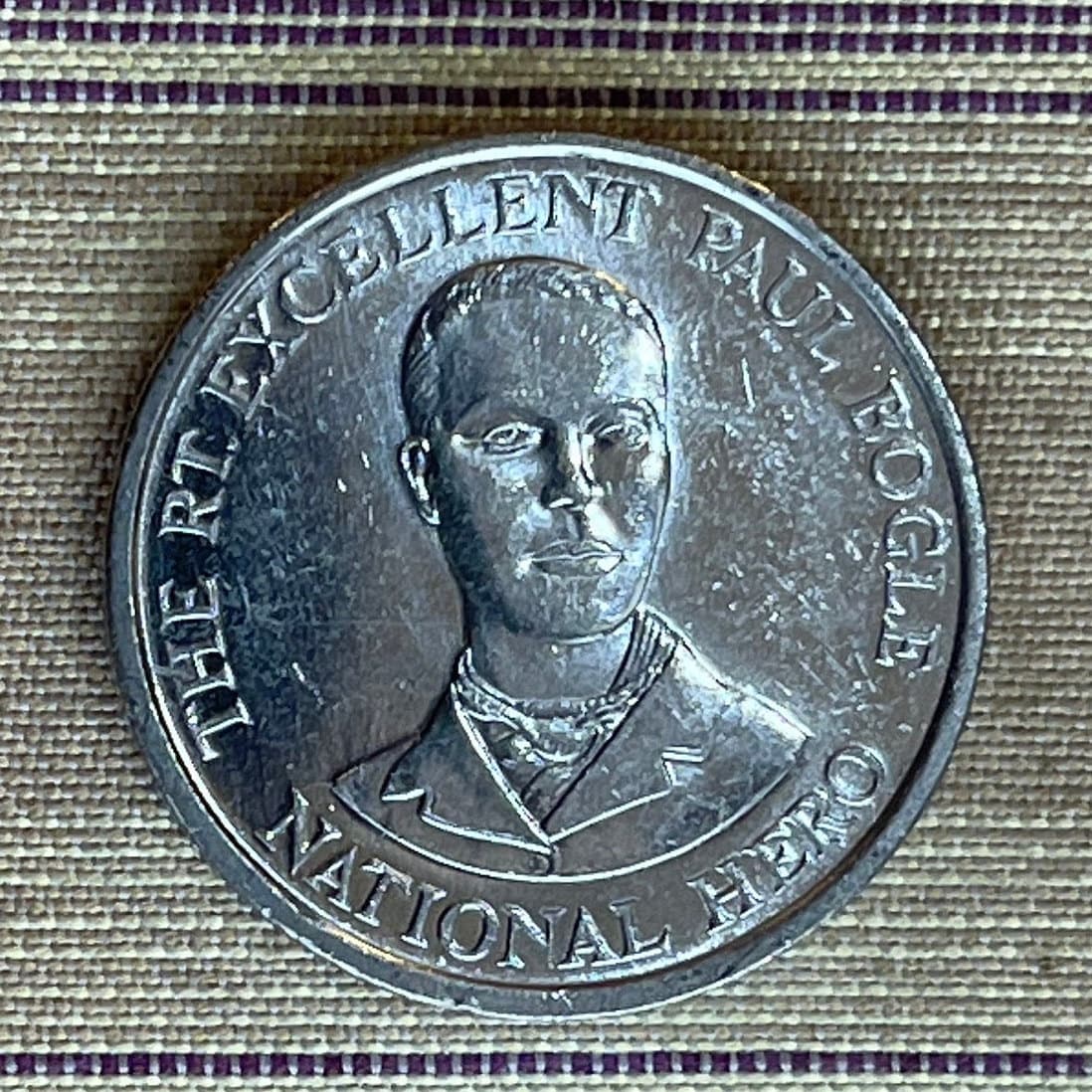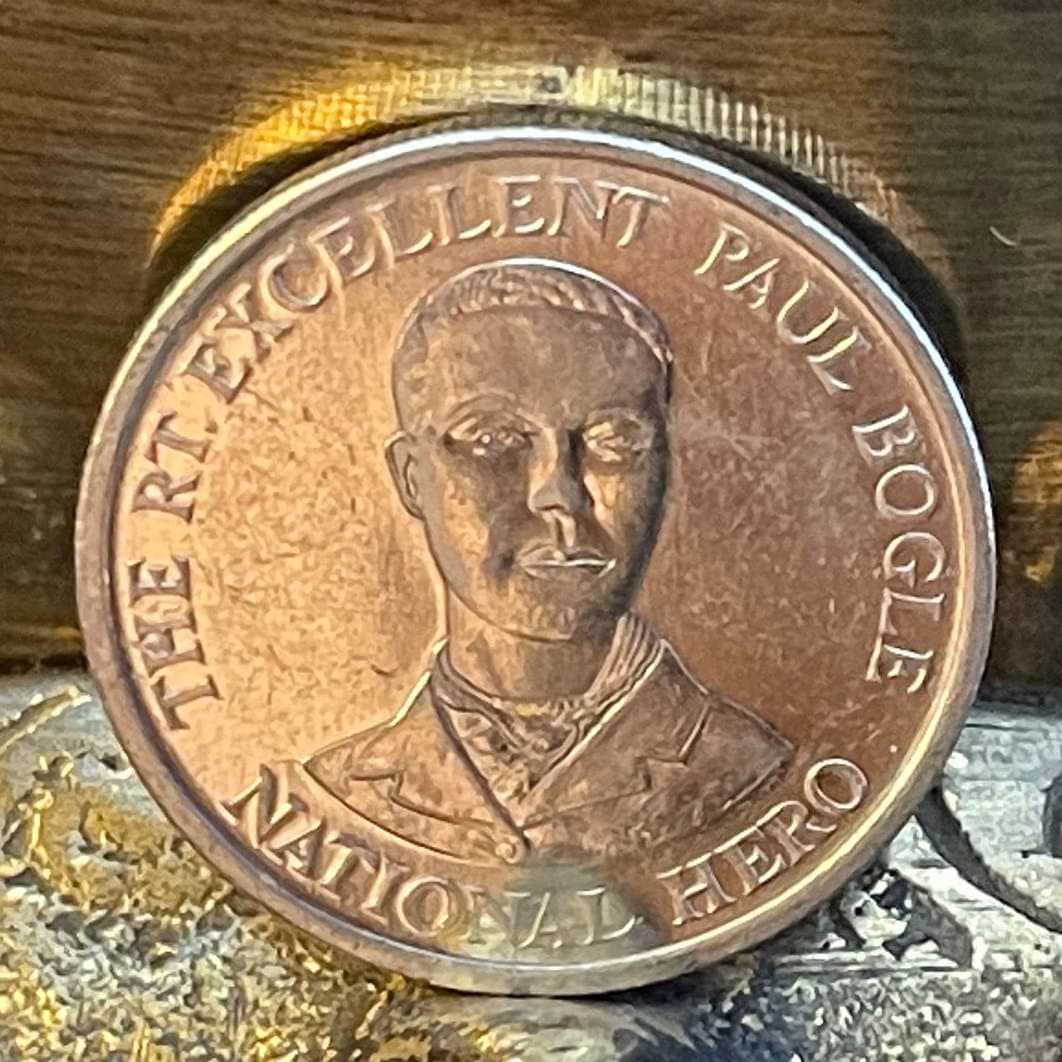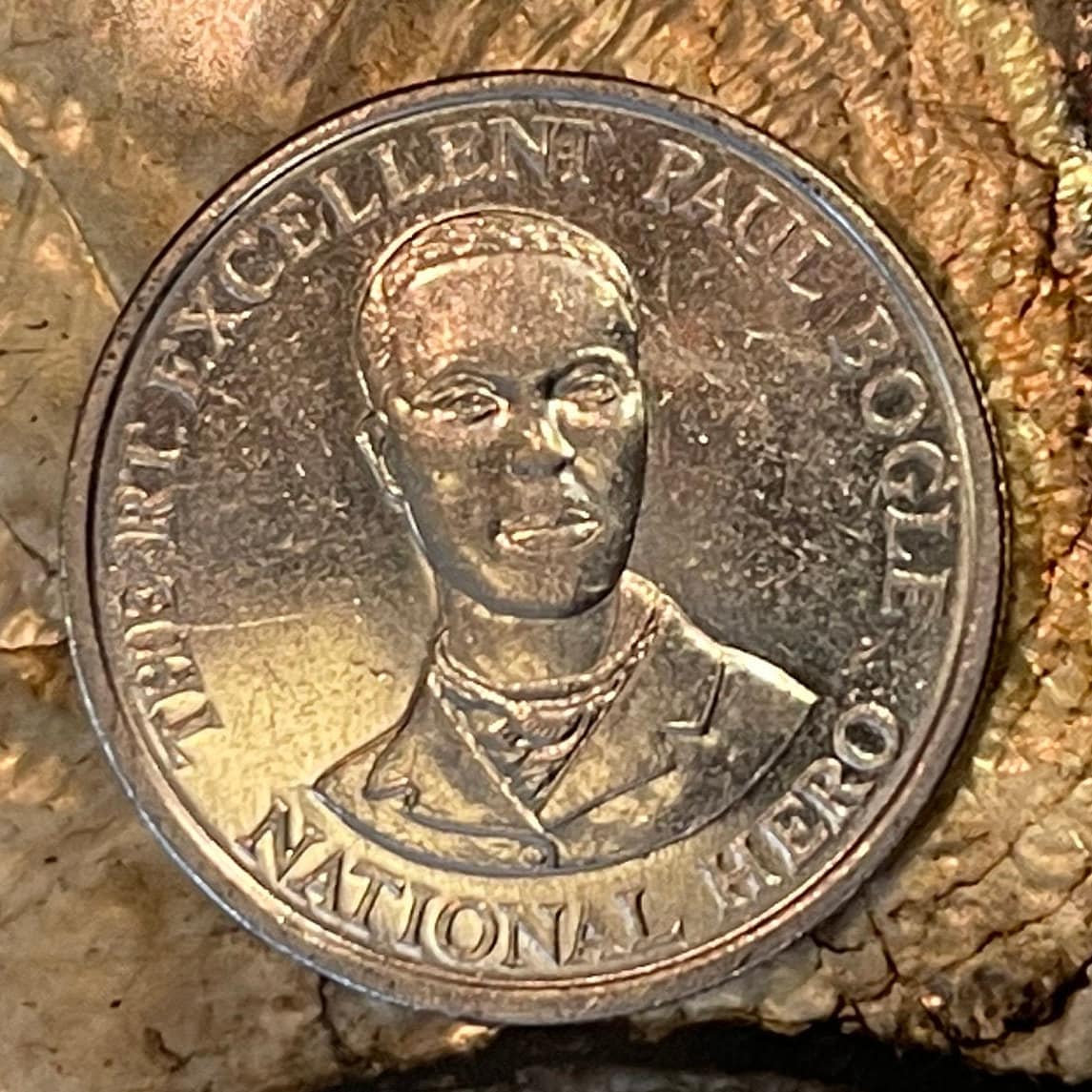 Paul Bogle coin
I was very pleased to receive my order in a very timely manner and in great condition.