Peanut Pyramid & Peanuts 25 Kobo Nigeria Authentic Coin Money for Jewelry and Craft Making (Groundnut Pyramid)
Regular price
Sale price
$6.33 USD
Unit price
per
Peanut Pyramid & Peanuts 25 Kobo Nigeria Authentic Coin Money for Jewelry and Craft Making (Groundnut Pyramid)
Obverse: Coat of arms of Nigeria, date below
Lettering: FEDERAL REPUBLIC OF NIGERIA
UNITY AND FAITH, PEACE AND PROGRESS
1991
Reverse: Peanuts (also called Groundnuts) and Groundnut Pyramid
Lettering: 25 kobo
Features
Issuer Nigeria
Period Federal Republic (1963-date)
Type Standard circulation coin
Year 1991
Value 25 Kobo (0.25 NGN)
Currency Naira (1973-date)
Composition Copper plated steel
Weight 4.50 g
Diameter 22.50 mm
Thickness 1.58 mm
Shape Round
Technique Milled
Orientation Medal alignment ↑↑
Demonetized 28 February 2007
Number N# 2131
References KM# 11a
Wikipedia:
Groundnut pyramids were pyramid-like structures made from groundnut sacks. The pyramids were built in northern Nigeria in cities such as Kano, where groundnut production was a key part of the economy. They were viewed as both a tourist attraction and a symbol of wealth. In the 1960s and 70s, as production in Nigeria shifted from agriculture to oil, the groundnut pyramids disappeared. Recently, the Nigerian government has made efforts to revive the groundnut industry and rebuild the pyramids.
History
Groundnut pyramids were the invention of Alhassan Dantata, a prominent nut trader. Dantata came to Kano in 1919 and within five years was one of the most successful businessmen, supplying the Royal Niger Company (RNC) with most of their groundnuts. Dantata's company kept their groundnuts at a facility in Kofar Nassarawa, and they stacked the bags in the shape of a pyramid before they were shipped. One groundnut pyramid could be made from as much as 15,000 full groundnut bags. A journalist who visited a former groundnut pyramid site in Kano reported that the land was now a football field.
Groundnut pyramids were built all across northern Nigeria, in cities like Kofar Mazugal, Brigade, Bebeji, Malam Madori and Dawakin Kudu. The pyramids became synonymous with Nigeria's agriculture wealth; a postage stamp even featured a groundnut pyramid. However, as groundnut production declined in the 1970s and 80s the groundnut pyramids disappeared and were replaced with buildings.
*******
WIkipedia:
The coat of arms of Nigeria consists of a black shield with a wavy white pall, symbolizing the meeting of the Niger and Benue Rivers at Lokoja. The black shield represents Nigeria's fertile soil, while the two supporting horses or chargers on each side represent dignity. The eagle represents strength, while the green and white bands on the top of the shield represent the rich soil.
The red flowers at the base are Costus spectabilis, Nigeria's national flower. This flower was chosen for inclusion in the coat of arms as it is found all over Nigeria and also stand for the beauty of the nation. On the banderole around the base is Nigeria's national motto since 1978: "Unity and Faith, Peace and Progress" (formerly "Peace, Unity, Freedom").
Share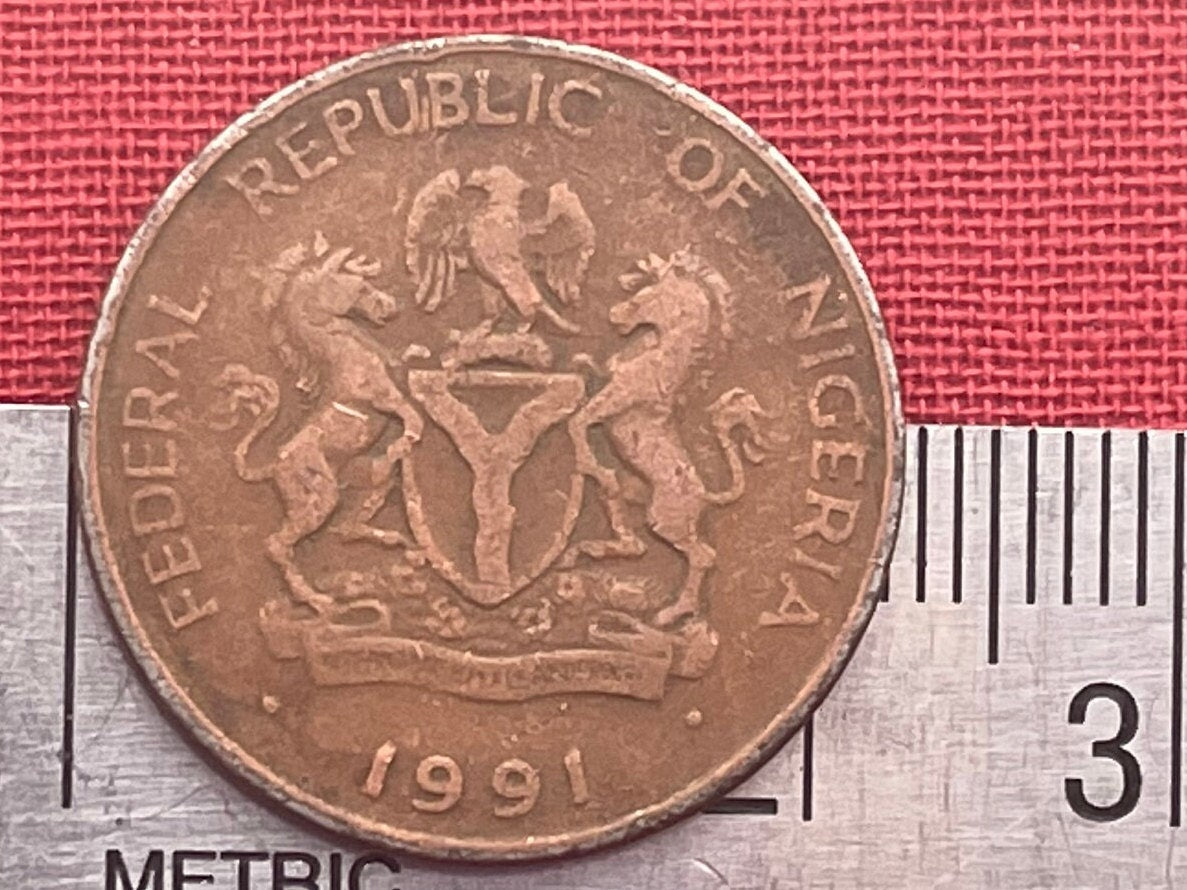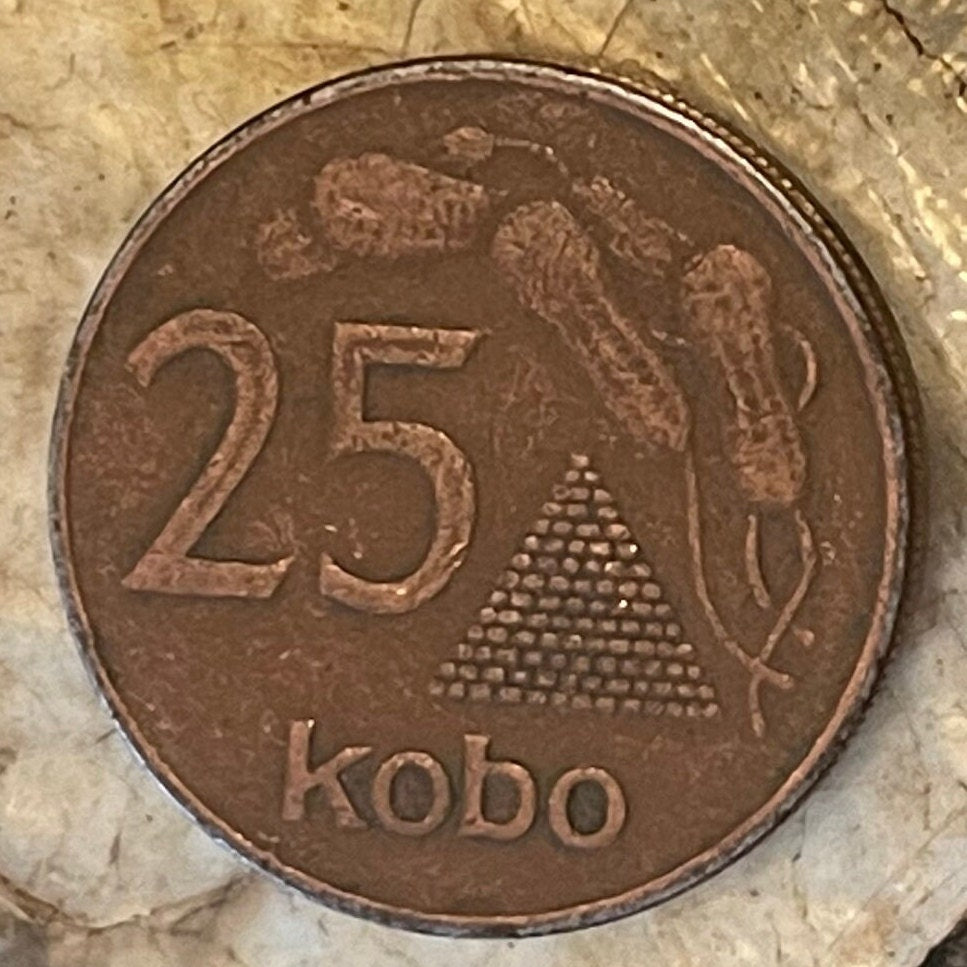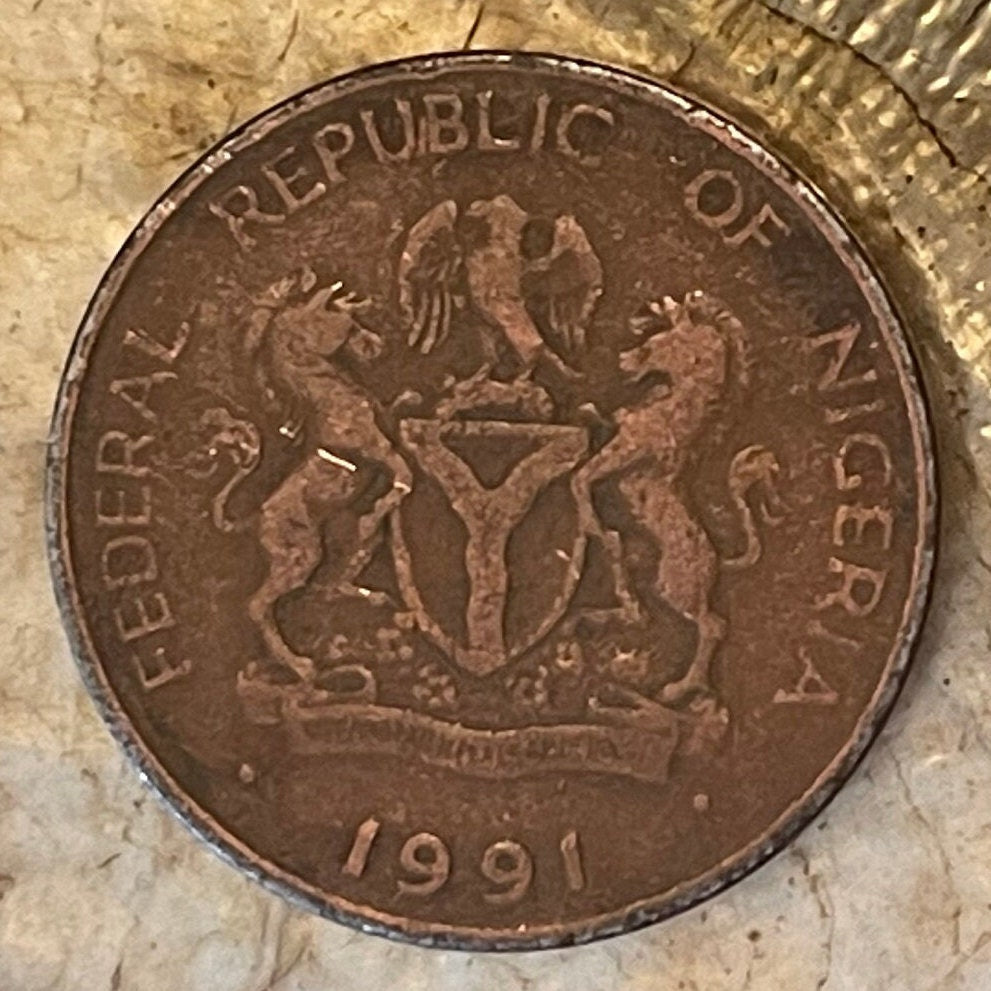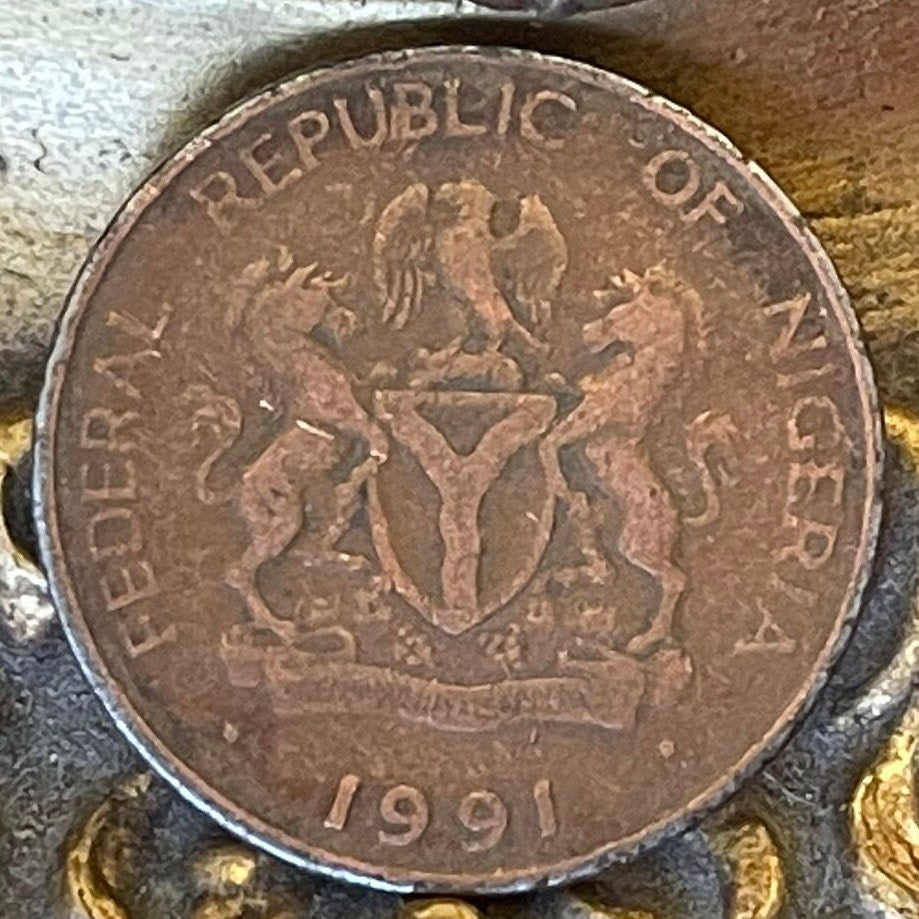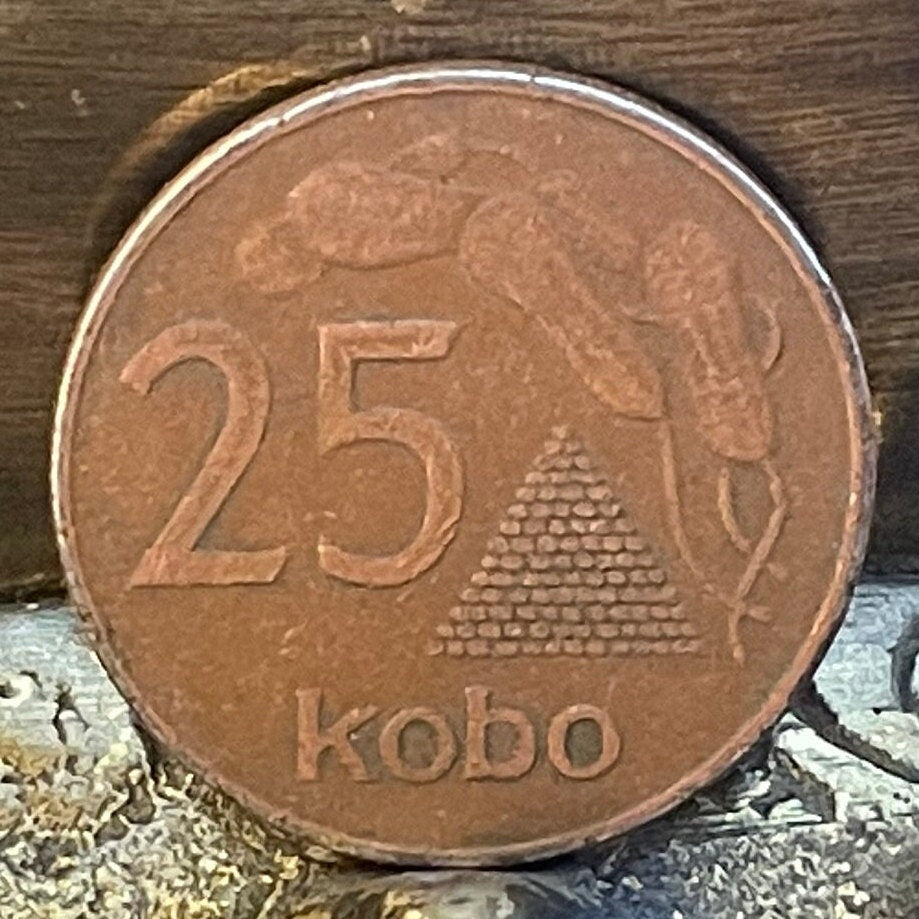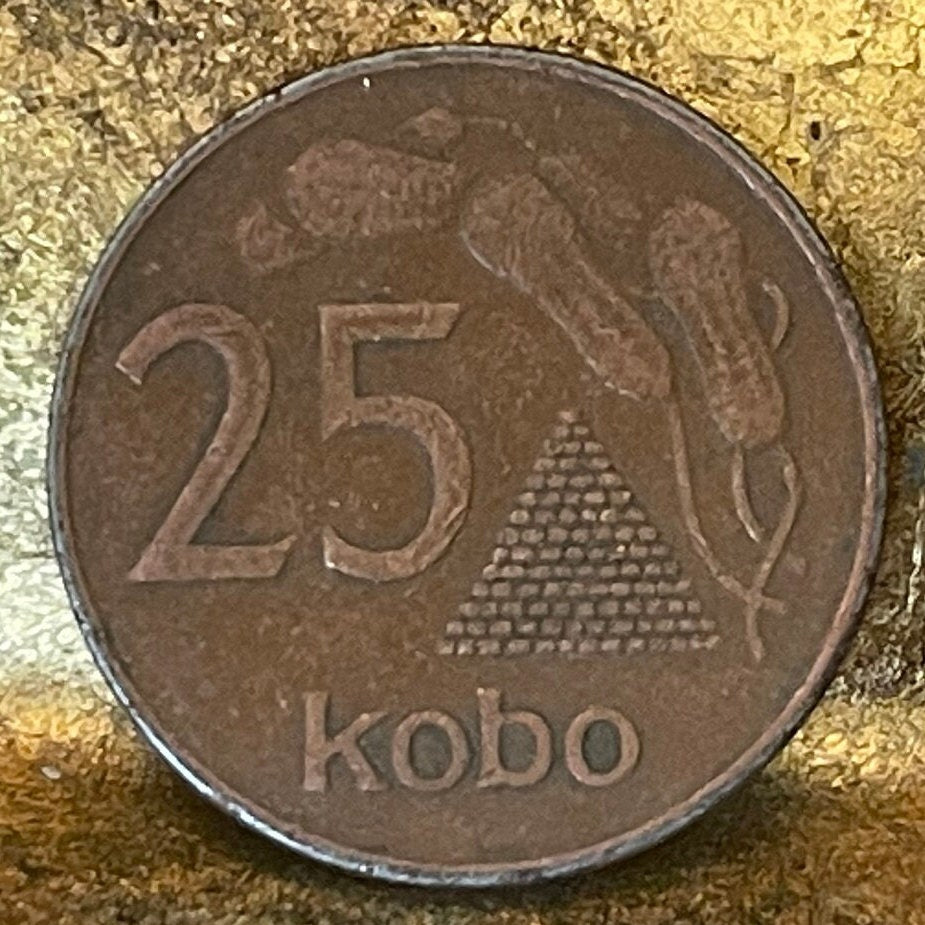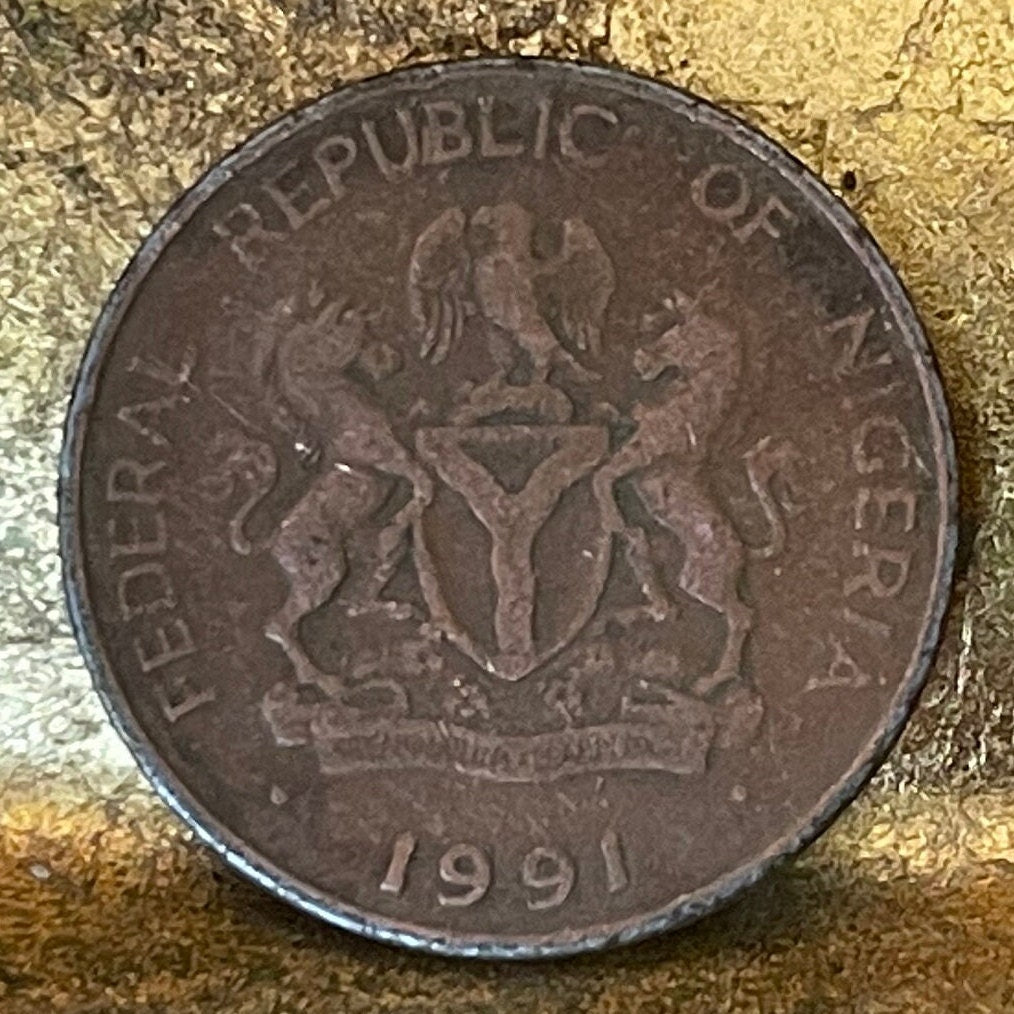 5 stars review from Crystal
5 stars review from Crystal
Great coins
I've ordered a lot of coins from this seller recently and have been very happy with all of my orders. The items are always as pictured, are shipped in an organized fashion, and the recipient has really enjoyed the variety and condition of the coins, as well as the extra information provided in the item descriptions.
5 stars review from Ellen
5 stars review from Ellen