Pineapple & President-for-Life Malietoa Tanumafili II 5 Sene Samoa Authentic Coin Money for Jewelry and Craft Making
Regular price
Sale price
$5.31 USD
Unit price
per
Pineapple & President-for-Life Malietoa Tanumafili II 5 Sene Samoa Authentic Coin Money for Jewelry and Craft Making
Reverse: Pineapple and denomination
Lettering: 5 SENE
Obverse: Portrait of King Malietoa Tanumafili II
Lettering: MALIETOA TANUMAFILI II
SAMOA I SISIFO
Translation: Malietoa Tanumafili II (Malietoa means Chief)
Western Samoa
[Officially, this nation is now called the "Independent State of Samoa", and until 1997 was known as "Western Samoa".]
Edge: Reeded
Features
Issuer Samoa
Ruling authority Malietoa Tanumafili II (1962-2007)
Type Standard circulation coin
Years 1974-2000
Value 5 Sene (0.05 WST)
Currency Tala (1967-date)
Composition Copper-nickel
Weight 2.8 g
Diameter 19.4 mm
Shape Round
Technique Milled
Orientation Medal alignment ↑↑
Demonetized Yes
Number N# 3689
References KM# 14, Schön# 14
Pineapples in Paradise
Originating in South America, pineapple is now grown all around the world and in the Pacific we like to think that we produce the sweetest and tastiest pineapples there are. Whether you think they are the best or not, there is no arguing with the fact that Pacific pineapples are great!
However, there has been a problem that in many Pacific countries pineapples are not available all year round. There is a natural pineapple season and left to themselves the pineapples will all produce fruit at the roughly the same time. Wouldn't it be better for consumers to be able to enjoy eating pineapple all year round? And wouldn't this year round production be more profitable for farmers?
In 2014 a technical exchange initiated by the Samoa Farmers Association sought to address this very issue, with follow up training in 2015. These two trainings were a mix of classroom based presentations and hands-on field demonstrations focused around planting, flower induction, and nursery propagation of planting material, with the ultimate goal being the introduction of off-season pineapple production to Samoa.
By 2016 there was some initial success, with the natural pineapple cycle being broken on a number of farms and 65,000-70,000 plants ready to produce off-season fruit. However, problems still remained and so a third technical exchange was organised with the Fiji farmer organisation, Tei Tei Taveuni. This third technical exchange found that only one farm in Samoa had successfully produced off-season pineapples in 2016, with 10-12 tonnes being sold through retail outlets in Apia. Still a significant achievement, but not yet delivering the full outcome expected.
A monitoring visit by the Pacific Island Farmers Organisation Network in July 2018 revealed that while there is still only a limited number of farmers following the off-season production practices, pineapple is now available nearly all year round in selected outlets. What is more, with the visibility of successfully operating local farms, Samoan farmers are taking note of the 100% price increase between regular season and off-season pineapple.
Source: https://pacificfarmers.com/pineapples-in-paradise/
*****
WIkipedia:
Malietoa Tanumafili II GCMG CBE (4 January 1913 – 11 May 2007), addressed Susuga Malietoa Tanumafili II, was the Malietoa, the title of one of Samoa's four paramount chiefs, and the head of state, or O le Ao o le Malo, a position that he held for life, of Samoa from 1962 to 2007. He was co-head of state in 1962 with the tama-a-'aiga Tupua Tamasese Mea'ole and became the sole head of state on 15 April 1963 upon the death of his counterpart. At the time of his death, he was the oldest national leader in the world, and was also the last incumbent president-for-life in the world.
The Malietoa is one of the four tama-a-'aiga (maximal lineage) titles of Samoa, alongside Tupua Tamasese, Mata-afa and Tuimalealiifano.
Following an extended period deliberation, the Malietoa title passed to his eldest son, Malietoa Fa'amausili Molī.
******
Wikipedia:
Samoa, officially the Independent State of Samoa and until 1997 known as Western Samoa, is a Polynesian island country consisting of two main islands (Savai'i and Upolu), two smaller, inhabited islands (Manono and Apolima), and several smaller, uninhabited islands, including the Aleipata Islands (Nu'utele, Nu'ulua, Fanuatapu and Namua). Samoa is located 64 km (40 mi) west of American Samoa, 889 km (552 mi) northeast of Tonga (closest foreign country), 1,152 km (716 mi) northeast of Fiji, 483 km (300 mi) east of Wallis and Futuna, 1,151 km (715 mi) southeast of Tuvalu, 519 km (322 mi) south of Tokelau, 4,190 km (2,600 mi) southwest of Hawaii, and 610 km (380 mi)northwest of Niue. The capital city is Apia. The Lapita people discovered and settled the Samoan Islands around 3,500 years ago. They developed a Samoan language and Samoan cultural identity.
Samoa is a unitary parliamentary democracy with 11 administrative divisions. The sovereign state is a member of the Commonwealth of Nations. Western Samoa was admitted to the United Nations on 15 December 1976. Because of the Samoans' seafaring skills, pre-20th-century European explorers referred to the entire island group (which includes American Samoa) as the "Navigator Islands". The country was a colony of the German Empire from 1899 to 1915, then came under a joint British and New Zealand colonial administration until 1 January 1962, when it became independent.
Share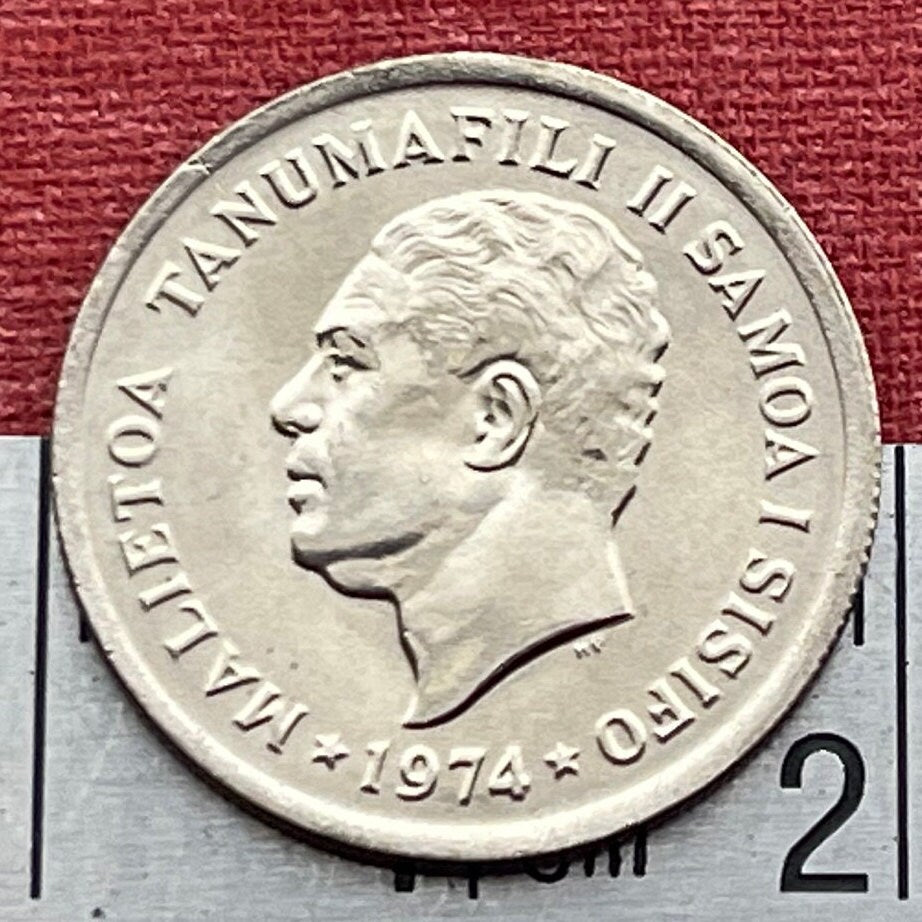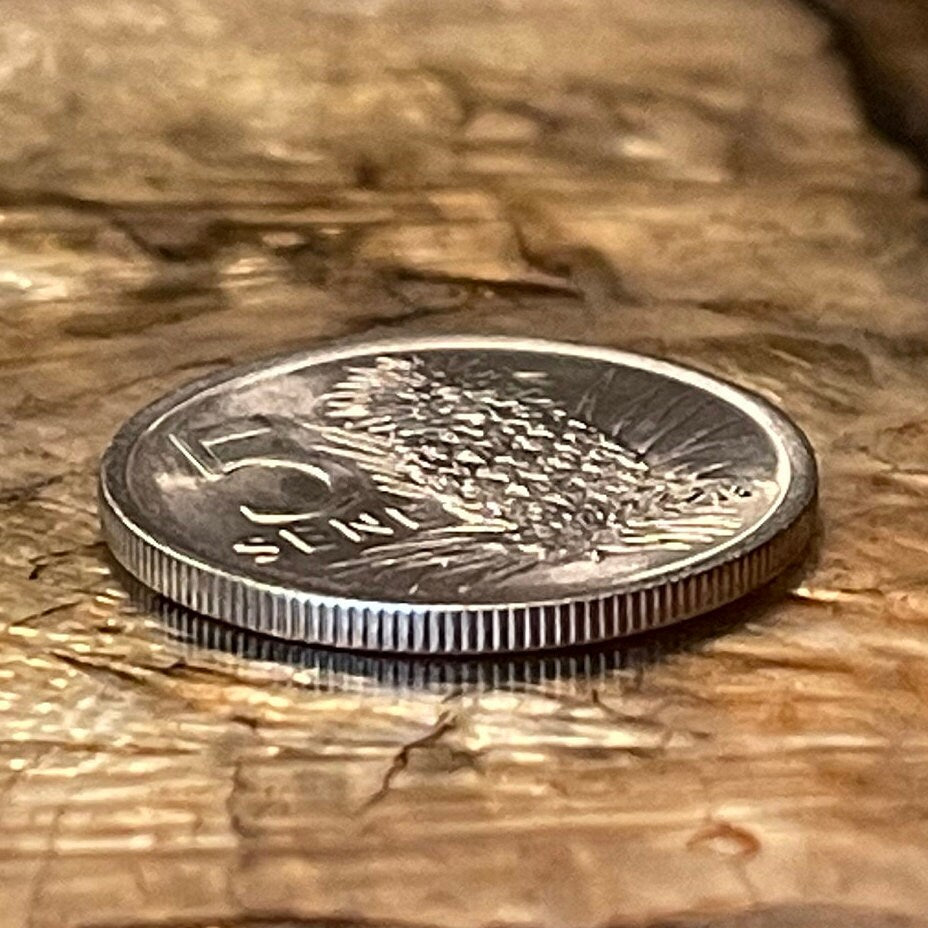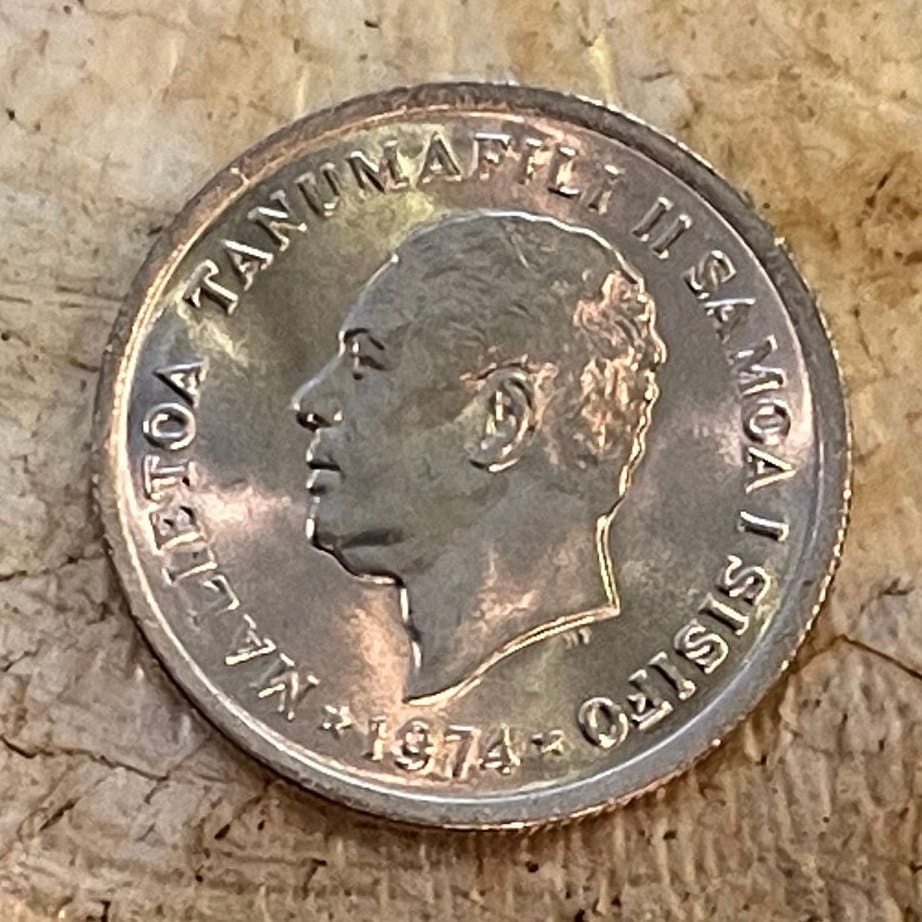 Coin has a brilliant shine. Store has a wi...
Coin has a brilliant shine. Store has a wide variety to choose from.