Chacmool & "The Trench" Mural 100 Pesos Mexico Authentic Banknote Money for Jewelry and Collage (Venustiano Carranza) (La Trinchera) (Maya)
Regular price
Sale price
$5.32 USD
Unit price
per
Chacmool & "The Trench" Mural 100 Pesos Mexico Authentic Banknote Money for Jewelry and Collage (Venustiano Carranza) (José Clemente Orozco) (La Trinchera) (Tlaloc) (Rain God) (Human Sacrifice) (Maya) (Pre-Columbian)
Reverse: Illustration of Chacmool
Lettering: El Banco de Mexico
Cien Pesos
Translation: The Bank of Mexico
100 Pesos
Obverse: Portrait of Venustiano Carranza on the left
Mural by José Clemente Orozco, "La Trinchera", in the center
Lettering: El Banco de Mexico
Cien Pesos
Translation: The Bank of Mexico
100 Pesos
Features
Issuer Mexico
Period United Mexican States (1905-date)
Type Standard banknote
Years 1981-1982
Value 100 Pesos (100 MXP)
Currency Peso (1863-1992)
Composition Paper
Size 155 × 64 mm
Shape Rectangular
Demonetized Yes
Number N# 205304
References P# 74
Wikipedia:
A chacmool (also spelled chac-mool) is a form of pre-Columbian Mesoamerican sculpture depicting a reclining figure with its head facing 90 degrees from the front, supporting itself on its elbows and supporting a bowl or a disk upon its stomach. These figures possibly symbolised slain warriors carrying offerings to the gods; the bowl upon the chest was used to hold sacrificial offerings, including pulque, tamales, tortillas, tobacco, turkeys, feathers and incense. In an Aztec example, the receptacle is a cuauhxicalli (a stone bowl to receive sacrificed human hearts). Chacmools were often associated with sacrificial stones or thrones.
Aztec chacmools bore water imagery and were associated with Tlaloc, the rain god. Their symbolism placed them on the frontier between the physical and supernatural realms, as intermediaries with the gods. The chacmool form of sculpture first appeared around the 9th century AD in the Valley of Mexico and the northern Yucatán Peninsula.
*******
Wikipedia:
José Clemente Orozco (November 23, 1883 – September 7, 1949) was a Mexican caricaturist and painter, who specialized in political murals that established the Mexican Mural Renaissance together with murals by Diego Rivera, David Alfaro Siqueiros, and others. Orozco was the most complex of the Mexican muralists, fond of the theme of human suffering, but less realistic and more fascinated by machines than Rivera. Mostly influenced by Symbolism, he was also a genre painter and lithographer. Between 1922 and 1948, Orozco painted murals in Mexico City, Orizaba, Claremont, California, New York City, Hanover, New Hampshire, Guadalajara, Jalisco, and Jiquilpan, Michoacán. His drawings and paintings are exhibited by the Carrillo Gil Museum in Mexico City, and the Orozco Workshop-Museum in Guadalajara. Orozco was known for being a politically committed artist, and he promoted the political causes of peasants and workers.
Below source: https://www.theartstory.org/artist/orozco-jose-clemente/
1926
The Trench
Orozco was forced to stop working at the ENP in 1924. He destroyed some of his early work there but returned in 1926 to add a new set of frescoes to the ground floor. The Trench is one of the works that he produced during his second stay at the ENP and is dramatically different from his earlier works at that site such as Maternity. The softly delineated flesh of the figures in the earlier work and the Renaissance elegance of the overall rendering in Maternity has given way to a frank, modernist style in which forms are less modeled, line is expressive, and the palette reflective of the dark, emotional content of the mural.
The Trench depicts soldiers fighting in the Mexican Revolution. The three fallen, faceless men form a cross. The sharp diagonal of the composition and the vivid red of the background convey the scene's drama. Due to Orozco's new interest in modern art, with its representations of space and time as mutable and relative, the three men could be interpreted as a single soldier depicted in different moments in time.
By 1929, the morale of the populace regarding the Revolution had deteriorated considerably compared to the early optimism of 1923. With The Trench, Orozco illustrates his refusal to idealize the Revolution as Rivera and Siqueiros did. Having witnessed it directly (unlike Rivera, who was in Paris) and been thoroughly scarred by the ferocity of his countrymen during the Revolution, Orozco seeks to promote peace by denouncing the violence of revolution. This mural is expressionistic, contrasting with the placid depiction of Maternity.
Fresco - National Preparatory School (ENP), Mexico City, Mexico
******
Wikipedia:
José Venustiano Carranza de la Garza (Spanish pronunciation: [benusˈtjano kaˈransa ðe la ˈɣaɾsa]; 29 December 1859 – 21 May 1920) was a wealthy Mexican land owner and politician who was Governor of Coahuila when the constitutionally-elected president Francisco I. Madero was overthrown in a February 1913 rightwing military coup. Known as the Primer Jefe or "First Chief" of the Constitutionalist faction in the Mexican Revolution, Carranza was a shrewd civilian politician. He supported Madero's challenge to the Díaz regime in the 1910 elections, but became a critic of Madero once Díaz was overthrown in May 1911. Madero did appoint him the governor of Coahuila. When Madero was murdered during the February 1913 counter-revolutionary coup, Carranza drew up the Plan of Guadalupe, a purely political plan to oust Madero's successor, General Victoriano Huerta. As a sitting governor when Madero was overthrown, Carranza held legitimate power and he became the leader of the northern coalition opposed to Huerta. The Constitutionalist faction was victorious and Huerta ousted in July 1914. Carranza did not assume the title of provisional president of Mexico, as called for in his Plan of Guadalupe, since it would have prevented his running for constitutional president once elections were held. His government in this period was in a preconstitutional, extralegal state, to which both his best generals, Álvaro Obregón and Pancho Villa objected. The factions of the coalition against Huerta fell apart and a bloody civil war of the winners ensued, with Obregón remaining loyal to Carranza and Villa, now allied with peasant leader Emiliano Zapata, breaking with him. The Constitutionalist Army under Obregón defeated Villa in the north, and Zapata and the peasant army of Morelos returned to guerrilla warfare. Carranza's position was secure enough politically and militarily to take power in Mexico City, although Zapata and Pancho Villa remained threats. Carranza consolidated enough power in the capital that he called a constitutional convention in 1916 to revise the 1857 liberal constitution. The Constitutionalist faction had fought to defend it and return Mexico to constitutional rule. With the promulgation of a new revolutionary Mexican Constitution of 1917, he was elected president, serving from 1917 to 1920.
The constitution that the revolutionaries drafted and ratified in 1917 now empowered the Mexican state to embark on significant land reform and recognized labor's rights, and curtail the power of the Catholic Church, but Carranza did not implement major reforms once he was duly elected. Once firmly in power in Mexico, Carranza sought to eliminate his political rivals, having Zapata assassinated in 1919. Carranza won recognition from the United States, but nonetheless took strongly nationalist positions.
In the 1920 election, in which he could not succeed himself, Carranza attempted to impose a virtually unknown, civilian politician, Ignacio Bonillas, as president of Mexico. Sonoran revolutionary generals Álvaro Obregón, Plutarco Elías Calles, and Adolfo de la Huerta, who held real power, rose up against Carranza under the Plan of Agua Prieta. Carranza fled Mexico City, along with thousands of his supporters and with gold of the Mexican treasury, aiming to set up his government in Veracruz. Instead he died in an attack by rebels. Although Carranza played a major role in the Revolution, his contributions were not initially acknowledged in Mexico's historical memory, since he was overthrown by rivals. But later as a historical narrative that recognizes the various competing factions as members of the "revolutionary family," Carranza's place in Mexican history has been assured.
Share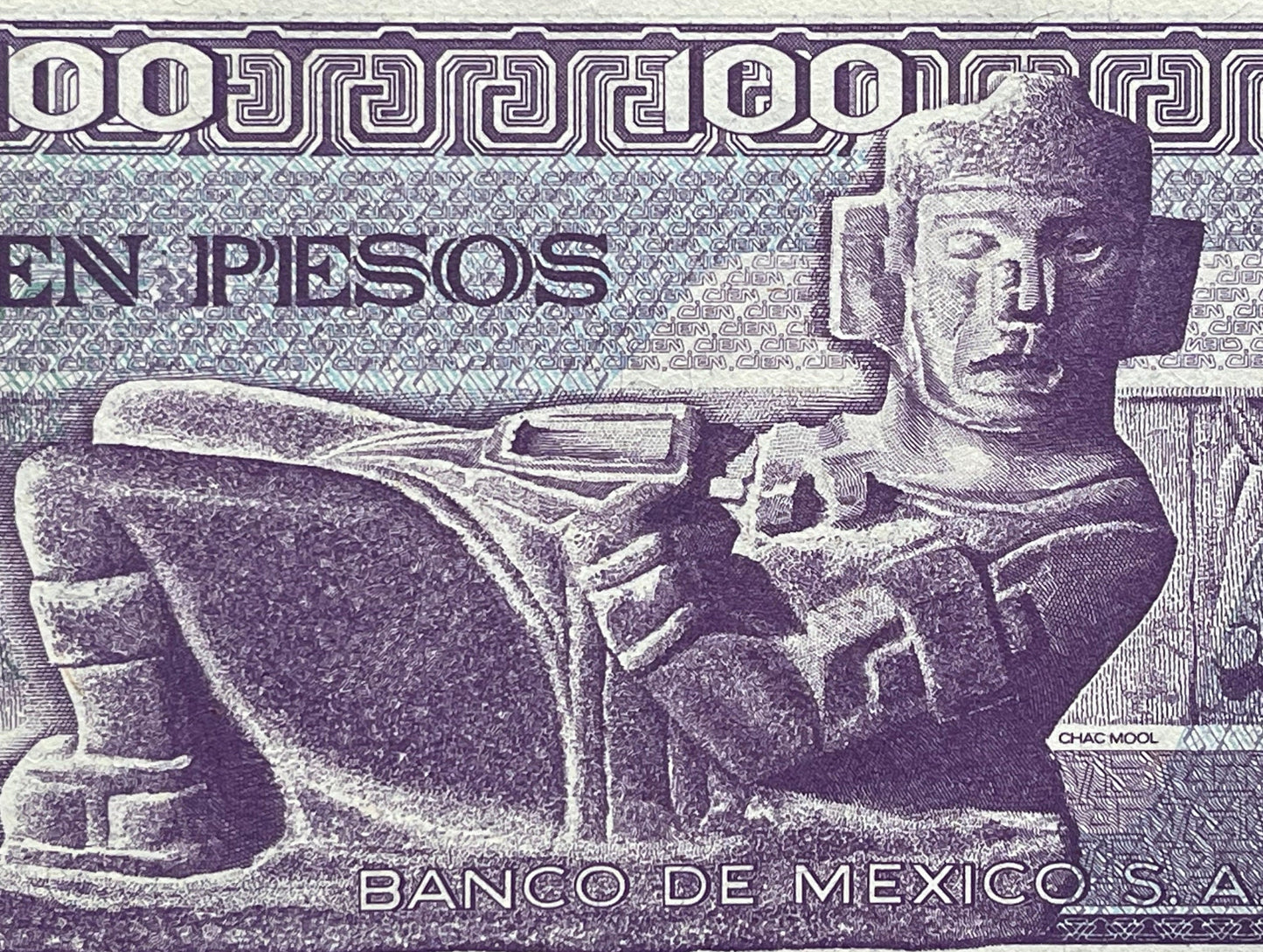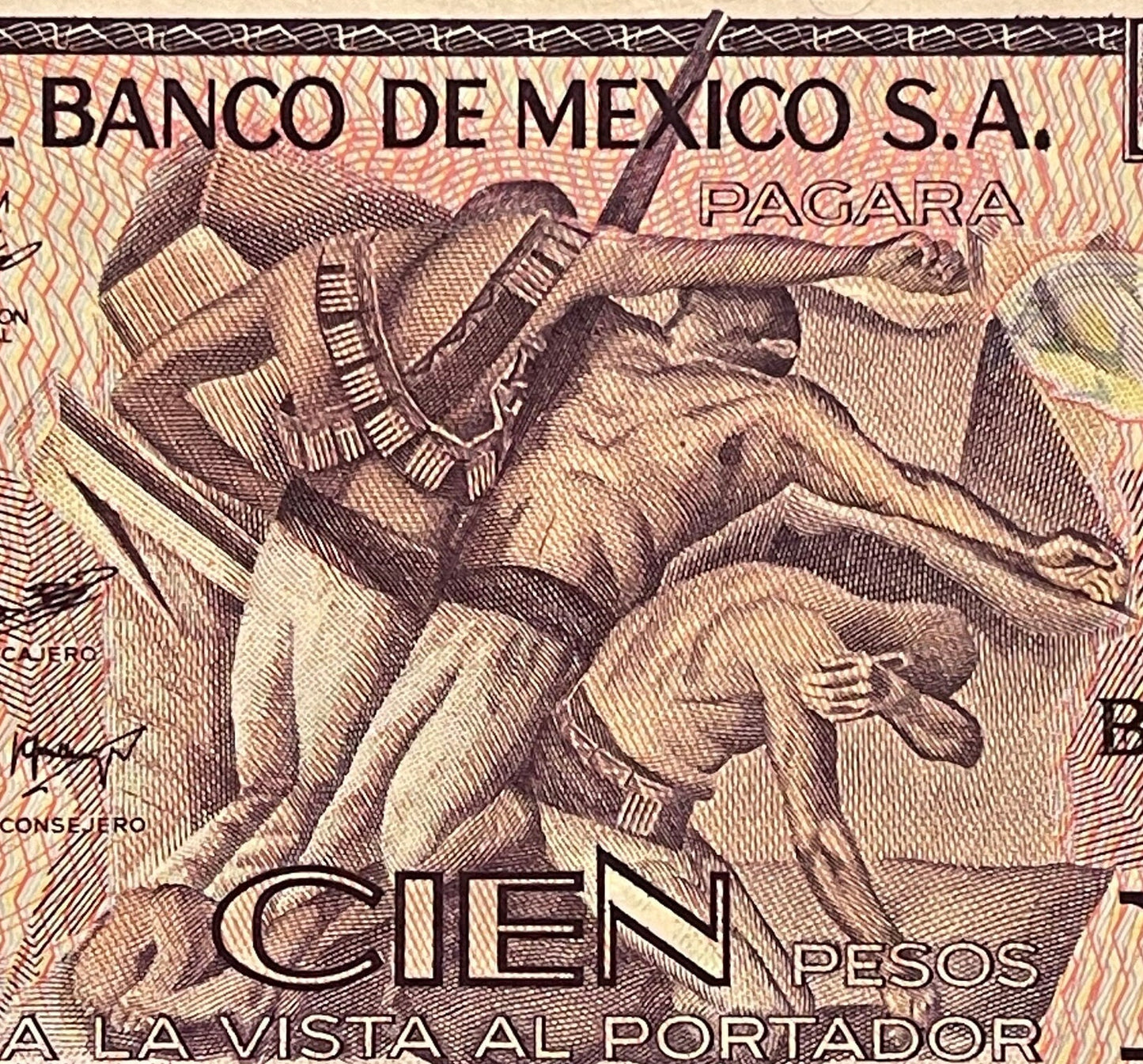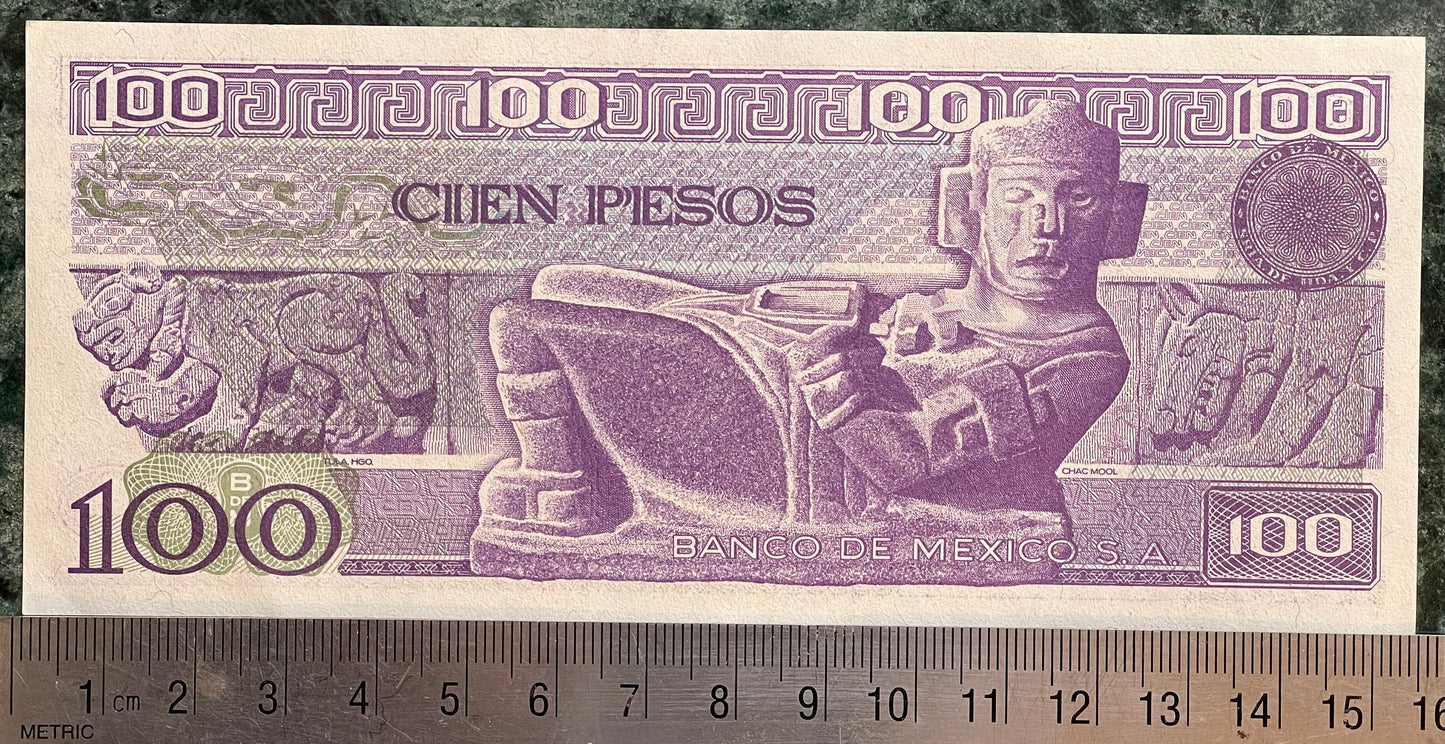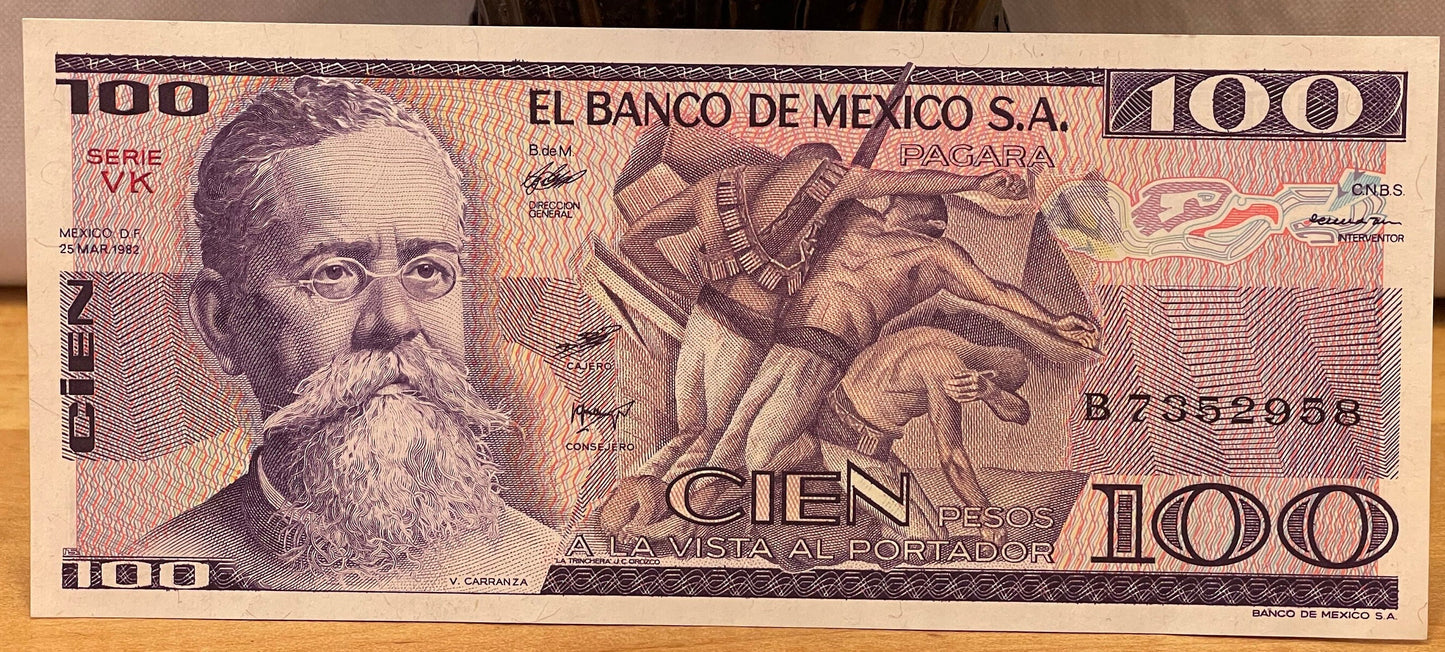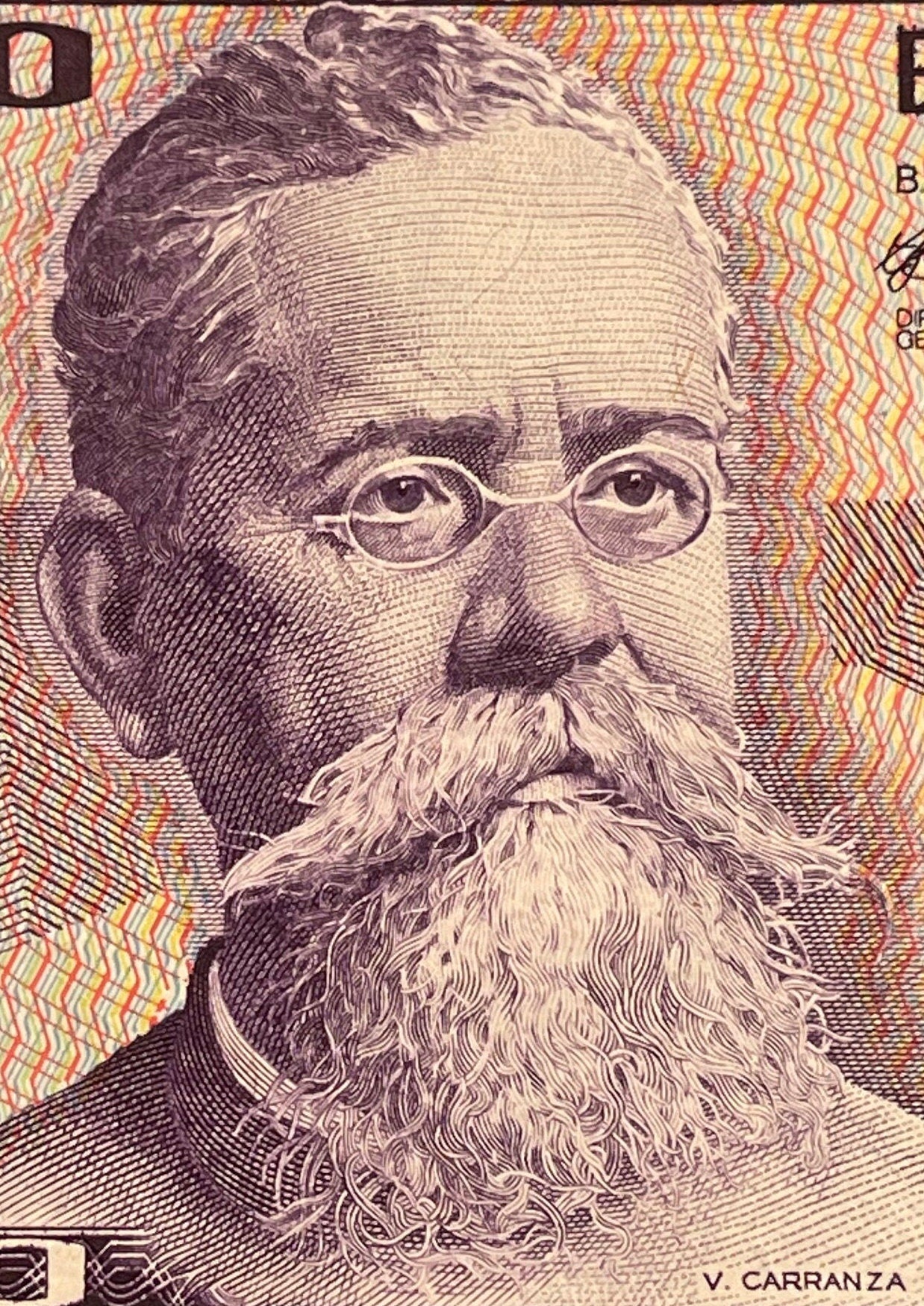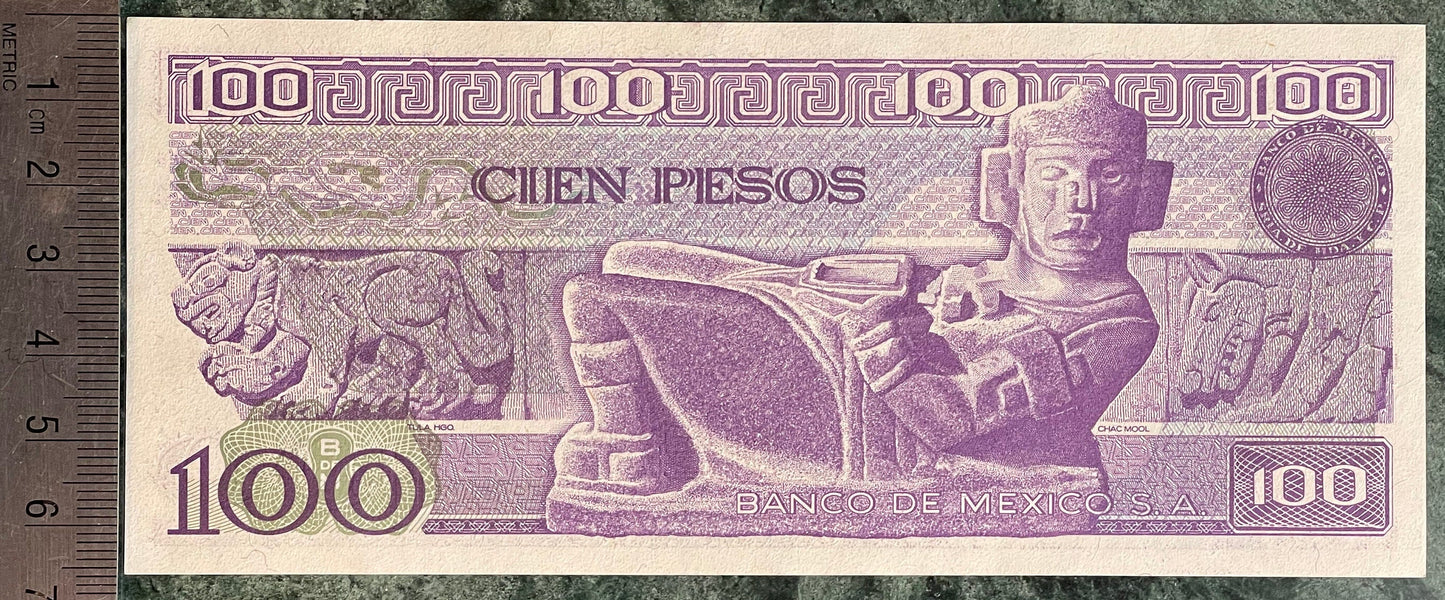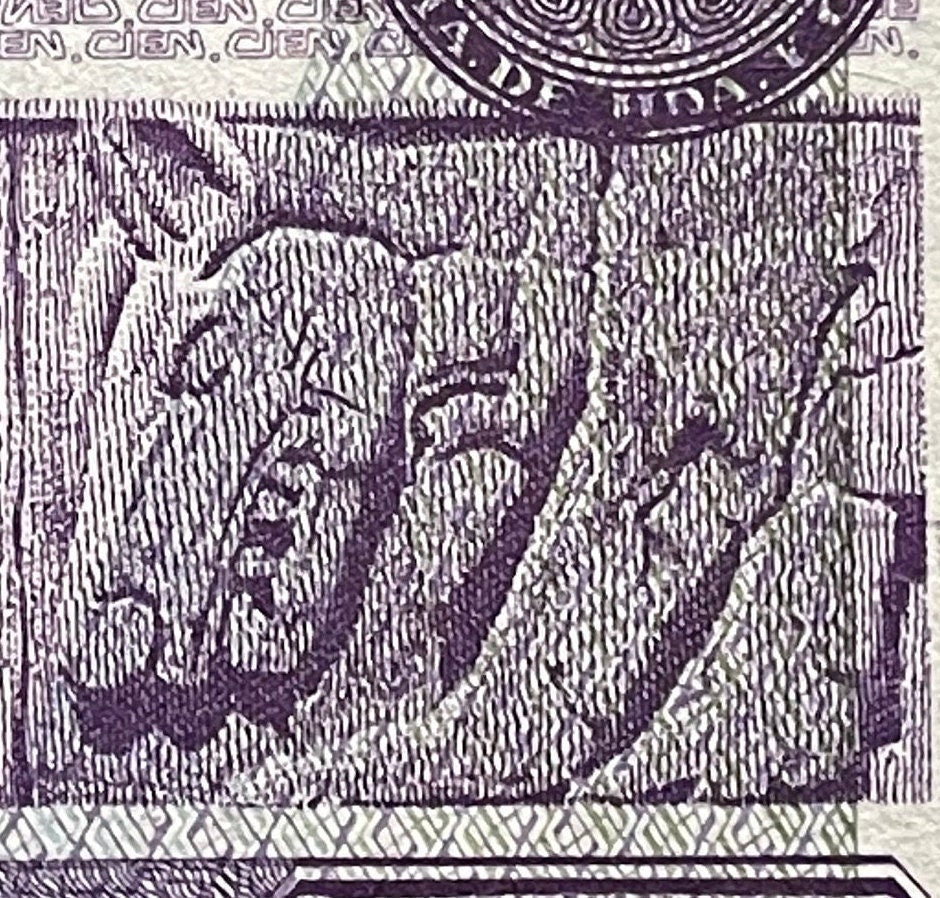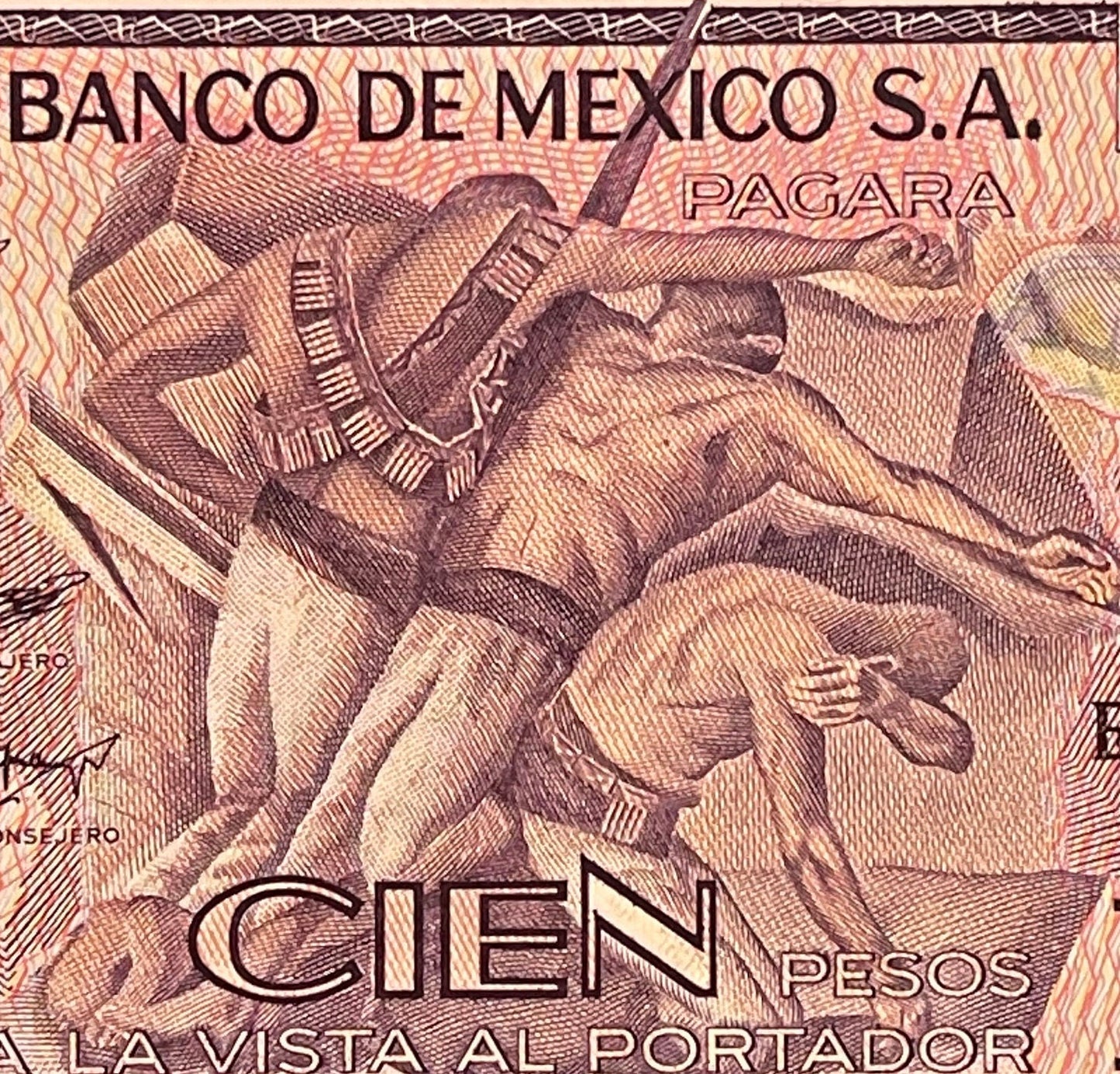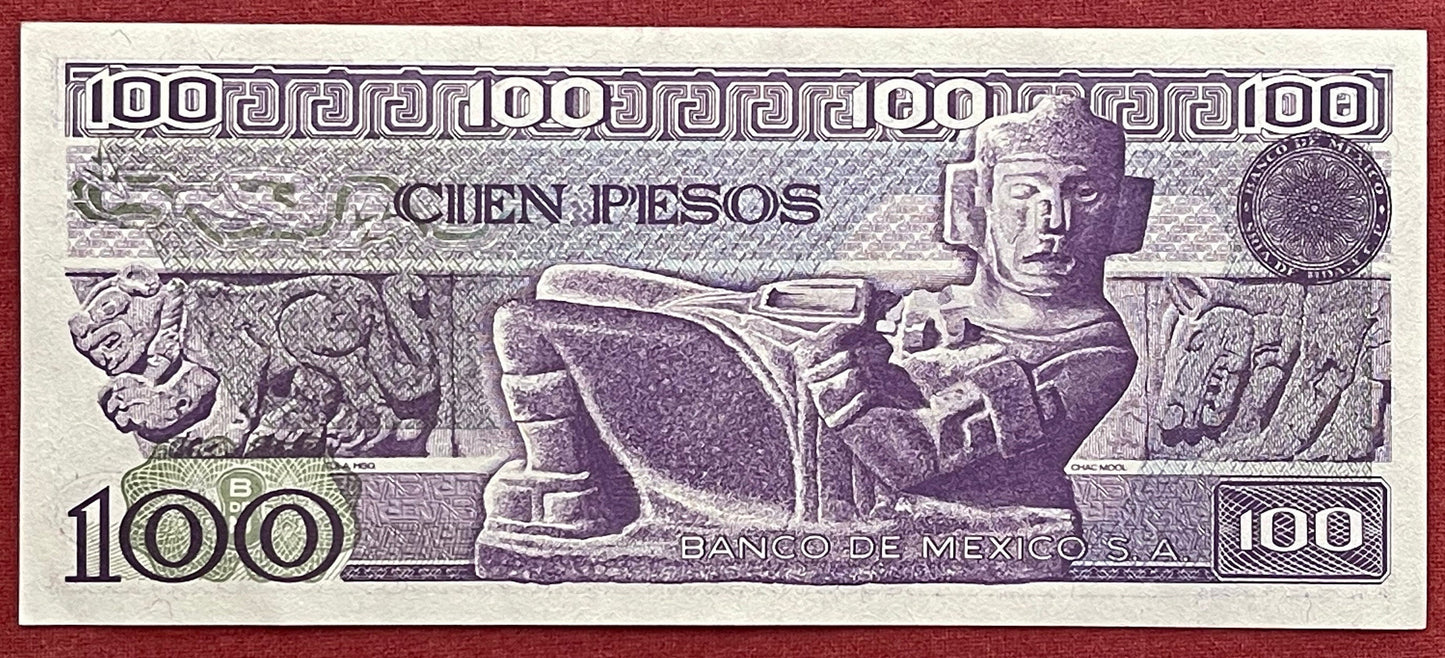 Love this bill with Chac Mool on it!!!!
Love this bill with Chac Mool on it!!!!