Red Deer & Borjgali 20 Tetri Georgia Authentic Coin Money for Jewelry and Craft Making (Tree of Life) (Niko Pirosmani Painting) (1993)
Regular price
Sale price
$5.85 USD
Unit price
per
Red Deer Painting by Niko Pirosmani & Borjgali 20 Tetri Georgia Authentic Coin Money for Jewelry and Craft Making (Tree of Life)
Reverse: Niko Pirosmani painting of Red deer, left; denomination.
Lettering: 20 თეთრი
Translation: 20 Tetri
Obverse: Borjgali, a Georgian symbol of the Sun with seven rotating wings, over the Christian Tree of Life. "REPUBLIC OF GEORGIA" shows in both Georgian and English letters.
Lettering:: საქართველოს რესპუბლიკა
19 93
REPUBLIC OF GEORGIA
Features
Issuer Georgia
Period Republic (1991-date)
Type Standard circulation coin
Year 1993
Value 20 Tetri
0.20 GEL = USD 0.07
Currency Lari (1995-date)
Composition Stainless steel
Weight 5.00 g
Diameter 25 mm
Thickness 1.62 mm
Shape Round
Technique Milled
Orientation Coin alignment ↑↓
Number N# 3770
References KM# 80, Schön# 11
Wikipedia:
The red deer (Cervus elaphus) is one of the largest deer species. A male red deer is called a stag or hart, and a female is called a hind. The red deer inhabits most of Europe, the Caucasus Mountains region, Asia Minor, Iran, parts of western Asia, and central Asia. It also inhabits the Atlas Mountains region between Morocco and Tunisia in northwestern Africa, being the only species of deer to inhabit Africa. Red deer have been introduced to other areas, including Australia, New Zealand, the United States, Canada, Peru, Uruguay, Chile, and Argentina. In many parts of the world, the meat (venison) from red deer is used as a food source.
Red deer are ruminants, characterized by a four-chambered stomach. Genetic evidence indicates that the red deer, as traditionally defined, is a species group, rather than a single species, though exactly how many species the group includes remains disputed. The closely related and slightly larger American elk or wapiti, native to North America and eastern parts of Asia, had been regarded as a subspecies of red deer, but recently it has been established as a distinct species. The ancestor of all red deer, including wapiti, probably originated in central Asia and resembled sika deer.
Although at one time red deer were rare in parts of Europe, they were never close to extinction. Reintroduction and conservation efforts, such as in the United Kingdom and Portugal, have resulted in an increase of red deer populations, while other areas, such as North Africa, have continued to show a population decline.
***********
WIkipedia:
Niko Pirosmani (Georgian: ნიკო ფიროსმანი), simply referred to as Nikala (ნიკალა) (1862–1918), was a Georgian naïve painter who posthumously rose to prominence. Relatively poor for most of his life, he worked a variety of ordinary jobs. His rustic, everyday scenes are celebrated today for their depiction of the Georgia of Pirosmani's lifetime, and he has become one of the country's most beloved artistic figures.
Pirosmani was born in the Georgian village of Mirzaani to a peasant family in modern-day Kakheti province. His parents, Aslan Pirosmanashvili and Tekle Toklikishvili, were farmers, who owned a small vineyard, with a few cows and oxen. He was later orphaned and left in the care of his two elder sisters, Mariam and Pepe. He moved with them to Tbilisi in 1870. In 1872, while living in a little apartment not far from Tbilisi railway station, he worked as a servant to wealthy families and learned to read and write Russian and Georgian. In 1876, he returned to Mirzaani and worked as a herdsman.
Pirosmani gradually taught himself to paint. One of his specialties was painting directly into black oilcloth. In 1882, with self-taught George Zaziashvili, he opened a painting workshop, where they made signboards. In 1890, he worked as a railroad conductor. In 1893, he co-founded a dairy farm in Tbilisi, which he left in 1901. Throughout his life, Pirosmani, who was poor, was willing to take ordinary jobs including housepainting and whitewashing buildings. He also worked for shopkeepers in Tbilisi, creating signboards, paintings, and portraits, according to their orders. Although his paintings had some local popularity (about 200 survive) his relationship with professional artists remained uneasy; making a living was always more important to him than aesthetic abstractions.
In April 1918, he died in the 1918 flu pandemic as a result of malnutrition and liver failure. He was buried at the Nino cemetery; the exact location was not registered and is unknown.
Pirosmani's paintings were influenced by the social conditions of his time and place. There are many works about merchants, shopkeepers, workmen, and noblemen groups. Pirosmani was fond of nature and rural life. He rarely employed city landscapes. He made many animal paintings. He was the only Georgian animalist. Pirosmani also was attracted by historical figures and themes such as Shota Rustaveli, Queen Tamar, Giorgi Saakadze, as well as ordinary Georgian people and their everyday lives.
Usually, Pirosmani painted on oilcloth. Unlike other artists, Niko didn't aim at a pure imitation of the nature and paid no attention to details. Some of his paintings are monochrome. His paintings demonstrate the author's sharp compositional consideration. Placements of the figures are frontal, while faces do not demonstrate a specific mood.
In the 1910s, he won the enthusiasm of the Russian poet Mikhail Le-Dantyu and the artist Kirill Zdanevich and his brother Ilia Zdanevich. Ilia Zhdanevich wrote a letter about Pirosmani to the newspaper Zakavkazskaia Rech, which it published on February 13, 1913. He undertook to publicise Pirosmani's painting in Moscow. The Moscow newspaper Moskovskaia Gazeta of 7 January wrote about the exhibition "Mishen" where self-taught painters exhibited, among them four works by Pirosmani: "Portrait of Zhdanevich", "Still Life", "Woman with a Beer Mug", and "The Roe". Critics writing later in the same newspaper were impressed with his talent.
In the same year, an article about Niko Pirosmani and his art was published in Georgian newspaper Temi.
The Society of Georgian Painters, founded in 1916 by Dito Shevardnadze, invited Pirosmani to its meetings and began to take him up, but his relations with the society were always uneasy. He presented his painting "Georgian Wedding" to the Society. One of the members published a caricature of him, which greatly offended him. His continuing poverty, compounded by the economic problems caused by the First World War, meant that his life ended with his work little recognised.
After his death, Pirosmani gained international reputation when he became admired as a 'naïve' painter in Paris and elsewhere. His paintings were represented at the first big exhibition of Georgian painters in 1918. From 1920 onwards, a number of articles were published about him. The first monograph on Pirosmani was published in 1926 in Georgian, Russian, and French.
Interest in Pirosmani increased in the 1950s.
In 1969, a film about him was made, titled Pirosmani. He inspired a portrait sketch by Pablo Picasso (1972). Pirosmani is also depicted on a Georgian lari bill (although this bill is rarely seen in circulation today, since 1 lari coins are far more common). A periodic newspaper titled Pirosmani is published in two languages in Istanbul. In 1983 Edward Kuznetsov produced the first catalogue raisonné on Pirosmani's work, entitled Niko Pirosmani, 1862-1918.
Exhibitions of his work have been held in Kyiv (1931), Warsaw (1968), Paris (The Louvre) (1969), Vienna (1969), Nice and Marseilles (1983), Tokyo (1986), Zurich (1995), Nantes (1999), Turin (2002), Kyiv, Istanbul (2008), Minsk, Vézelay and Vilnius (2008–2009), and Vienna again (2018/19).
Today, 146 of his works are shown in the Art Museum of Georgia and sixteen paintings are exhibited in the Historical-Ethnographic Museum of Sighnaghi. A monument was installed in Tbilisi. There is also the Niko Pirosmanashvili Museum in Mirzaani, Georgia, in one of his abodes.
*********
Wikipedia:
Borjgali (Georgian: ბორჯღალი; also Borjgala or Borjgalo) is a Georgian symbol of the Sun with seven rotating wings around a tree of life. The borjgali can be considered as a main symbol of Georgian culture.
Etymology
The term Borjgali is believed to derive from Megrelian word ბარჩხალი (barchkhali), which literally means "strong shining". Some other scholars believe that it has different origins. In old Megrelian borj means "time" and gal means "pass" or "flow". So the whole phrase would mean "the flow of time".
Usage
This pre-Christian symbol was widely used in both western (Colchis) and eastern Georgia (in Georgian architecture's Dedabodzi (pillar) as part of the Kura–Araxes culture) as a holy symbol. During the medieval period, this symbol was incorporated as a part of Christian symbolism Nowadays, the symbol is used in Georgian IDs and passports, as well as on currency and by the Georgian Rugby Union. Georgian rugby team players are called ბორჯღალოსნები (borjgalosnebi), which means "Men bearing Borjgali". It was also used on the naval ensign of Georgia during the late 1990s and early 2000s. Georgian nationalists often use symbol to emphasize national pride.
******
WIkipedia:
The tree of life is a fundamental widespread mytheme or archetype in many of the world's mythologies, religious and philosophical traditions. It is closely related to the concept of the sacred tree.
The tree of knowledge, connecting to heaven and the underworld, and the tree of life, connecting all forms of creation, are both forms of the world tree or cosmic tree, and are portrayed in various religions and philosophies as the same tree.
Share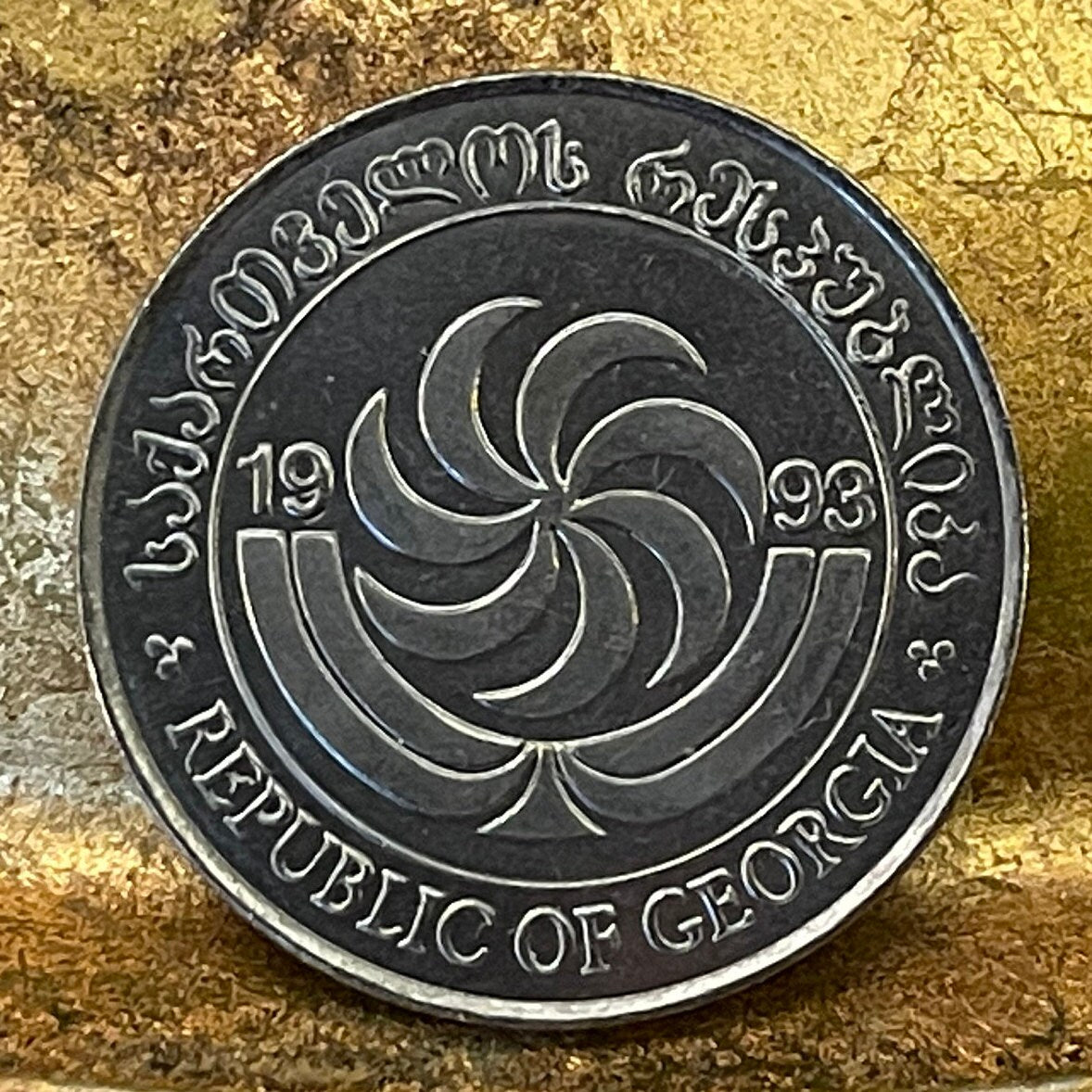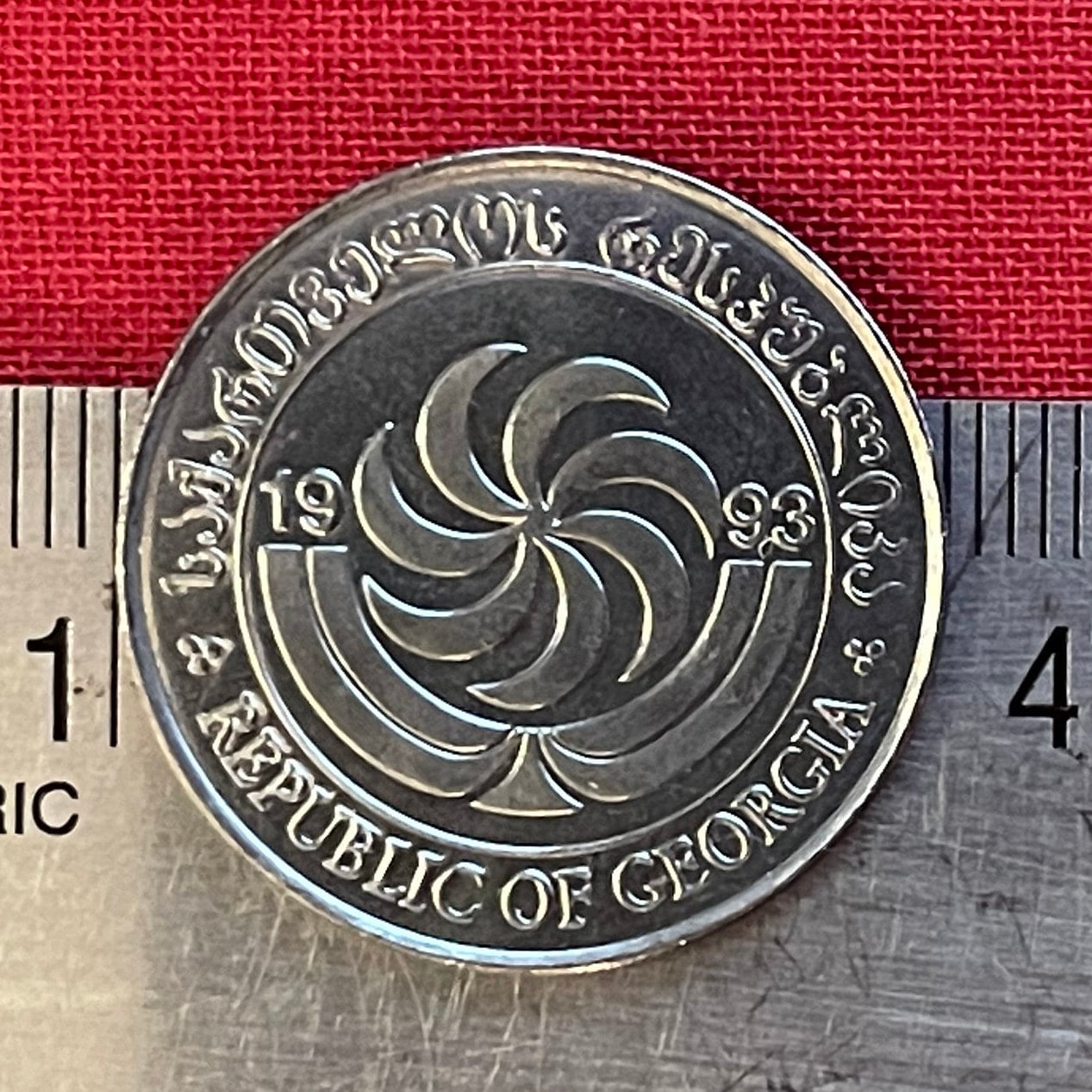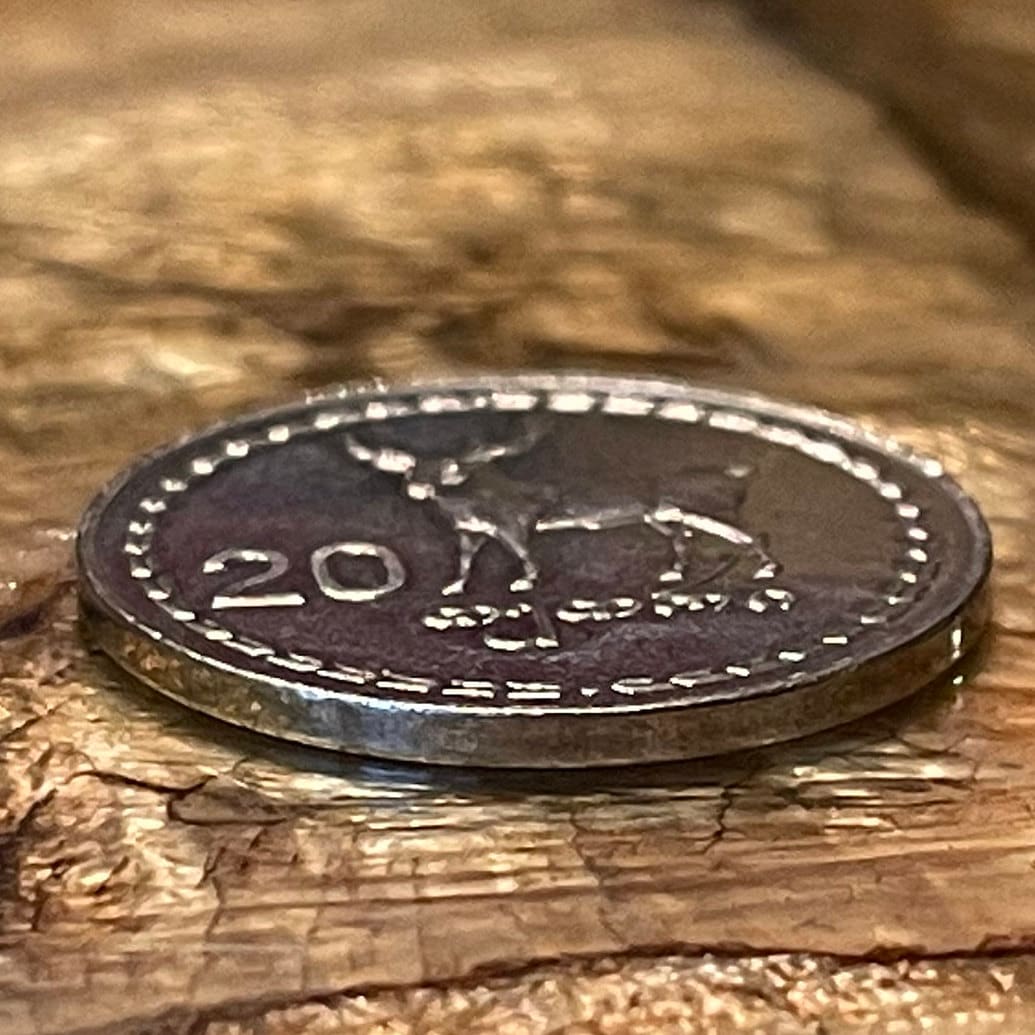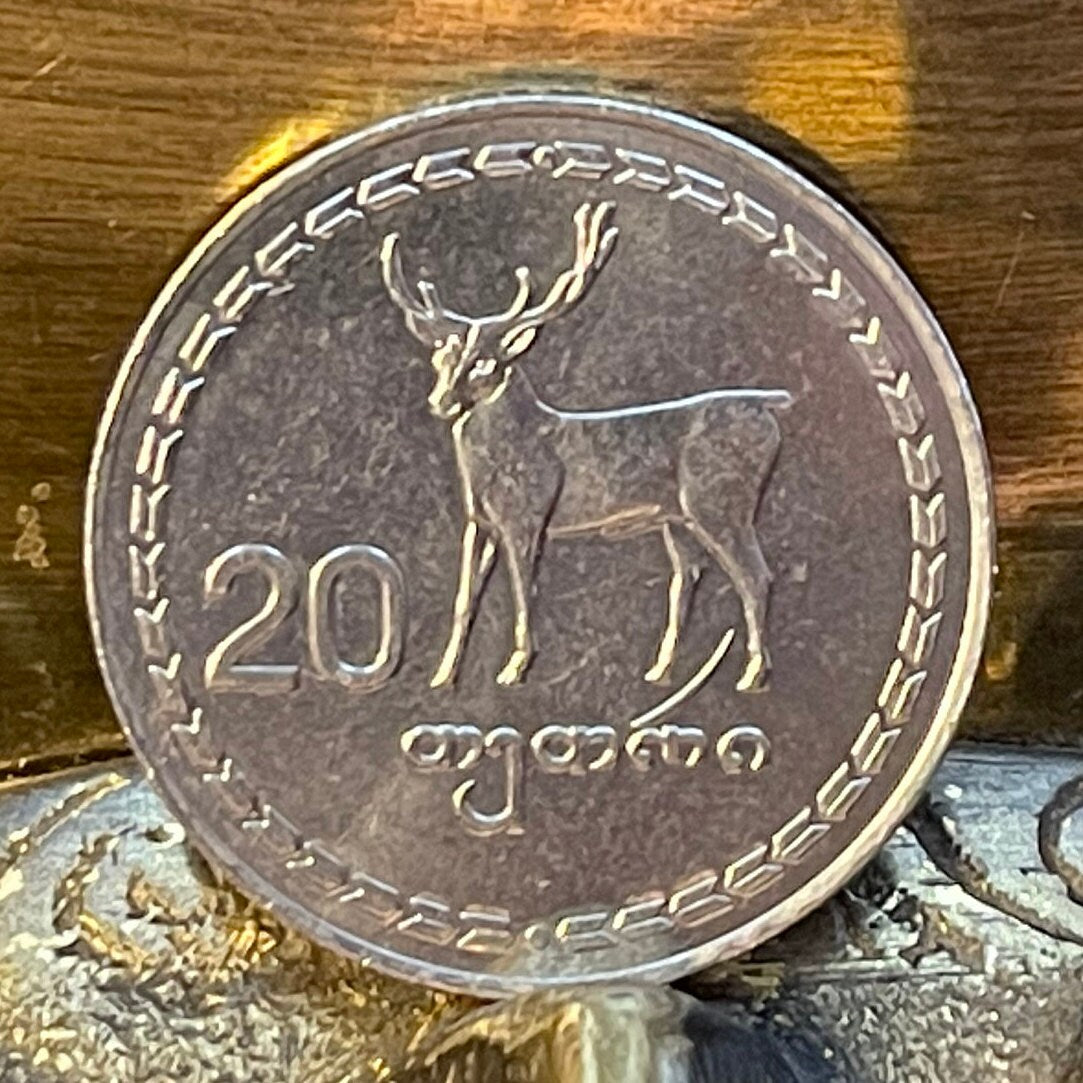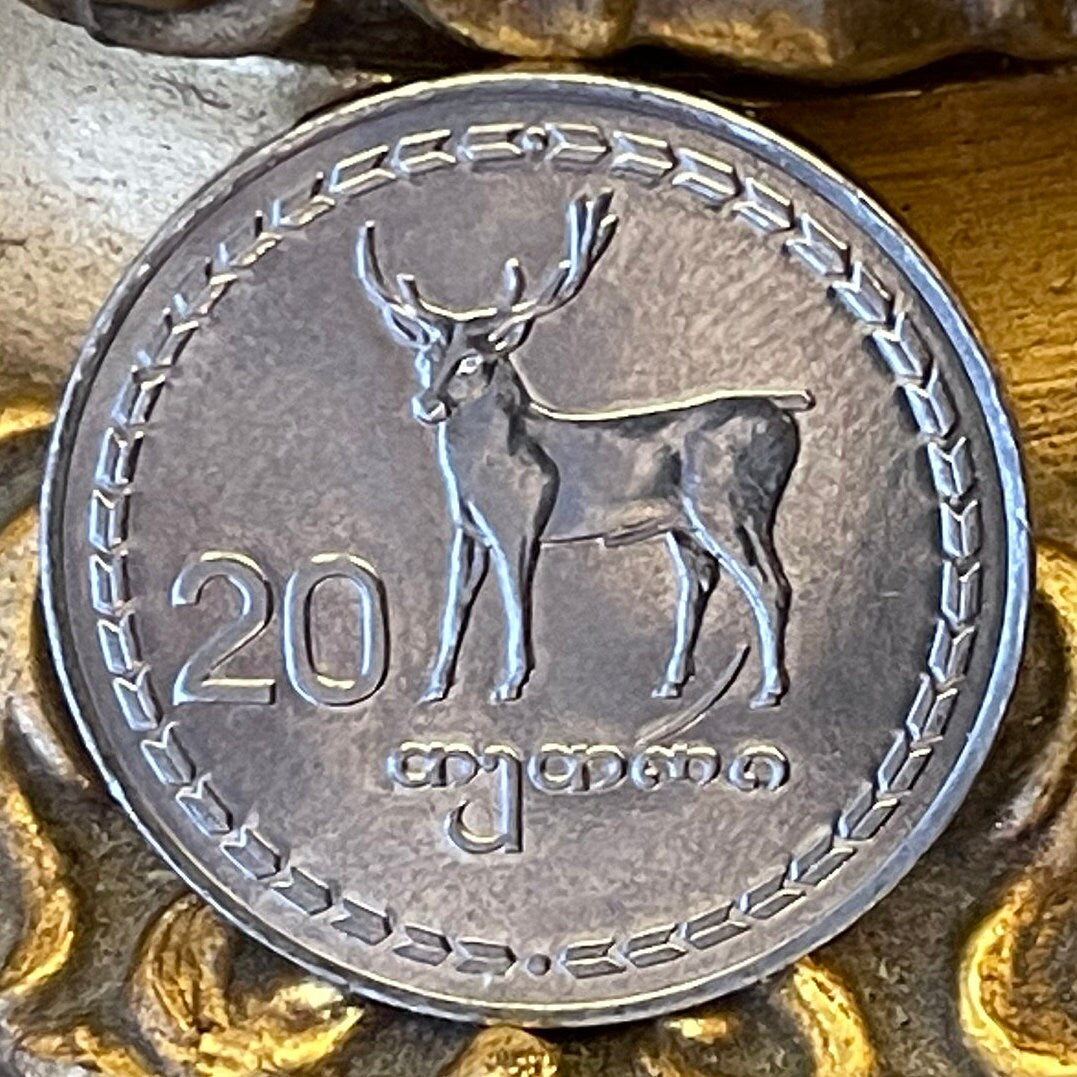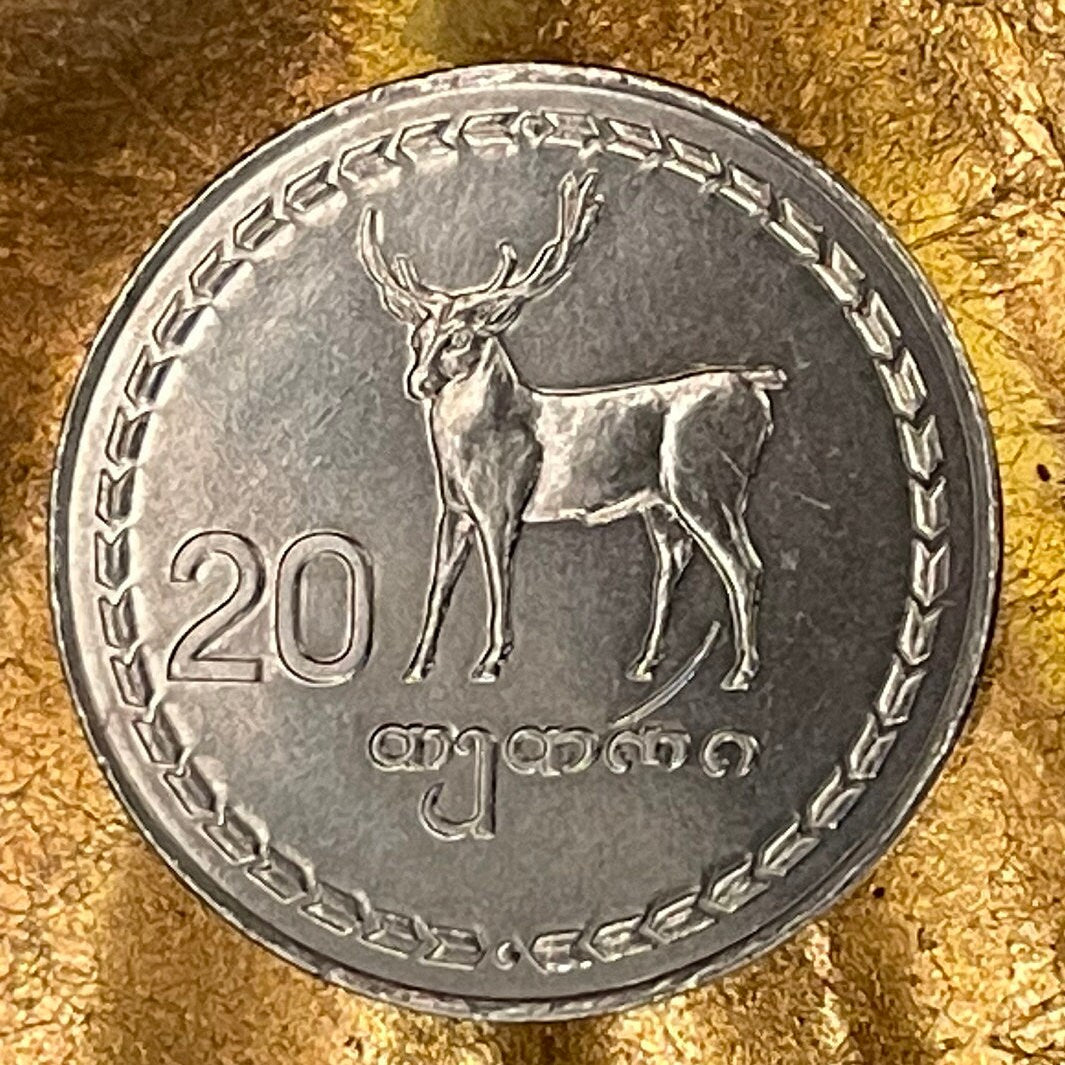 Thanks for the great item!
Thanks for the great item!
The coins were packaged well and shipped q...
The coins were packaged well and shipped quickly
A great, large coin and very unique! I'll...
A great, large coin and very unique! I'll certainly be ordering more. Quick shipping and nicely packaged.