Taita Falcons 1 Kwacha Zambia Authentic Coin Money for Jewelry and Craft Making (1992)
Regular price
Sale price
$2.28 USD
Unit price
per
Taita Falcons 1 Kwacha Zambia Authentic Coin Money for Jewelry and Craft Making
Obverse: National arms with supporters, date below.
Lettering:
ZAMBIA
1992
Reverse: Two Taita falcons on a branch divided by value.
Lettering: 1
ONE
KWACHA
Features
Issuer Zambia
Period Republic (1964-date)
Type Standard circulation coin
Year 1992
Value 1 Kwacha (1 ZMK)
Currency Kwacha (1968-2012)
Composition Brass
Weight 3 g
Diameter 19.2 mm
Thickness 1.73 mm
Shape Round
Technique Milled
Orientation Medal alignment ↑↑
Demonetized Yes
Number N# 3518
References KM# 38, Schön# 30
Wikipedia:
The Taita falcon (Falco fasciinucha) is a small falcon found in central and eastern Africa. It was first described from the Taita Hills of Kenya from which it derives its name.
This small falcon is fairly distinctive, but may offer some confusion with a few other species. The rufous belly causes resemblance with African hobby, but important features to look for are a white throat and the obvious rufous patches on the nape. Alsom the underwing coverts are uniform rufous, whereas the African hobby has more streaking. The most obvious underwing feature, though, is the flight feathers are barred black and white. whereas there is much more rufous color is in the flight feathers of the African hobby. The robust, long-winged Taita falcons have a short tail. Their flight is fast and somewhat heavy looking, but they are adept at aerial hunting.
This species spends much of its time perched inconspicuously, emerging to pursue small birds with fast, parrot-like wingbeats. Occasionally, it soars high. Prey is captured on the wing and carried back to the perch to be eaten. It breeds April to September in East Africa and July to December in southern Africa. The nest is normally on bare rock, the clutch size is two to four eggs, incubation lasts 31–33 days, and the chicks fledge after about 42 days.
The Taita falcon is patchily distributed from eastern and southern Africa. Breeding has been recorded from southern Ethiopia, southeastern South Sudan, eastern Uganda, Kenya (may occur at low densities throughout the country), Tanzania (scattered records), eastern Zambia (a few sites), Malawi (two recent records), Zimbabwe (20–50 pairs), Mozambique (one record of unknown reliability), Botswana, and northeastern South Africa (one site).[2] It breeds in highlands and mountain regions with high cliffs and river gorges, mainly in areas with low rainfall. It is a rare and poorly known species. With fewer than 50 known nest sites throughout Africa and with previously documented eyries abandoned,
Threats to the species come from the use of organochlorine pesticide sprays in northern Zimbabwe which may have reduced numbers there, and pesticide-spraying (e.g. through operations to control red-billed quelea and locusts) may pose a threat in other regions. Tourist flights using helicopters and microlight aircraft seem to have caused major disturbance to birds resident along the Victoria Falls gorges, where the remaining birds are threatened with flooding by a proposed dam. Reasons for its scarcity in East Africa possibly include competition for food and nest sites with the larger and more dominant peregrine falcon (Falco peregrinus) and predation of young by the peregrine falcon, lanner falcon (Falco biarmicus), and owls.
******
Wikipedia:
The coat of arms of Zambia was adopted on 24 October 1964 when the Republic of Zambia reached its independence. This coat of arms is adapted from the arms of the Colony of Northern Rhodesia which dates to 1927. The African fish eagle represents the conquest of freedom and nation's hope for the future. The pick and hoe represent the country's economic backbone: agriculture and mining, as well as the characteristics that have influenced Zambia's evolution and nature. The shield is a representation of Victoria Falls with white water cascading over black rock. The Victoria Falls represents the Zambezi river, from which Zambia takes its name.[1] The coat of arms also has emblems of Zambia's natural resources: minerals and mining, agriculture and wildlife. The shield is supported by two figures which represent the common man and woman of the nation. The country's motto is "One Zambia, One Nation which emphasises the need for unity in a country of over 72 ethnic groups.
The wavy black and white vertical lines also were present in the shield of the coat of arms of the Federation of Rhodesia and Nyasaland 1954-1963.
Share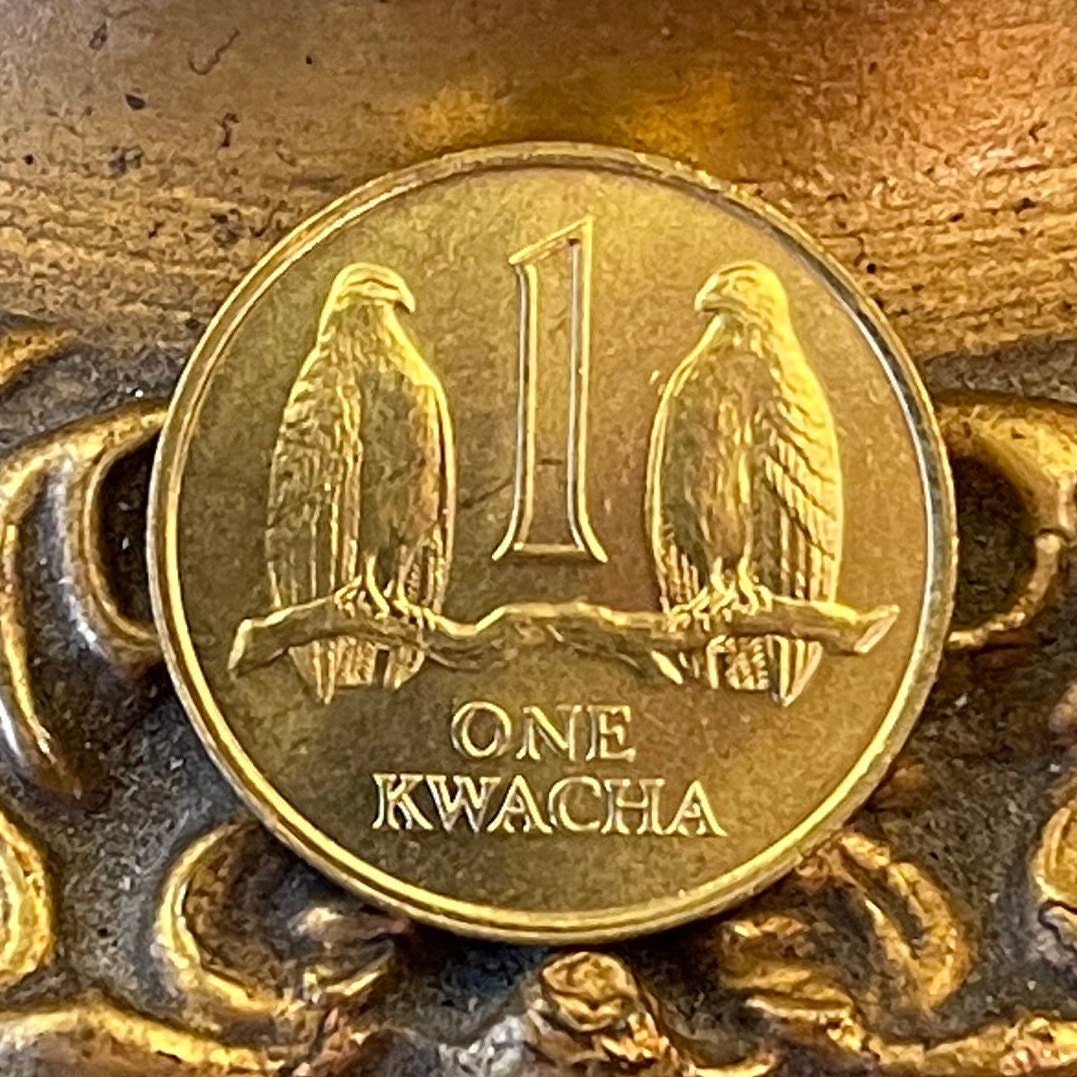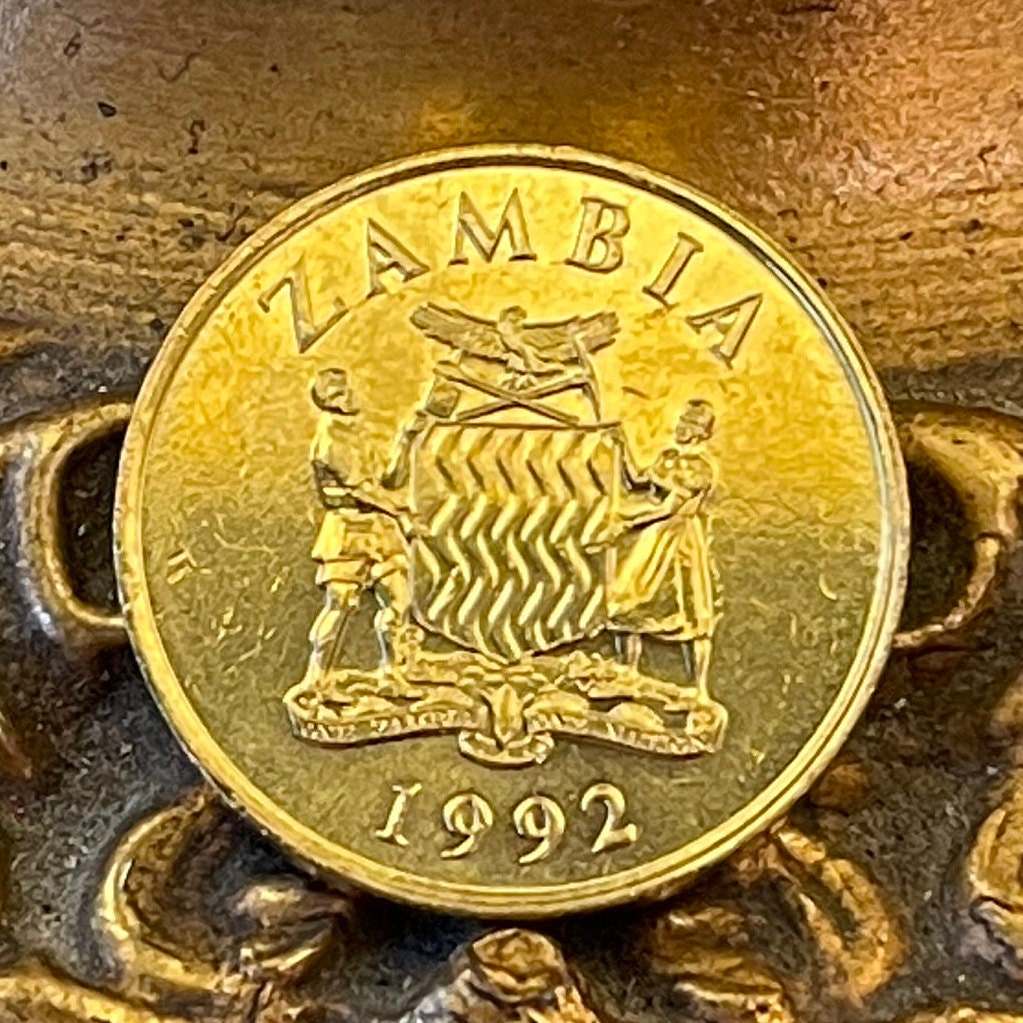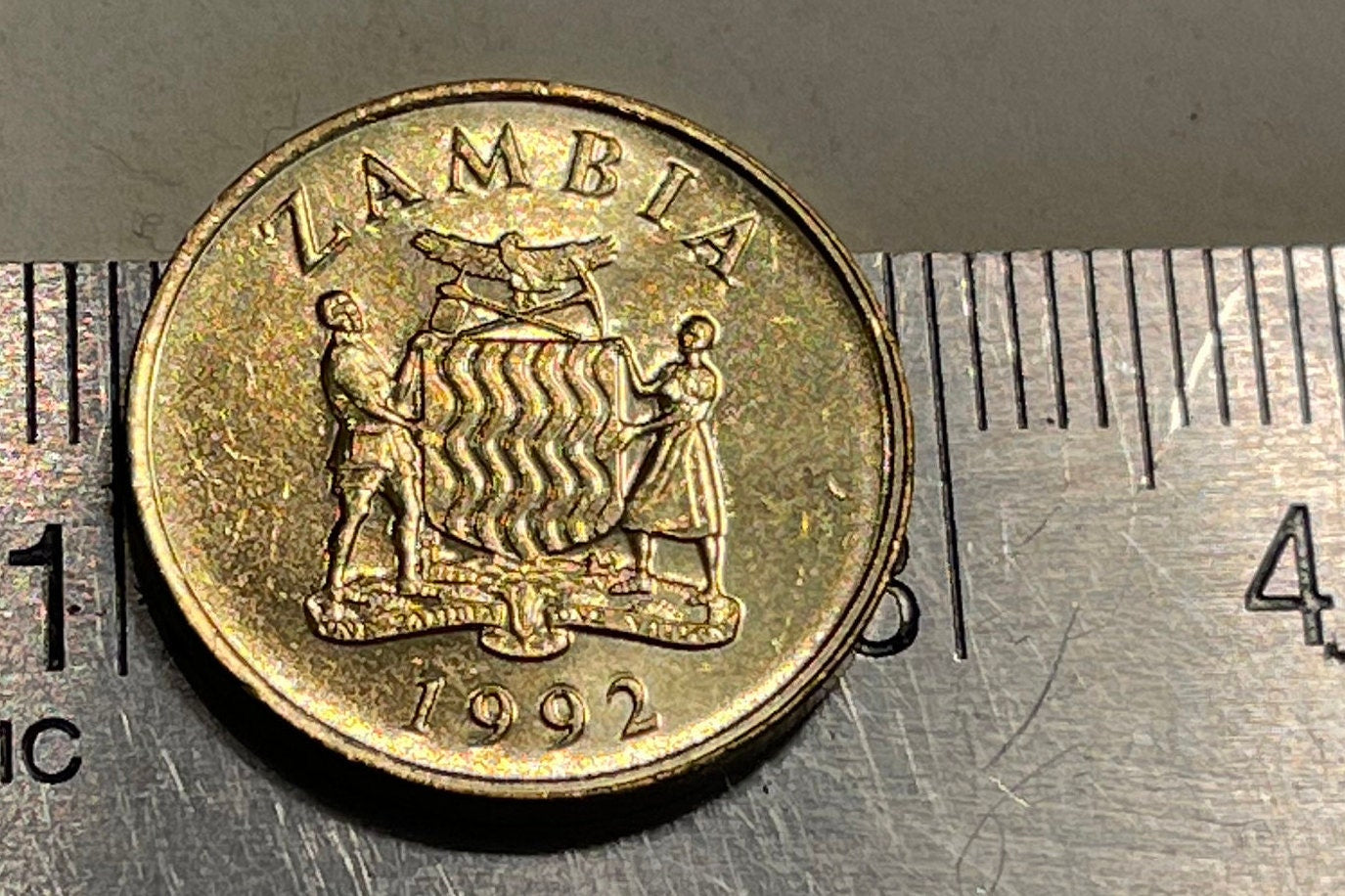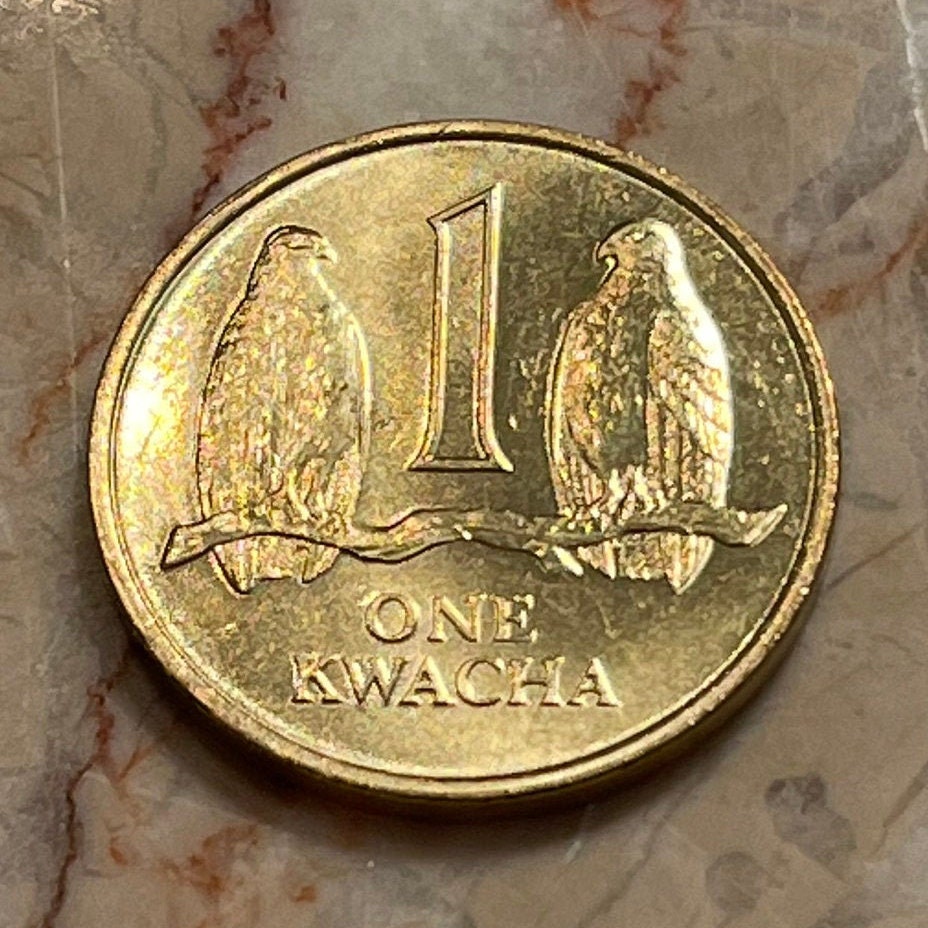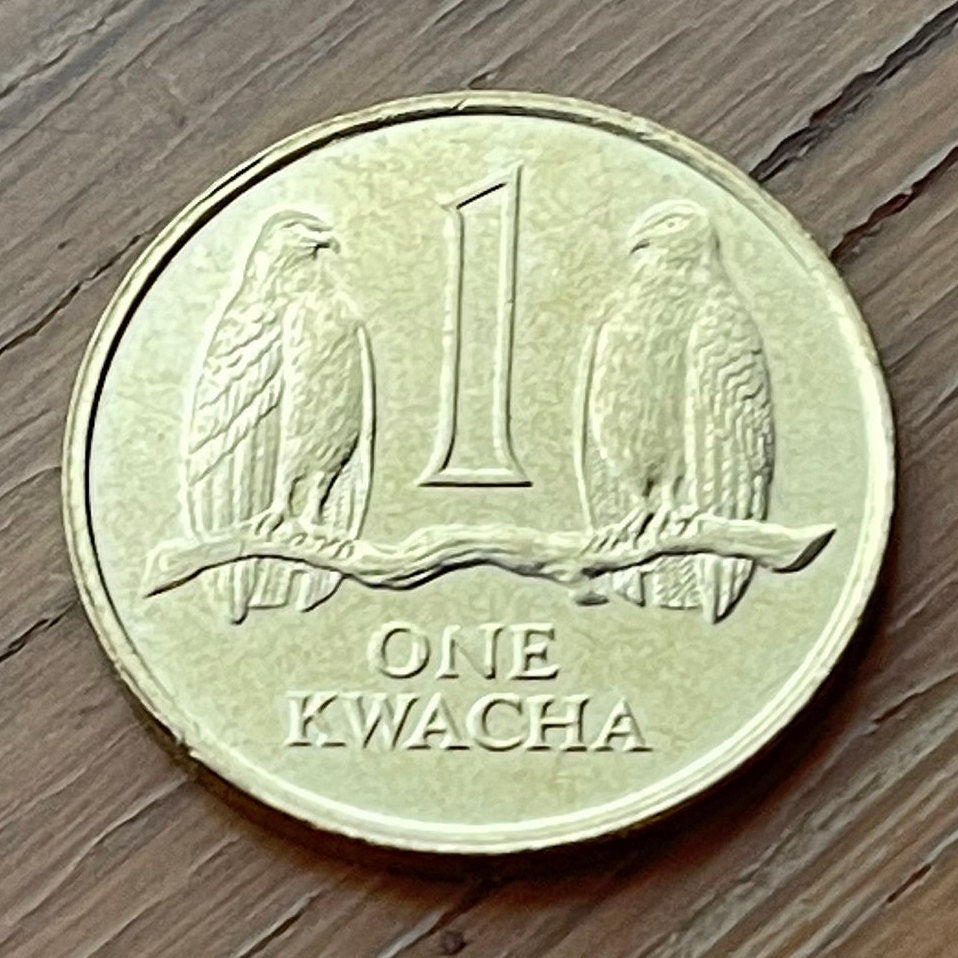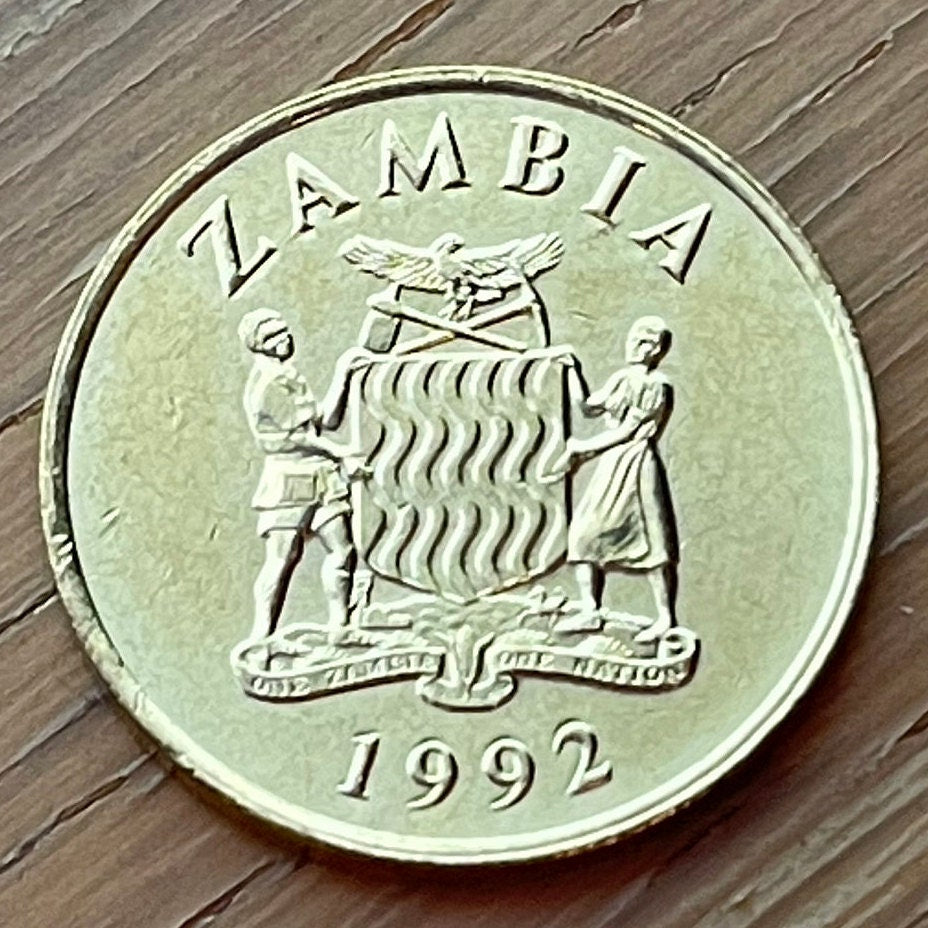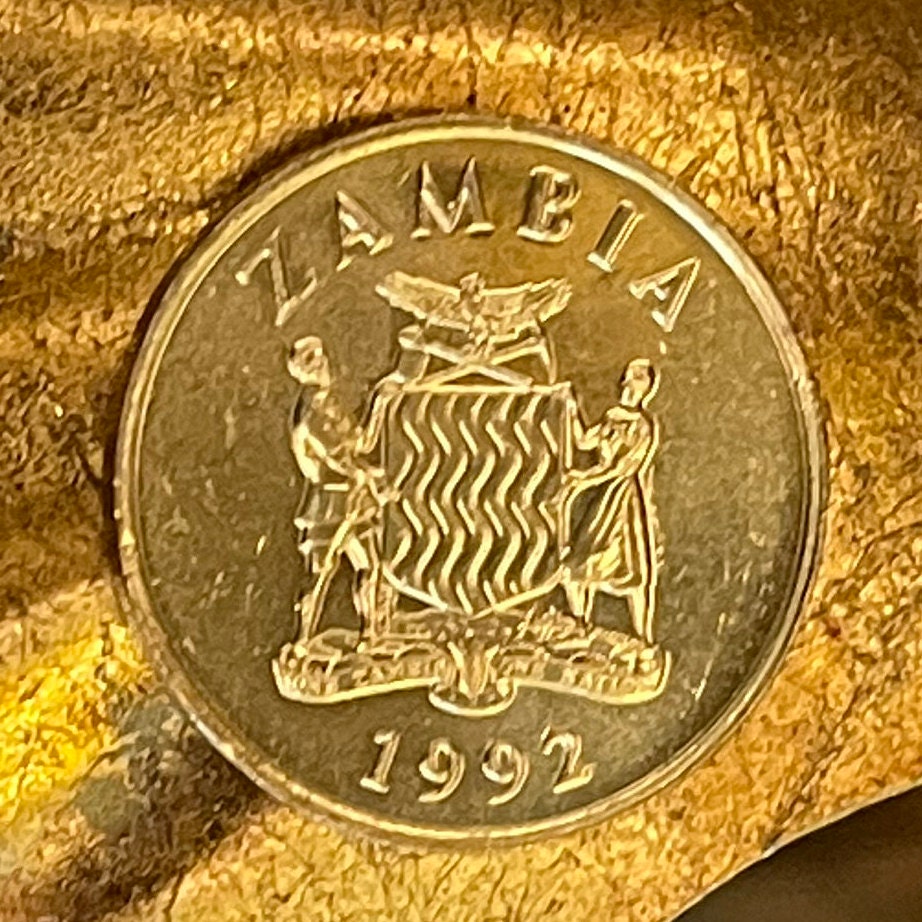 5 stars review from Hannah
5 stars review from Hannah
A nice coin in great condition.
A nice coin in great condition.