Trireme Galley 1 Euro Cent Greece Authentic Coin Money for Jewelry and Craft Making
Regular price
Sale price
$2.28 USD
Unit price
per
Trireme Galley Greece 1 Euro Cent Authentic Coin Charm for Jewelry and Craft Making
Obverse: An advanced model of an Athenian boat, a trireme, the largest warship afloat for more than 200 years, dating from the time of the Athenian democracy (fifth century BC), is accompanied by the face value. Around 12 five-pointed stars representing the European Union.
Lettering: 1 ΛΕΠΤΟ
Translation: 1 Cent
Reverse: A globe, next to the face value, shows Europe in relation to Africa and Asia.
Features
Issuer Greece
Period Third Hellenic Republic (1974-date)
Type Standard circulation coin
Years 2002-2021
Value 1 Euro Cent
0.01 EUR = USD 0.011
Currency Euro (2002-date)
Composition Copper plated steel
Weight 2.30 g
Diameter 16.25 mm
Thickness 1.67 mm
Shape Round
Technique Milled
Orientation Medal alignment ↑↑
Number N# 113
References KM# 181, Schön# 131
Wikipedia:
A trireme (/ˈtraɪriːm/, TRY-reem; derived from Latin: trirēmis[1] "with three banks of oars"; Ancient Greek: τριήρης triērēs, literally "three-rower") was an ancient vessel and a type of galley that was used by the ancient maritime civilizations of the Mediterranean, especially the Phoenicians, ancient Greeks and Romans.
The trireme derives its name from its three rows of oars, manned with one man per oar. The early trireme was a development of the penteconter, an ancient warship with a single row of 25 oars on each side (i.e., a single-banked boat), and of the bireme (Ancient Greek: διήρης, diērēs), a warship with two banks of oars, of Phoenician origin. The word dieres does not appear until the Roman period. According to Morrison and Williams, "It must be assumed the term pentekontor covered the two-level type". As a ship it was fast and agile, and it was the dominant warship in the Mediterranean during the 7th to 4th centuries BC, after which it was largely superseded by the larger quadriremes and quinqueremes. Triremes played a vital role in the Persian Wars, the creation of the Athenian maritime empire, and its downfall in the Peloponnesian War.
Medieval and early modern galleys with three files of oarsmen per side are sometimes referred to as triremes.
Share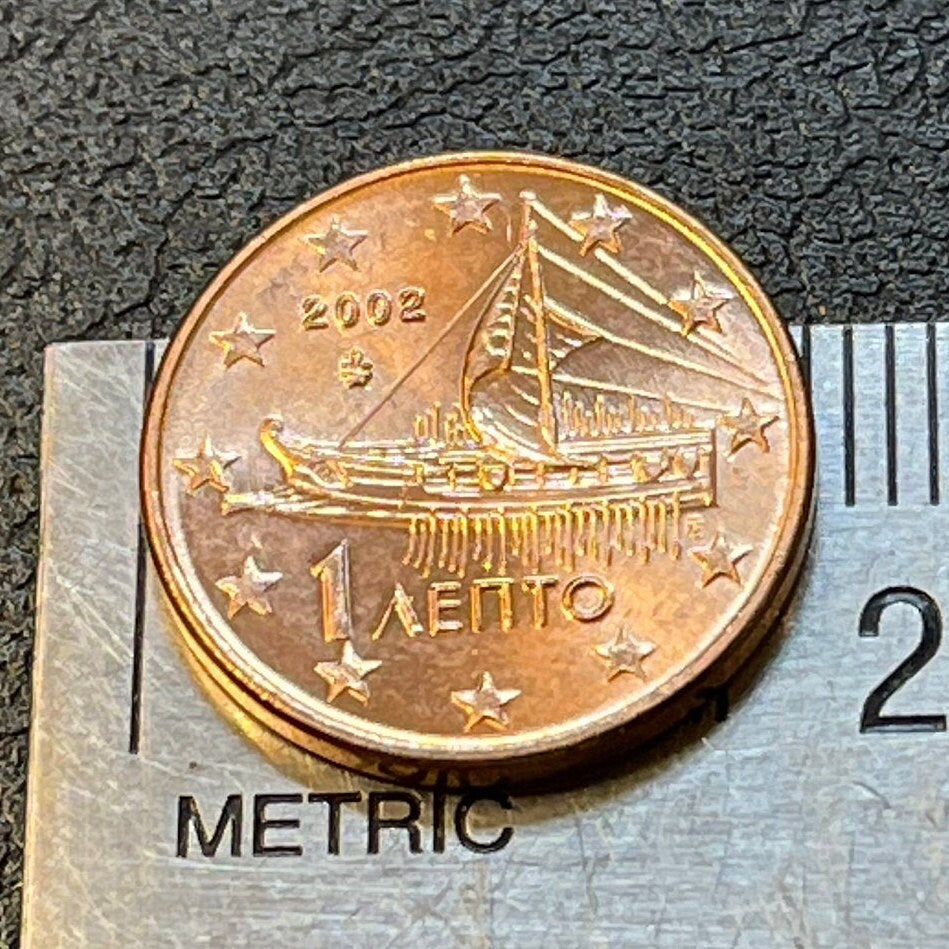 5 stars review from Ernesto
5 stars review from Ernesto
These coins were very nicely packaged. I...
These coins were very nicely packaged. I got them for a teenager who is interested in coins and mythology and they were a really nice, unique gift. Would recommend to anyone who is looking for a gift.
Very nice, working well in my project. De...
Very nice, working well in my project. Described accurately. Pleased with my purchase.
So shiny and beautiful. My brother's favor...
So shiny and beautiful. My brother's favorite ship.