Vanilla Orchid 50 Cents Seychelles Authentic Coin Money for Jewelry and Crafts Making (1977)
Regular price
Sale price
$6.92 USD
Unit price
per
Vanilla Orchid 50 Cents Seychelles Authentic Coin Money for Jewelry and Crafts Making (1977)
Reverse: Vanilla Orchid Flower. The majority of the world's vanilla is the V. planifolia species, more commonly known as Bourbon vanilla (after the former name of Réunion, Île Bourbon) or Madagascar vanilla, which is produced in Madagascar and neighboring islands in the southwestern Indian Ocean, and in Indonesia.
Lettering: 50 CENTS
Obverse: The coat of arms of the Republic of Seychelles shows a shield, in which a giant tortoise is located on green grounds. On the ground there is a coco de mer palm tree. Behind it there is a blue sea with two islands and a sail ship to be seen. The shield is enthroned by a silver helmet, on which a white-tailed tropicbird is located above blue and white waves. The shield is supported by two white sailfish. Beneath the shield the motto of Seychelles is stated: "Finis Coronat Opus" (a phrase traditionally attributed to Ovid. (Latin for "The End Crowns the Work").
Lettering: REPUBLIC OF SEYCHELLES
·1977·
Features
Issuer Seychelles
Period Republic (1976-date)
Type Standard circulation coin
Year 1977
Value 50 Cents
0.5 SCR = USD 0.038
Currency Rupee (1914-date)
Composition Copper-nickel
Weight 5.8 g
Diameter 23.6 mm
Shape Round
Technique Milled
Orientation Medal alignment ↑↑
Number N# 4959
References KM# 34
Wikipedia:
Vanilla is a spice derived from orchids of the genus Vanilla, primarily obtained from pods of the Mexican species, flat-leaved vanilla (V. planifolia). The word vanilla, derived from vainilla, the diminutive of the Spanish word vaina (vaina itself meaning a sheath or a pod), is translated simply as "little pod". Pre-Columbian Mesoamerican people cultivated the vine of the vanilla orchid, called tlīlxochitl by the Aztecs.
Pollination is required to make the plants produce the fruit from which the vanilla spice is obtained. In 1837, Belgian botanist Charles François Antoine Morren discovered this fact and pioneered a method of artificially pollinating the plant. The method proved financially unworkable and was not deployed commercially. In 1841, Edmond Albius, a 12-year-old slave who lived on the French island of Réunion in the Indian Ocean, discovered that the plant could be hand-pollinated. Hand-pollination allowed global cultivation of the plant. Noted French botanist and plant collector Jean Michel Claude Richard falsely claimed to have discovered the technique three or four years earlier. By the end of the 20th century, Albius was considered the true discoverer.
Three major species of vanilla currently are grown globally, all of which derive from a species originally found in Mesoamerica, including parts of modern-day Mexico. They are V. planifolia (syn. V. fragrans), grown on Madagascar, Réunion, and other tropical areas along the Indian Ocean; V. tahitensis, grown in the South Pacific; and V. pompona, found in the West Indies, Central America, and South America. The majority of the world's vanilla is the V. planifolia species, more commonly known as Bourbon vanilla (after the former name of Réunion, Île Bourbon) or Madagascar vanilla, which is produced in Madagascar and neighboring islands in the southwestern Indian Ocean, and in Indonesia. Madagascar's and Indonesia's cultivations produce two-thirds of the world's supply of vanilla.
Vanilla is the second-most expensive spice after saffron because growing the vanilla seed pods is labor-intensive. Nevertheless, vanilla is widely used in both commercial and domestic baking, perfume manufacture, and aromatherapy.
*********
Wikipedia:
The coat of arms of the Republic of Seychelles shows a shield, in which a giant tortoise is located on green grounds. On the ground there is a coco de mer palm tree. Behind it there is a blue sea with two islands and a sail ship to be seen. The shield is enthroned by a silver helmet, on which a white-tailed tropicbird is located above blue and white waves. The shield is supported by two white sailfish. Beneath the shield the motto of Seychelles is stated: "Finis Coronat Opus" (a phrase traditionally attributed to Ovid. (Latin for "The End Crowns the Work").
Share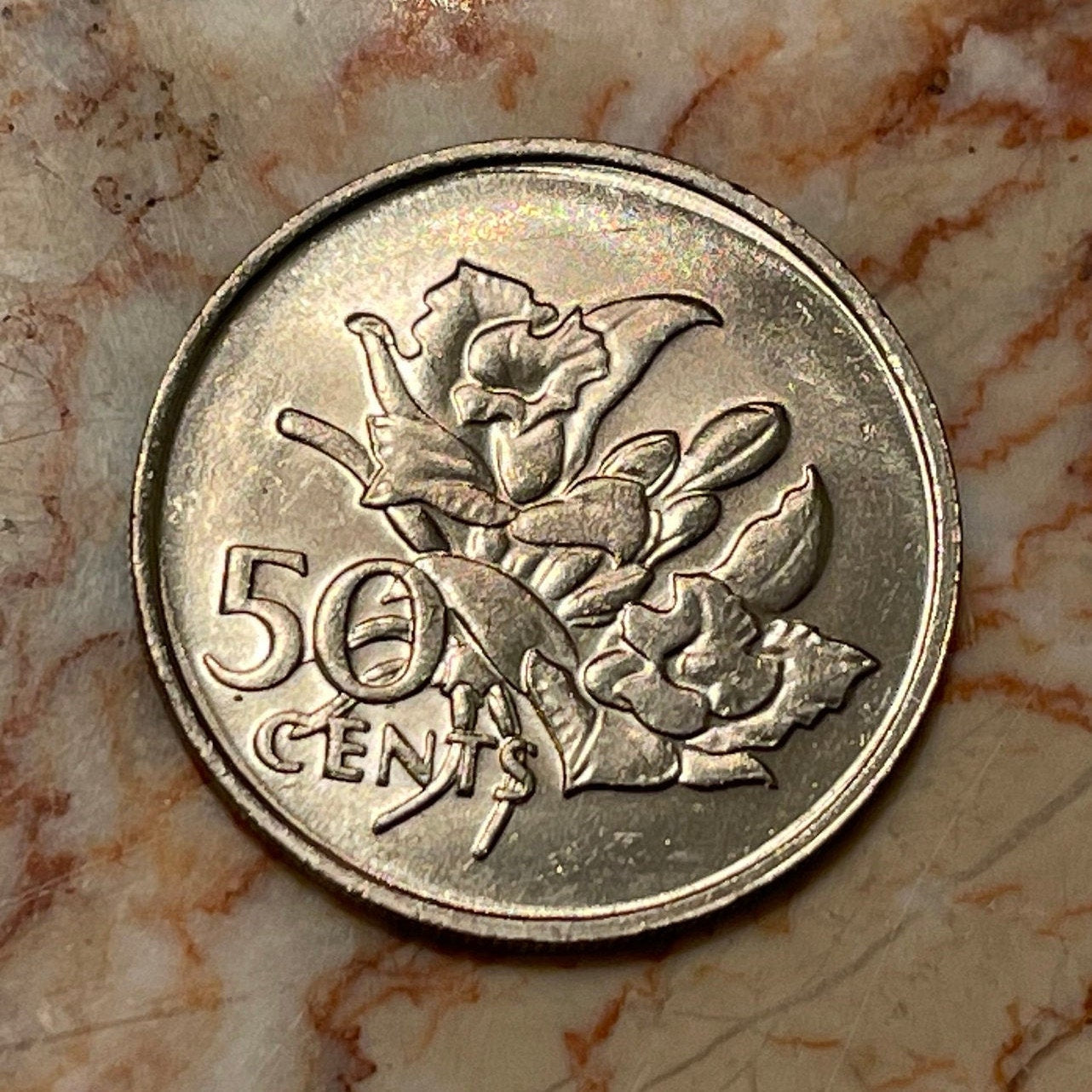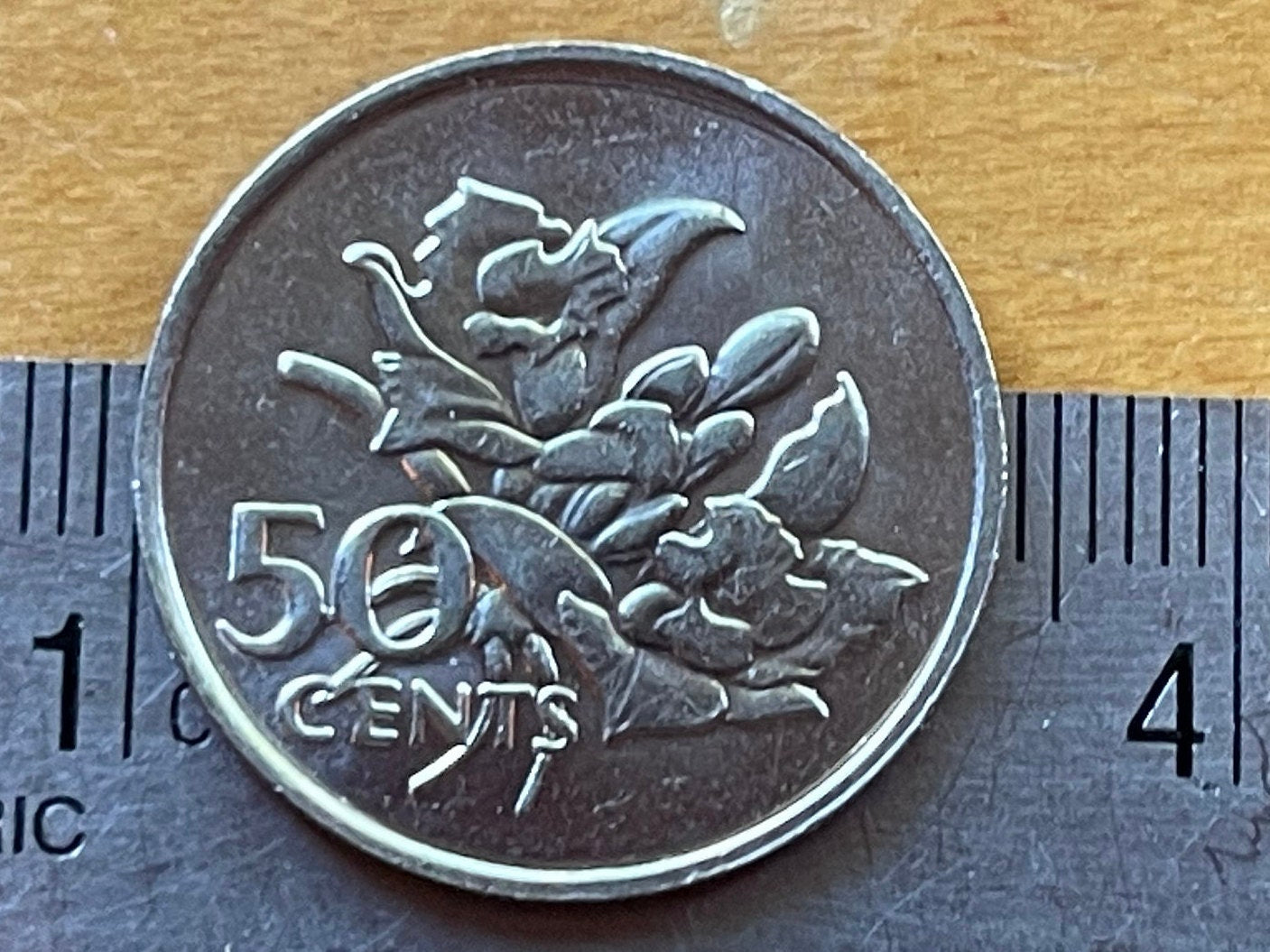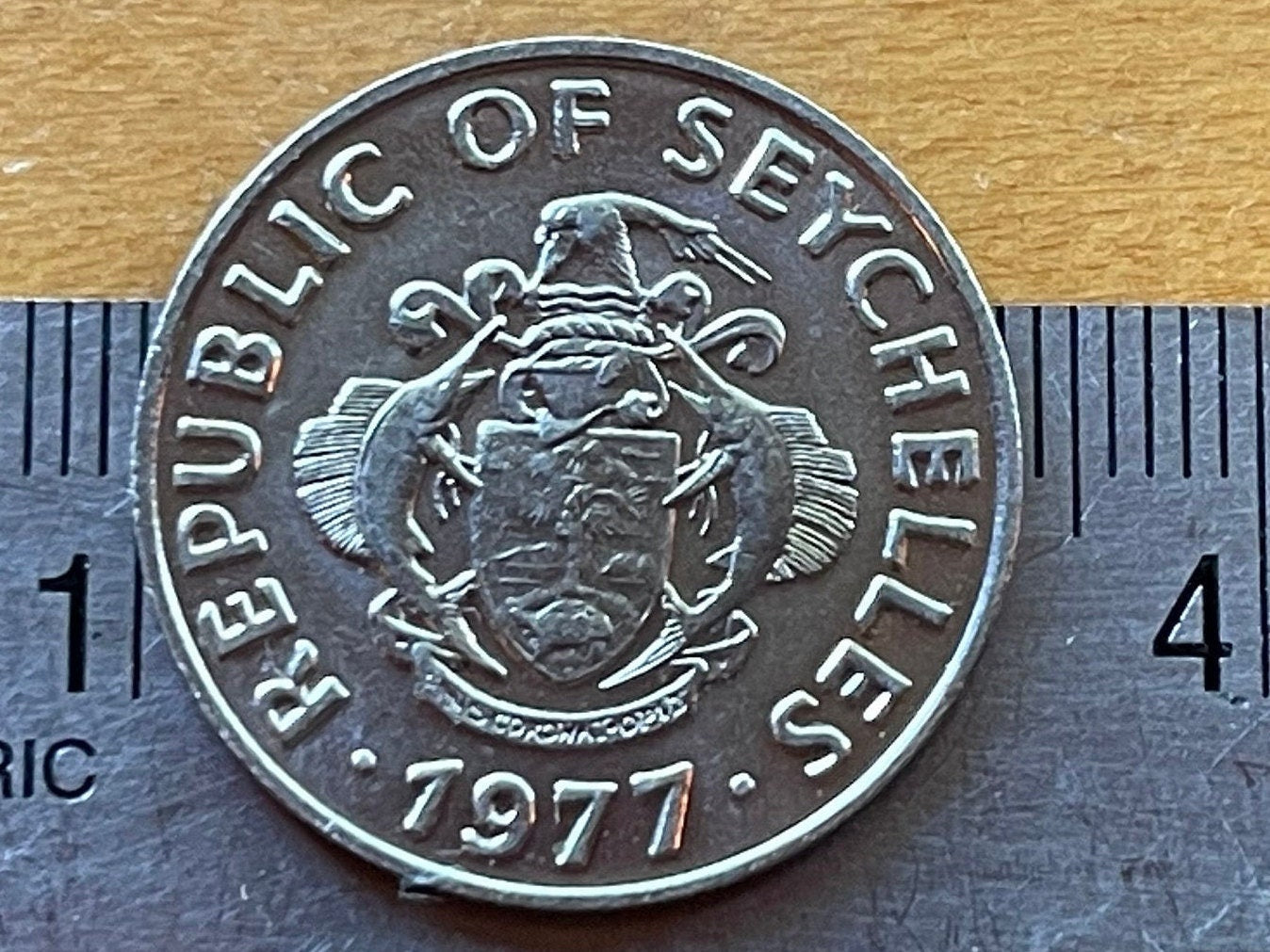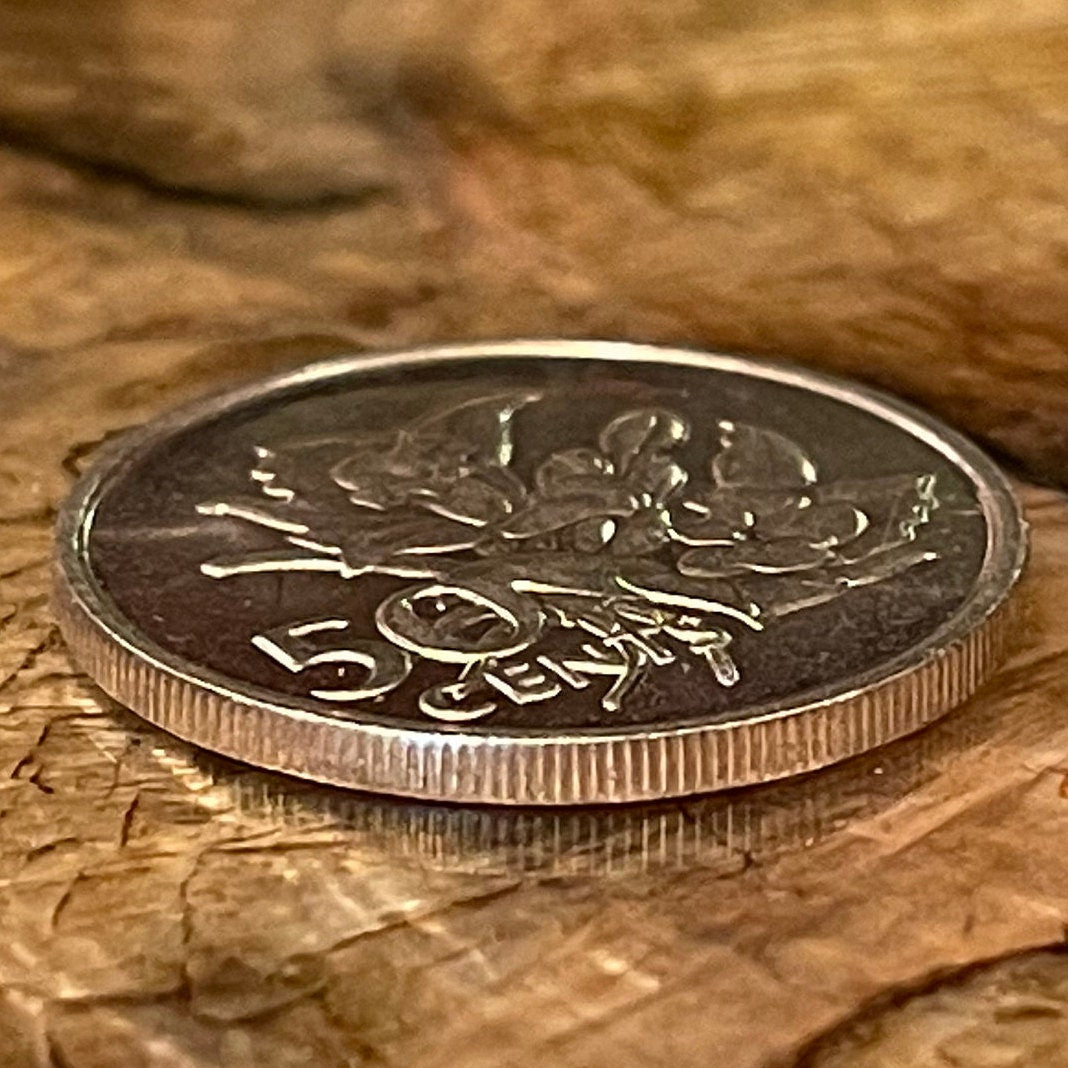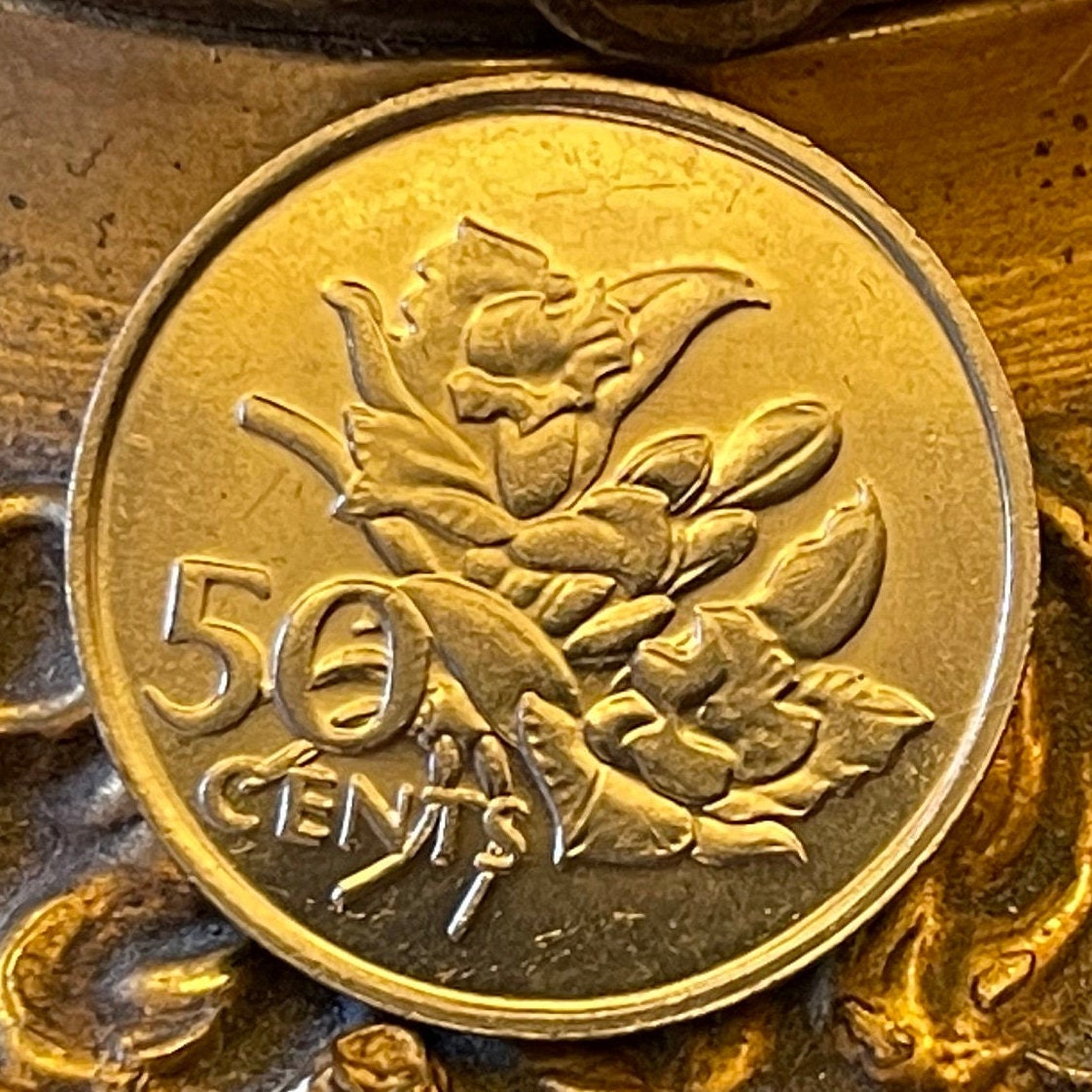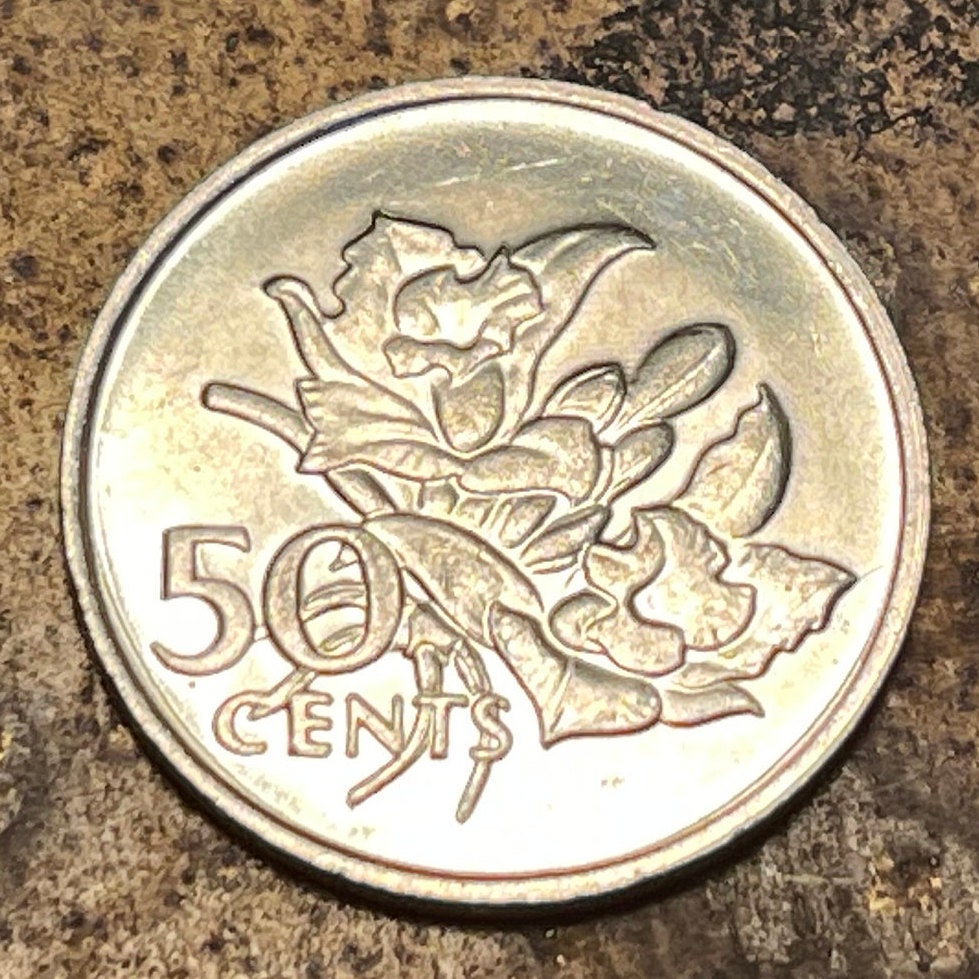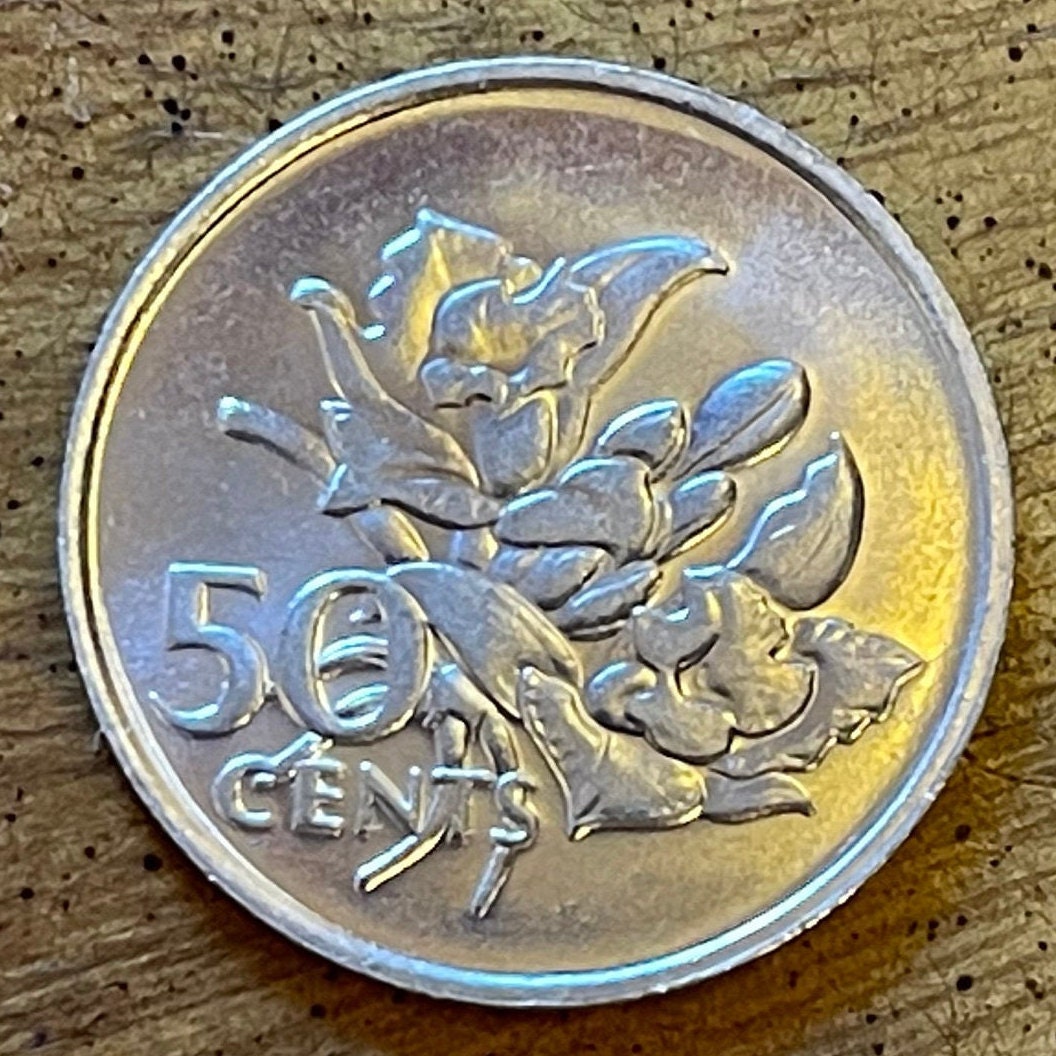 Beautiful coin design. Thanks for the quic...
Beautiful coin design. Thanks for the quick delivery. It arrived exactly as described.