Vytis Knight / Horse 1 Centas Lithuania Authentic Coin Money for Jewelry and Craft Making
Regular price
Sale price
$2.54 USD
Unit price
per
Vytis Knight on Horseback 1 Centas Lithuania Authentic Coin Charm for Jewelry and Craft Making
Obverse: The arms of Lithuania, called Vytis (featuring the charging knight), appears above the country name ("Lietuva"). Sculptor Juozas Zikaras' 1920s version of the Vytis knight -- used originally on 1920s coins -- was again adopted after Lithuania declared independence in 1990.
Lettering: LIETUVA 1991
Translation: Lithuania 1991
Reverse: Square ornament with triangle tulips in each corner and a symbol of the columns of Gediminas in the center
Lettering: 1 CENTAS
Features
Issuer Lithuania
Period Republic (1990-date)
Type Standard circulation coin
Year 1991
Value 1 Centas (0.01 LTL)
Currency New litas (1993-2014)
Composition Aluminium
Weight 0.83 g
Diameter 18.75 mm
Thickness 1.3 mm
Shape Round
Technique Milled
Orientation Medal alignment ↑↑
Demonetized 1 January 2015
Number N# 3112
References KM# 85, Schön# 15
Wikipedia:
The coat of arms of Lithuania, consisting of an armor-clad knight on horseback holding a sword and shield, is also known as Vytis (pronounced ['vîːtɪs]).
The knight on horseback without a specific name was mentioned in the Tobolsk Chronicle as a symbol of Narimantas. The charging knight is depicted on the seal of Grand Duke of Lithuania Algirdas, dated 1366. The earliest coins featuring the knight come from the last quarter of the 14th century; the other side of these coins depicts the Columns of Gediminas. The emblem was handed down through the generations, from Algirdas to his son, Grand Duke Jogaila, then to Jogaila's cousin Grand Duke Vytautas and others. In the 14th century, the knight was featured on a heraldic shield, first on Jogaila's seal in 1386 or 1387, and also on the seal of Vytautas in 1401. At the Battle of Grunwald in 1410, the major victory of the united Polish–Lithuanian army against the Teutonic Order, thirty Lithuanian regiments out of the total forty were flying the "charging knight" banner.
At first, the charging knight was interpreted as the ruler of the country. As time passed, he became a knight who is chasing intruders out of his native country. Such an interpretation was especially popular in the 19th century, and the first half of the 20th century, when Lithuania was part of the Russian Empire and sought its independence.
******
Jonas Trinkūnas, the leader of neo-pagan movement Romuva, believes that in the Lithuanian mythology Vytis represents Perkūnas, a god of thunder. It is believed that the Vytis may represent Perkūnas as supreme god or Kovas who was also a war god and has been depicted as a horseman since ancient times. Gintaras Beresnevičius also points out that a white horse had a sacral meaning to Balts. These interpretations coincide with one of the interpretations of the German coat of arms, that suggests an adler being the bird of Odin, a god of war, which is commonly depicted as a horse-rider.
**********
When Lithuania restored its independence in 1918–1920, several artists produced updated versions of the coat of arms. ...A design by Juozas Zikaras was introduced for official use on Lithuanian coins.
********
.....On March 11, 1990 Lithuania declared its independence and restored all of its pre-war national symbols, including its historic coat of arms. On March 20, 1990 the Supreme Council of Lithuania approved the description of the State's coat of arms and determined the principal regulations for its use. The design was based on Juozas Zikaras' version. This was to demonstrate that Lithuania was resuming the traditions of the state that existed between 1918–1940. ...Lithuanian coins featured Zikaras' design until they were replaced by the euro in 2015.
*********
Juozas Zikaras (November 18, 1881 – November 10, 1944) was a Lithuanian sculptor and artist, who created the design for pre-war Lithuanian litas coins. He is considered to be one of the first professional Lithuanian sculptors.
He was born November 18, 1881 in the village of Paliūkai near Panevėžys in Lithuania (then part of the Russian Empire). Between 1904 and 1906 he studied fine arts at the Vilnius-based Lev Trutnev Drawing School, as well as classes given by Juozapas Montvila. Surpassing many of his fellow art students, Zikaras in 1907 went to St. Petersburg to continue his studies at the Drawing School of the Imperial Society for the Encouragement of the Arts. In 1910, after three years in St. Petersburg, he was accepted to the Imperial Academy of Arts, from where he graduated in 1915, already after the outbreak of World War I. Shortly before finishing his diploma work he was drafted into the Russian army. However, he was not dispatched to the front and instead was able to receive a silver award of his alma mater the following year. Demobilized, he remained in Russia and taught drawing at various schools to make a living.
In 1918 he returned to Panevėžys, where he started working in a secondary school and pedagogical seminary. In 1929 he moved to Kaunas, where he started heading the studio of sculpture at the Academy of Fine Arts. He held that post until the Soviet occupation of Lithuania in 1940. He continued to give classes of drawing during the German occupation and after the second Soviet occupation he was proposed a professor's seat at the academy.
However he was accused by NKGB (the name of the Soviet secret police at the time) that his sons were with the "Forest Brothers". He could not stand interrogations, and on November 10, 1944, he committed suicide at Kaunas.
Arguably his best known work is the Statue of Liberty in Kaunas erected in 1922. It was the most important symbol of freedom in the interwar Lithuania and is featured on modern 20 litas banknotes. Another major work is the designs for all litas coins in the interwar period and the Independence Medal (Lithuania). It is not widely known, but Zikaras' version of the Coat of Arms of Lithuania used on his coins was adopted after Lithuania declared independence in 1990. The coat of arms design was changed in 1991.
Also, in 1928 Zikaras created a sculpture for knygnešys that now stands in Kaunas. It depicts a peasant with a sack full of smuggled books on his back carefully monitoring if there are any border guards to stop him. Zikaras also created a great number of bas-reliefs and busts depicting various famous Lithuanians. Although, Zikaras together with Petras Rimša are known as the first professional sculptors, Zikaras also left a number of paintings, illustrations, graphics. Most of his works are highly patriotic. He was buried in Petrašiūnai Cemetery.
********
The Columns of Gediminas or Pillars of Gediminas (Lithuanian: Gediminaičių stulpai (Gediminids' Pillars); Belarusian: Калюмны (Columns)) are one of the earliest symbols of Lithuania and its historical coats of arms. They were used in the Grand Duchy of Lithuania, initially as a rulers' personal insignia, a state symbol, and later as a part of heraldic signs of leading aristocracy.
Share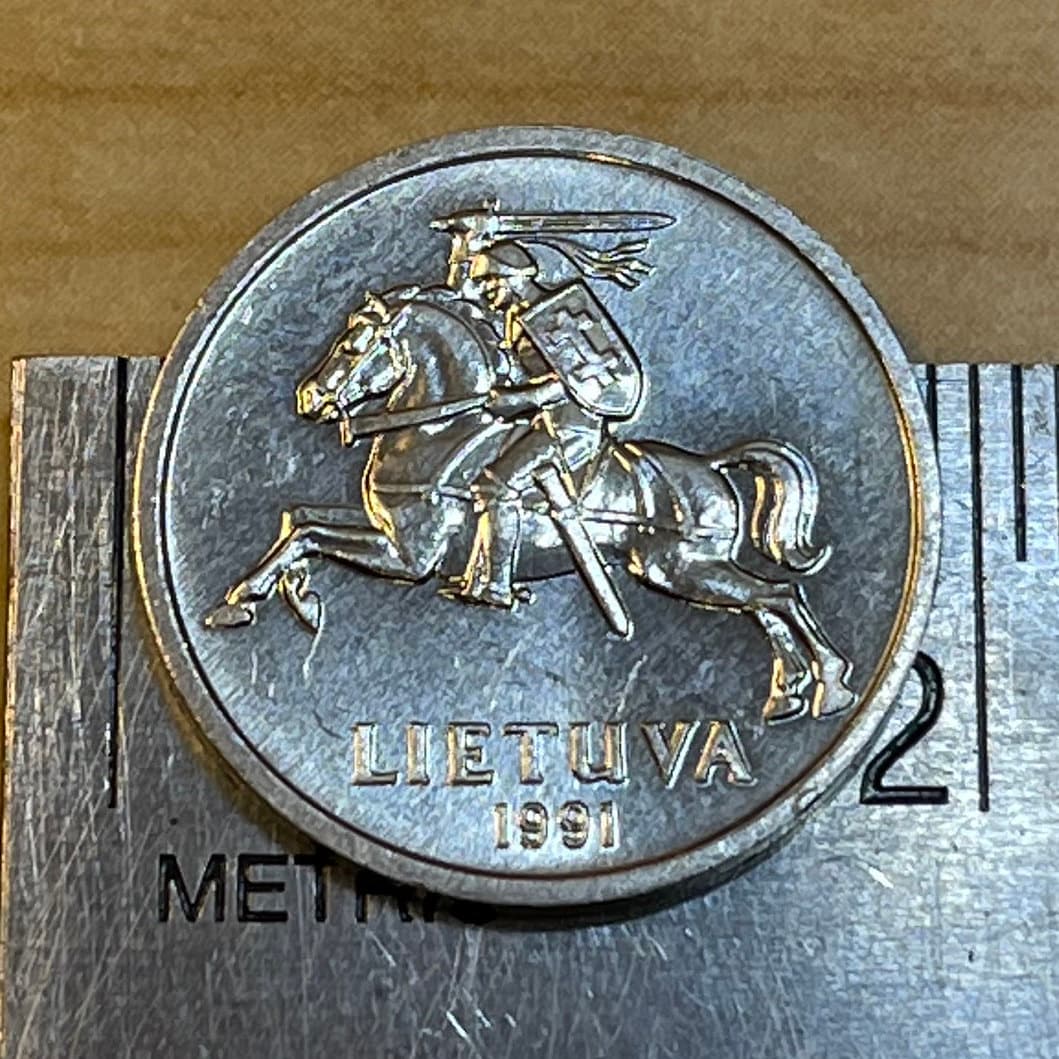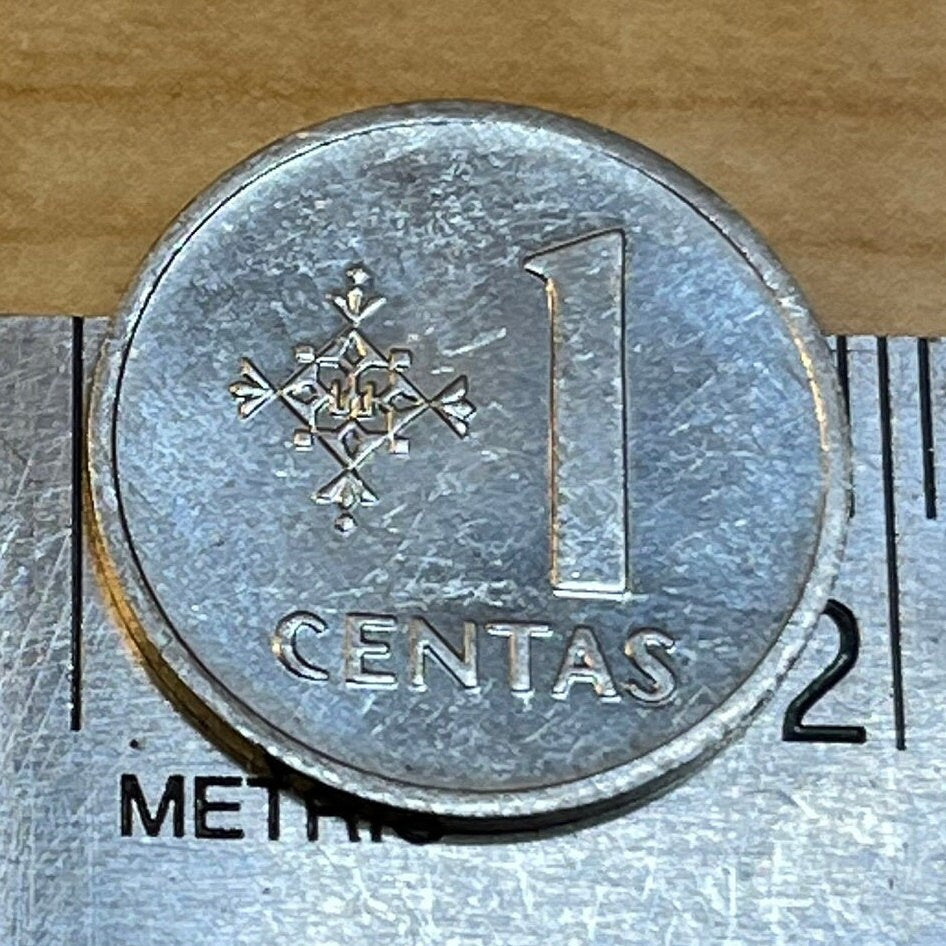 I'm so happy with my purchase! Thanks for...
I'm so happy with my purchase! Thanks for a Speedy delivery and top notch product!
Always good quality. This shop is my 'go...
Always good quality. This shop is my 'go to first' when looking for coins. Have purchased many and have never been disappointed. Will continue doing business with them with confidence and a smile on my face. The shipping time is great too.
Another great coin thank you low cost and...
Another great coin thank you low cost and care in shipping . Have a good one stay safe be well and happy