Wild Yak, Mount Everest, Kasthampandap Temple & Rhododendron 5 Rupees Nepal Authentic Banknote Money for Jewelry and Collage (Sagarmāthā)
Regular price
Sale price
$2.28 USD
Unit price
per
Wild Yak, Mount Everest, Kasthampandap Temple & Rhododendron 5 Rupees Nepal Authentic Banknote Money for Jewelry and Collage (Sagarmāthā)
Reverse: Wild Yak. The wild yak was thought to be regionally extinct in Nepal in the 1970s, but was rediscovered in Humla in 2014. This discovery later caused the species to be painted on Nepal's currency.
Background scene: Limi Valley, in Humla District of Himalayas.
Obverse: Mt. Everest, and Kasthamandap Temple.
Watermark window: Rhododendron
Features
Issuer Nepal
Period Federal Republic (2008-date)
Type Standard banknote
Years 2017-2020
Value 5 Rupees
5 NPR = USD 0.042
Currency Rupee (1932-date)
Composition Paper
Size 120 × 70 mm
Shape Rectangular
Number N# 204030
References P# 76
Wikipedia: The wild yak (Bos mutus) is a large, wild cattle native to the Himalayas. The ancestor of the wild and domestic yak is thought to have diverged from Bos primigenius at a point between one and five million years ago. The wild yak is now normally treated as a separate species from the domestic yak (Bos grunniens).
Description
The wild yak is among the largest extant bovid species. Adults stand about 1.6 to 2.05 m (5.2 to 6.7 ft) tall at the shoulder, and weigh 500–1,200 kg (1,100–2,600 lb). The head and body length is 2.4 to 3.8 m (7.9 to 12 ft), not counting the tail of 60 to 100 cm (24 to 39 in).[4] The females are about one-third the weight and are about 30% smaller in their linear dimensions when compared to bull wild yaks. Domesticated yaks (Bos grunniens) are somewhat smaller.
They are heavily built animals with a bulky frame, sturdy legs, and rounded cloven hooves. To protect against the cold, the udder in females and the scrotum in males are small, and covered in a layer of hair. Females have four teats. Both sexes have long shaggy hair, with a dense woolly undercoat over the chest, flanks, and thighs for insulation against the cold. In males especially, this undercoat may form a long "skirt" that can reach the ground. The tail is long and horse-like, rather than tufted like the tails of cattle or bison. The coat is typically black or dark brown, covering most of the body, with a grey muzzle (although some wild golden-brown individuals have been reported). Wild yaks with gold coloured hair are known as the wild golden yak (Chinese: 金色野牦牛; pinyin: jīnsèyě máoniú). They are considered an endangered subspecies in China, with an estimated population of 170 left in the wild. Two morphological types have been identified, so-called Qilian and Kunlun.
Wild yaks once ranged up to southern Siberia to the east of Lake Baikal, but became extinct in Russia around the 17th century. Today, wild yaks are found primarily in northern Tibet and western Qinghai, with some populations extending into the southernmost parts of Xinjiang, and into Ladakh in India. Small, isolated populations of wild yak are also found farther afield, primarily in western Tibet and eastern Qinghai. In historic times, wild yaks were also found in Bhutan, but they are now considered extinct there.
The primary habitat of wild yaks consists of treeless uplands between 3,000 and 5,500 m (9,800 and 18,000 ft), dominated by mountains and plateaus. They are most commonly found in alpine tundra with a relatively thick carpet of grasses and sedges rather than the more barren steppe country.
The wild yak was thought to be regionally extinct in Nepal in the 1970s, but was rediscovered in Humla in 2014. This discovery later made the species to be painted on Nepal's currency.
The diet of wild yaks consists largely of grasses and sedges, such as Carex, Stipa, and Kobresia. They also eat a smaller amount of herbs, winterfat shrubs, and mosses, and have even been reported to eat lichen. Historically, the main natural predator of the wild yak has been the Himalayan wolf, but Himalayan black bears, Himalayan brown bears and snow leopards have also been reported as predators in some areas, likely of young or infirm wild yaks.
Thubten Jigme Norbu, the elder brother of the 14th Dalai Lama, reported on his journey from Kumbum in Amdo to Lhasa in 1950:
Before long I was to see the vast herds of drongs with my own eyes. The sight of those beautiful and powerful beasts who from time immemorial have made their home on Tibet's high and barren plateaux never ceased to fascinate me. Somehow these shy creatures manage to sustain themselves on the stunted grass roots which is all that nature provides in those parts. And what a wonderful sight it is to see a great herd of them plunging head down in a wild gallop across the steppes. The earth shakes under their heels and a vast cloud of dust marks their passage. At nights they will protect themselves from the cold by huddling up together, with the calves in the centre. They will stand like this in a snow-storm, pressed so close together that the condensation from their breath rises into the air like a column of steam. The nomads have occasionally tried to bring up young drongs as domestic animals, but they have never entirely succeeded. Somehow once they live together with human beings they seem to lose their astonishing strength and powers of endurance; and they are no use at all as pack animals, because their backs immediately get sore. Their immemorial relationship with humans has therefore remained that of game and hunter, for their flesh is very tasty.
— Thubten Norbu, Tibet is My Country
*******
Wikipedia:
Kasthamandap (Sanskrit: काष्ठमण्डप, Nepal Bhasa:मरु सत: Maru Satta:; literally "Wood-Covered Shelter") was a three-storied public shelter that included a shrine consecrated to Gorakshanath situated at Maru, Kathmandu, Nepal. Several myths and stories about the date of the construction of the Kasthamandap have been resolved with the recent archeological findings: newly discovered objects during the excavation in the aftermath of the 2015 earthquake have suggested that the Kasthamandap may have been built in the 7th century during the Lichhavi era.
On 25 April 2015, Kasthamandap along with many others on the Kathmandu Durbar Square, was damaged and collapsed by the April 2015 Nepal earthquake, which had an estimated magnitude of 7.9 (Mw).
A team of international and national experts from the Department of Archaeology (DoA), Government of Nepal and Durham University had excavated beneath the Kasthamandap and found coal and sand in the foundations. The foundation soil, coal, and sand were taken to the University of Stirling, Scotland for carbon and optically stimulated luminescence (OSL) tests. Nearly seven months of lab tests showed that the Kasthamandap was built in the 7th century, said Ram Kunwar, spokesperson at the Department of Archeology (DoA).
During the excavations, copperplate inscriptions mentioning of Jayasthithi Malla, Jyotir Malla and Yogmati Bhattarika have been recovered from a pillar of the Kasthamandap. In the manuscripts dated Nepal Sambat 499, 454 and 543, (AD 1288, 1243, 1332) it is written that the person responsible for operating the Pachali Bhairav Jatra has to organise the festival following the specific regulations.
*******
Wikipedia:
Mount Everest (Chinese: 珠穆朗玛 Zhūmùlǎngmǎ; Nepali: सगरमाथा, romanized: Sagarmāthā; Tibetan: Chomolungma ཇོ་མོ་གླང་མ) is Earth's highest mountain above sea level, located in the Mahalangur Himal sub-range of the Himalayas. The China–Nepal border runs across its summit point. Its elevation (snow height) of 8,848.86 m (29,031.7 ft) was most recently established in 2020 by the Nepali and Chinese authorities.
The Nepali name for Everest is Sagarmāthā (सगरमाथा) which means "the Head in the Great Blue Sky" derived from सगर (sagar) meaning "sky" and माथा (māthā) meaning "head" in the Nepali Language.
The Tibetan name for Everest is Qomolangma (ཇོ་མོ་གླང་མ, lit. "Holy Mother"). The name was first recorded with a Chinese transcription on the 1721 Kangxi Atlas during the reign of Emperor Kangxi of Qing China, and then appeared as Tchoumour Lancma on a 1733 map published in Paris by the French geographer D'Anville based on the former map.[10] It is also popularly romanised as Chomolungma and (in Wylie) as Jo-mo-glang-ma. The official Chinese transcription is 珠穆朗玛峰 (t 珠穆朗瑪峰), whose pinyin form is Zhūmùlǎngmǎ Fēng. While other Chinese names exist, include Shèngmǔ Fēng (t 聖母峰, s 圣母峰, lit. "Holy Mother Peak"), these names largely phased out from May 1952 as the Ministry of Internal Affairs of China issued a decree to adopt 珠穆朗玛峰 as the sole name. Documented local names include "Deodungha" ("Holy Mountain"), but it is unclear whether it is commonly used.
In the late 19th century, many European cartographers incorrectly believed that a native name for the mountain was Gaurishankar, a mountain between Kathmandu and Everest.
In 1849, the British survey wanted to preserve local names if possible (e.g., Kangchenjunga and Dhaulagiri), and Andrew Waugh, the British Surveyor General of India argued that he could not find any commonly used local name, as his search for a local name was hampered by Nepal and Tibet's exclusion of foreigners. Waugh argued that because there were many local names, it would be difficult to favour one name over all others; he decided that Peak XV should be named after British surveyor Sir George Everest, his predecessor as Surveyor General of India. Everest himself opposed the name suggested by Waugh and told the Royal Geographical Society in 1857 that "Everest" could not be written in Hindi nor pronounced by "the native of India". Waugh's proposed name prevailed despite the objections, and in 1865, the Royal Geographical Society officially adopted Mount Everest as the name for the highest mountain in the world. The modern pronunciation of Everest (/ˈɛvərɪst/) is different from Sir George's pronunciation of his surname (/ˈiːvrɪst/ EEV-rist).
In the early 1960s, the Nepali government coined the Nepali name Sagarmāthā (IAST transcription) or Sagar-Matha[25] (सागर-मथ्था, [sʌɡʌrmatʰa], lit. "goddess of the sky".
Mount Everest attracts many climbers, some of them highly experienced mountaineers. There are two main climbing routes, one approaching the summit from the southeast in Nepal (known as the "standard route") and the other from the north in Tibet. While not posing substantial technical climbing challenges on the standard route, Everest presents dangers such as altitude sickness, weather, and wind, as well as significant hazards from avalanches and the Khumbu Icefall. As of 2019, over 300 people have died on Everest, many of whose bodies remain on the mountain.
The first recorded efforts to reach Everest's summit were made by British mountaineers. As Nepal did not allow foreigners to enter the country at the time, the British made several attempts on the north ridge route from the Tibetan side. After the first reconnaissance expedition by the British in 1921 reached 7,000 m (22,970 ft) on the North Col, the 1922 expedition pushed the north ridge route up to 8,320 m (27,300 ft), marking the first time a human had climbed above 8,000 m (26,247 ft). Seven porters were killed in an avalanche on the descent from the North Col. The 1924 expedition resulted in one of the greatest mysteries on Everest to this day: George Mallory and Andrew Irvine made a final summit attempt on 8 June but never returned, sparking debate as to whether or not they were the first to reach the top. They had been spotted high on the mountain that day but disappeared in the clouds, never to be seen again, until Mallory's body was found in 1999 at 8,155 m (26,755 ft) on the north face. Tenzing Norgay and Edmund Hillary made the first official ascent of Everest in 1953, using the southeast ridge route. Norgay had reached 8,595 m (28,199 ft) the previous year as a member of the 1952 Swiss expedition. The Chinese mountaineering team of Wang Fuzhou, Gonpo, and Qu Yinhua made the first reported ascent of the peak from the north ridge on 25 May 1960.
********
Wikipedia:
Rhododendron /ˌroʊdəˈdɛndrən/ (from Ancient Greek ῥόδον rhódon "rose" and δένδρον déndron "tree") is a very large genus of 1,024 species of woody plants in the heath family (Ericaceae), either evergreen or deciduous, and found mainly in Asia, although it is also widespread throughout lowland and montane forests in the Pacific Northwest, California, the Northeastern United States, and especially in the highlands of the Appalachian Mountains of North America. It is the national flower of Nepal, the state flower of Washington and West Virginia in the United States, the provincial flower of Jiangxi in China and the state tree of Sikkim and Uttarakhand in India. Most species have brightly colored flowers which bloom from late winter through to early summer.
Azaleas make up two subgenera of Rhododendron. They are distinguished from "true" rhododendrons by having only five anthers per flower.
Share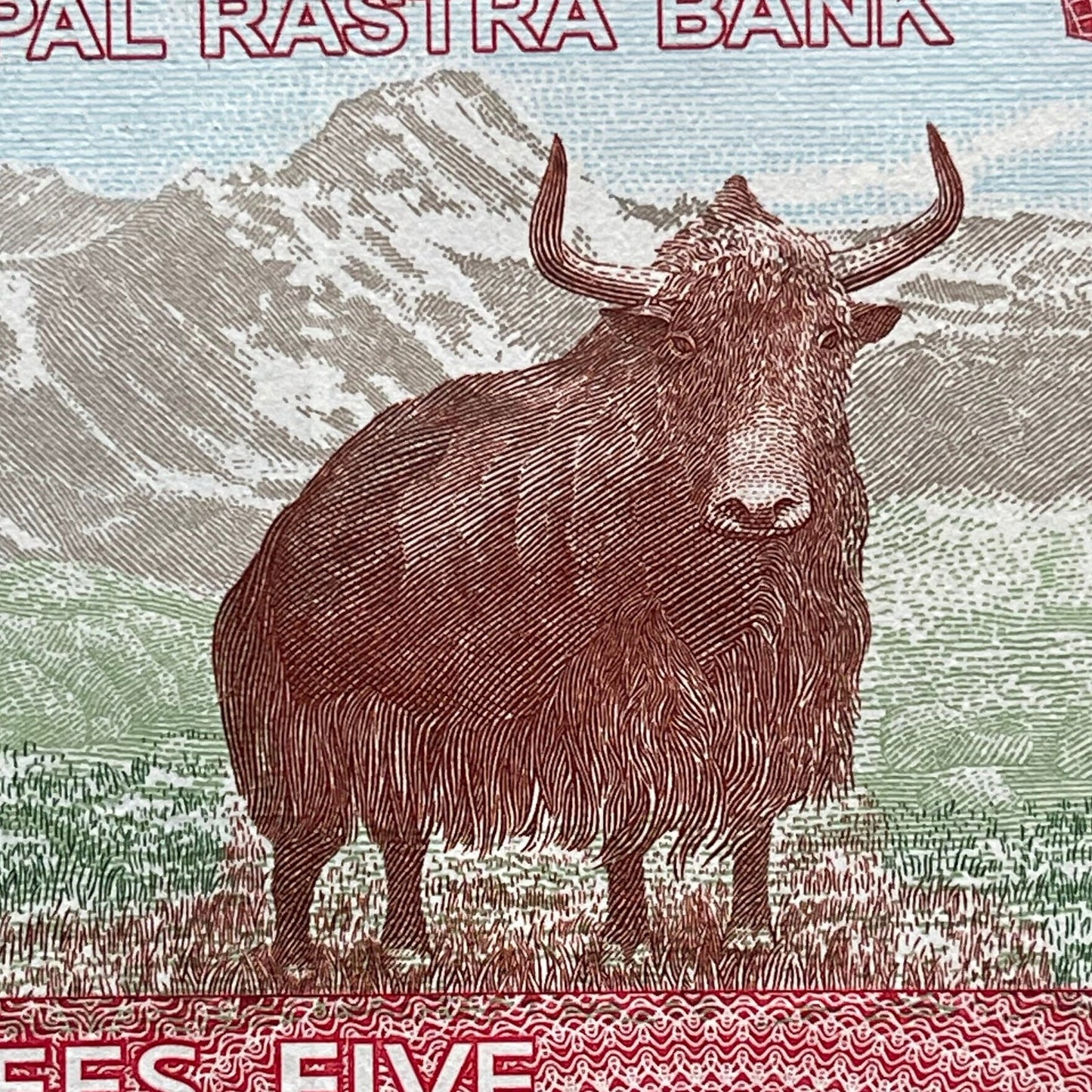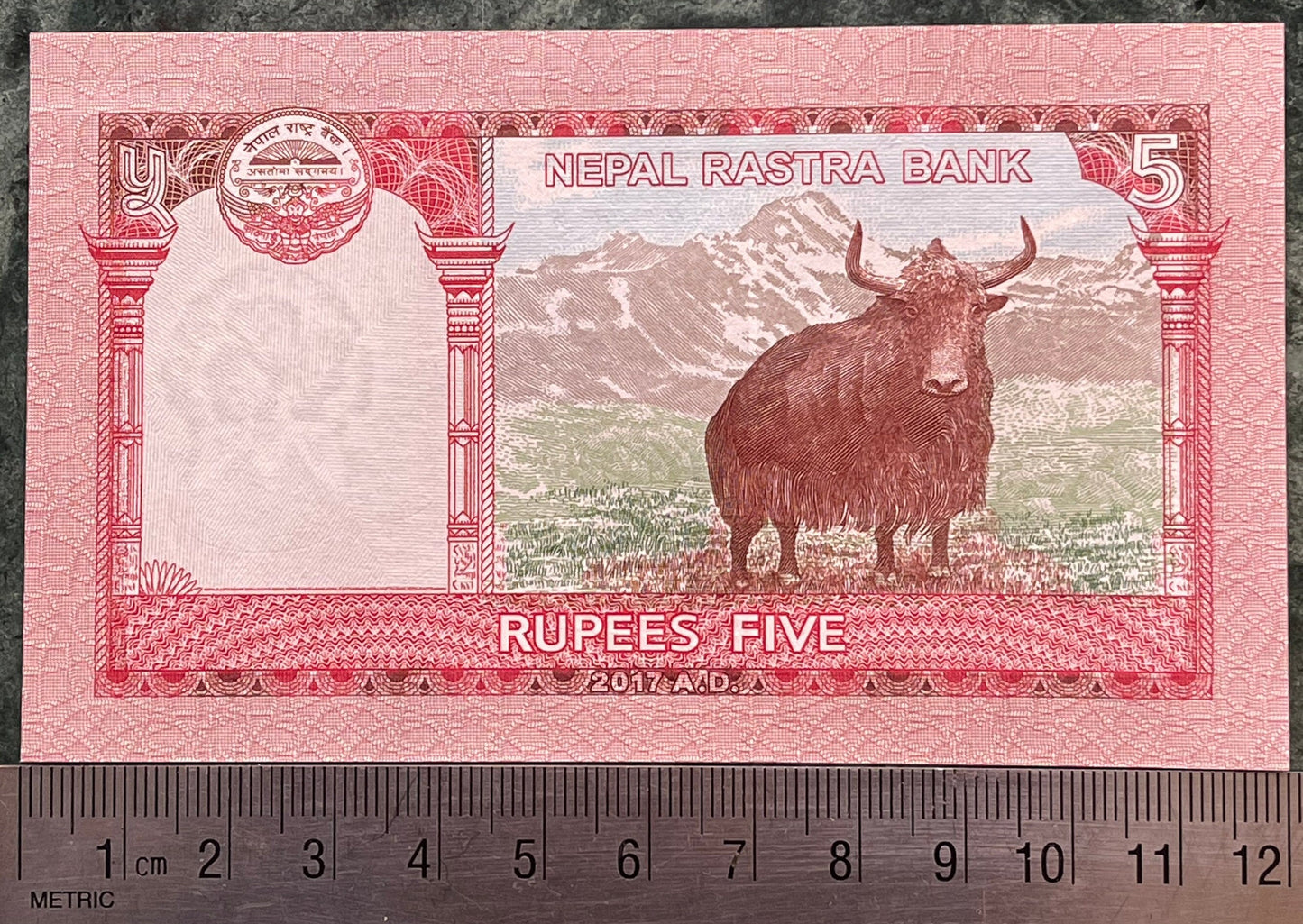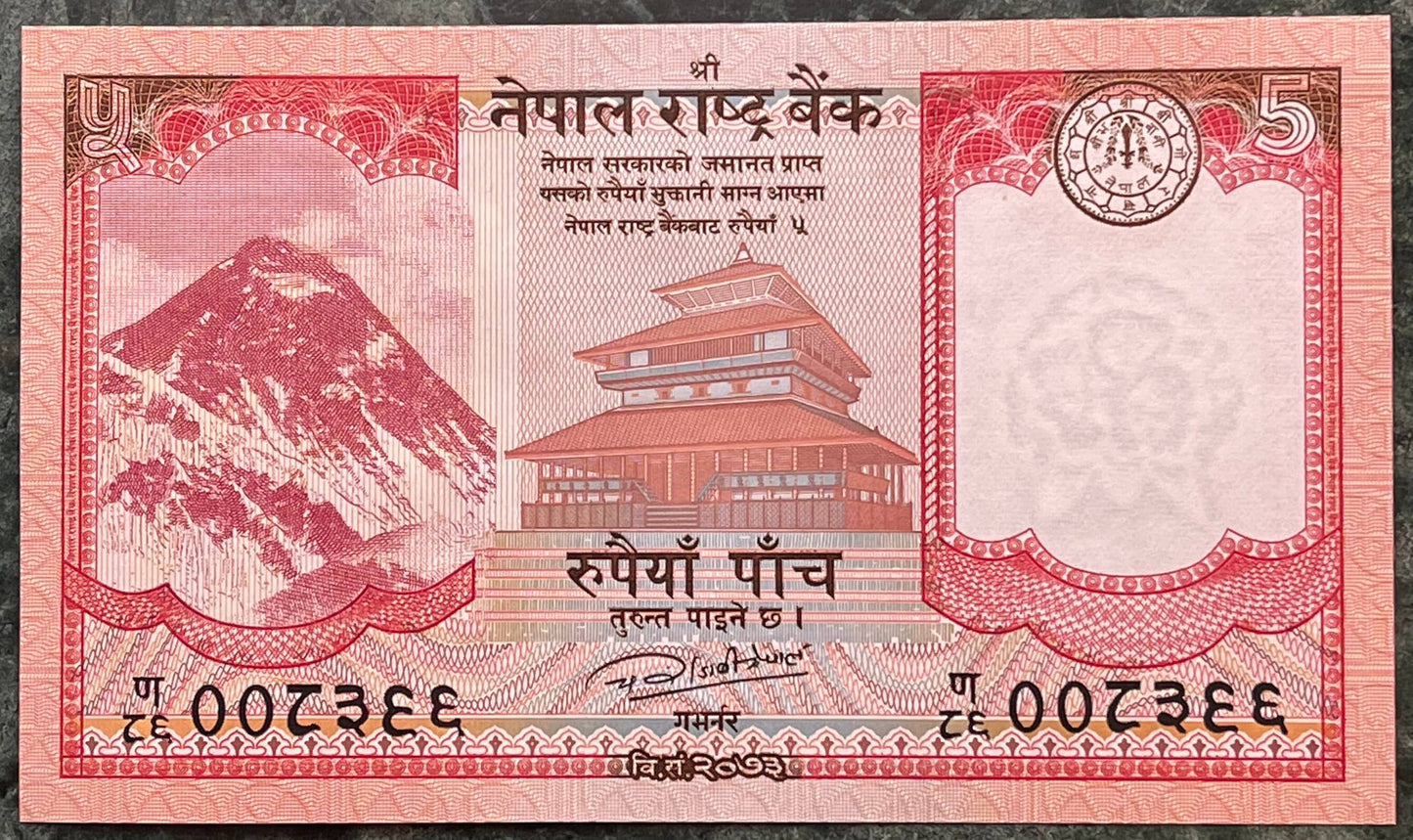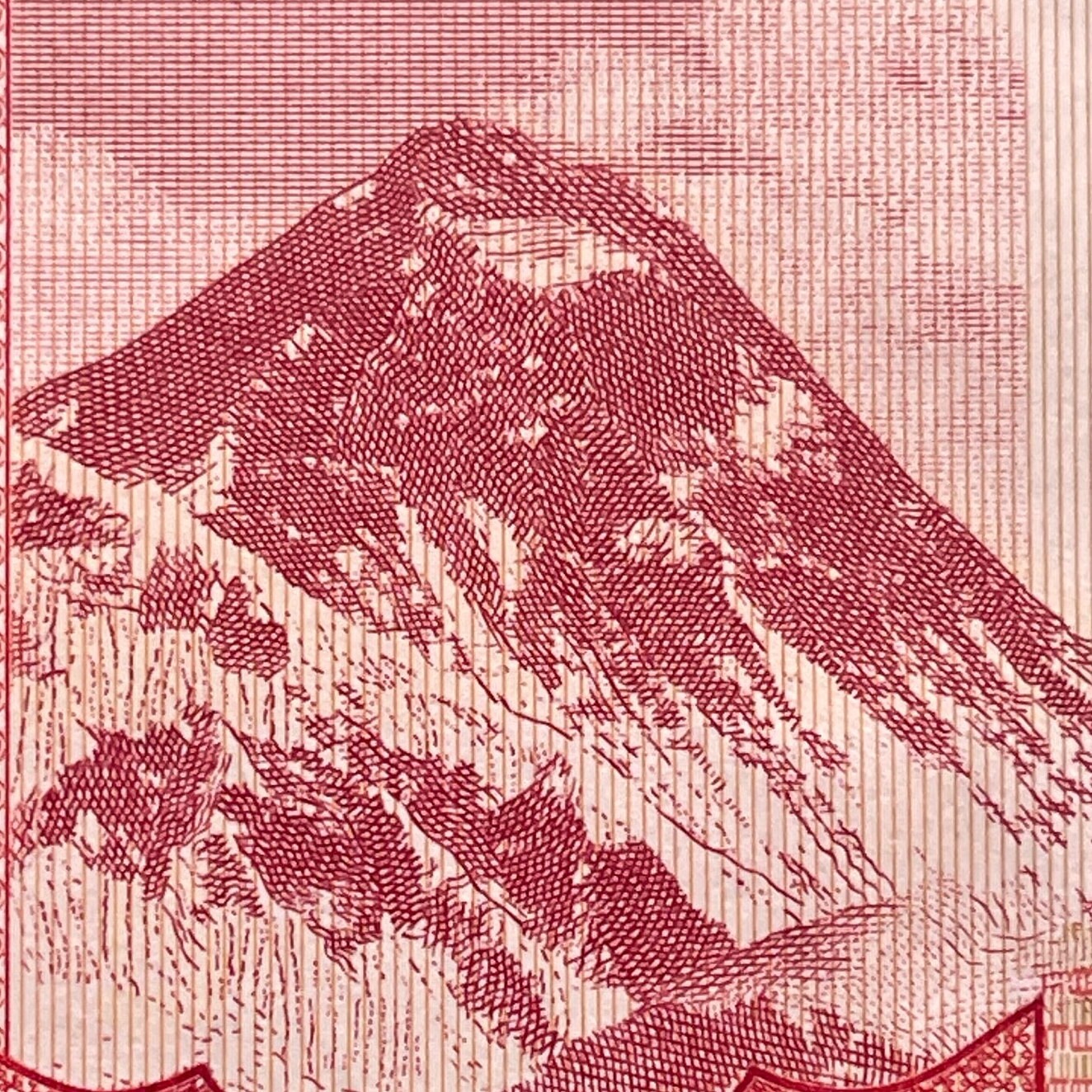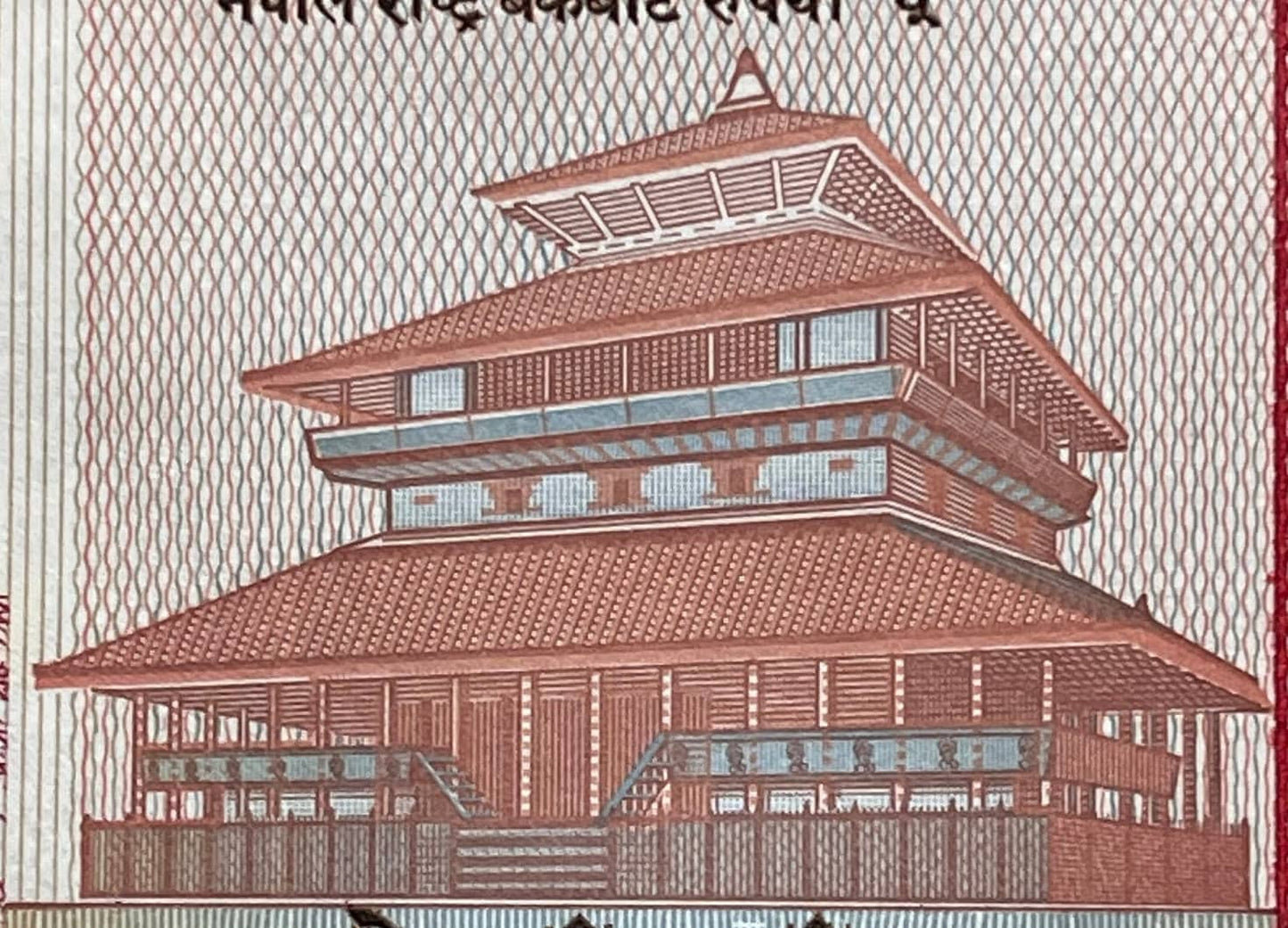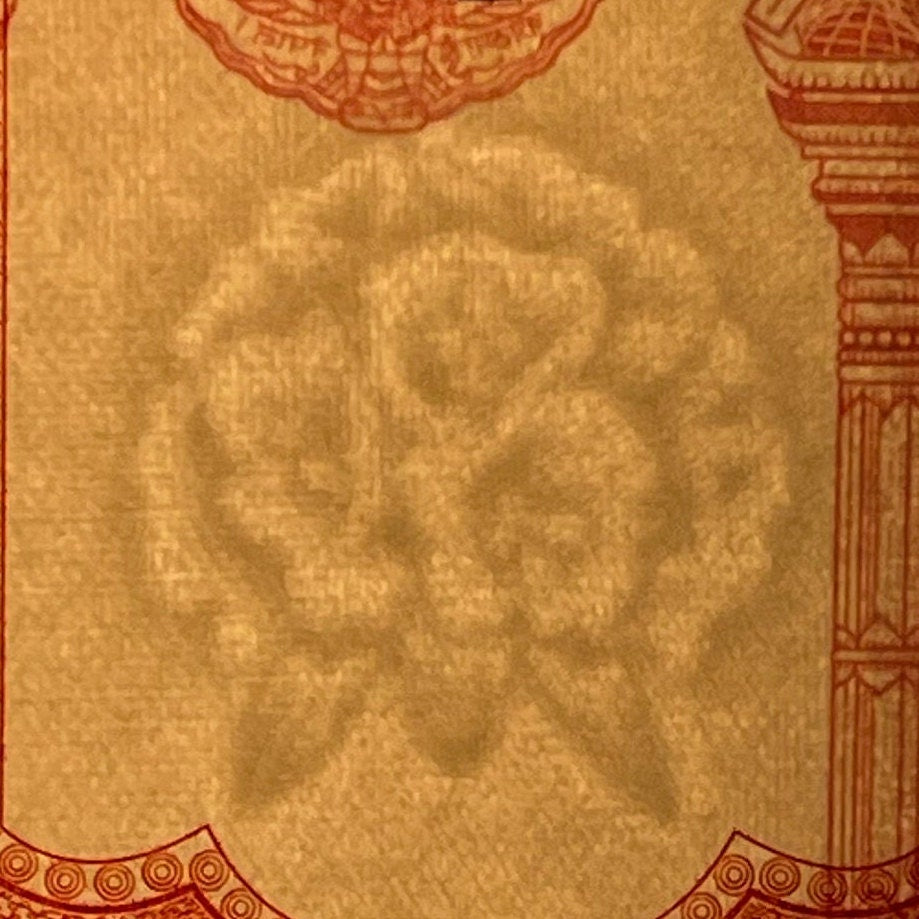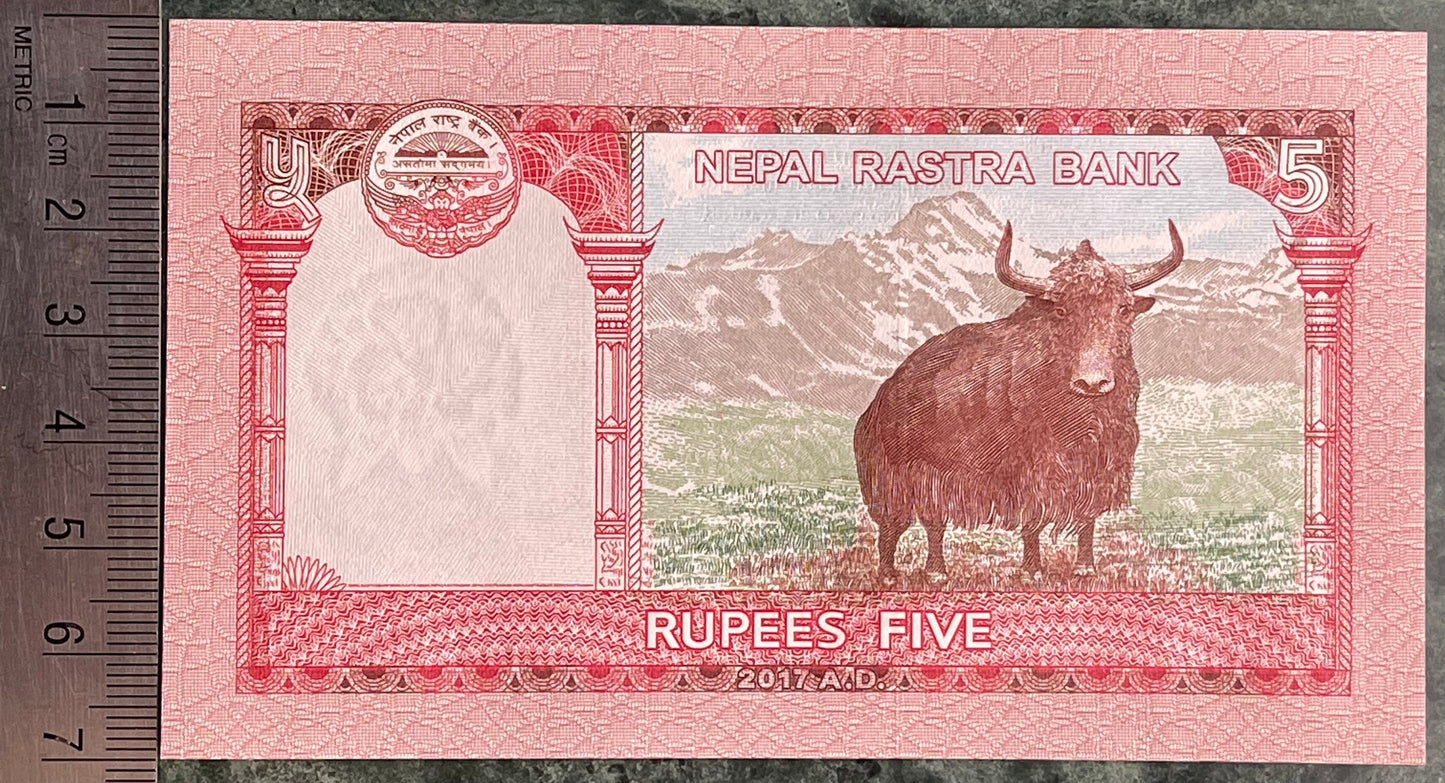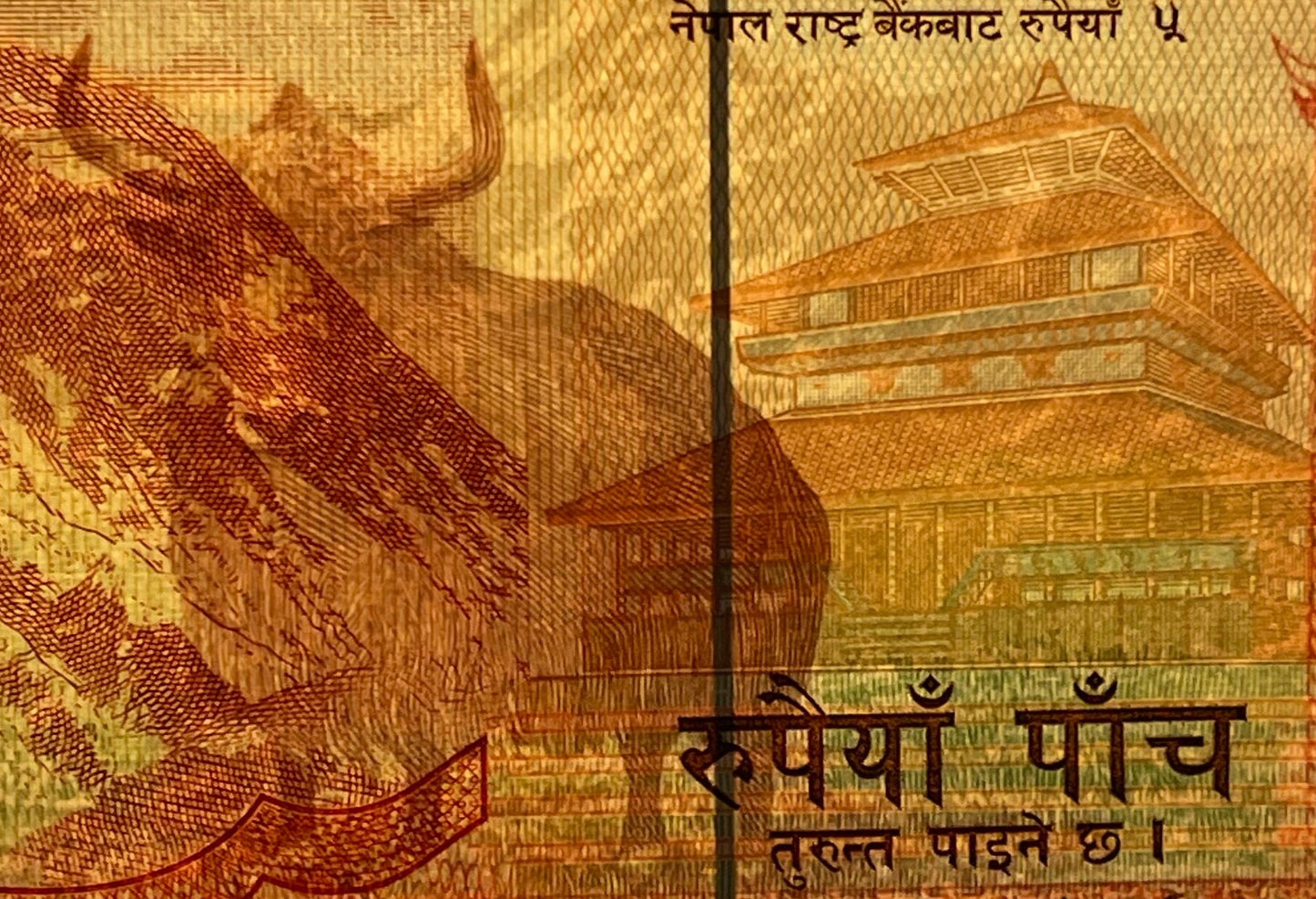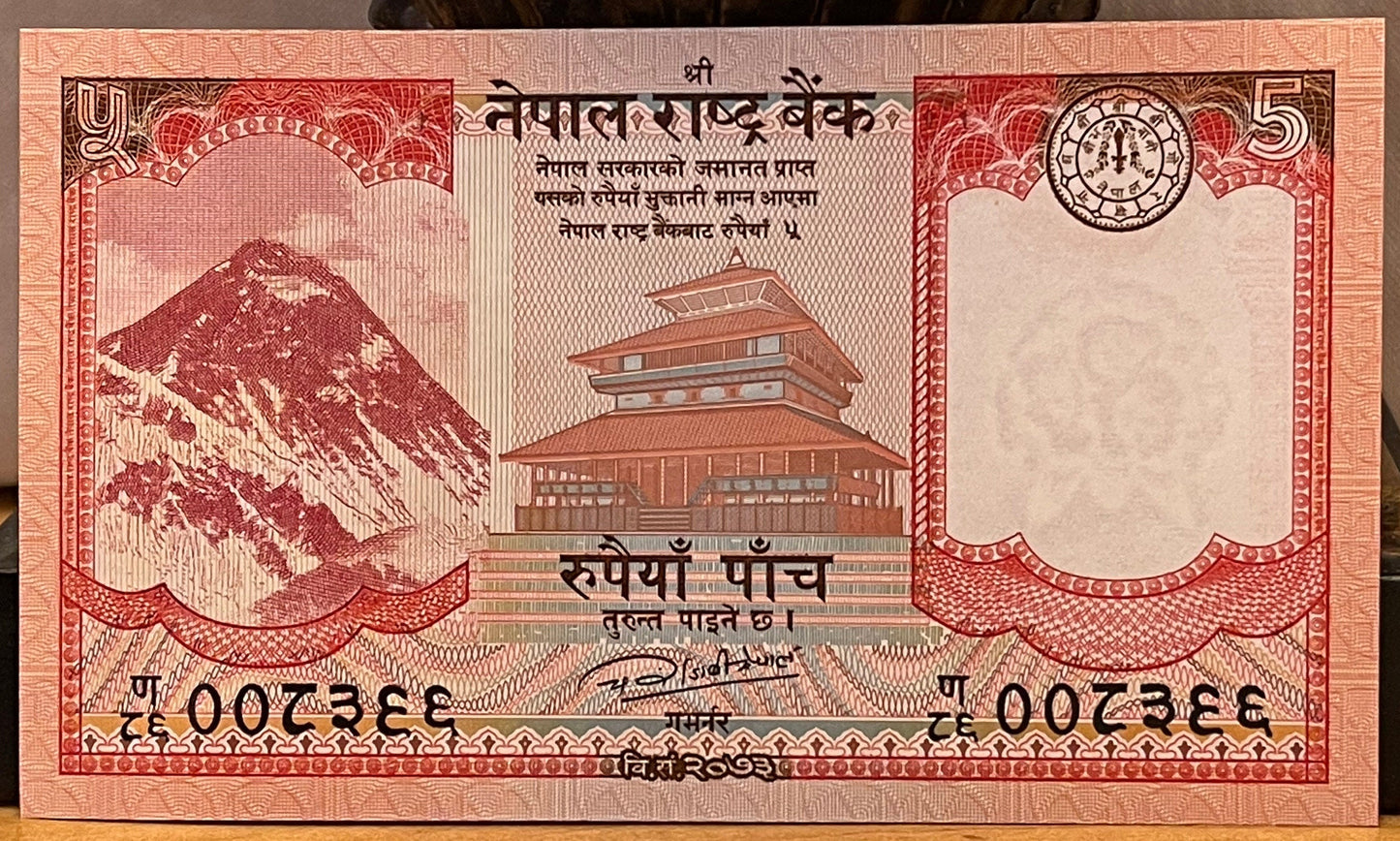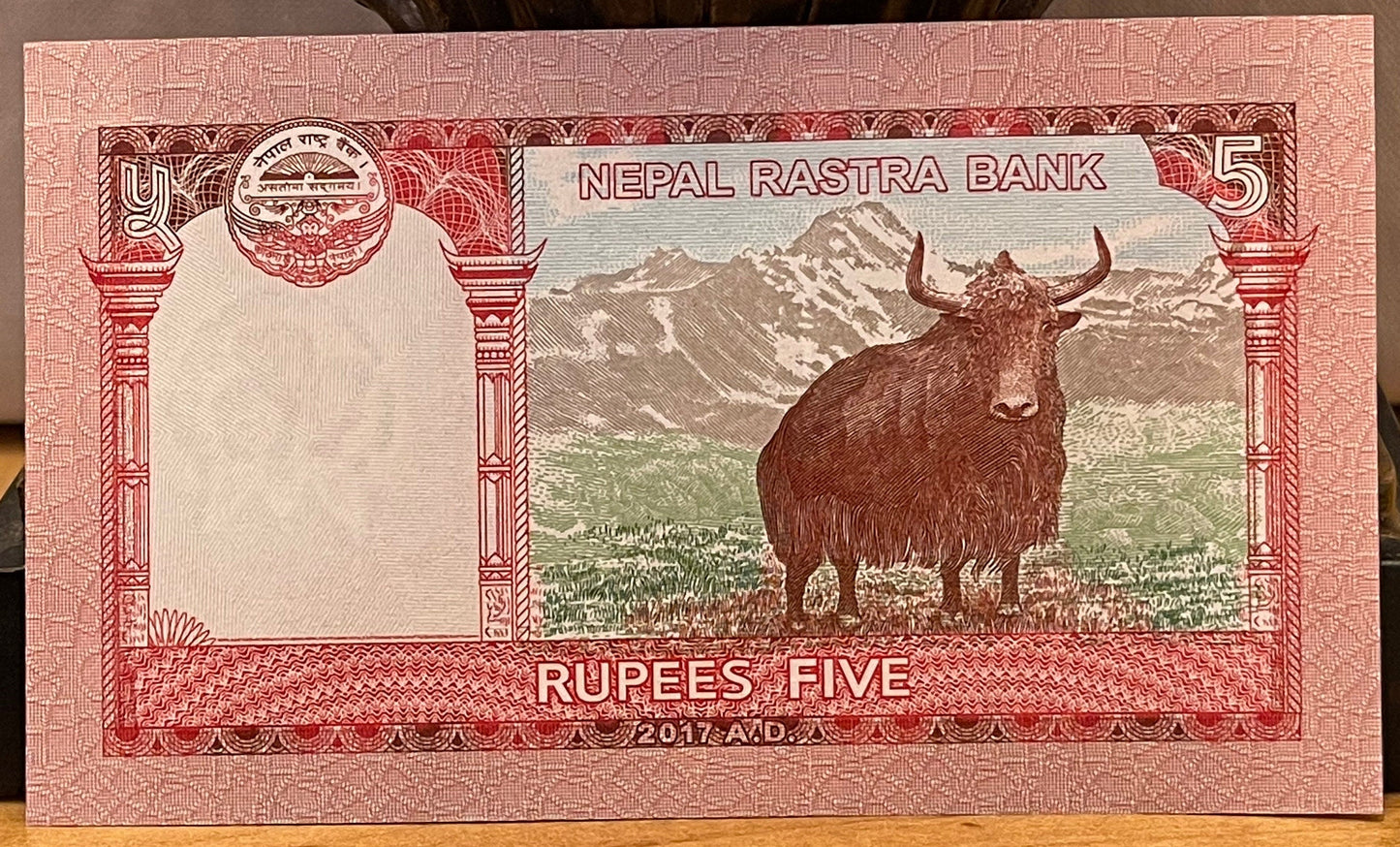 Beautiful banknote! shipped quickly and ar...
Beautiful banknote! shipped quickly and arrived undamaged. I'm happy with my purchases and have already ordered more!
Two Yaks that came promptly and well packa...
Two Yaks that came promptly and well packaged. THanks!