Woman Scientist & Akan Sawfish Goldweight 25 CFA Francs West African States Authentic Coin Money for Jewelry (Ashanti) (STEM for Girls)
Regular price
Sale price
$6.66 USD
Unit price
per
Woman Scientist & Akan Sawfish Goldweight 25 CFA Francs West African States Authentic Coin Money for Jewelry and Craft Making (Ashanti) (Education of Women) (Women in Science) (STEM for Girls)
Commemorative issue
F.A.O.
Reverse: Woman Scientist pouring liquid into a test tube.
Obverse: Akan Goldweight, at center: sawfish-shaped brass weight of the Akan/Ashanti people for weighing gold dust. Denomination dividing the issuer name above and below.
Lettering: 25 FRANCS
BANQUE CENTRALE DES ETATS DE L'AFRIQUE DE L'OUEST
Translation: Central Bank of [the] West African States
Features
Issuer Western African States
Period Central Bank of West African States (1958-date)
Type Circulating commemorative coin
Years 1980-2020
Value 25 Francs CFA
25 XOF = 0.045 USD
Currency CFA franc (1958-date)
Composition Aluminium-bronze
Weight 8 g
Diameter 27 mm
Thickness 2.2 mm
Shape Round
Orientation Coin alignment ↑↓
Number N# 1800
References KM# 9, Schön# 19
13.11.2018 - UNESCO Office in Dakar
Africa: Girls' education in STEM at the heart of a regional training for 12 French-speaking countries
©UNESCO
A regional training course on science, technology, engineering and mathematics (STEM) education was held from Monday, November 12, 2018, in Dakar, Senegal, for some 100 educators and experts from 12 French-speaking African countries under the theme "Cracking the code: gender-responsive quality STEM education".
This UNESCO initiative aims to strengthen the capacity of educators to provide quality and gender-responsive STEM education, thus enabling them to promote the participation of girls in STEM studies and, above all, to provide them with the knowledge and skills necessary to undertake careers in these fields.
The workshop began by sharing the current status and experience of girls' and women's participation in STEM studies and careers in the 12 participating African countries, in order to provide a better understanding of how men's and women's expectations and prejudices influence girls' education in STEM.
At the opening of the training workshop, the Director of UNESCO Regional Office for West Africa (Sahel) in Dakar, Dimitri Sanga, recalled that girls represent only 35% of learners studying STEM-related disciplines at the higher education level worldwide.
"The problem is not limited to the difference in the number of boys and girls attending these courses but to the lack of opportunities for them in STEM as well as other factors that discourage them from pursuing scientific studies or professional careers," he argued, quoting the UNESCO report: "Cracking the code: girls' and women's education in science, technology, engineering and mathematics (STEM)."
He also noted UNESCO's efforts, in collaboration with its partners, to boost the attendance of girls and women in STEM disciplines.
For the Secretary General of the Ministry of National Education, Ms. Khady Diop Mbodj, "the stakes are high for French-speaking countries facing many socio-economic constraints. There is still a need for French-speaking countries to make education and training systems more practical, more pragmatic, more focused on mathematics, science, technology, entrepreneurship and digital technology, and to ensure that schools have a connection to the labour market," she said.
"Senegal intends to assert its leadership in the field of STEM education. I call on the countries represented in this training to join our efforts in this endeavour," she added, in the presence of the Director of the Institut de la Francophonie pour l'Education et la Formation (IFEF), Mr. Emile Tanawa, who confirmed his institution's ongoing commitment to increased efforts to promote girls' education in STEM.
************
Wikipedia:
Sawfish, also known as carpenter sharks, are a family of rays characterized by a long, narrow, flattened rostrum, or nose extension, lined with sharp transverse teeth, arranged in a way that resembles a saw. They are among the largest fish with some species reaching lengths of about 7–7.6 m (23–25 ft). They are found worldwide in tropical and subtropical regions in coastal marine and brackish estuarine waters, as well as freshwater rivers and lakes.
.....The Akan people of Ghana see sawfish as an authority symbol. There are proverbs with sawfish in the African language Duala. In some other parts of coastal Africa, sawfish are considered extremely dangerous and supernatural, but their powers can be used by humans as their saw retains the powers against disease, bad luck and evil. Among most African groups consumption of meat from sawfish is entirely acceptable, but in a few (in West Africa the Fula, Serer and Wolof people) it is taboo. In the Niger Delta region of southern Nigeria, the saws of sawfish (known as oki in Ijaw and neighbouring languages) are often used in masquerades.
**********
Akan goldweights, (locally known as mrammou), are weights made of brass used as a measuring system by the Akan people of West Africa, particularly for wei and fair-trade arrangements with one another. The status of a man increased significantly if he owned a complete set of weights. Complete small sets of weights were gifts to newly wedded men. This insured that he would be able to enter the merchant trade respectably and successfully.
Beyond their practical application, the weights are miniature representations of West African culture items such as adinkra symbols, plants, animals and people.
Scholars use the weights, and the oral traditions behind the weights, to understand aspects of Akan culture that otherwise may have been lost. The weights represent stories, riddles, and code of conducts that helped guide Akan peoples in the ways they live their lives. Central to Akan culture is the concern for equality and justice; it is rich in oral histories on this subject. Many weights symbolize significant and well-known stories. The weights were part of the Akan's cultural reinforcement, expressing personal behaviour codes, beliefs, and values in a medium that was assembled by many people.
....The naming of the weights is incredibly complex, as a complete list of Akan weights had more than sixty values, and each set had a local name that varied regionally.
Collections of weights
Some estimate that there are 3 million goldweights in existence. ... Many of the largest museums of in the US and Europe have sizable collections of goldweights. The National Museum of Ghana, the Musée des Civilisations de Côte d'Ivoire in Abidjan, Derby Museum and smaller museums in Mali all have collections of weights with a range of dates.
Manufacture of the weights
In the past, each weight was meticulously carved, then cast using the ancient technique of lost wax. As the Akan culture moved away from using gold as the basis of their economy, the weights lost their cultural day-to-day use and some of their significance. Their popularity with tourists has created a market that the locals fill with mass-produced weights. These modern reproductions of the weights have become a tourist favorite. Rather than the simple but artistic facial features of the anthropomorphic weights or the clean, smooth lines of the geomorphic weights, modern weights are unrefined and mass-produced look. The strong oral tradition of the Akan is not included in the creation of the weights; however, this does not seem to lessen their popularity.
The skill involved in casting weights was enormous; as most weights were less than 2½ ounces and their exact mass was meticulously measured. They were a standard of measure to be used in trade, and had to be accurate. The goldsmith, or adwumfo, would make adjustments if the casting weighed too much or too little. Even the most beautiful, figurative weights had limbs and horns removed, or edges filed down until it met the closest weight equivalent. Weights that were not heavy enough would have small lead rings or glass beads attached to bring up the weight to the desired standard. There are far more weights without modifications than not, speaking to the talent of the goldsmiths. Most weights were within 3% of their theoretical value; this variance is similar to those of European nest weights from the same time.
Early weights display bold, but simple, artistic designs. Later weights developed into beautiful works of art with fine details. However, by the 1890s (Late Period) the quality of both design and material was very poor, and the abandonment of the weights quickly followed.
*******
The West African CFA franc (French: franc CFA; Portuguese: franco CFA or simply franc, ISO 4217 code: XOF) is the currency of eight independent states in West Africa: Benin, Burkina Faso, Côte d'Ivoire, Guinea-Bissau, Mali, Niger, Senegal and Togo. These eight countries had a combined population of 105.7 million people in 2014, and a combined GDP of US$128.6 billion (as of 2018).
The acronym CFA stands for Communauté Financière Africaine ("African Financial Community"). The currency is issued by the Central Bank of West African States (BCEAO; Banque Centrale des États de l'Afrique de l'Ouest), located in Dakar, Senegal, for the members of the West African Economic and Monetary Union (UEMOA; Union Économique et Monétaire Ouest Africaine). The franc is nominally subdivided into 100 centimes but no centime denominations have been issued.
The Central African CFA franc is of equal value to the West African CFA franc, and is in circulation in several central African states. They are both called the CFA franc.
Share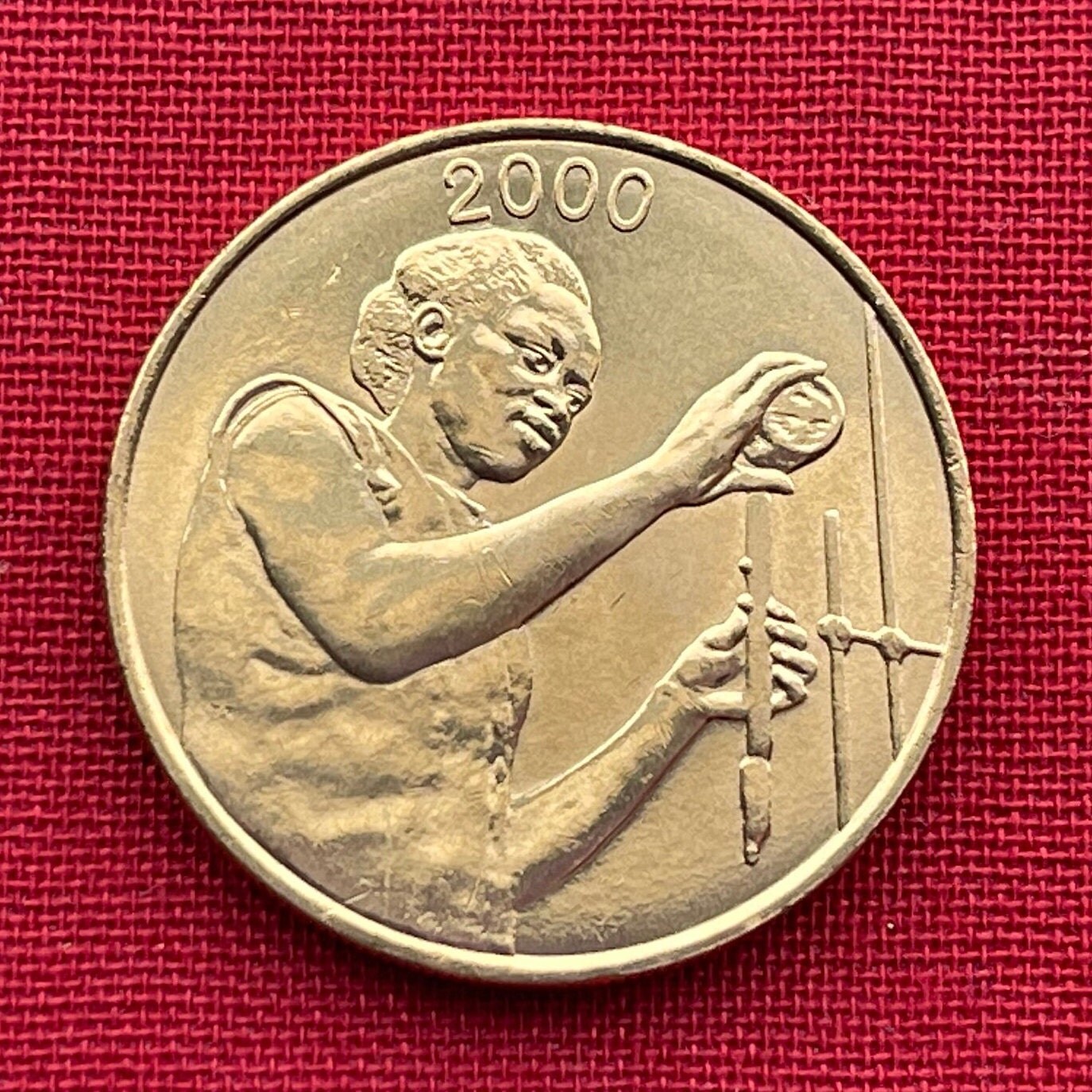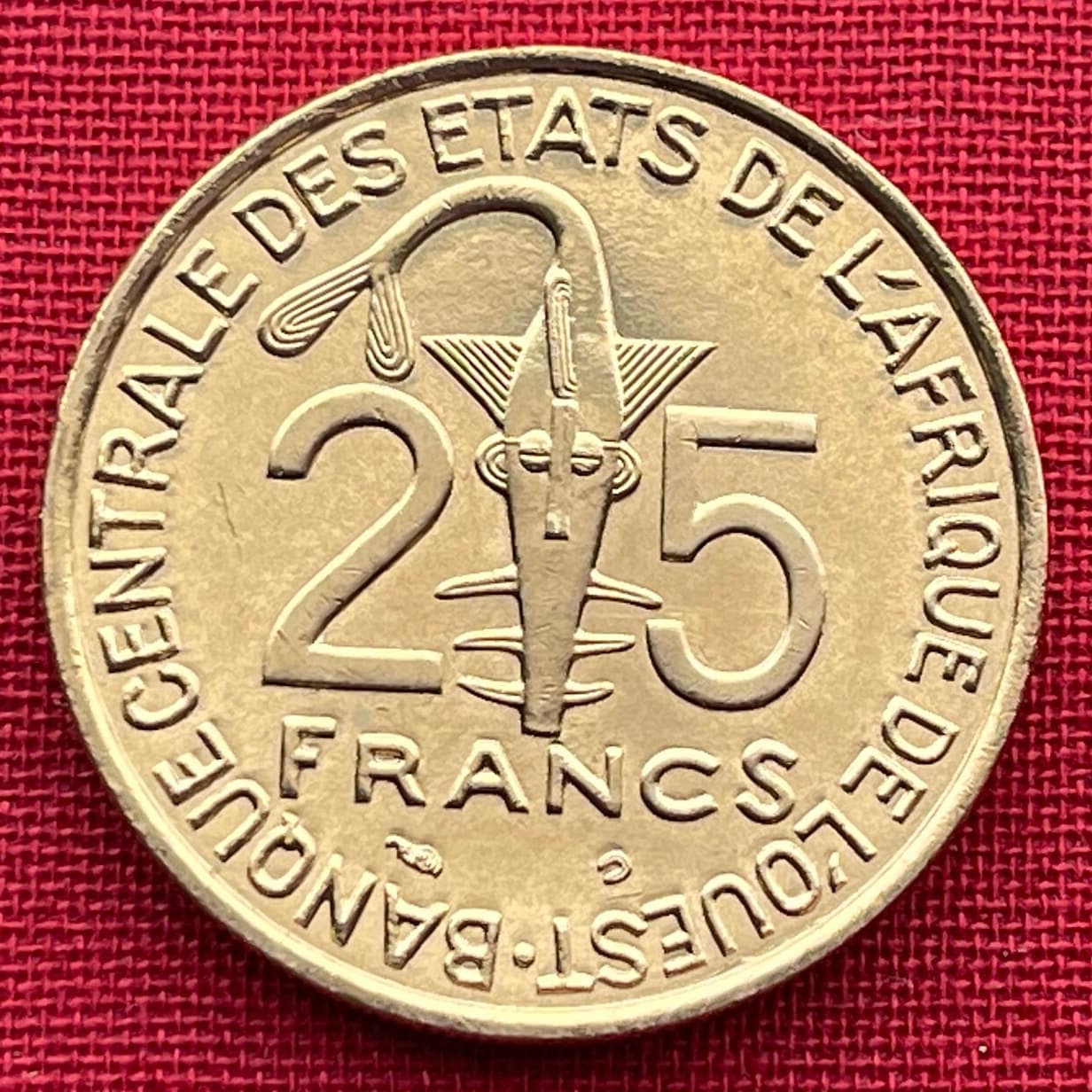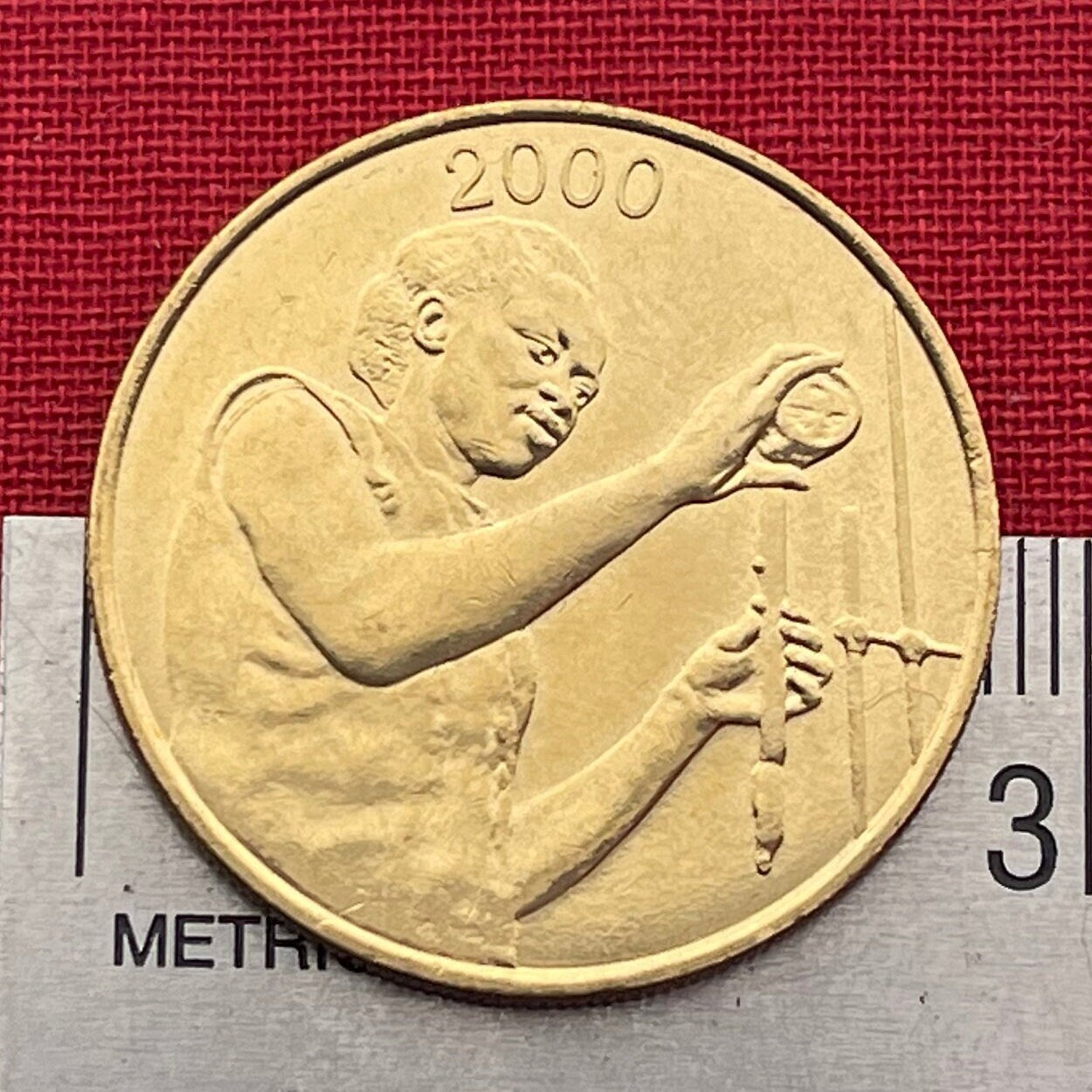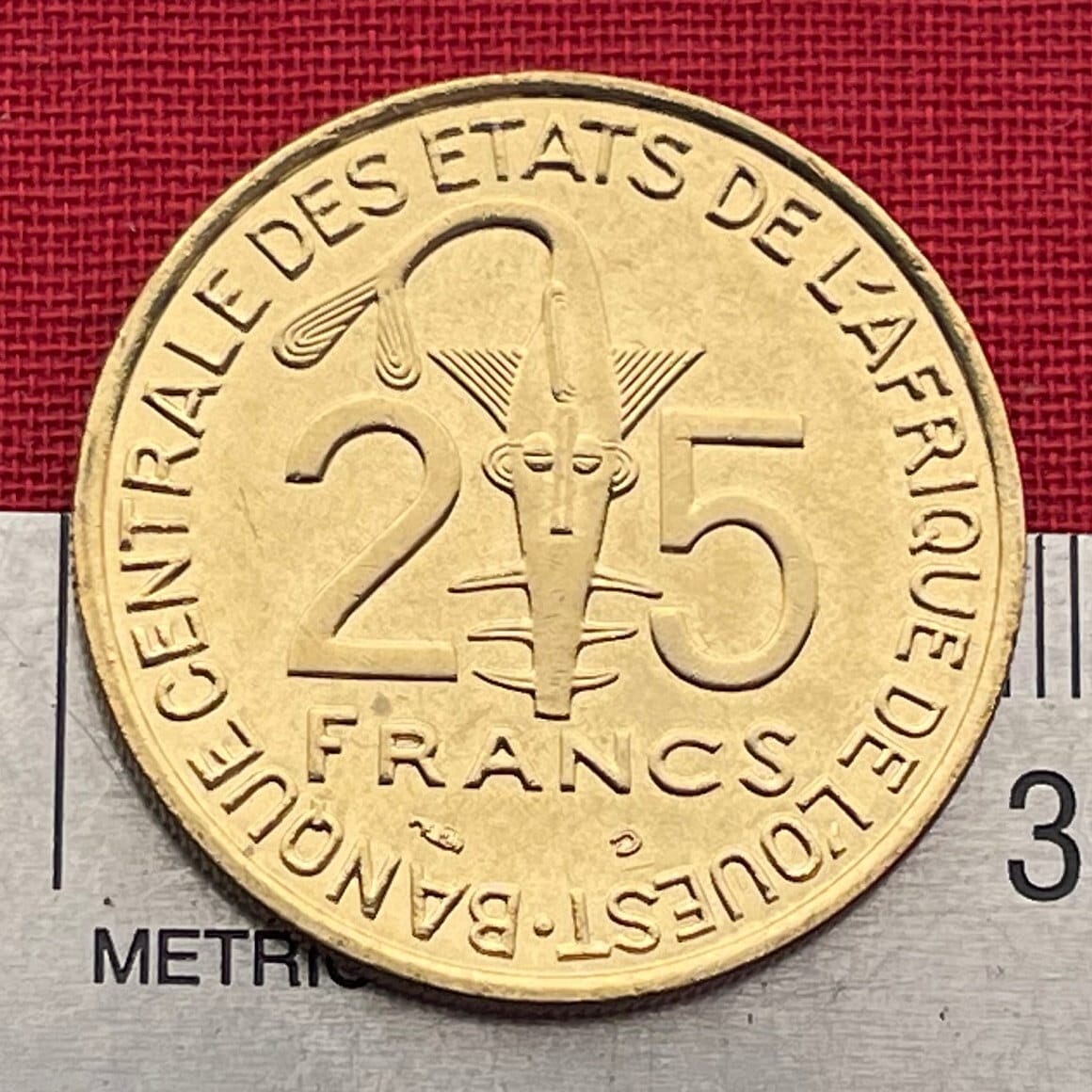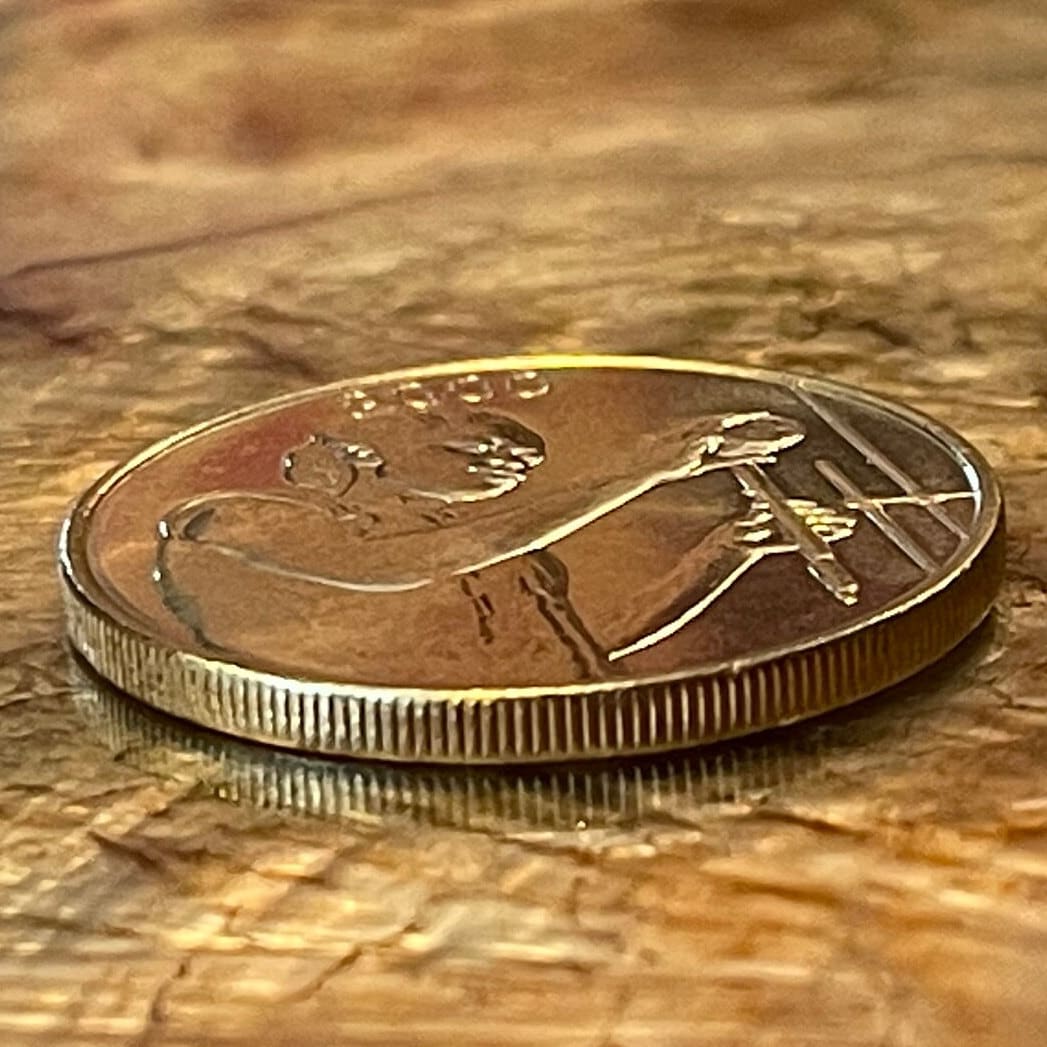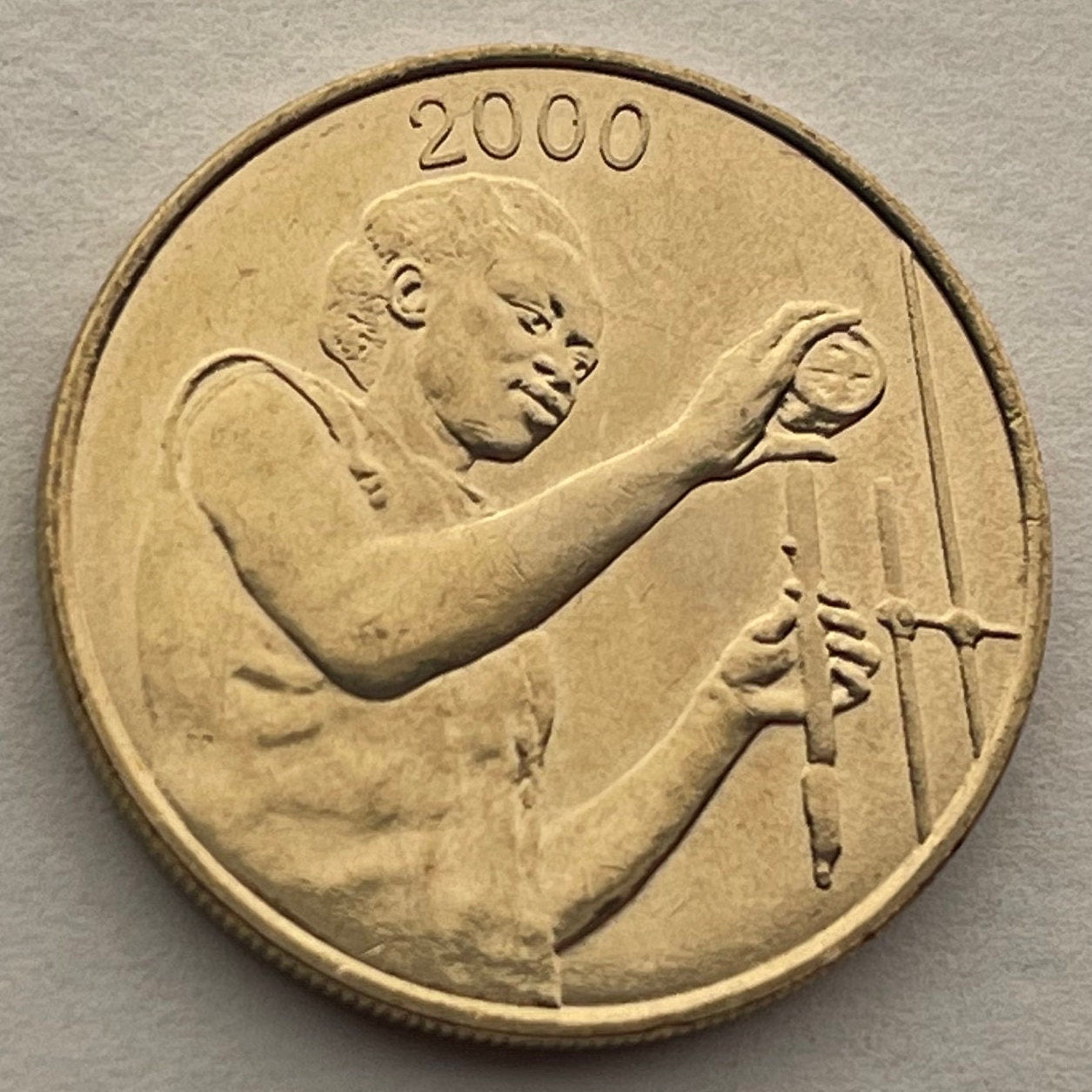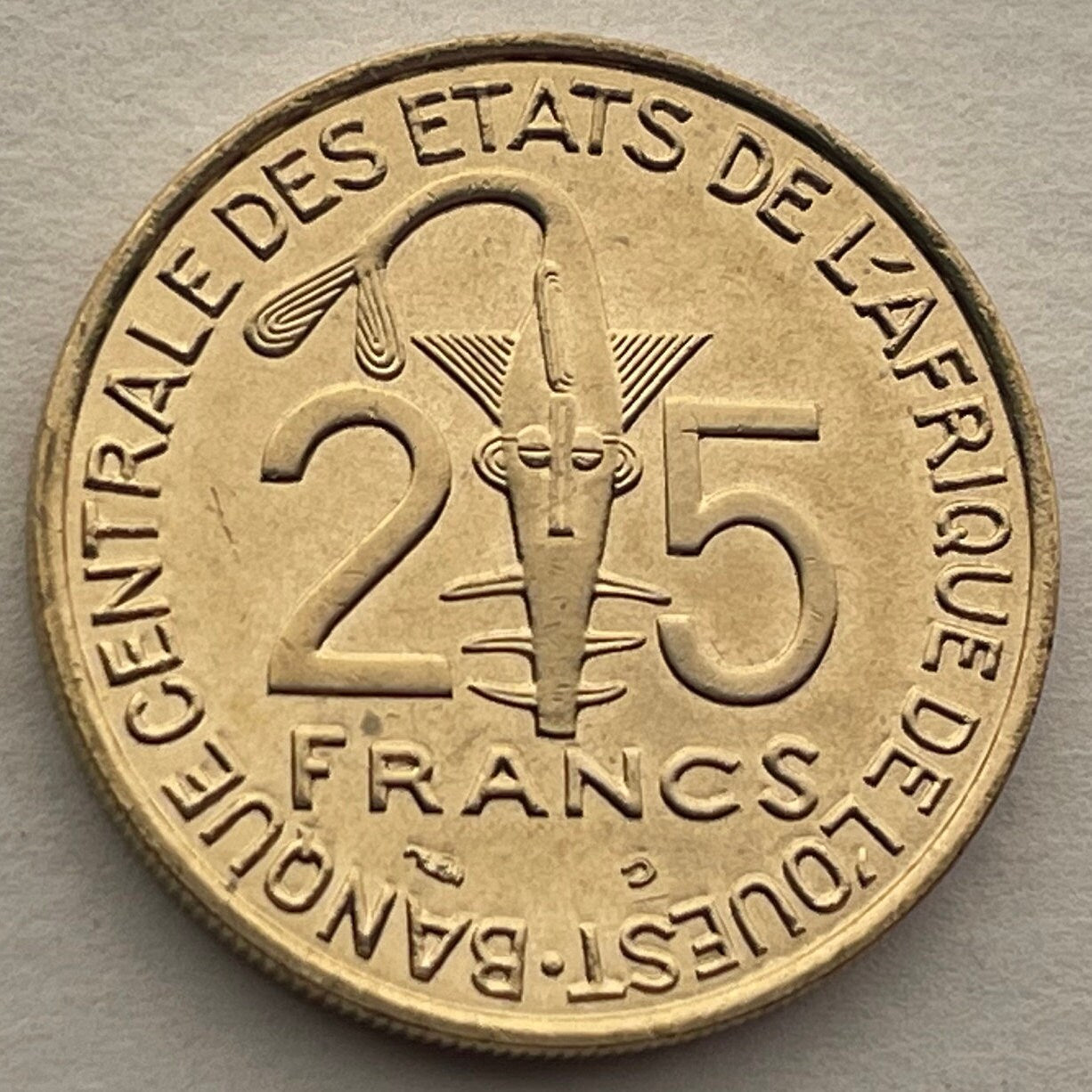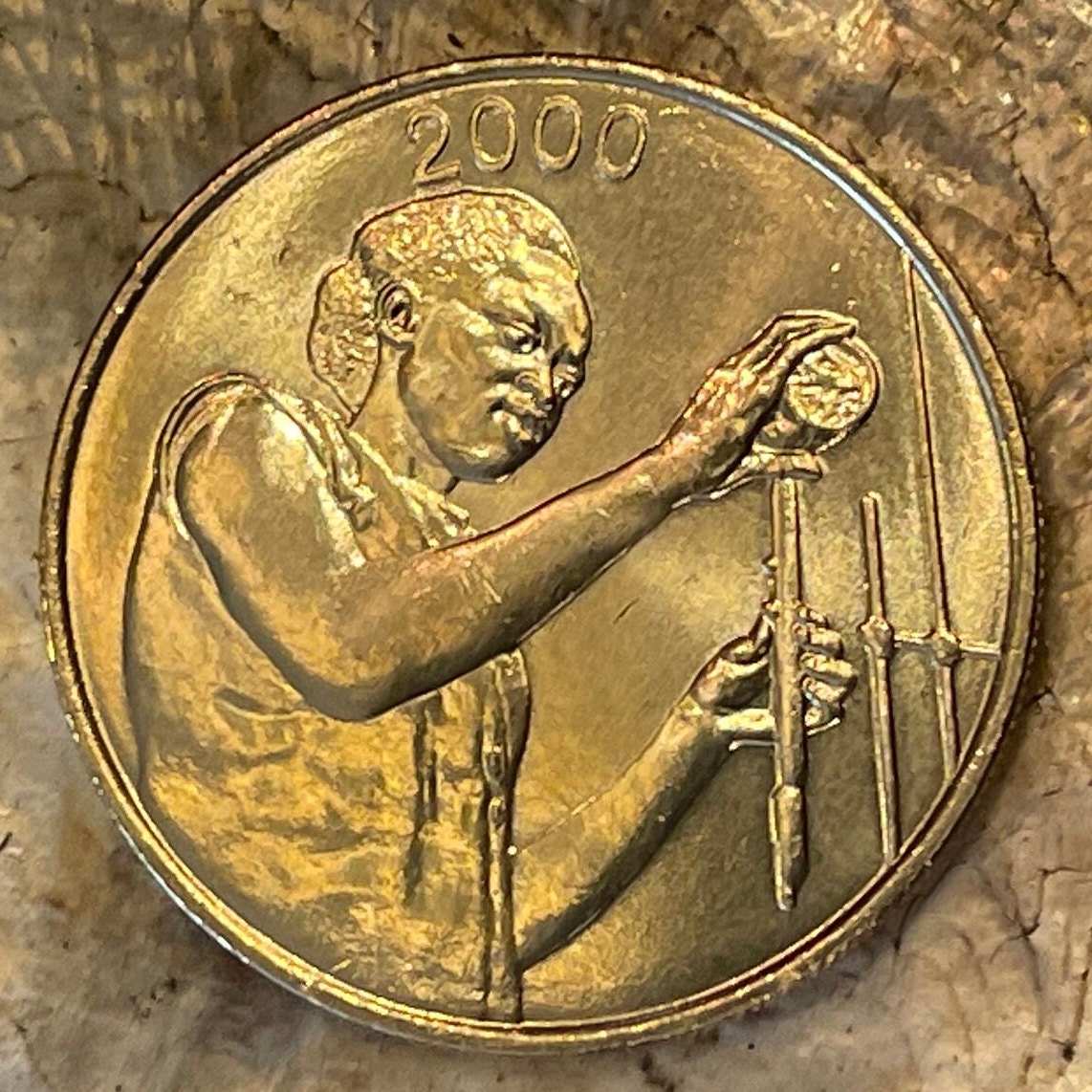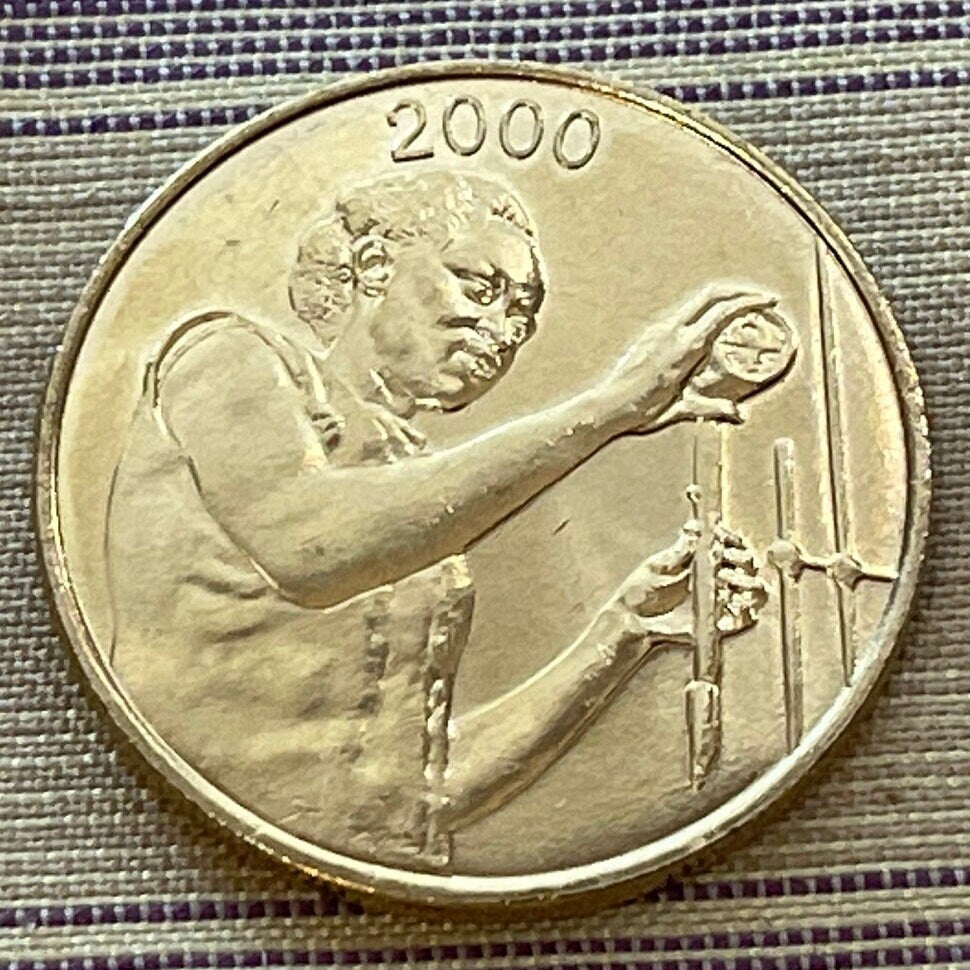 Great piece for my collection!
My beautiful, unusual piece arrived well packed, in excellent condition, and on time. I was delighted to have found this at elemintal, and I will continue to shop here for future orders.
Worth it and nicely packaged fast shipping
Worth it and nicely packaged fast shipping