Zebu 25 Thebe Botswana Authentic Coin Money for Jewelry and Craft Making (Rain) (Racial Harmony) (Pula) (Self Sufficiency) (Taurus)
Regular price
Sale price
$3.33 USD
Unit price
per
Zebu 25 Thebe Botswana Authentic Coin Money for Jewelry and Craft Making (Rain) (Racial Harmony) (Pula) (Self Sufficiency)
Reverse: Zebu facing left, denomination above
Lettering: 25 THEBE
IPELEGENG
(The word "Ipelegeng" literally means "to carry your own weight" or "to be self sufficient or independent". Ipelegeng is also a Botswana program created for reducing the poverty.)
Obverse: National coat of arms.
Lettering: BOTSWANA
PULA
'Pula' means "Rain" and "Let there be rain" and "Good Luck".
Features
Issuer Botswana
Period Republic (1966-date)
Type Standard circulation coin
Years 1976-1989
Value 25 Thebe (0.25 BWP)
Currency Pula (1976-date)
Composition Copper-nickel
Weight 5.73 g
Diameter 25 mm
Thickness 1.55 mm
Shape Round
Technique Milled
Orientation Medal alignment ↑↑
Demonetized 1 July 2014
Number N# 4375
References KM# 6, Schön# 7
Wikipedia:
A zebu (/ˈziːb(j)uː, ˈzeɪbuː/; Bos taurus indicus), sometimes known as indicine cattle or humped cattle, is a species or subspecies of domestic cattle originating in the Indian sub-continent. Zebu are characterised by a fatty hump on their shoulders, a large dewlap, and sometimes drooping ears. They are well adapted to withstanding high temperatures, and are farmed throughout the tropical countries, both as pure zebu and as hybrids with taurine cattle, the other main type of domestic cattle. Zebu are used as draught and riding animals, dairy cattle, and beef cattle, as well as for byproducts such as hides and dung for fuel and manure. In 1999, researchers at Texas A&M University successfully cloned a zebu.
Zebu cattle are thought to be derived from Indian aurochs, sometimes regarded as a subspecies, B. p. namadicus. Wild Asian aurochs disappeared during the time of the Indus Valley Civilisation from its range in the Indus River basin and other parts of the South Asian region possibly due to interbreeding with domestic zebu and resultant fragmentation of wild populations due to loss of habitat.
Phylogenetic analysis revealed that all the zebu Y-chromosome haplotypes groups are found in three different lineages: Y3A, the most predominant and cosmopolitan lineage; Y3B, only observed in West Africa; and Y3C, predominant in South and Northeast India.
Archaeological evidence including depictions on pottery and rocks suggests that the species was present in Egypt around 2000 BC and thought to be imported from the Near East or south. Bos indicus is believed to have first appeared in sub-Saharan Africa between 700 and 1500 and was introduced to the Horn of Africa around 1000.
*******
Wikipedia:
The coat of arms of Botswana was adopted on 25 January 1966. The centre shield is supported by two zebras. The shape of the shield is that of traditional shields found in Southern Africa. On the top portion of the shield are three cogwheels that represent industry.
The three waves symbolize water, and reminds the viewer of the motto of the nation: pula, which means simply "rain", but also good luck, and is also the name of the nation's currency. This motto also highlights the importance of water to Botswana. The motto is inscripted on a blue ribbon placed at the bottom of the coat of arms.
At the bottom of the shield is the head of a bull, which symbolises the importance of cattle herding in Botswana. The two zebras also symbolise the importance of wildlife, through tourism, in the national economy. Also, zebra have black and white stripes which represent equality of people of all colours in Botswana. The zebra on the right holds an ear of sorghum, an important crop in the nation. The zebra on the left holds a tusk of ivory, symbolic of the former ivory trade in Botswana. There is also view that ivory tusk represents wild life preservation. Botswana has one of the highest elephant populations in Africa.
Share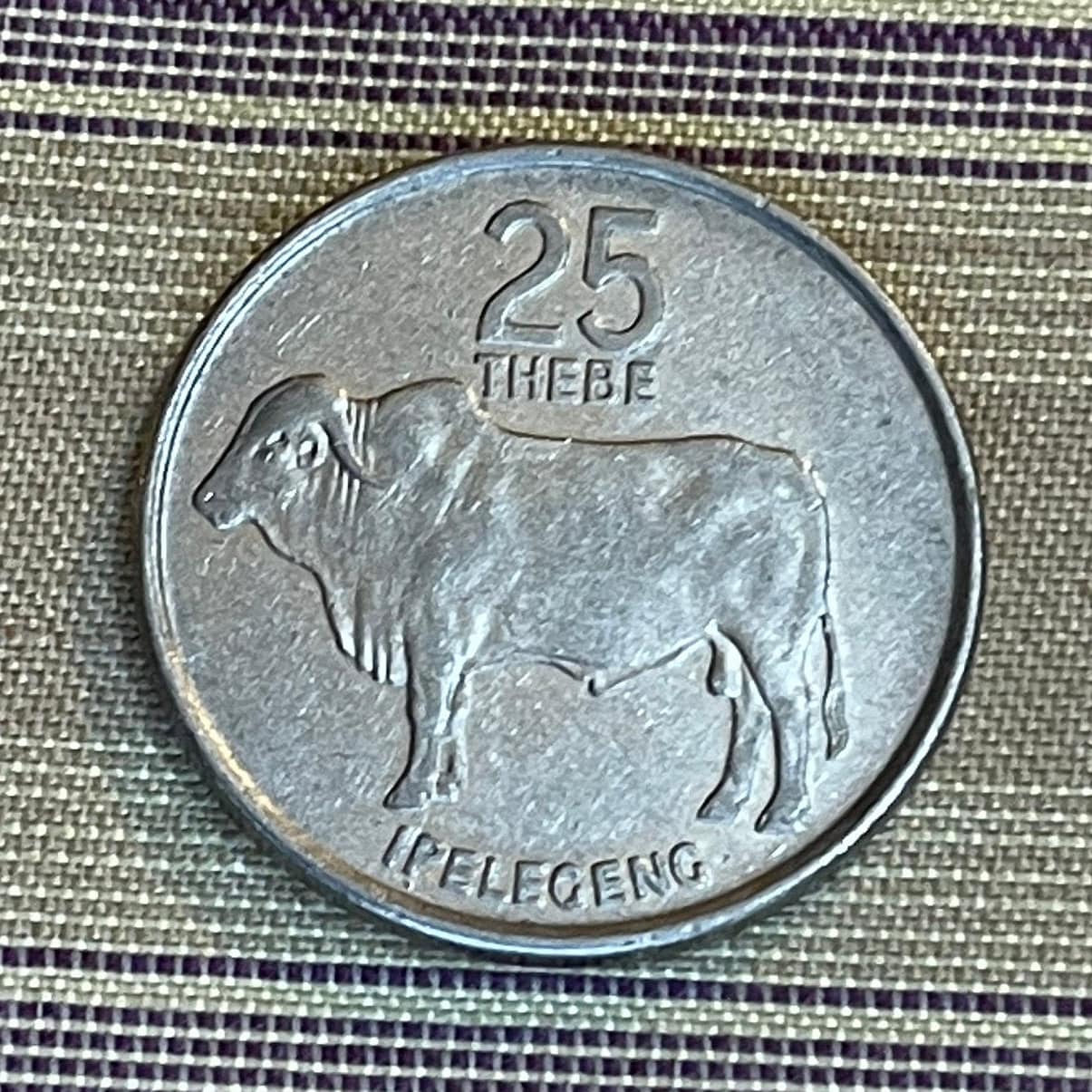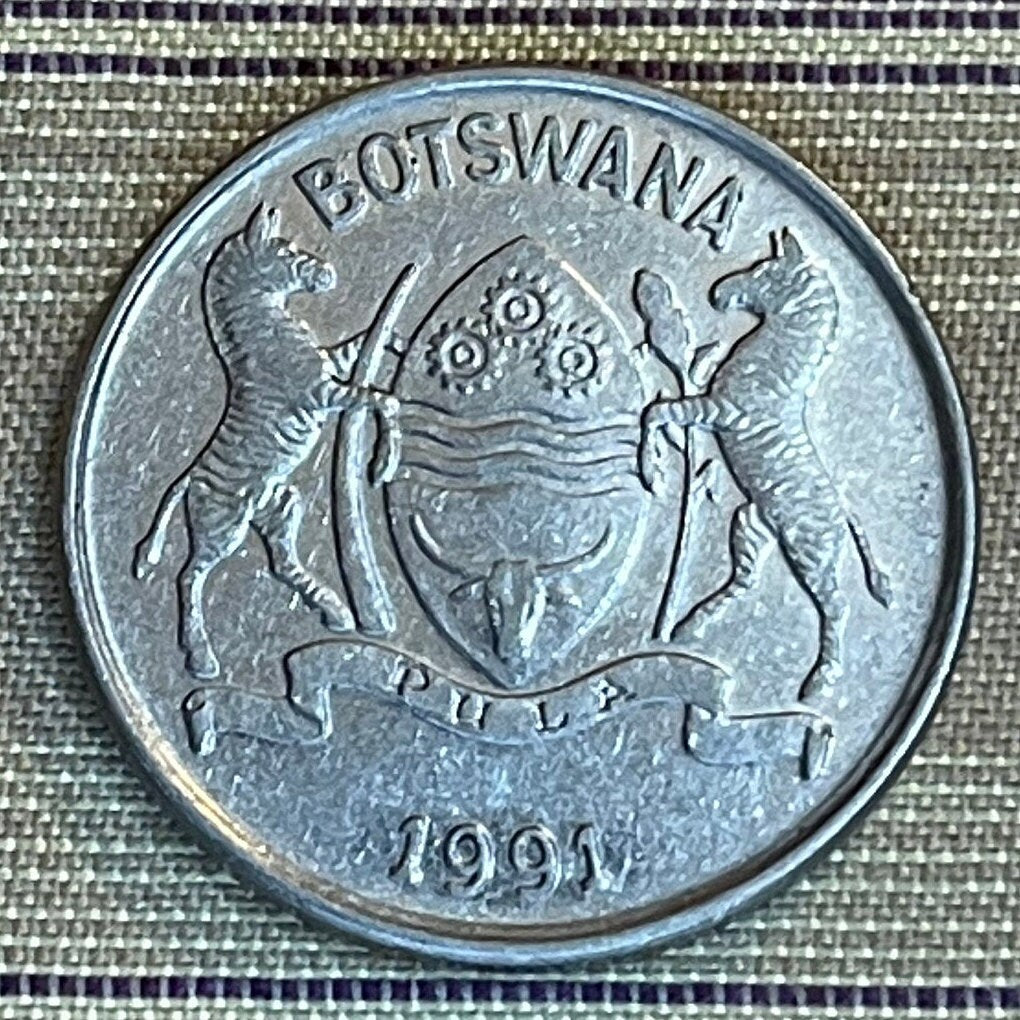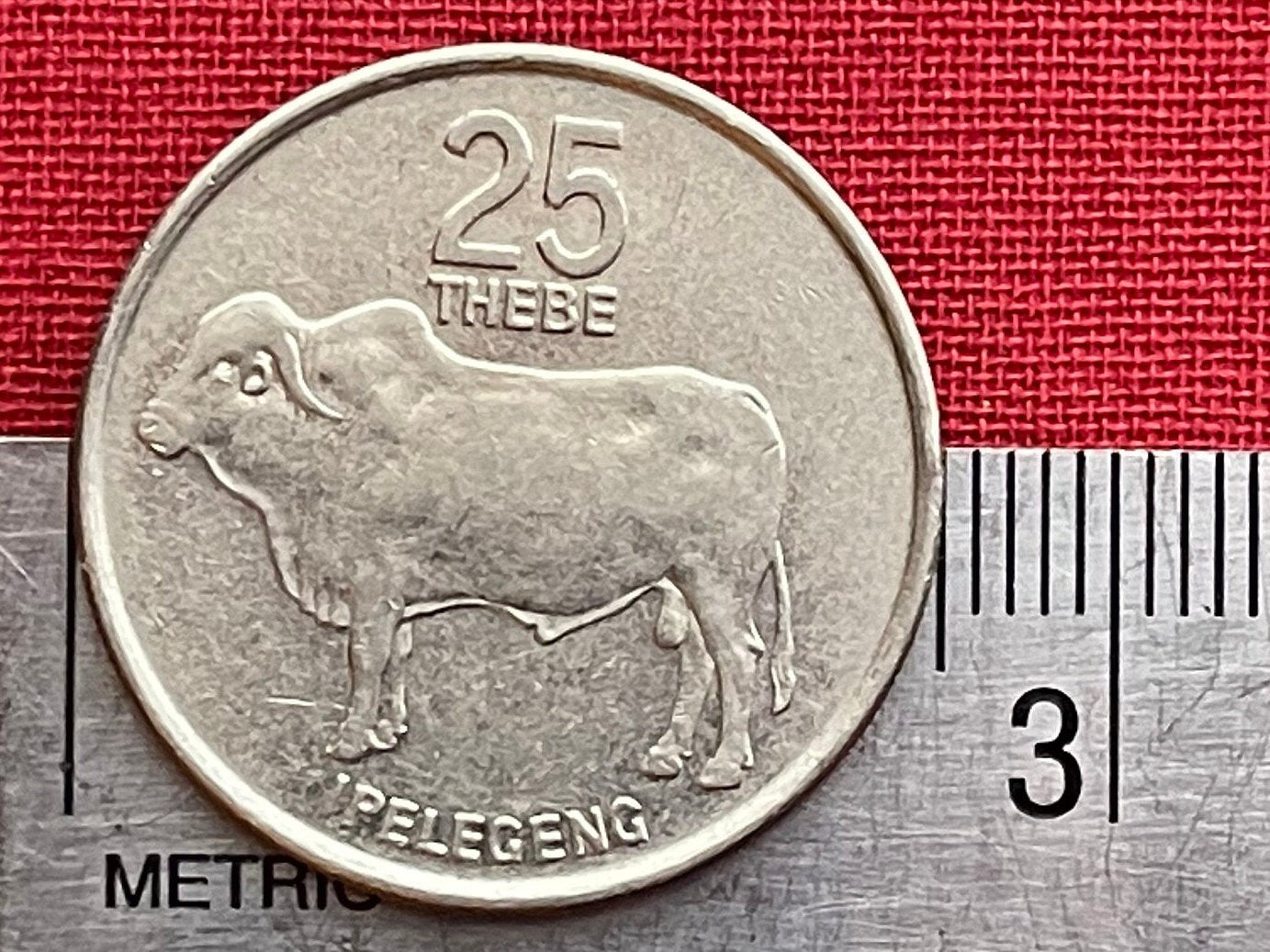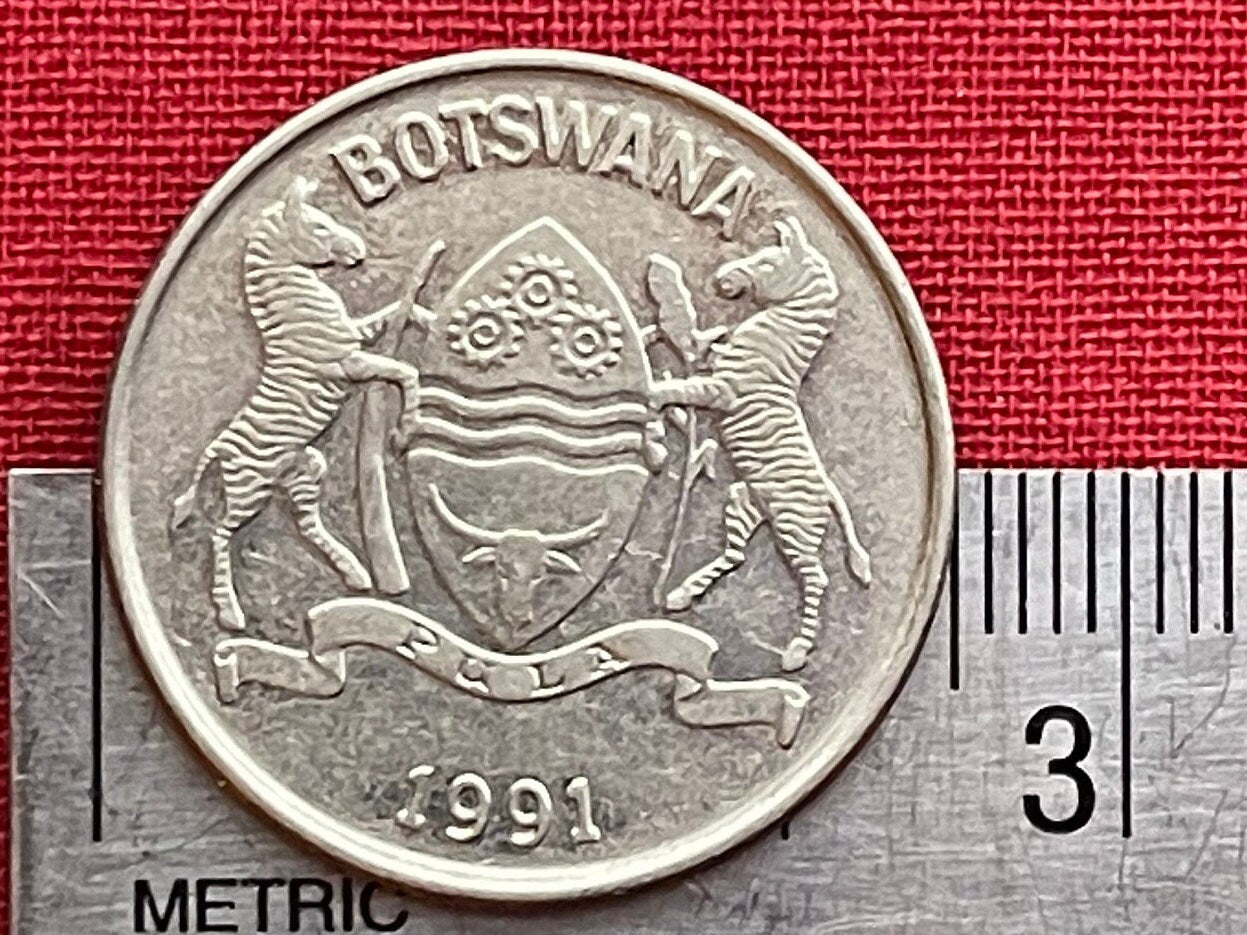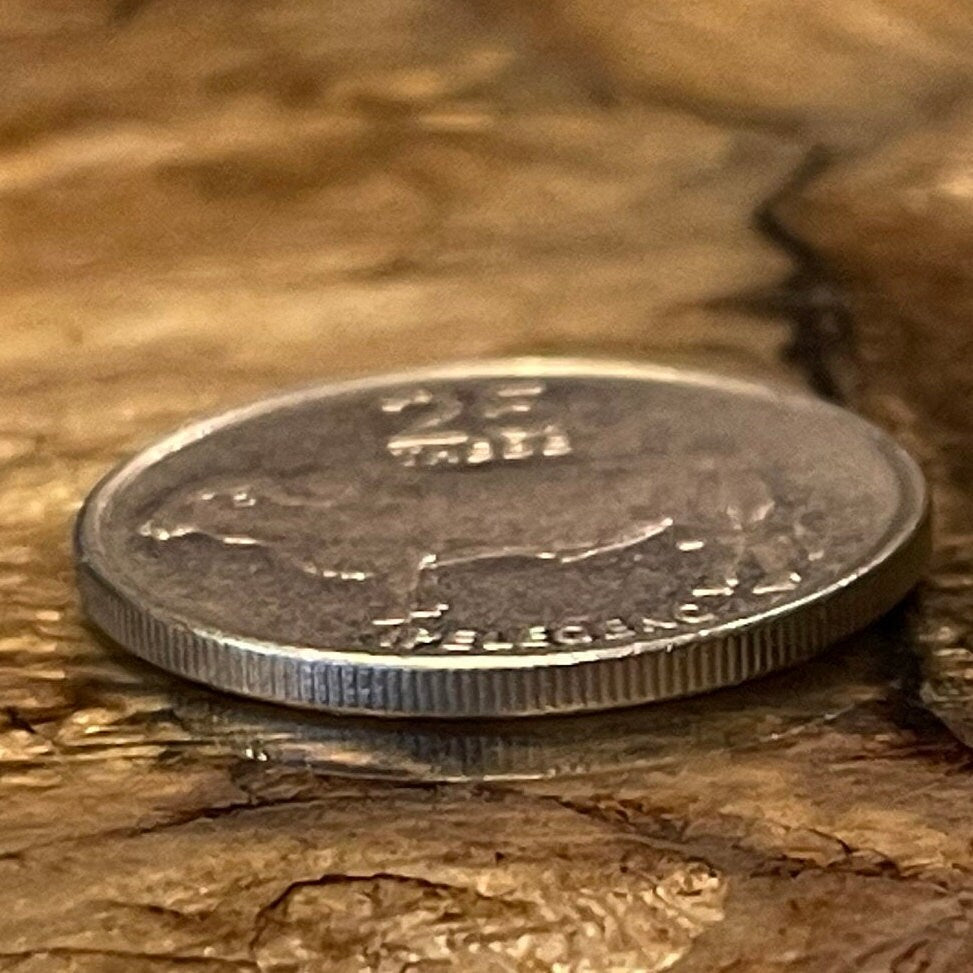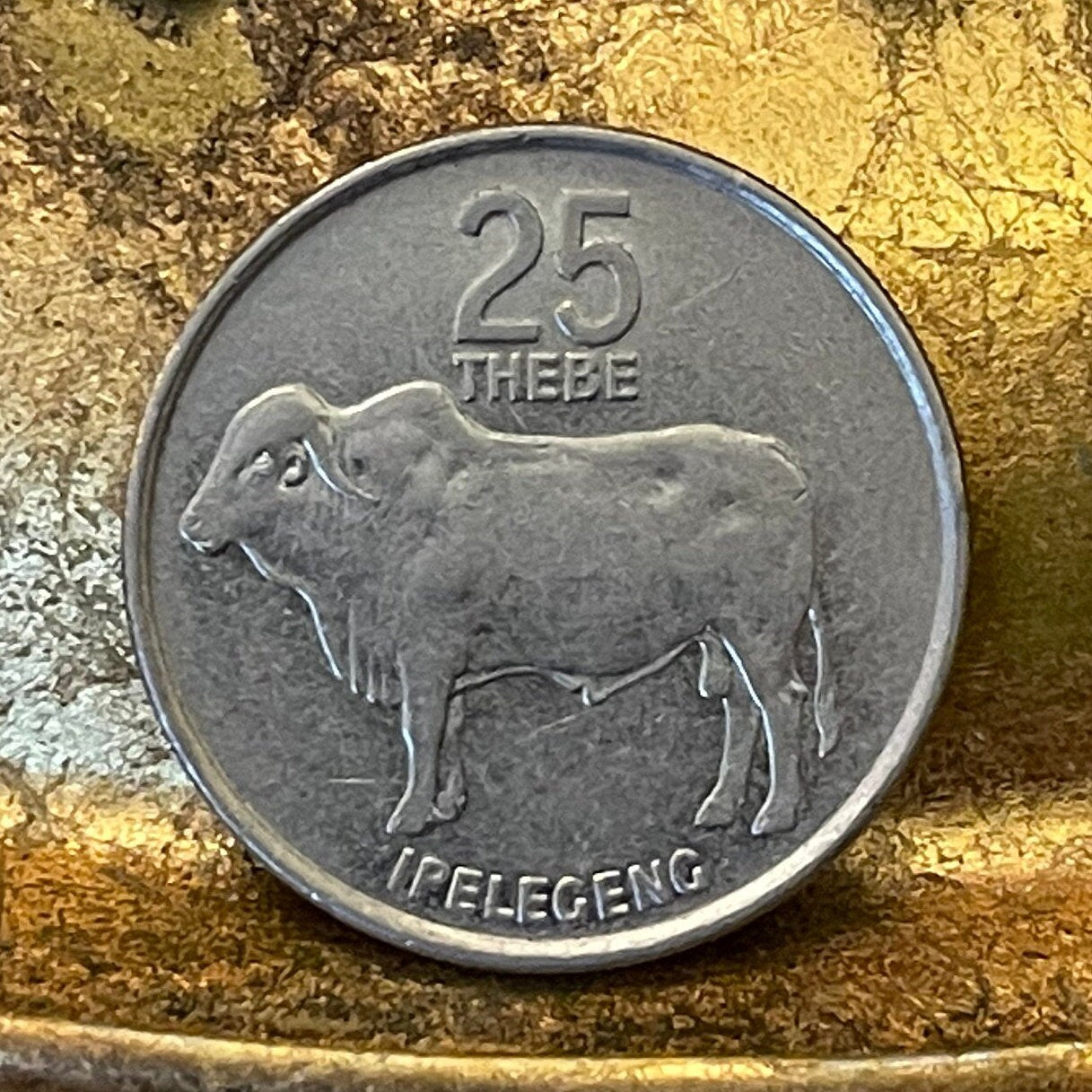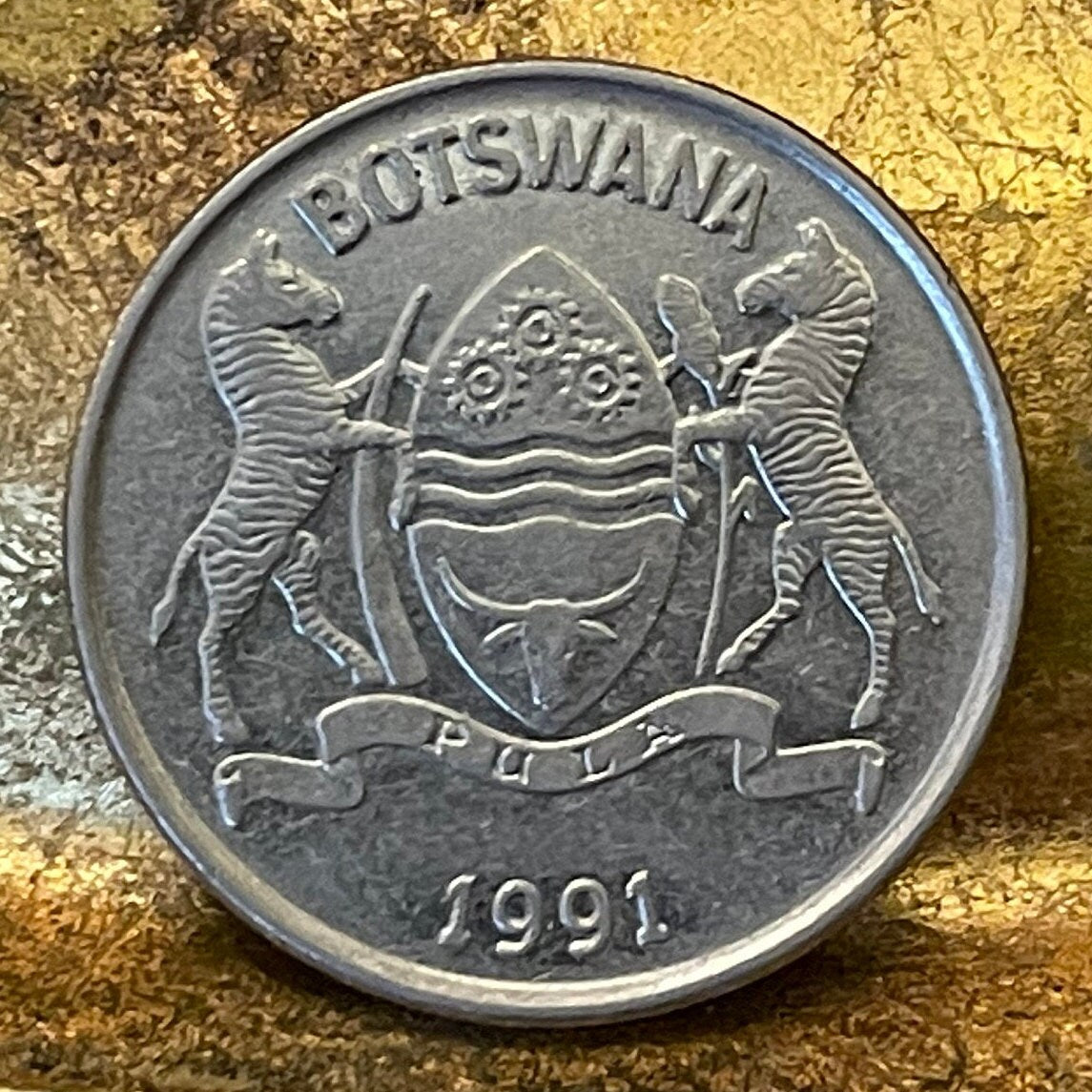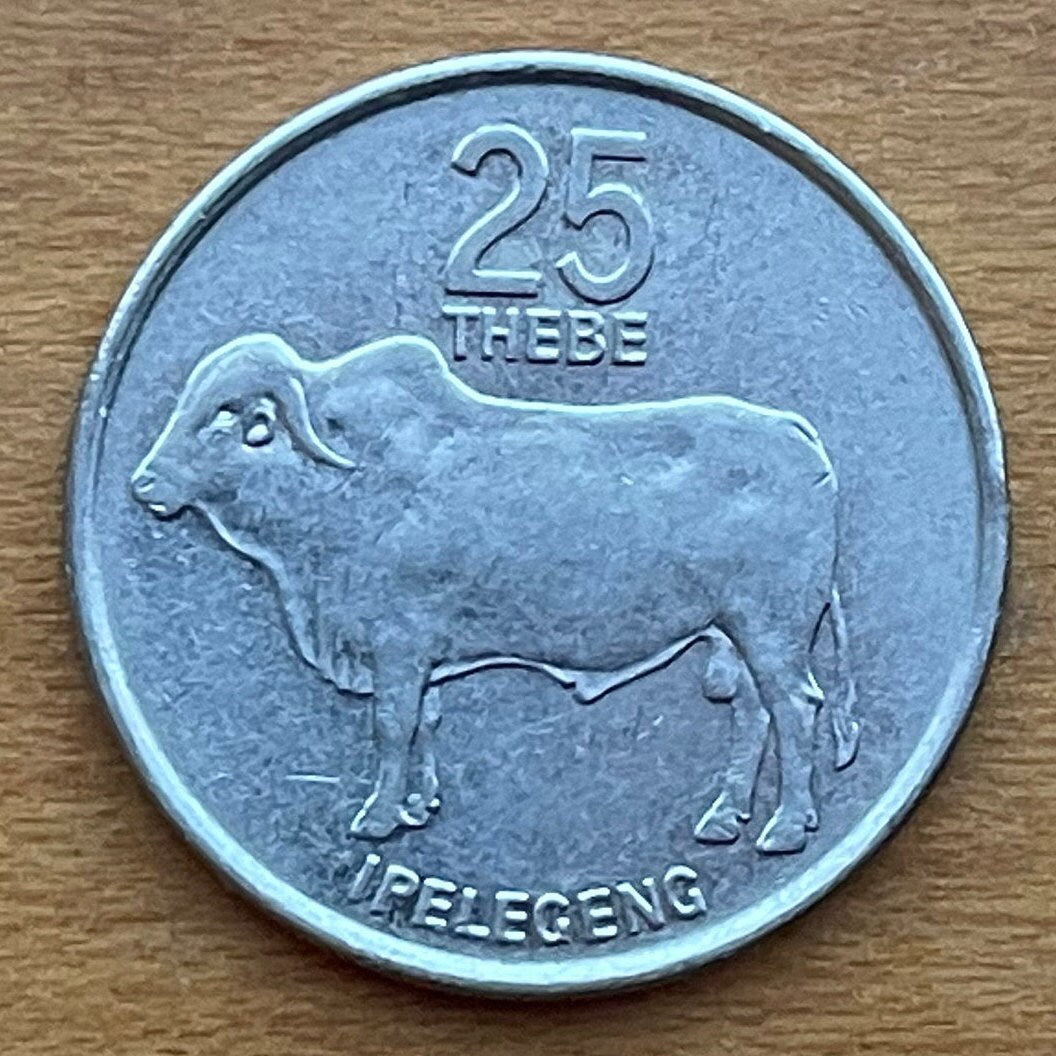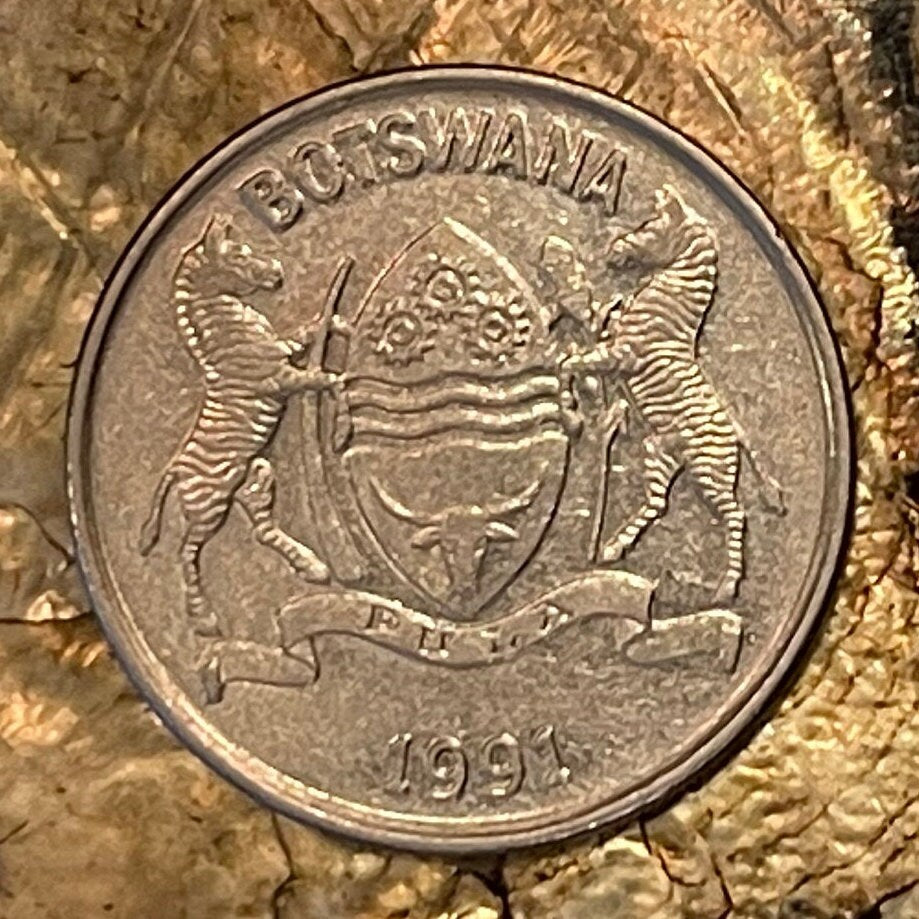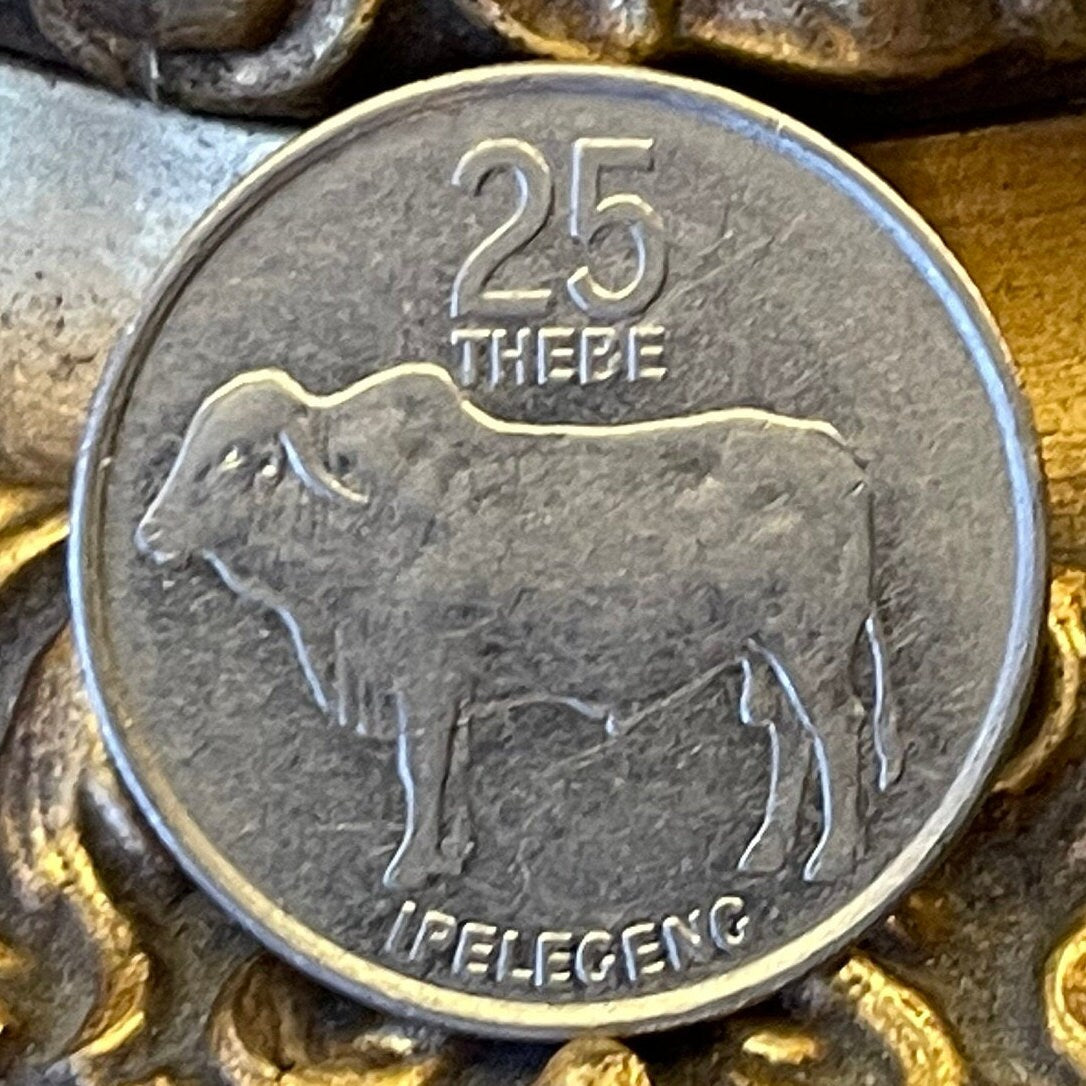 5 stars review from Crystal
5 stars review from Crystal
5 stars review from Crystal
5 stars review from Crystal
I'll be back. You're easy to deal with.
I'll be back. You're easy to deal with.